Cover photo credit: Amy, Jackson Hole
Things have gone nuts for Trevor Kennison since his, world-famous, launch down Corbet's Couloir. He won the Riders Choice Award at the King's and Queen's of Corbet's 2019 and clips of him flying off cliffs have been seen worldwide. Earlier this month we caught up to talk about how everything seems to be turning out pretty well for him!
Growing up, Trevor was an active kid. With two marathon-running parents, his mom actually played semi-pro soccer too, that was inevitable. Swim racing, playing soccer, snowboarding, playing pick-up basketball, baseball…
"I was always put into sports, sports, sports, basically always doing something."
After high school he calmed down with the activity when he moved to Colorado, in 2013 to become a plumber. He wasn't doing such a variety of sport, but kept himself busy:
"I just loved it, snowboarding all the time. I could rip the mountain, but I wasn't great at all."
His fun, chilled and care-free life was changed forever on November 15 2014…
"When I tucked my neck, I ended up landing on my back. I heard a loud pop and that was my T11 and T12 vertebrae burst-fracturing…"
It was a normal day for Trevor, riding Vail Pass with two buddies. They were hitting a 10ft kicker right at the top when a slight misjudgement had massive implications:
"I caught an edge right off the jump, flew through the air and tucked my neck. When I tucked my neck, I ended up landing on my back. I heard a loud pop and that was my vertebrae burst- fracturing. I punctured my spinal cord and dislocated my back."
In a state of shock, he lay in the snow for three hours, in a blizzard, until search and rescue got to him.
"They shot me up with morphine, lifted me into a toboggan, onto the cat-track and into a sled."
He was driven in an ambulance to the hospital in Frisco, Colorado. An X-Ray showed the severity of the injury, so he needed to go to a bigger hospital in Denver.
"I looked at my back and it was at 90 degrees, I'd just crushed it. My sister was in Breckenridge, so we met her in Frisco and we went down to Denver."
"First thing I said, after my surgery was: 'Did you put my tattoo together?"
Trevor can't remember much from Frisco to the morning of surgery in Denver, when the doctor asked: 'OK, are you ready?'
He replied 'Yep, let's do this!'
"He put the mask on and I woke up seven-and-a-half hours later. The first thing I saw was my girlfriend at the time and my sister."
Trevor had recently gotten a big back-piece for his Great-grandma.
"She's Colombian, so I got the Colombian crest, I had a speech impediment and a lisp when I was younger so I couldn't pronounce 'abuela' So I called her my 'bueta' and that was written underneath."
The surgeon 'put it back together nicely', so with that concern being put at ease, he had time to think more deeply about the situation he found himself in.
"My first thoughts weren't anything to do with sports. My girlfriend, at the time, putting her through this. I didn't want to break the news of my injury to my parents, my sister. I loved my job and I didn't want to lose it. I was just disappointed."
It's impossible to predict how you would react to a life-changing injury like Trevor's, but his first thoughts were about family and he wanted to avoid one thing in particular. He had already been through one recovery from shoulder surgery and had struggled with becoming reliant on pain pills
"When I first got on a sit-ski, everything was difficult, there wasn't just one thing."
His sister, Ashley and her husband Thomas, were the two who first had the idea of Trevor getting back on snow. Snowboarding was no longer an option. Now, as a paraplegic, he'd try a sit-ski:
"They got me on one for the first time. Ashley encouraged me and knew I could do it. I thank her to the fullest until I die. She's my idol, I admire her and look up to her in many ways. She got me to where I am today."
The first-timer went with Craig Hospital in 2016:
"I went up to Adaptive Sports Center, in Colorado. My goal was black diamonds by the end of the week. I gave myself 5 days and I was on them in 3. The start of that week, I had to learn so much. Even just getting in the chair, even throughout that first year, you're continually learning new ways. But at first balance and trying to carve/edge were the main things. I had no idea how to edge or even what that meant. Just trying to get the feel of things, trying to link turns. That week was so important, spending every day on snow and learning from what I'd done the previous day really helped me out in many ways."
"People asked me if I ever skied before, but either way you're on snow, you're sliding down, still on two edges, I tell people: 'I ski like a snowboarder' or I say: 'I broke my back to become a skier'. It's the same type of idea, I am skiing, but basically I'm snowboarding, it's a mix of the two.
When I first met Trevor, he was always sure to tell everyone that he was a snowboarder. I'm interested to find out if he still identifies as a snowboarder, or maybe he's come over to join us as a skier. He was quick to let me know what he is now: "I'm a sit-skier!"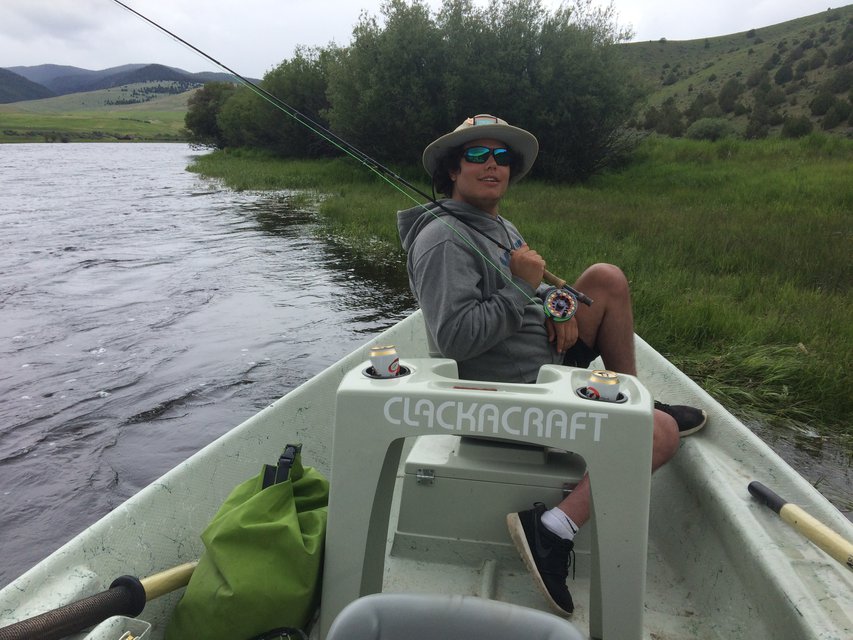 Trevor adaptive fly-fishing in Montana in 2017 (before he was famous!)
"I'd heard of the High Fives Foundation, but I was just really nervous to call them after that trip with Craig Hospital."
The High Fives Foundation is an amazing organization that supports and inspires outdoor action sports athletes who suffer life-altering injuries. Trevor is a prime example of a High Fives athlete, but he wasn't confident enough to make the call!
"I ended up talking to Steve Wallace, at High Fives, and he was like 'Hey bud, your name's come up a couple times!' They invited me out to an adaptive camp in California. So I drove out and I thought Tahoe was the next state over from Colorado. Long story short, Utah and Nevada are between Colorado and Squaw so I stayed with my friend in Salt Lake City to break up the trip. I met the whole High Fives crew."
He skied for three days at a beginner freeski and racing camp: "we did some gates and the fastest went to nationals." He got picked and ended going to nationals in Luna, New Hampshire.
"I was on top of this GS course, wondering what I was doing with my life! I had no business being there, but I did that and skied there for 10-15 days. I joined the Aspen Valley Sports Cluband I was there for the year. I competed, but I freeskied every day. I think I got 100 days that year."
He got sent down to Dallas to train with a guy called Johnny Wright:
"It was so cool meeting and training with him, he trains NFL guys, bobsled guys, all these athletes. He's the nicest person ever and he's British. I started training with Adaptive Training Foundation, I've been going the past 3 summers and last year. I stayed with him for two and a half months, stayed with him and his family, trained with him, it's amazing to meet people like that."
As he got stronger and stronger, Trevor could do more on his sit-ski. He says he's been hitting jumps, on his sit-ski, right from the beginning:
"It was just little side hits. You progress and think 'oh maybe I don't want to land on flat.' So you go to the terrain park and just hit the little jump, It's all progression. It's really only been last season that something clicked and I was really hitting the jump. I was doing them before, but something just clicked."
Before his recent exploits, I had seen videos like this backie at Woodward. He assures me that the trick on snow is "is coming soon..."
https://www.newschoolers.com/videos/watch/927646/Woodward-backie-mov
"I was just sitting there on the left of the cornice and I'm just like "Oh boy, let's do this!"
Now we get to probably the 2nd most important day of the sit-skier's life. It was about so much more than just that famous huck:
"The whole experience was amazing, from getting the invite from Jess McMillan (the events and partnerships manager for Jackson Hole), meeting her in person, all the people there were so good to me. I can't rant and rave enough about how lucky and thankful I am to get the opportunity to be there."
Waiting above the Couloir, he was sure not to push too hard:
"I thought I was going to push too hard and break the cornice and fall in. I saw everyone was stepping on it, so I thought I could put my outriggers behind me and push forward and look. I started looking at people dropping in and I was like: 'Alright, sick, this is what I'm going to try to do.' Carl went and I realised that I was next!
"Then Cohen went and I was like: 'woah, I'm here!' I got pushed up 10-15ft, I actually ended up bailing the first time and someone was like "Are you sure you want to do this?" But I dropped in and realised I had like no speed, I pulled up and said that I need more speed. I got pushed back up, five feet above where I was originally dropping from, basically where everyone else was dropping. Eric Seymour was like: '3 minutes, 1 minute, 30 seconds…'
"I did my routine of, I close my eyes, I imagine it, I turn my outriggers in and I breathe out three times and I look up. Usually if I'm hitting something hard, I do that once and then I go for it/or I don't, depending on what it is. This time I did it like four or five times and I closed my eyes. I honestly don't know how many times I did it, I just remember it was a lot. I asked Eric if he was going to say 'dropping!' but he said I can just go whenever, so I did it one more time and then I went for it. I just wanted to keep that line and the whole thing in my head the whole time, so I just went for it.
"When I did it, I knew I had to stick that landing and had to step that 2nd bounce. I knew what I had to do. I didn't realise I was gonna get that much send on the first one and get that bounce!"
In case you somehow missed, here's the moment again...
https://www.newschoolers.com/videos/watch/927706/Freeskier-mov
"If it wasn't for Tanner I wouldn't have had that exposure."
He had obviously been training for moments like this, ever since he first got in a sit-ski. In January he was hucking cliffs in Japan and big-name skiers like Tanner Hall and Michelle Parker were sharing clips on their Instagram:
"If it wasn't for Tanner I wouldn't have met all those companies or Jess Macmillan. It was on my Instagram, I'm sure people would have seen it, but it definitely helped. Then I got that invite and now this, It's just really cool."
"It's pretty surreal. It's awesome and at the same time it's really humbling. These are my idols and I look up to them. It's so cool to think that they look up to me too, in a way that changes their perspective. It's really cool. I think I'm turning a lot of heads, but I just want to keep doing what I'm doing, keep giving back and loving life. It's cool what I'm doing now, people are taking note."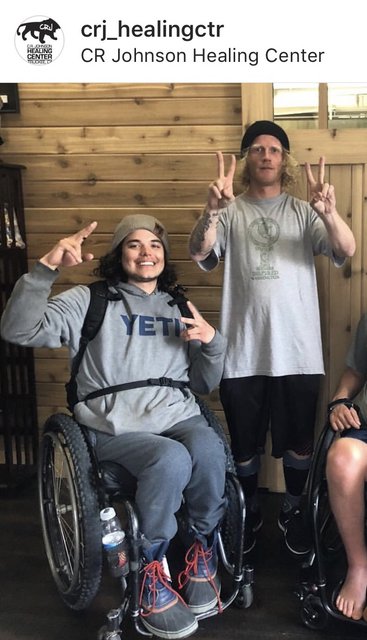 SKIBOSS & SIT-SKIBOSS credit:@crj_healingctr
This recognition and new-found fame wouldn't have been possible if he hadn't caught that edge on the kicker back in 2014:
"Everyone has their good and bad days, but it was such a blessing in disguise what happened to me, because without it, I wouldn't be where I am today and I wouldn't have met all these great people along the way. That's so, so special to me."
"When I was a kid I used to do boardercross and stuff like that, but I got away from all that through high school. When I moved to Colorado I could rip the mountain, but I wasn't great at all. It's just really funny when people ask: 'So were you pretty good at snowboarding?' Apparently I wasn't that good!!"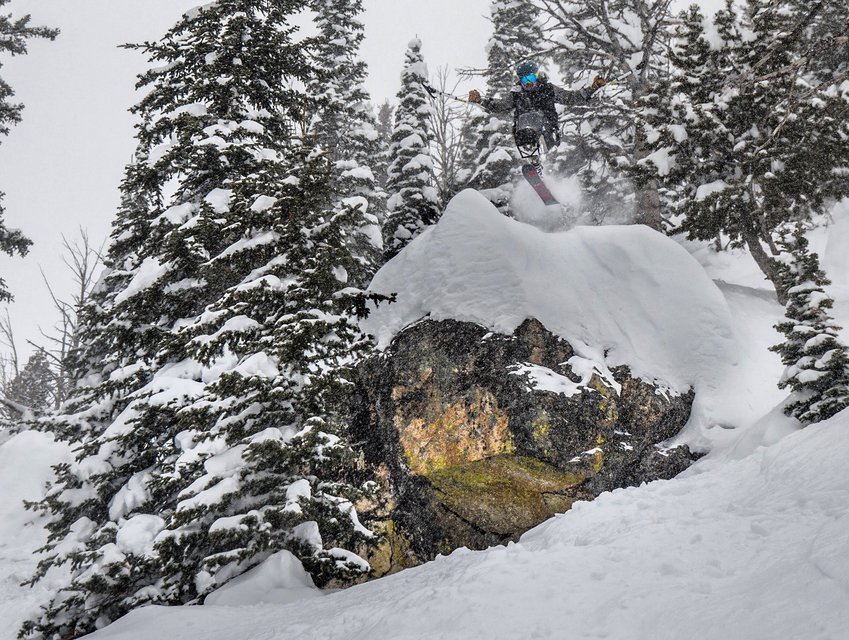 Credit: Matt Dorretehy
"Moving forward, I'm literally trying to pioneer this and do big mountain, back-country, park, slopestyle, X Games, skier-cross, mono-cross, stuff like that I want it to get out there."
He admits that he's not the only sit-skier out there hitting stuff, but he is trying to pioneer being such a versatile athlete:
"I am in the park, hitting rails, 60ft booters, big mountain stuff, so it's not like I just do one thing. But no-one's gone as big as I did at Corbet's. I want the Freeride World Tour, I want to get an adaptive side in there. I want to get slopestyle in the X Games one day, make a category for us. Yes, I'm doing it, but there are so many people out there that rip. I want to pioneer it and get that exposure out there, for the rest of us."
This has been a crazy few weeks for him and his life has certainly changed since that fishing trip a couple years ago. Trevor is taking the world by storm on his sit-ski, I had my own injury and recovery and am now interviewing incredible people for NS. At the end of the interview, Trevor sums it all up in one sentence:
"You got injured and look how many great things happened to you. If we hadn't got injured, we wouldn't be here doing this interview!"
With his drive, positivity and skill, I doubt this'll be the last time you'll see Trevor Kennison on NS…
Trevor's favourite:
Trip: Jackson Hole. For the cliffs, terrain, people and just the environment.
Trick: A road gap. I want to do a backflip, I want to do a double-backflip, I want to do a backie road gap, backies off cliffs…
I don't want to stop at one backflip, I want to learn and continue to grow.
Track: Wu Tang! I'll choose Ice Cream by Raekwon ft Ghostface killah, Method Man, Coppadonna