Cover photo: Jeremy Pancras
Torin Yater-Wallace was born the same year as the inaugural X Games. He may have already had an XGames medal when he was just 15-years-of-age, but his life hasn't exactly been a fairytale. He's been out since December 2018 with the latest in a string of horrific injuries that have ranged from extremely debilitating to life-threatening. Despite this latest setback, he was extremely positive as he talked about getting back on skis and the past, present & future of his ski career.
_
You broke both your heels last December, that doesn't sound pleasant, but you seem to be getting more active recently. How's the recovery going?
Yeah, the recovery's moving forward. It's definitely a marathon rather than a sprint, got to take it slow and steady. The summer's been fun though. I took up golf, it's definitely not as thrilling as the things I usually do in the summer, but it gave me a little something to do all summer. It's been low impact and it's kept me entertained.
Just recently, I got a mountain bike. I haven't had a bike since I was like ten and I'm just seeing the place I live –here in Colorado—in a different sense. Usually I'm traveling quite a bit more in the summer to go ski and if I'm not doing that, I'm only skateboarding really.
It's been a fun, different kind of summer, just adventuring around the place I call home, in a different manner.
_
So how do you normally spend your summers?
In a usual summer, for the most part, I don't ski at all in June, then in July I usually do two weeks in Mount Hood at Windells. Then I come back and enjoy home for a bit. Late-August I usually do a New Zealand trip and in the fall, October/November, I usually do a little Europe trip.
_
When do you hope to be back on skis?
As of right now, I'm hoping to get back on snow some time from late October into November, that's kind of my ideal window. As I said, the recovery's been quite a marathon and I've had to take things day by day. In June I had another surgery. It was elective, I just chose to get two screws out of my feet, one from either foot. They were killing me and I knew I wouldn't be able to put up with ski boots, with those screws in my feet. They were kind of rubbing against my shoes and just super uncomfortable, so I'm really happy I got them out.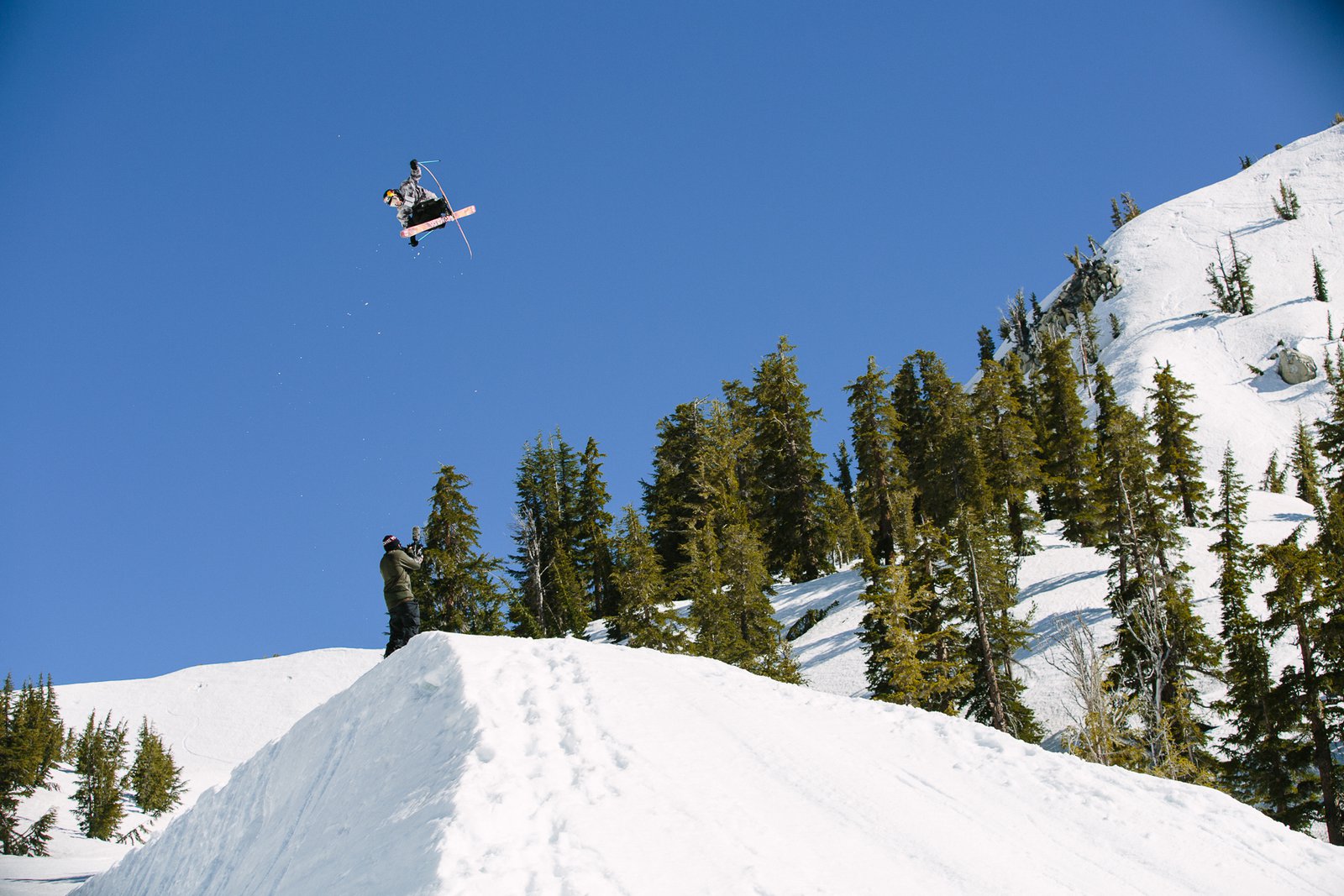 Photo: Adam Moran
_
Do you have a picture in your head of what you'll do when you get back on skis?
I just think I'm hoping to make some nice turns and just keep it mellow. I think it goes without saying that I'm going to need to do quite a substantial amount of work to my boots to accommodate these new bionic feet I've got on me. It's going to be quite a frustrating process of trial and error.
I just have to know that, in my head, going into it. I can't expect to just hop into my old boots and feel perfect. I've had a pretty traumatic injury to my feet, so I've just got to take it day by day and just be optimistic going into it. You can't just come back from injury and expect to be skiing like you've been skiing like normal, this past year. It's kind of a new position for me, I've had my fair share of injuries but I've never really had any sort of injury that kept me out for more than maybe two months. This past season is the first ski season I've ever missed in my entire life.
_
Back to Life seemed like a very personal project. Do you have any plans to do another, more traditional ski movie in the future?
For me, Back to Life was much more of a film and documentary about me as a person, that kind of revolved around my skiing. Whereas, from here on out, I'm really excited to work on an actual full ski project, this upcoming season. At this point I'm not planning on doing any contests, I'll just be focusing on this solo project. I'd say it'd be predominantly backcountry and maybe a little bit of park here and there.
I'm really taking this year to myself. The situation that got me in this position, going into a year of doing no contests and only film, wasn't exactly the ideal situation. I would never hope for my worst enemy to break both of their feet, but in hindsight and taking something good out of a bad situation, I'm in a good position going into this year. I'm pretty excited.
_
Just one more question on Back to Life, the movie ends with your X Games Gold in Oslo. That must have been one of the hardest fought golds in X Games history, can you describe what it felt like to stand on top of the podium after almost dying at the start of that year?
Yeah winning X Games in Oslo 2016 was definitely one of, if not the, most memorable contest wins. It was just a really crazy win and, as far as contests go, the goal is to win, but in that specific instance, it had been such a crazy year.
I don't think there was any pressure or expectation for me to win, that was really nice and just being able to come out and end up on top after such a hectic year, a medical experience that was unavoidable (a liver abscess treated by a ten-day medically-induced-paralysis).
It was really special, I don't think there's any other way to describe it. There are very few contest wins that have such an emotional toll on you. That and my first X Games, when I was 15, are two contests that I don't think I will ever forget.
_
You won your first medal at that X Games, was Is it hard to stay grounded when you have success at such a young age?
I've spoken to people that have been in the same situation, and I was, looking up to Simon and then becoming a friend of his and he was someone who was winning big events at 14 or so. If you ask anybody, it's just different when you're at a young age, you come to these contests and you have no pressure. You're more motivated than anybody in the field because you've got nothing to lose, you're the young kid, you just go all out.
I think that once you get that success under your belt, you kind of get that expectation going into contests once you've made a name for yourself. Whether it's pressure from people watching, from press or fans, etc. I don't think I've ever had any of that make me feel any different going into a contest. It becomes a competition within yourself because you know what you can do, and you're disappointed if you don't do it.
I'd say at this point in my career, I feel extremely content with the competitive career I've had in halfpipe, whereas coming into contests, when I was super young, my main goal was to do, essentially what I've done now. I think you just transition into wanting to go into all avenues of skiing. That was kind of the goal for me from a young age, to be diverse and not to just be a contest skier, because I've always hated that label and I've never wanted to be something that I didn't want to see myself as. As I said, I'm now in this position to go film and do what I want, it's almost a second fire being lit in the same way I had the fire lit in the competition scene when I was 15.
Photo: Ethan Stone
_
Is there any chance you'll go back to competing once you've recovered from this injury?
I don't see myself as being completely done with competing. I can confidently say that I have wrapped up my career in halfpipe skiing. This year I'm going to be focusing on this film project entirely, but in the future, pretty much an ideal year for me would be filming all year and doing maybe three or four slopestyle or big air events.
Speaking of competing and halfpipe, slopestyle and all that: going into this past year I had a specific plan set out for Dew Tour and then X Games, to be my final two events in Halfpipe. I was going to film a bunch this year and do a couple of slopestyle events in the spring, so by default, I ended the halfpipe career one event early. Nonetheless, I'm happy with how it's been. It's unfortunate that the injury happened at one of the cooler halfpipe events.
_
Have your injuries and setbacks given you time to think about what you want to do after you've wound up your ski career?
I think this is something that a lot of us don't talk about –-in our teenage years—at the time you're living the dream, and, in your head, you think it's never going to end. At some point it obviously will, unless you can keep on the path of Candide, it's hard to have skiing pay your bills late into your thirties and forties. I think about it all the time, I try to not let it stress me out too much and not focus on what's current and thriving in my career while I have it, but I think there are many different options that I could go for. Ideally, I would love to stay in the ski industry. Whether that's working with a company, starting a company or just doing something cool to stay involved in the sport that's given me the life that I live. There's commentary, working with a brand, starting a brand, there are all kinds of different options. I think I've got to brainstorm more and more to be prepared for that, but it's really hard to figure that out now, I have friends that are just out of college who don't really know what they're going to do. For me, to think that far in the future is always a little difficult. Especially since I don't know exactly how long it'll be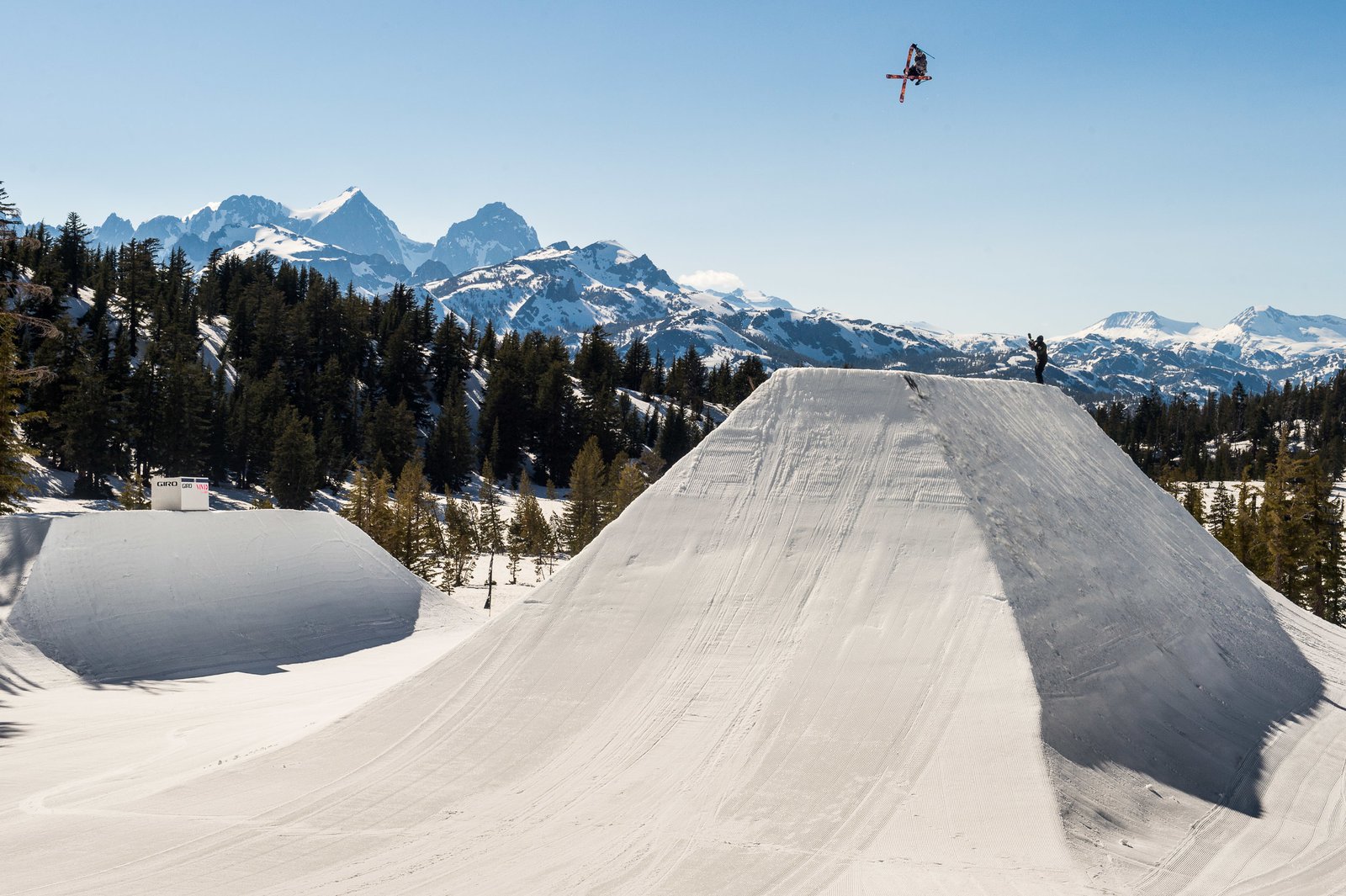 Credit: Ethan Fortier
_
You're still only 23, but it seems like you've been around for ages! So, what's your take on the ski industry at the moment?
I think there's a lot of great things and there will always be things that some people may not love. In my opinion, there is too extreme a role for national teams and very specialized skiers focused on only specific parts of competing. That isn't my favorite thing, I've always felt that you should never really change up from being able to go and film and love skiing, while also doing contests. I think that should be imperative.
But while that is a big thing that some of the folks that have been around for a while don't love, I don't think that should overshadow the amazing things that are happening too. There's an unreal amount of content coming out and people with just great ideas.
Having all these big platforms, I think, gives people who are just going out to film a good way to stay extremely. While I don't, personally, love social media and I may not be the best at it, I do think it gives people who may not be competing all the time a nice platform to work with sponsors to do cool things and still be able to make a little bit of money to be able to ski all year.
_
What do you enjoy watching?
I have a diverse view of "favorite things to watch". The park skier in me will always love watching someone like Henrik, just going ham in the park and doing extremely technical tricks with style. Other things definitely appeal to me too, I don't even know how to put into words the specific things I like to watch. The park skier in me still loves to watch really good park skiing. Skiing with flow, with ease, but still technical. Like I said: Henrik does a great job at that, Quinn and Colby are two of the younger kids. There's just a huge amount of talent right now.
With all the content on social media, there are so many different ways to watch it that you can't help to feel sometimes that it's a bit oversaturated and that you're just like: "how much of this do I want to watch?". I think if you figure out who you love to watch then you just look at that stuff, it's a bit more manageable.
Besides that, my favorite kind of stuff, that's inspired me to go for it with this year is, just watching people charge jumps in the backcountry because that's what I want to do. People like Parker White and Sammy Carlson are two of my biggest inspirations.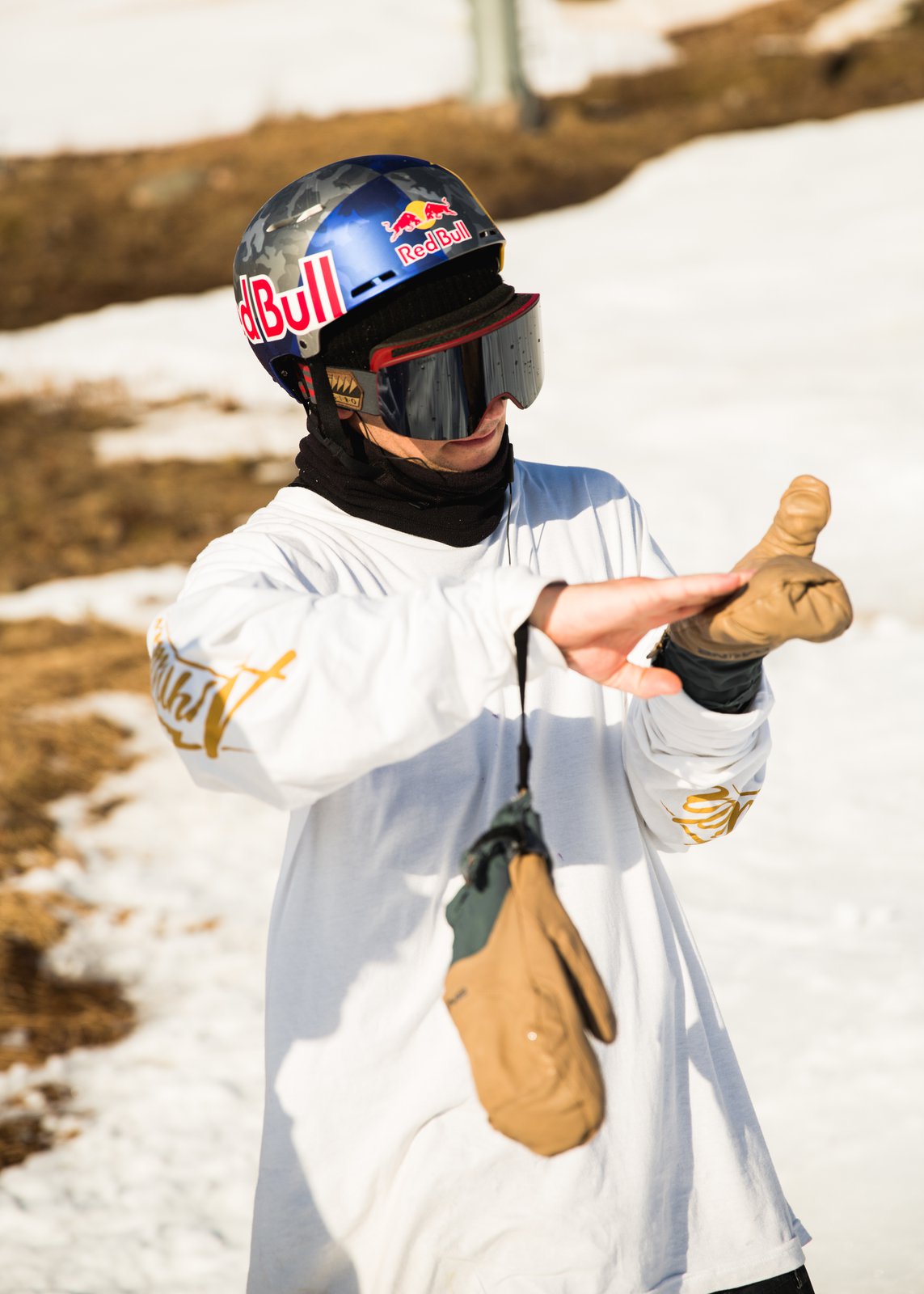 Credit: Martin Axel
_
Do you see it getting harder to get paid to ski?
I think as far as getting paid to ski goes, it's obviously much harder to make as much of a good living as it was, say, in the mid-2000s. I think that's a no brainer. You know, when Tanner, TJ, Peter Olenick, Simon Dumont all these people were in their prime. I've heard people refer to them as 'The funny money days'. There was no threshold, there was no precedent set as to what you pay people who do tricks on skis. Companies would be like: "Oh that's impressive. Let's give you X amount!"
Now there's a lot more of a thorough system for what brands decide to pay people. Obviously I notice that there's not quite as much money in the industry, but that's just the current state of snow sports, but I think it's still pretty similar to how it's been, in the sense of the field that does get paid –this goes for skateboarding and surfing too—the top 15 in the world, as far as competing goes, can make a healthy living to support themselves them year-round. There's a pretty aggressive drop off once you come out of that category, that's obviously really unfortunate.
Going back to social media, I don't love social media –as far as people being an "influencer'—but if you are an extremely talented skier and you can work with brands, to do things through social media, I think that has opened up a little bit of a window for somebody who might never compete but is putting out all kinds of content. I do see a little window of opportunity for being able to just make content and do creative stuff with brands. That might be thanks to easier access to content than just one movie coming out every year.
_
So what are your Interests outside of skiing?
My main interest outside of skiing is skateboarding. That's pretty much what I do, if the snow's not falling, which has come to a screeching halt this year. I haven't been able to skateboard, that's been a bummer, but I'm still able to watch it all the time. Like I said: this year I've got into golf. I'm not very good, but it's given me something fun to do. I'm just getting into biking right now. Besides that, I just really like being outdoors going camping, I don't know, my days consist of doing all kinds of random stuff. I like to edit footage on my own, I have a fun time with it and always like doing that. Right now I don't have any footage to edit.
_
An X Games medal at 15 and you bought a house when you were 19, so you've ticked off many people's lifelong ambitions already. Are there any goals you still need to tick off the list?
I definitely have them, but any ambitions in life, are overshadowed by my ambitions in skiing. Another silver lining to take from the injury is how much this has sparked me to go skiing. I've never ever had to go without skiing for this long, by the time I get back on snow it'll have been nearly a year. I know there are all kinds of people who've had repetitive knee surgeries and been out for years in a row, but I've never had to experience this. In a way, it's lit another fire under me. Previously I was just skiing so often at all times, in the summer and everything. Right now, my ambitions are so focused on putting a good part out and film in the backcountry as much as I can. That just overshadows any life ambitions at the moment.
A company in my hometown, Vital films, that I've filmed with a bunch, we put out that project from that season, when I won in Oslo. That actually got taken down, because we didn't have music rights and Vimeo went through and took everything down. We're working hard to get it back up because a lot of people request to watch it.
_
Torin called back to tell me about one ambition he still hasn't fulfilled...
I love cars. So a life goal is to have a fun, fast car to drive, maybe a Porsche 911.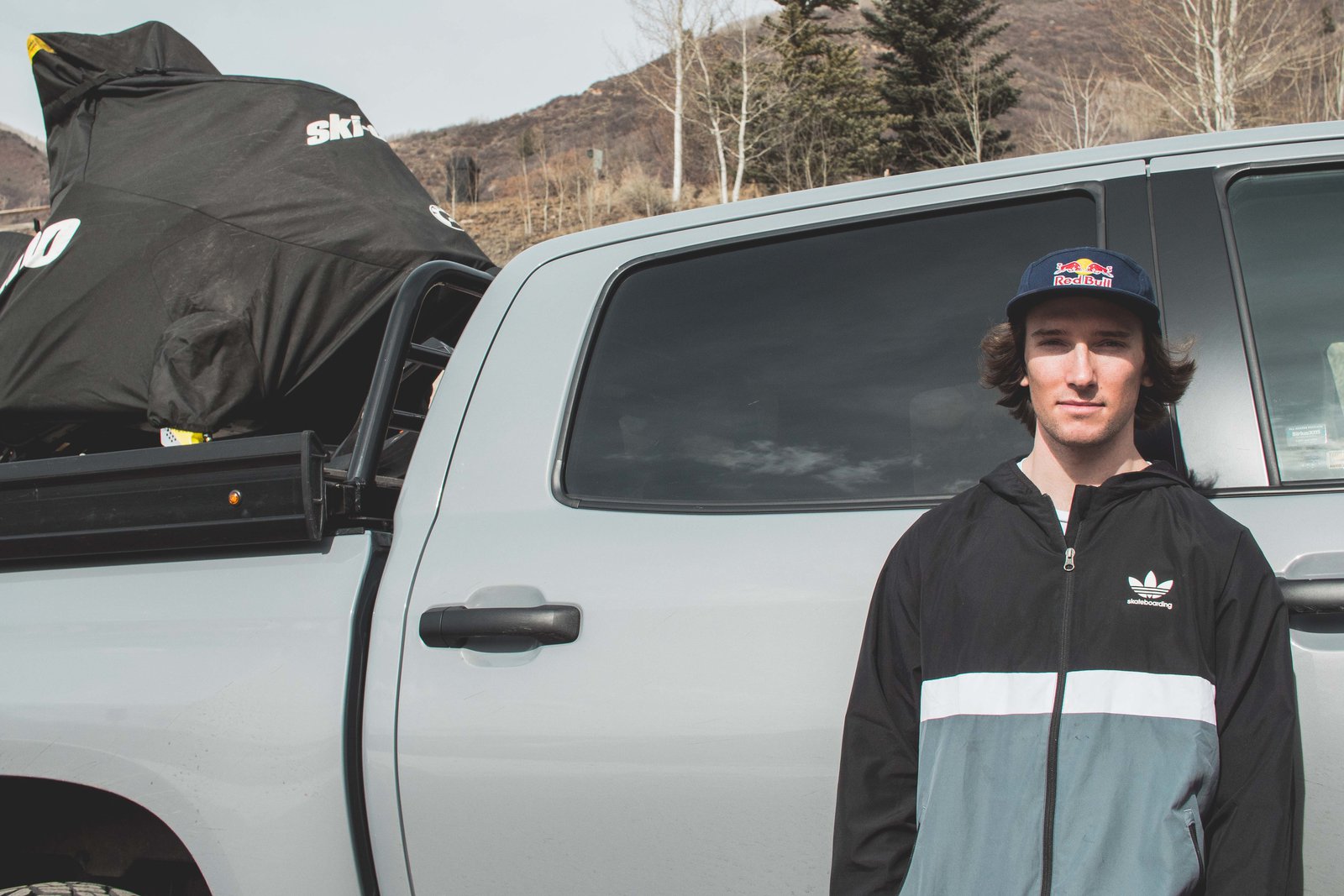 Photo: Jeremy Pancras
_
Torin's favorite:
Trip: If I could ski anywhere, I'd have to choose home: Aspen. Outside of Aspen, my favorite place to ski, there's a lot of different answers. But in terms of diversity, somewhere I've had a really fun time skiing and I've had some success in contests, is Tignes in France. I've had a great time skiing pow there, skiing the park across the way in Val D'Isere and I won my first X Games there, so it'll always hold a special place.
Trick: Cork 5 mute. It's just been a battle to make it look perfect. I've done a million of them and I'm always trying to make it look even more like TJ Schiller's. That's a lifelong battle.
Track: Well I can't pick anything recent, because I can't ski right now, but the song I've done a lot of new tricks to and listened to at contests I've done decent at is: Ima Boss by Meek Mill Feat. Rick Ross