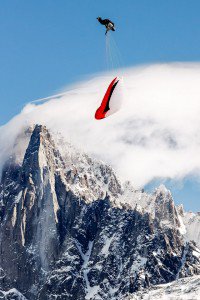 I took this shot during the 2009 Nissan Winter Outdoor Games with pilot Hernan Pittoco in Chamonix, France (click to enlarge). I cant remember the name of the pilot that was flying me (I was flying in tandem, as a passenger) and it frustrates me as the picture wouldn?t have been possible without his help.
 
The idea was to fly close to each other and frame Hernan in the sky with one of famous peaks of Chamonix moutains in the background (here l?Aiguille des Drus) as he was executing a complicated manoeuvre with his wing.
 
We took off from a dodgy area at the exit of the Brévent cable car, running together downhill at the same time in the fresh snow to inflate our wings. In the process Hernan sprayed his ankle quiet bad but managed to take off.
 
We didn?t notice at the time, and we had no radio to communicate with each other ? Hernan was in pain wihout us knowing, but as he saw us behind him at the right distance he just did as planned.
This maneuvre is one of the hardest, most technical, and most dangerous of acrobatic paragliding. The pilot's wing is shooting so fast in front of the pilot that it's doing a complete revolution, bringing the pilot upside down above his wing. Wrongly executed the pilot could fall in his wing, with lethal consequences… its called infinity tumbling because the pilot is actually fueling the revolution with very precise skills to keep on doing it over and over.
 
At the landing Hernan couldn?t walk anymore, he had to go to the hospital to get his ankle strapped and he walked with crutches for the 3 following weeks.
 
Big Respect Hernan, this is pure dedication, and sure a story to be told and remembered. This is also the kind of teamwork with the athletes that fuels my love for extrem sports photography, we had to solve together so many challenges to produce this shot.
 
The Tech corner: 19/02/2009 ? Canon 50D + 24-105mm@100mm ? 1/2000 f8 iso 400