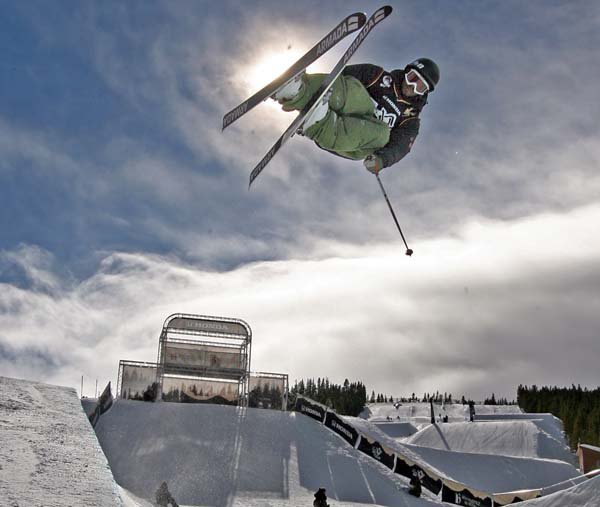 JL Ratchel.Words: Julie WeinbergerPhotos: Connor Walberg, Julie Weinberger
After the week-and-a-half long
party that was the US Open and X Games, I found myself in Breckenridge,
CO—or shall I say BreckenFRIDGE—for stop two of The Honda Ski Tour.
Halfpipe was supposed to kick
off the event under the lights on Friday night. But, it finally decided
to snow in Colorado after around three weeks of dry weather. High winds,
with gusts upwards of 70 mph, and severe blowing snow caused pipe to
be postponed until Sunday afternoon. Skiercross—which was supposed
to take place on Saturday—was also moved to Sunday.
For those of you who may be
unfamiliar with this new series, The Ski Tour is the brainchild of two
guys, Kipp Nelson and Steve Brown, to give freeskiers their own professional
tour for halfpipe and skiercross. The ultimate goal: to get halfpipe
in the Olympics. Skiercross is already expected to be in the 2010 games.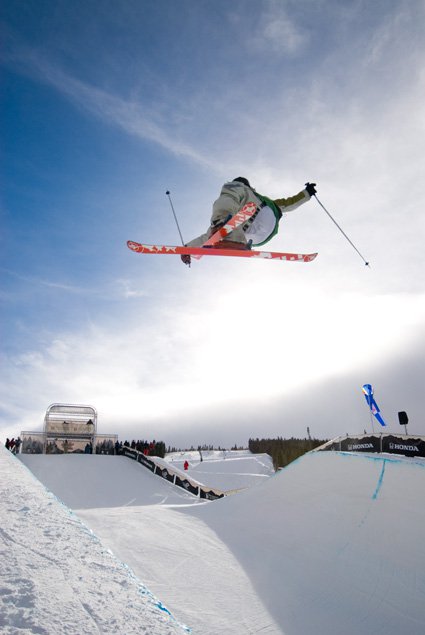 Welcome to Round 2 of the "Name that skier" contest. Be the first to get it right in your comment below and win an NS bandana!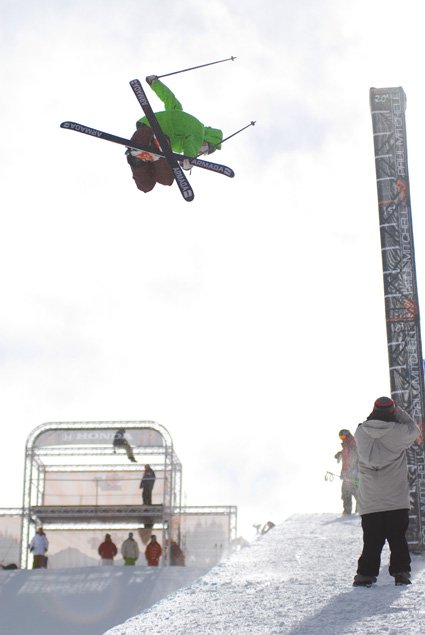 Sean Field, with trademark amplitude.
"I am completely confused
as to why pipe is not in the Olympics," said Kipp. "It's the same
facility as what the snowboarders are using. It's all set up. With
the creativity on the skiing side, it's just plain dumb that it's
not in the Olympics."
In its first season, the tour
has four stops—Sun Valley, ID; Breckenridge, CO; Aspen/Snowmass, CO
and Squaw Valley, CA—and the largest purse in the sport at $125,000
per weekend. The Sun Valley stop took place mid-January. Simon Dumont
won pipe, followed by Mike Riddle and Jossi Wells.
Besides being a venue to host
the world's best skiers, The Ski Tour is also a rocking concert stage.
The likes of Tommy Lee and Swollen Members, to name just a couple of
acts, are on board.
And, to make sure the whole
world can see how dope skiing is these days, the events are nationally
televised, putting the sport in front of millions Americans, helping
to promote it for an Olympic bid.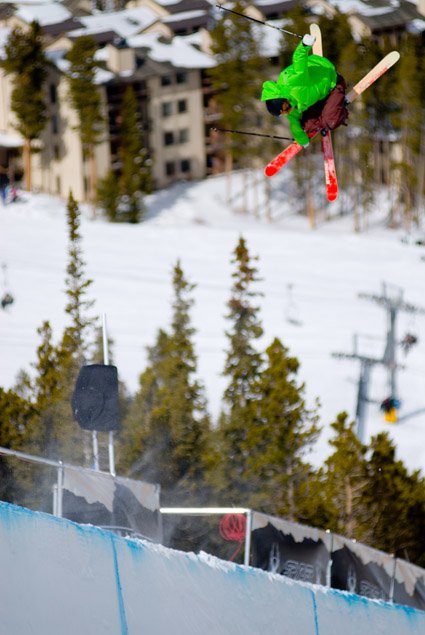 Sean Field again.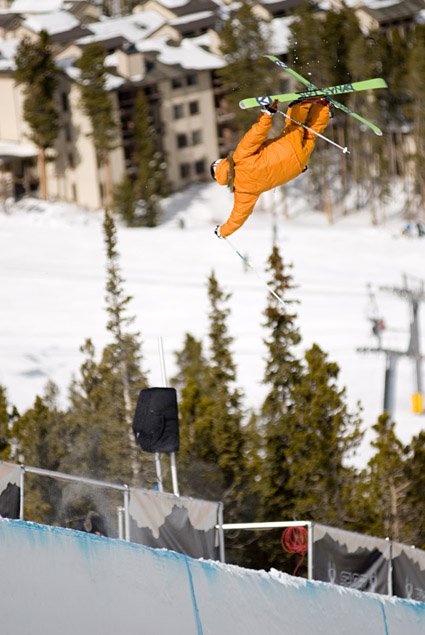 Anyway, on to stop two's
event.
Finally, the wind died down,
and a patch of blue sky circled the pipe for most of the contest, allowing
the 26 competitors a chance to finally hit the ditch on Sunday afternoon.
Because of a shortage of daylight, the contest turned into a two-run
final without any qualifications or semis.
"[Waiting] sucks," said
Andreas Hatveit. "You just want to get it over with as fast as possible
so you can go back to riding normally and having fun instead of all
the stress."
For run one, the wind was not
too much of an issue. Tanner Hall put down a first place run: a switch
7 into the usual. Then, Peter Olenick, his Whiskey flip and a perfectly
dialed 900 landed in second place. After Peter's second place score
was announced, the crowd booed, and many of the athletes were shaking
their heads. Next, Simon Dumont's huge 12 on the first hit put him
in third. The rest of the run—flat 5 to 900 to flat 7—seemed flawless.
Again, the crowd and the athletes wondered how this run put Simon in
third.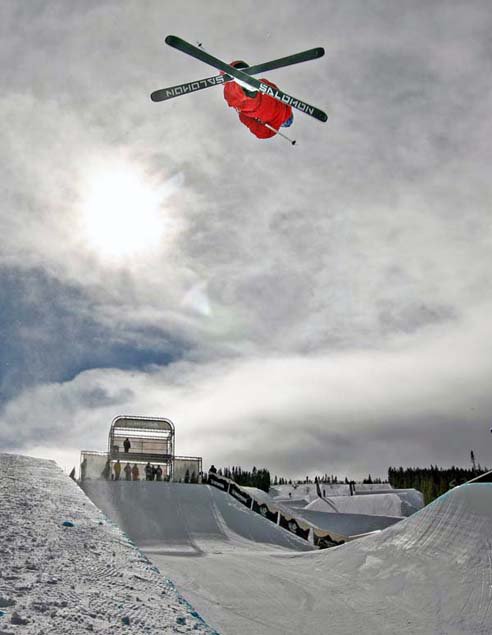 Simon Dumont, 1260, first hit. Now GRAB IT!Run two, however, was a different
story. Tanner was a no show. Instead of taking his second run, he took
a trip to the hospital. Word is he has the flu. Peter stomped his double
flip even better than in his first run, but he was not able to hold
it together on his next hit. The wind seemed to throw him off.
"The wind sucks. It was super
inconsistent and it was different at the top and bottom," said Peter.
"With a perfect pipe like this where we're all landing really high
in the tranny, the wind can take you that much closer to the deck and
slow you down."
After a solid first run, Andreas
added some juice to run two: switch 7 nose, right side 9 tail, left
side 9 tail, right side 7, switch 9 mute. This run booted Simon out
of third place, and was certainly the best show we saw in run two.
"I had done the run in practice,
but it was a lot harder when I had to wait a long time in between every
run," said Andreas. "I'm pretty darn stoked, and I'm having
a great time."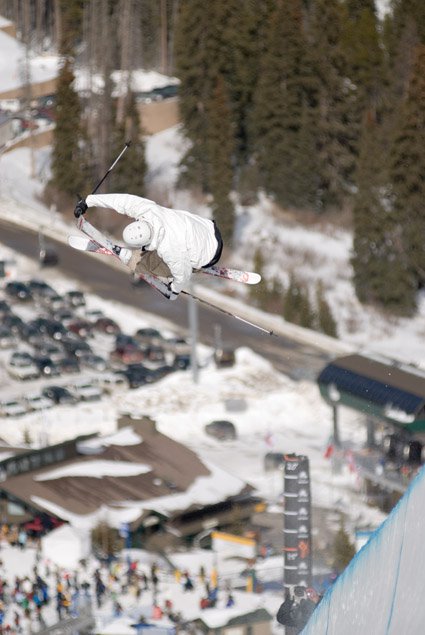 A small group of people will tell you that this should actually be called a "tip grab."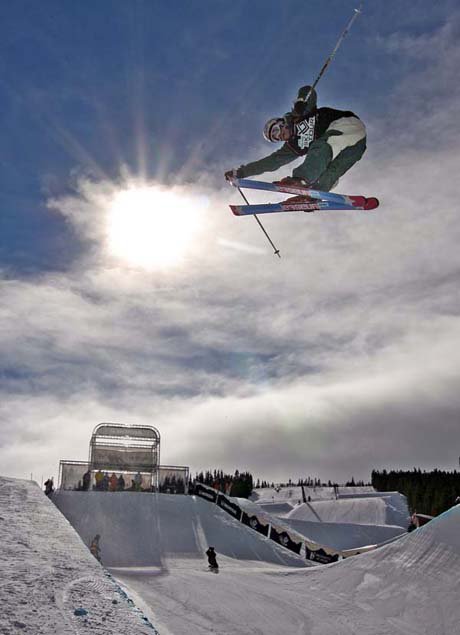 Yeah, I like "nose grab" better, too. Mike Riddle gets it.Matt Philippi, Sean Field,
Colby West and Matt Hayward were not far behind the top four.
While there may not have been
much skiing on Friday and Saturday, there was certainly no lack of stuff
to do. On Friday night, The Wailers played at the BaseCamp Pavilion,
a gigantic tent put up in town just for The Ski Tour. Swollen Members, among
others, rocked nearby venues. On Saturday night, Blackalicious took
over the pavilion.
"The competitions are the
icing on the cake," said Kipp. "But, that's not all. That's
only a couple of hours. So, you have to entertain people."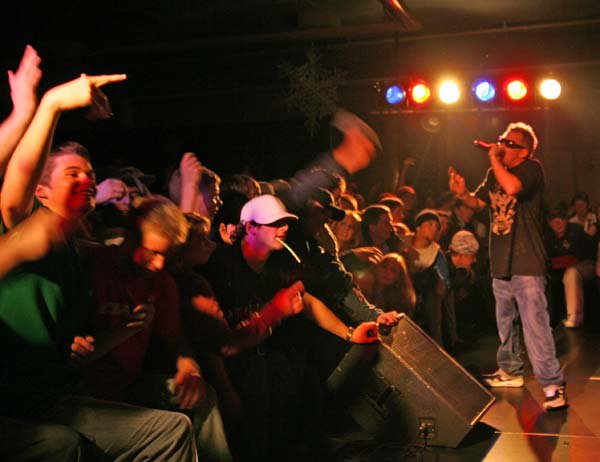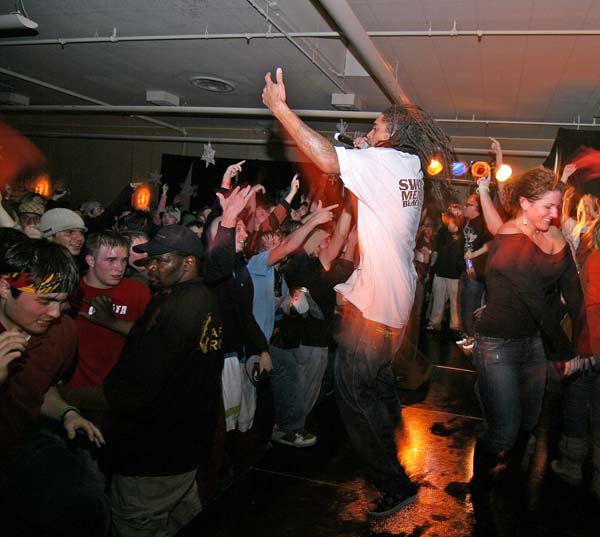 Swollen Members!With the Breck stop now complete,
two events remain: Aspen and Squaw Valley. Both are sure to bring loads
of entertainment on and off the hill.
"The ski tour is the best
event skiing has," said Peter. "It's making everyone ski so much
better. It's pushing the sport so much, and hopefully the world will
see that we deserve to be in the Olympics."
Results:1. Tanner Hall2. Peter Olenick3. Andreas Hatveit4. Simon Dumont5. Matt Philippi6. Sean Field7. Matt Hayward8. Colby West9. Charles Gagnier10. Brent Abrams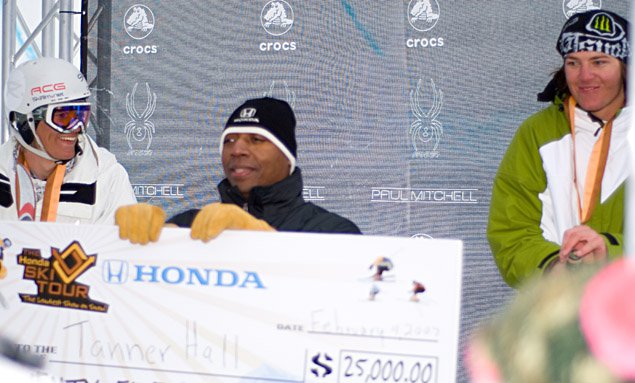 After a mixed reaction to his beard at the X Games, Tanner has decided to modify his appearance yet again.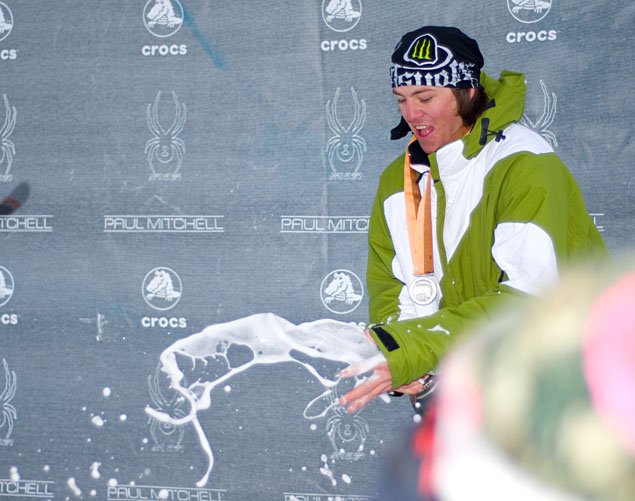 Peter Olenick gets WAY TOO EXCITED.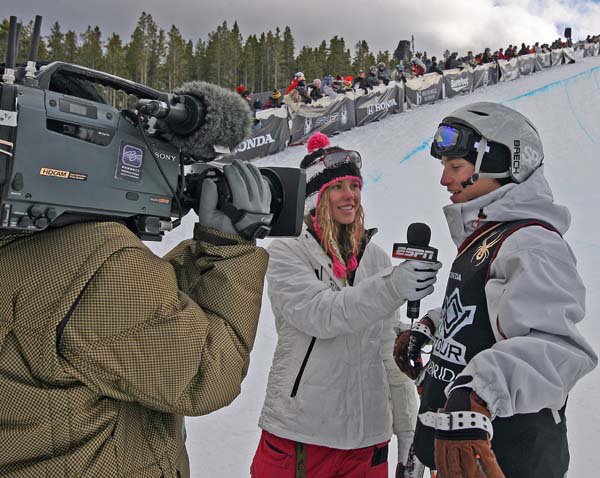 Wow, Lynsey Dyer's working for ESPN?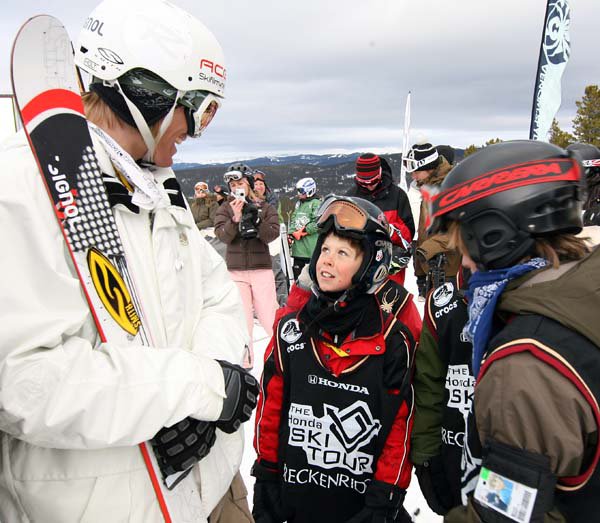 Andreas Hatveit chats with some local rippers.Watch the video!(Footage and edit provided by Skifilm.com)