Interview by Pippin Lee
So Rogge, where are you currently?
I'm in Burlington. Actually I was on my way to the beach, but in classic Geoff Macdonald and Chris James style, they made plans and then screwed them up. So I am actually heading down to a different beach right now with one of my friends. It's a pretty nice day here in Vermont.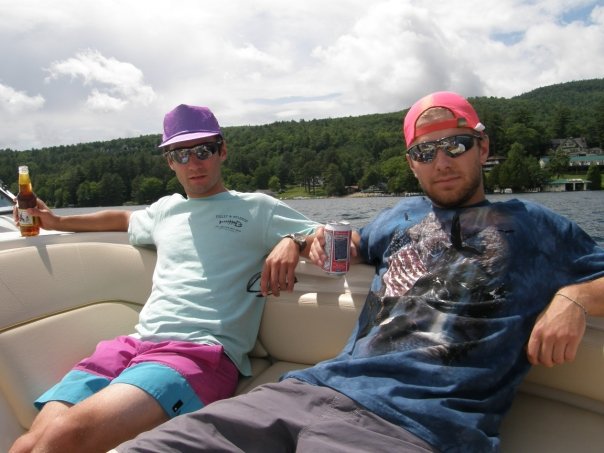 And how is summer life in Burlington?
It's been really good, and really busy cranking out Wild Stallions and working on the new Ski The East site and more recently, I've been working on making a radio show. So it's been a good summer, I even got to meet Duncan Lake the other night at Nectars.
Before we get down and dirty would you mind explaining to those on NS who've been living under a rock for the past several years who you are and what you've been up to lately?
Well, I started out writing for Freeskier when I was in college which was super cool. I would get some gear in exchange for doing some articles for their website along with a couple of things I wrote for the magazine. Then at the first IF3 I met Schmuck, at which we point we became a force to be reckoned with as we started cracking out content on Newschoolers, which I did that for the rest of my college career, if you can call it a career. Then I moved to Burlington, Vermont in February and started working for Meatheads and SkiTheEast.net and here I am. Just one long journey you could say.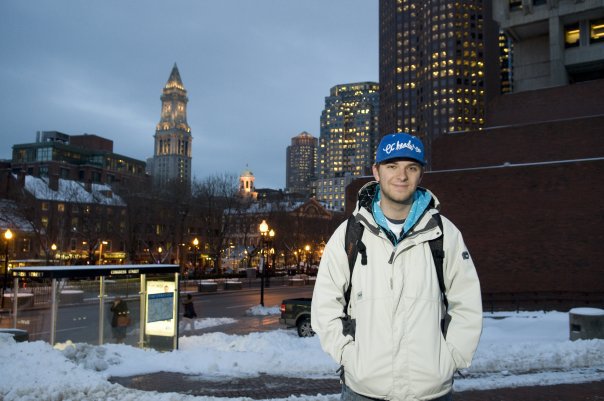 photo: Matt Stauble
So tell everyone out there about this whole concept of creating a skiing-related radio show. I know a lot of it came wanting to bring the "phoenix" out of the ashes from the sadly deceased NS Radio. When did the idea first jump into your head?
I had always listened to NS Radio with Doug and Harvey and it was always good times. You recently posted an older show, and it kind of got me stoked on NS Radio again as I had kind of forgotten about it. And then I met these two guys, Tony and Eric from WBKM, at Nectars in Burlington. Originally I had gone to them to see if we could form a relationship with Meatheads for our tour but it ended up not being a good fit, but they asked me if I wanted to do a radio show and I had never really thought of it before. But, NS Radio was fresh in my mind so I said yeah let's give it a try.
What motivated you personally to decide that you wanted to spend two hours a week yapping on the airwaves and discussing skiing – what do you want to come out of this?
Well to answer the first part of your questions, anyone who knows me or has ever talked to me for five minutes knows that I love skiing and I love talking about skiing. It's really, really fun. It's one of the reasons I love chatting it up with the athletes on the Ski The East team or anyone on NS just cause it's fun to talk about skiing. I remember a couple years ago Doug Bishop saying that if he lost everything with Newschoolers he would probably work at a ski shop so he could still hang around and talk about skiing, and I have always liked that idea. So as far as talking for two hours, I was super nervous going into it, and I wasn't really sure if I would have enough content to discuss. But fortunately enough Matty B. over at EC Headwear tweeted about Tom Wallisch winning the Coast Body Wash contest for 20 grand and that's what I talked about for the first show, which went down last Tuesday. I like to try new things and it was definitely something new. Writing is always something I have cared about, but the radio had always seemed kind of cool and I think it was really a chance for me to push myself to see if I could do it.
When go to do your show do you have a planned schedule of what you are going to do or do you just wing it?
It is a little bit of both; I mean for the first show I was a little nervous. WBKM is the kind of a classic rock/jazz Burlington type station. Basically any music that you think a Burlington station would play, they probably play it on that station. The first thing I definitely knew was that I wanted to play classic rock and maybe a little metal and have some fun with it. As far as preparing for the show, I try to sit down and sort of like drafting for an essay I think of the beginning, middle and end, and how I can keep it interesting for two hours and try to come up with little ideas. But as far as the winging aspect of it goes if a friend is in town and they want to come on, I am more than happy for them to come on. Anyone is welcome on the show as far as I am concerned, not just for pro athletes or people in the industry. I am happy with anyone; I mean I will even have Eheath (Evan Heath) on the show if he wants to come on as it would be great just to chat it up with him.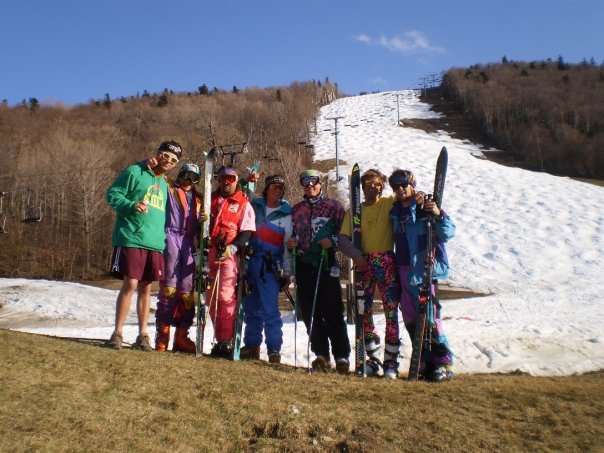 The Meatheads
Is there a Meathead Films and Ski The East connection to your radio show?
There is no official connection, but obviously some of the things I talk about may have happened at the office and obviously I have gotten a lot closer with some of the athletes that we film with. But as far as the Meathead-Ski The East connection, I talk about it but there is no official connection. My big thing that I would love to do is at IF3, do some interviews with guys like Berman, Johnny D, etc. I know the Poor Boyz Tour is coming through Burlington on September 22nd so I'm going to see if I can get those guys to come down early and get them on the show.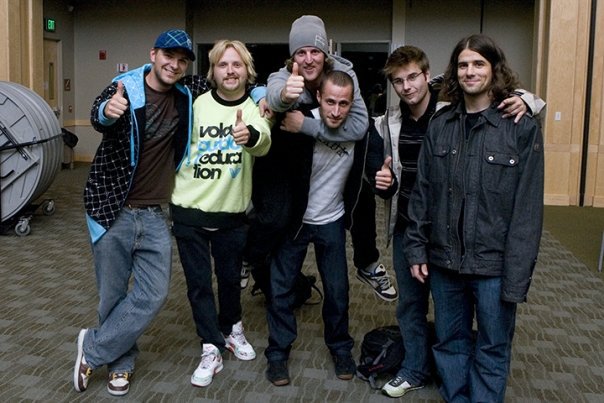 PBP East Coast Movie Tour
I am sure a lot of people would be stoked to hear from guys like that on the show.
That's the thing. Part of what made NS Radio so great is that it was driven by the users, as most of the content is on NS. There is an unofficial connection with NS too, as it's Bishop and I working together. If people love or hate it, I want to know and I just want to make the show better and play music. I think what's so great about the radio medium is that you can hear the person's voice and there is a lot of room for creativity, and when people are just talking they're pretty normal. Plus most of the people I have met in the ski industry are pretty talented and pretty hilarious so I think it will be fun to get those guys on the show and hopefully it will help make the whole thing a success.
Is Mr. Bishop an unofficial host?
Like everything he does today, he does a lot of work on the backend looking for sponsors, but if there is ever a time when I can't host the show he can host it remotely from Montreal and I am definitely looking forward to him coming to Burlington and getting in the studio.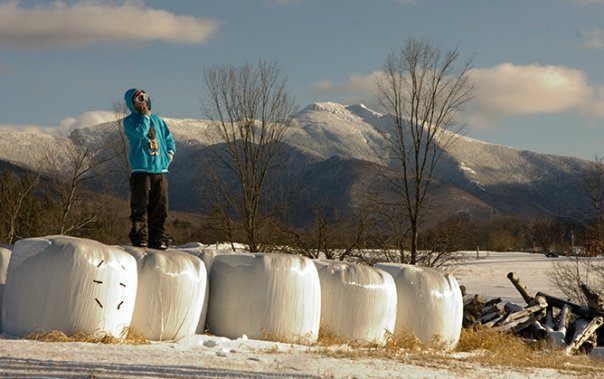 photo: Dan Brown
Being in the modern age – can you explain some of the social media way including sites like Twitter that you're using to interact with your audience?
I was really hesitant to get on board with Twitter and I was trashing anyone that was on Twitter. But the thing is a lot of people use it as a "this is what I am doing now" type thing which is cool if you're Tony Hawk or Oprah or Ashton Kutcher, who I guess are all pretty popular on there. But then I decided to hop on, and to my surprise, I thought it was fun. And for the radio side of things a big thing has always been call-in's, which has been cool but the thing that sucked about it was that anyone who has ever tried to call into a radio show, it's usually busy or you can't get through. With Twitter I am hoping people can Tweet me or start a thread and get a hold of me instantly while I'm on the show and I'm going to try start taking more requests during the show. Last week we got a dude from Georgia who requested Guns N' Roses. And that's not Georgia the State, that's Georgia the country, so big shout out to my first international listener!
And how can people interact with you on Twitter during your shows?
It's twitter.com/skiingrogge. I realize it's probably the lamest name ever but Mike Rogge was already taken. So make sure you tweet me up because if I get more followers than Dan Brown that will really piss him off and he'll have to buy the first round at IF3.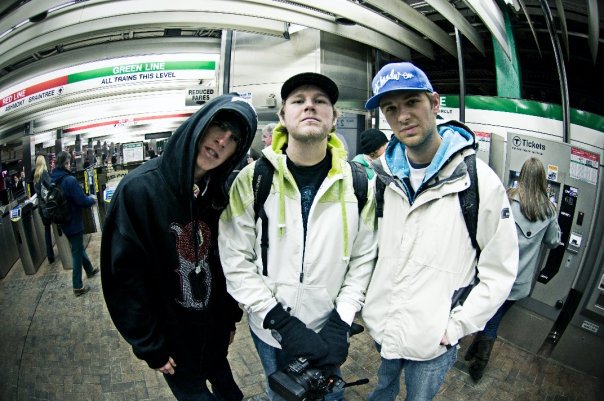 Matt Walker, PBP's Cody Carter and Rogge in Boston
What can listeners of The Ski Show expect to hear in the near future in terms of guests?
Well the beauty of the show is that we can do Skype calls and Skype interviews and as far as who is lined up officially, I don't want to give too much away, but you can definitely expect to hear from athletes and some film cinematographers and producers. But more importantly, I definitely want to give a voice to some of the people behind the scenes, like the editors of magazines, photo editors, photographers like yourself, writers, etc. Because we all love skiing, and we all talk about it or else we wouldn't be here talking about it on Newschoolers and other social networking sites. So I'm kind of hoping I can get those people. If someone were to make a good case to come on the show, I would be more than happy to have them on. So in terms of who you can expect, I would say don't expect anything, just be surprised. Obviously the Meathead crew will be on time to time, but whoever is in Burlington, if you want to come up to the studio it's right above Mr. Mike's Pizza, we can have a couple cocktails and talk some shit about skiing.
It's sweet how you are giving a voice to the backbone of the community.
Like anything you do you also like meeting the people that are best at their craft. But for me personally I've always admired the Matt Harvey's, the Doug Bishop's, and the Nate Abbott's. Those are the guys I look up to and those are the kind of guys I want to have on the show. Not that they are more interesting but that they have seen more. An athlete may stay around the ski industry for 5-10 years and then they get out of it, but these guys have been in it a while. I mean they eat, sleep and shit skiing, which is great.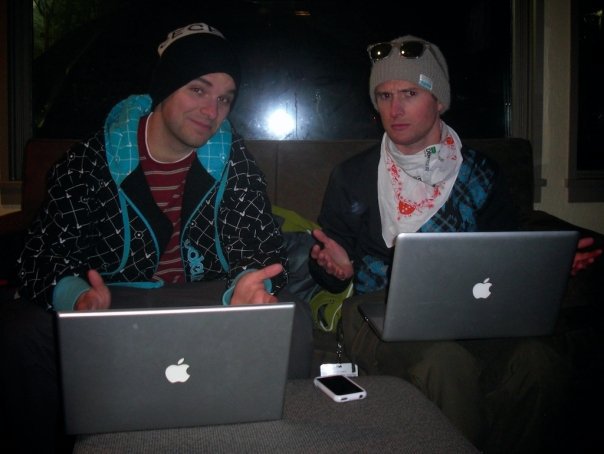 with Freeskier's Digi Dave at Dew Tour
Will you be archiving the shows and posting the episodes online somewhere?
We're working on that. We're trying to find the best way to do that without a podcast or whatever. The problem that we'd run into with that is that WBKM has some great connections, so we can play anything; like I was playing the Beatles and Led Zepplin the other night on the show, which is great, but when you go into the podcasting world you have to start paying for music rights. So we may just end up cutting out the music parts and just keep the live show and interview parts.
Best of luck with the ski show! Any final words?
Yeah there will be a new Ski The East (http://www.SkiTheEast.net) website coming up soon and it should be a good time. We have a custom Gnarshmallow level that Adam (QuazBotch) is working on right now. Thanks to my family, and my sister who is about to have a baby. And obviously everyone that's helped me out on the way: Meatheads, Newschoolers, Freeskier and all of NS for just being cool because I was just an NS'er and wanted to do more with it, and anyone can do that if they want to. Also a big shout-out to Tony and Eric from WBKM.ORG for giving me a chance on the radio. They're great guys and have a real passion for all music.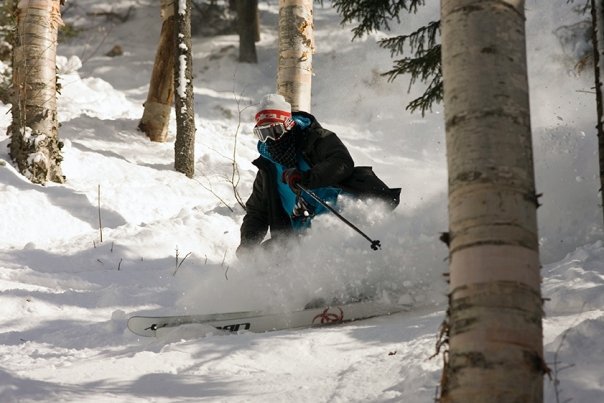 The Ski Show is broadcasted on wbkm.org on Tuesday nights from 9-11pm EST (click on the flower for live listening). If you'd like to make a request, ask a question, or comment, feel free to hit up @skiingrogge on Twitter.