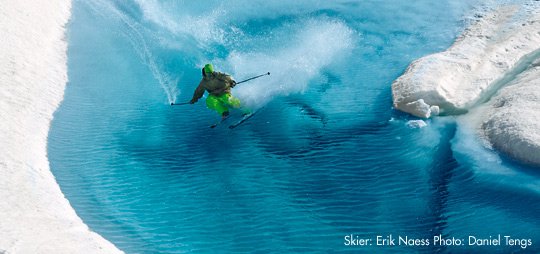 Mt. Baker, WA – Summer's here, and the touring is easy. With solid snow depths in the North Cascades, Whistler/Blackcomb and Mt. Hood, our 'hood is just getting ready to drop back into its "second" season. With 16 hours of daylight, and corn turns aplenty -- learn to love the sun and don't be fooled into thinking skiing is a purely Christmas commodity. With extended snow packs, there will be continued opportunities for the devoted from Tahoe to Juneau, not to mention the plans being laid by friends and staff for South America and New Zealand excursions.
Along with the longer days and softer turns, we at The Ski Journal have been lucky enough to enjoy several groovy events put on by friends and supporters. With TSKJ's Matt Wibby, Jessie Carlson, and Colin Wiseman making it up for the Orage Masters in April, all were treated to one of the most fun and unique contests put on by anyone in the industry. Check our blogs for more coverage on the Masters and if you can at all make it next year -- this is a good one. Additionally, the crew made it up for Whistler/Blackcomb's Telus World Ski and Snowboard Festival, the mother of all spring blowouts. While other resorts twiddle their thumbs waiting for the bull wheels to quit turning, WB gets right down to biz with a week-plus of events, concerts, and many, many sun deck beers. Highlights include publisher Jeff Galbraith and TSKJ contributor Leslie Anthony both judging the prestigious Pro Photo Showdown at the Whistler Events Center. Attended by a couple thousand ski heads screaming at an eight-sided projection screen ("The Octopus"), The Showdown was once again a staff highlight with TSKJ contributor Jordan Manley taking top honors.
Additionally, because we believe in skiing as a culture and not just in post Labor Day marketing, we are pleased to announce the release of our latest edition #3.2, shipping out to subscribers in the next two weeks. With most of our last two year's issues sold out, subscriptions are the best way to ensure a complete collection. Drop in and subscribe at http://www.theskijournal.com and remember -- it's always fresh somewhere.
See You on the Mountain.
Subscribe
Subscribe and join The Ski Journal family.
Give the gift that gives year round.
Perfect for dads and grads, a gift subscription.