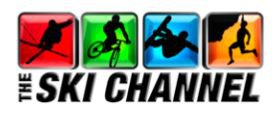 The Ski Channel Announces One Of The Most Advanced Web Apps In The History Of Sports And Travel – The Ski Channel's Resort Rater
Los Angeles (January 18, 2010) – Steve Bellamy, Chairman and CEO of The Ski Channel (http://www.theskichannel.com) announced today that the network has launched one of the most revolutionary web apps in the history of sports and travel. The Resort Rater is a travel information portal that helps consumers learn about ski resorts and plan for ski, snowboard and mountain resort trips.
Its engine is a complex algorithm that ranks resorts by hundreds of different criteria as rated by experts, consumers and through hard data. The algorithm weights expert's opinions within their fields of expertise higher and then blends those with ever changing consumer ratings and hard data like annual snowfall, uphill capacity, bed count, etc. to create the most accurate analysis of what resorts a consumer should choose to experience. Click here to go directly to the resort rater: http://www.theskichannel.com/resort-rater/
"Over 10,000 hours of coding, planning, designing and content building have gone into the Resort Rater to date and we are just scratching the surface," said Bellamy. "It is a beast, yet the most simple, intuitive and incredibly functional web app I have ever seen. We want more people taking ski and snowboard vacations as well as creating lives for themselves in the mountains. This is the ultimate tool to facilitate that as it truly makes a science project out of what is typically an art project."
The Resort Rater is similar to a Google search in that a consumer can completely customize a search and instantly get a ranking at the click of a button. A person planning travel could search for the best resorts with an airport, daycare, ski school, blue runs and dining. Instantly, the Resort Rater would rank over 500 resorts for those specific search criteria.
Then on that page the consumer would get each resorts key mountain stats like:
• Up-to-date weather and snow conditions
• Lodging Information
• Insider tips from renowned skiers and boarders like Lindsey Vonn and Mike Douglass, who are knowledgeable to a particular resort.
• Dining recommendations
• Shopping information
• Run and lift information
• Resort Twitter feeds
The Resort Rater will be the single most marketed asset of The Ski Channel with over $1,000,000 of the channel's commercial load being used to promote it.
The Ski Channel leverages the fact that it is shooting television programming at many of the resorts, which allows it to multipurpose its footage for the Resort Rater. Currently, custom video content at mountain restaurants, lodges, from resort CEO's and experts on runs lives within the Resort Rater.
In the next phase, consumers will be able to look at resort cams, have interactive experiences riding runs and they will be able to purchase trips.
The Ski Channel http://www.theskichannel.com is an original, free, ad supported television network delivered on cable, satellite and IPTV services, web, wireless and other means of distribution. Its distribution partners include Time Warner Cable, DirecTV, Cox, Cablevision, Dish Network, AT&T U-Verse, Verizon FiOS, Brighthouse and RCN. It is the only television network devoted to the wide variety of year round mountain activities such as skiing, snowboarding, hiking, biking, backpacking, climbing, etc, along with many off- slope activities. The Ski Channels' content will inspire and inform audiences with magazine shows, movies, events, news, weather and programs that focus on destination travel, equipment, instruction and real estate.