All Photos (unless stated) by Daniel Ronnback
Sammy Carlson doesn't need much introduction. For park-skiers; he has X Games medals in Slopestyle and Big Air. For those who prefer their features sculpted by nature; he dominated Real Ski Backcountry. And for movie-buffs; The Sammy C Project is about as in-depth and complete as movies about one skier get. With new sponsors, new motivation, and his latest movie 'Over Time', you know Sammy Carlson's not slowing down anytime soon!
_
Hi Sammy, so let's get straight into it, tell us about your early days on skis?
I was born in Portland, Oregon and I started skiing on Mount Hood. That was the early days. I got into it with my family. We'd go up and shred as much as we could, as I got older, I started getting more and more into it.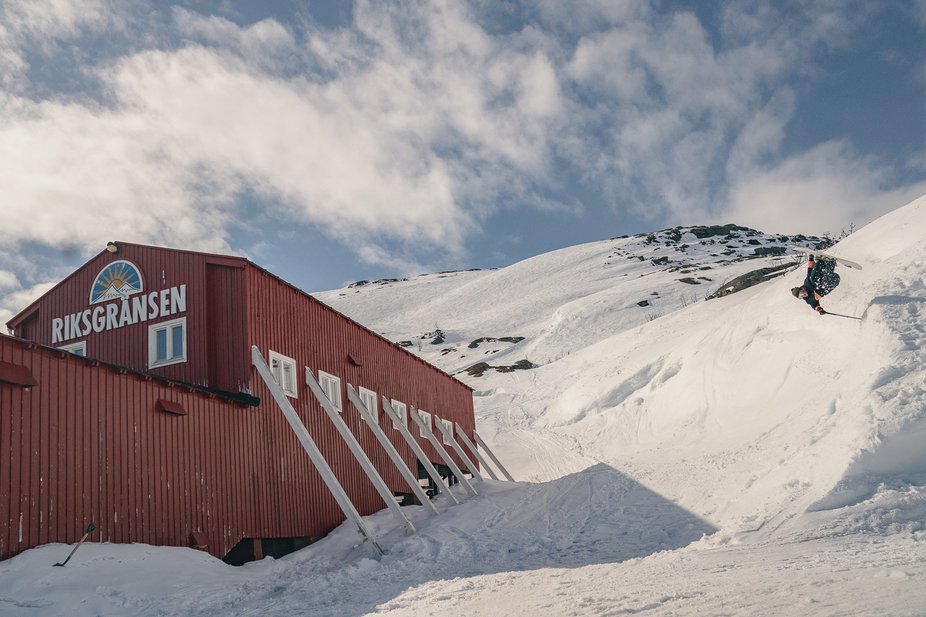 A long way from Oregon
_
When did you start competing?
I didn't compete too much at the beginning. When I was 12 or 13, I did some of the local comps around Mount Hood. Nothing serious, it wasn't my focus. Growing up, I was just trying to ski a lot. We had a sick crew of skiers on Hood. We would all shred together. Tommy Ellingson and Seth Warner were some of the locals leading the charge, spreading the stoke. Griffin Cummings and Josh Frazier were the style masters. Pollard was also around, his style was a major influence. There was a solid crew of skiers for sure. Back then, the sport was pretty small. Usually. when I saw another skier with 'twin-tips' there was like this instant brotherhood type feel, at least for me anyway, haha. My boys and I were a bit younger than the other Hood Rats. They all treated us like their little bros. Tommy and Seth took me under their wing, I skied with them a lot. We had a local film crew lead by Shaun Hughes, he had my back big time. He helped spark the idea, that I could be a pro skier. I was 15 when I went to the US Open for the first time. I had a good result and got sponsored by Salomon. They helped kickstart everything else.
Going back to when many of us first saw you, in WAR, was that your actual classroom in that movie?
Haha yeah, that was my actual school. One of the filmers from Poor Boyz came in and we shot the intro of that segment just on a normal school day. It was cool, but it also was a bit weird having the cameras in school. It was cool filming with Johnny really early on in my career and getting to know some of the pioneers of freeskiing. That's something I really value, getting to know the early PBP crew and seeing how passionate they were, they were some straight-up rockstars. The first impressions from those early-days stuck with me and I really value what they did for the sport. They paved the way big time.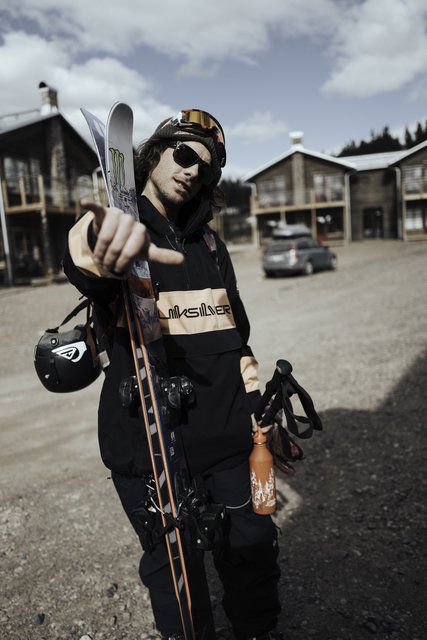 Jack of all trades
_
What was it like being a pro-skier in high school?
It was crazy! It was definitely like a dream come true, I was the most stoked kid on the planet. I was happy to be living my dream. I was gone from school a lot, it all happened pretty quick. My school was cool about it and my parents too. I traveled a lot in the last two years of high school. I ended up doing a few courses online during the winter and would attend classes at the school during fall/ spring. Every film trip we took, I was learning new tricks and going to amazing places.
So you've had success from a young age, film and contests, is versatility what keeps skiing fun for you?
Definitely, you gotta mix it up! If I'm focusing on the same thing for too long, it gets kind of stale. That's what's cool about working on films, creativity can be the only limit. There's always something new to do. Or a new style to approach. In the past years, we haven't dug too deep with any storytelling, I've been more focused on trying to bring the best and most creative action we can create. Over the last 5 years, I've grown so much as a skier. it's been cool to feel my self get more comfortable out in the mountains and continue stepping into new terrain.
Also part of the fun for me is trying to one-up myself every season or build off the previous film part. For a while, I was into hitting big gnarly BC jumps and step downs. Then I got into different trick combos, trying to focus on linking tricks up into pillows, or more natural terrain. Then it got to the point where I have done so many gnarly tricks off so many different features, that I was like what's next... am I going to double corking into this pillow stack? I wanted to focus on something different, I decided to put my shovel away for a bit and just ride. I wanted to focus more on riding lines and work on my flow. It was a sick change. I started getting at least twice the laps each day, which is the main goal and joy, getting to ski. Filming in the Backcountry can be tough. Sometimes you may only get one lap a day, by the time you get out there and set up. I started getting more like 7 runs a day. I knew every day that I got 7 laps in, I was killing it. This past season I wanted to bring it back full circle. Bring the shovels back out and build some big wedges but didn't quite get the chance due to some minor injuries. I'm stoked to get back out there again this season.
Do you still follow the park-scene and watch edits?
A bit. I still watch a few skiers in the park and try to keep in touch with what
tricks are going down, but I don't follow it too closely. With skiing, I'm drawing my influences from different places these days. But I still stay connected through the Armada crew. I still watch the X Games every year. I get psyched to see the boys and girls killing it. I like to see the level of trickery it's through the roof, most of the tricks going down are insane! Lots of guys are skiing really well.
Some of it is starting to look a bit the same to me though, spinning that fast has a sort of acrobatic look. It's just a lot of spinning to take in. When you're spinning that fast it's hard to keep the style. For me ABM and Dollo are standouts. I like their style, I like the boxy steeze and funky axes. The overall level is so high though.
I still have fun riding the park. For two years I didn't ride the park at all. I want to keep riding park a bit to keep certain tricks on lockdown but I'm definitely more inspired to spend time focusing on big mountain riding. I also get pretty inspired by snowboard and surf films.
Back in the park
_
So what do you think of the direction skiing's going? In both the competition side and the filming side?
I don't really think too much about the competition scene these days. It's weird to see people in comps riding no poles. The level of skiing in comps is insane. It could be cool to see some new formats and mixing up the slope courses though. It's good to see the extra focus and the passion, on and off the hill from all the young freeskiers coming up. Getting strong, healthy and training really hard. That's definitely contributing to the progression.
On the filming side of things... each year so many different video projects are being released. It's great to see all the creativity that is being expressed through films. Lots of skiers are killing it in the backcountry too. Lots of crews are going out and capturing good skiing. I'm really stoked how far skiing has come in the last 10 years, it's been amazing to be a part of. The next 10 years are going to be mental!
Has the evolution of skiing meant there are new role models to young skiers?
Definitely, I think skier's influence and positions are changing. One of the biggest changes I see besides equipment, since I started, is the growth. Within the sport now there are numerous approaches to it. With skiing, there's no 'right way', it's about having a good time and getting out on the mountain. However people want to do that, I think that's cool and now more than ever you can do that in different ways.
Now there are facilities available with airbags and trampolines. That's contributed to the evolution of the tricks and how much the sport has progressed. The social media trend has changed the game and allowed a new opportunity that didn't exist 10 years ago. So for sure, there are some new faces but a lot of the same ones are still holding it down too!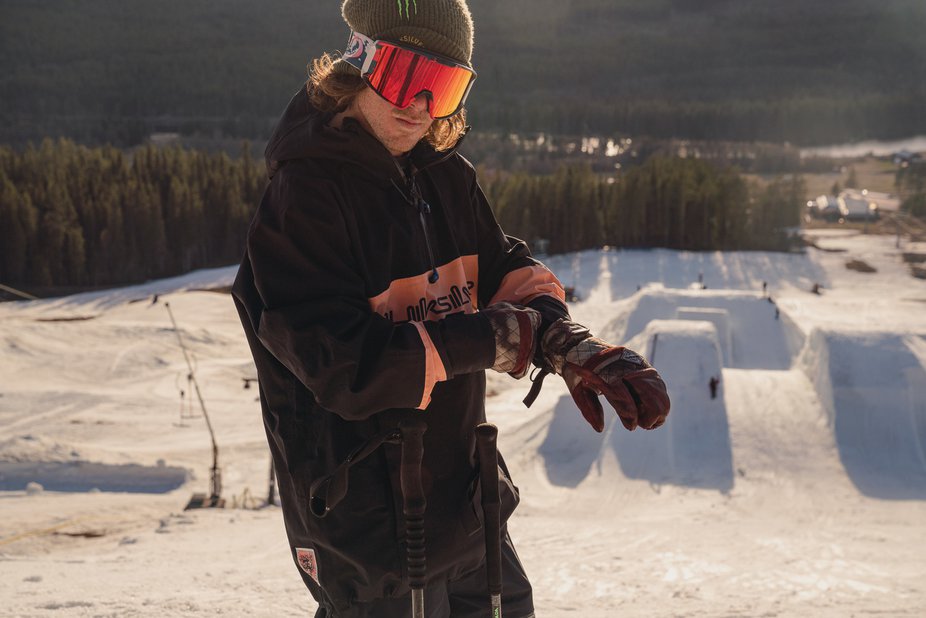 Game face!
_
So you've been working with Jeremy Jones, what was it like hanging out with a legend from a different sport?
It was epic to get up to AK with Jeremy. It was cool to be in the mountains with a legend and digest how he moves and thinks out there. Talking with him about some of his experiences and different places he's snowboarded was inspiring. And to hear a few of his stories. He's not out there trying to force anything. He's really connected to the mountains and what's going on. He's also got that smooth and calm approach. His knowledge and understanding of how to ride and survive in the mountains is very unique. I think that's important for everybody to understand. So much more goes into it, and it was cool to see how much time and energy he's put into really understanding the mountains, keeping himself safe and to allow himself to keep pushing the limits.
What happened to Real Ski Backcountry? Did they shut it down because you kept winning it?
Haha... I don't know man, what did happen to Real Ski Backcountry? Let's get it going again! If they did I don't know if I would do it though. The further I get away from competitions the more I like to stay away and enjoy doing my own thing.
In the Sammy C Project, there's a really old shot of you as a kid and you're wearing an Armada T-shirt. So was it a dream to actually ride for them?
Armada launched when I was 12 and it was such a huge movement in skiing. They've always represented the future of skiing to me and it feels good to be a part of the Family. Representing brands that I believe in is important to me.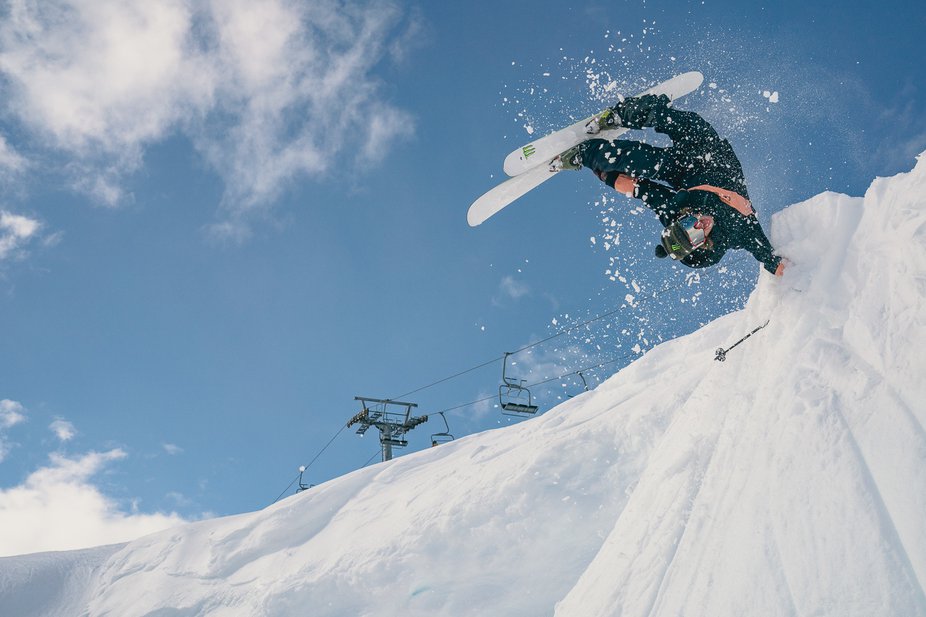 Speaking of Armada; Sammy does have a pro-model ski coming out winter 20/21…
_
Is it hard to live up to The Sammy C Project?
I like the challenge, Coming back year after year and trying to take it to the next level. That's part of what keeps me motivated and inspired... dreaming about new lines and tricks. I still get the bug this time of year, just like every skier when the air starts changing, getting colder. I want to keep moving forward year after year. I'm happy with the skiing and what I've accomplished so far. But I'm still stoked to keep progressing and keep it going.
Tell us about this year's movie?
This year's movie is Overtime. We released it two weeks ago. We're really happy with the positive response to the video, you guys can check it out for free online. I worked with CK9 Studios, who are out of Nelson, BC. We had a good time working together, they did a great job. This project was Clay Mitchell's brainchild. It was fun to work with him and do something different. We had a pretty challenging season. I had a few minor injuries mixed with a lower than average snowfall. That caused us to have to grind pretty hard at times. We got some good days in too though! I'm stoked to continue working with CK9. We're already planning next season and stoked to get back out there. I'm fully ready to get back out there! Huge thanks to Monster, Quiksilver. Armada and Oakley for the support and everyone else who worked on the project.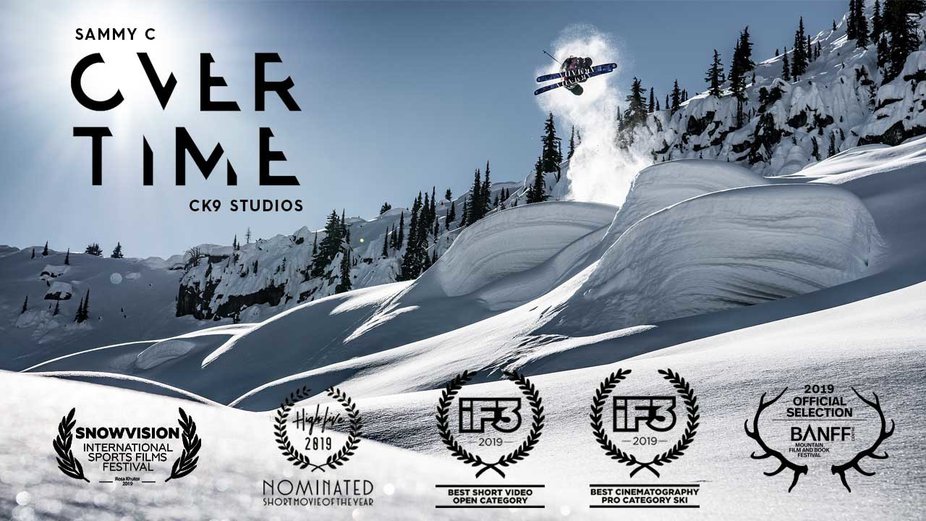 Sammy's latest project: Over Time Credit: CK9 Studios
_
So do you already have plans for this year?
I'm planning to work on another film. We're just lining it all up now. Nothing is set in stone right now but we have some ideas and we're stoked!
Finally, what does Sammy Carlson like to do when he's not got skis on his feet?
In the summer, I spend a lot of time surfing. I love it! I really enjoy spending time in the water. It's nice to step away from the mountains and let the feet air out. It has brought me to some amazing places. This summer I was over in Indonesia for seven weeks surfing with my girlfriend, it was unreal! It's a good way to keep the stoke alive.
Also just hanging with buddies, chilling and enjoying life. I built my own house over the past two seasons. That was too much work, so I'm stoked to be relaxing and taking some time to chill. I generally try to get outside as much as I can.
_
Sammy's Favourite:
Trip: Hard to say, Japan is one of the coolest places to ski. Just the cultural experience, combined with the snow is all time.
Trick: Either flatspin 3, underflat, orbital 3, whatever you want to call them. All of those. Flat 3s, from the beginning and till the end. They just feel so good and you can boost 'em!
Track: I've got a new favorite song every week, but last season I was dropping into Going Bad by Meek Mill a lot. This week it's Pure Water by Amigos... by the time this is published, I'll be bumping something else!