Sammy Carlson is not the easiest guy in skiing to interview. Partly that's because he's always out skiing, but by his own admission, he also simply doesn't like doing interviews. He explains that it's because he has a lot of passion for the sport and finds it difficult to get across in words. Instead he prefers to let his skiing do the talking, and boy does its voice rise above the rest. He's undeniably been one of the most exciting skiers to watch for more than a decade now. His three X Games RealSki segments have been both mindblowing and uniquely Sammy. And the recent Sammy C Project needs no further superlatives. So while this interview may have taken almost a year to get done, I'm stoked because it's a rare and awesome insight into the recent career of one of the very best in the game. Check out the three part Retrospect series dropping on the Rockstar YouTube over the next few weeks for more.
https://www.instagram.com/p/BFFsQHlp6EV/?taken-by=sammycski
Until relatively recently you were right at the top of the slopestyle game, but you don't compete any more. What happened to make you switch your focus so abruptly?
It didn't feel abrupt to me, it was a change I was setting up to make for a while. I feel like the only reason I stuck it out as long as I did was I was scared that it would all be over if I stopped competing, so it wasn't an easy decision. I had put so much energy into skiing at that point, but I felt stagnant. To me contests had lost their appeal. When I first started showing up to X games or the U.S open the courses were always so gnarly and fun to ride. As my riding progressed the courses remained the same, some aimed to build smaller jumps to accommodate for the ladies. Nothing against the ladies of the sport, lots of love. But what am I supposed to do with smaller jumps. I think the final straw for me was the first Grand Prix I did. The course was a joke and I just said goodbye. At that point I knew another result or the judges opinion of my riding meant nothing to me anymore.
It's hard to say what it is about skiing that keeps bringing me back but as a kid, the atmosphere around the sport really grabbed me. The people involved were some of the most free spirited, down to earth people I had ever met. I didn't feel that anymore around the contest scene. You gotta surround yourself by like-minded people, if not it can be cancerous.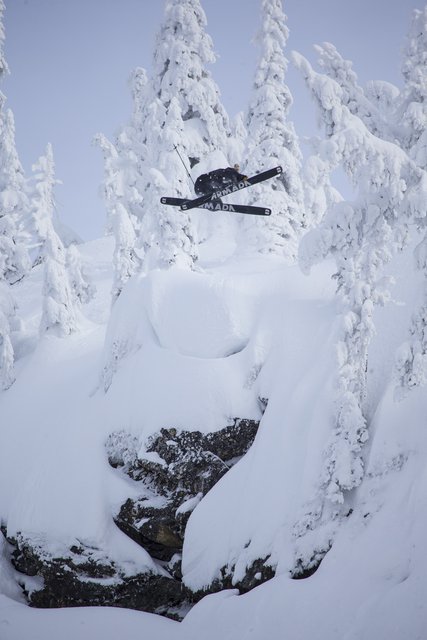 The decision to for me to switch was just to continue keeping skiing fresh. I wanted to focus 100% on the type of riding that excited me. I'm grateful for all those contest experiences. Contests showed me the focus you need to have if you wanna do something above the norm and that applies to everything in life. I tried to carry that focus with me as I moved on.
I wanted to work on perfecting my riding outside the park, start aiming towards the unimaginable. Just letting my imagination take over and follow the visions I had in my head of certain jumps or lines or both. With skiing your mind is the only limit. The terrain is endless, you just gotta find it! I wanted to make the change before it was to late. I knew how much energy it takes to keep progressing, it's not like you just wake up one morning and go for a new trick or ride a gnarly line. It all takes time. I felt like if I hadn't made the change when I did, I would have lost my stoke or maybe missed the opportunity.
Lots of people have made a career of skiing outside of contests, they helped inspire me. I think people were just surprised it was before the Olympics. For me, Olympics didn't mean the same as X. In fact mainstream media coverage pushes me to get further and further away from everyday life and to live my life surrounded by like-minded people and stay in the mountains.
https://www.instagram.com/p/BFcR51lp6Ej/?taken-by=sammycski
How does winning X Games Real Ski compare to winning the main event in Aspen?
They were both special feelings. Winning in Aspen was a childhood dream come true and with the crowd it's exciting to feel all the energy. With Real Ski, only those who are there for that short moment in which the trick is landed can completely be a part of it. Some sessions happen so fast then they're over but that energy and confidence from every session keeps building throughout the year. It doesn't feel like a contest until I submit the video. That's the point I get nervous. It's always a rewarding feeling when people like what I put out because I try to ride for myself but also represent my fans and the sport. Each year there's different obstacles and barriers you have to push through to keep riding at a high level. It felt good to have such a strong focus and success three years in a row!
https://www.newschoolers.com/videos/watch/828622/X-Games-Real-Ski---Sammy-Carlson
How hard was it to film a segment for Real Ski while working on the massive movie project at the same time?
It was a challenge. It was a hectic winter for sure. With the bad snow conditions across North America most of the winter, it made last year (2015) more challenging than the past. Some days it would be epic blower pow for just a couple hours, then it would warm up and the snow would be heavy like that. We aimed to be ready to crush when it was good. Everyone in the crew takes their role seriously, we tried to stay focused and pushed through some rainy sled rides till we hit the snow line. During the spring shoots on Hood everyone in the crew worked hard to make it happen. It was a rad experience, I try to work with people that wouldn't want to be doing anything else, so that when we're out in the field everybody is psyched to be there. Then I kinda warp into a completely different world and my imagination and stoke just take over.
https://www.instagram.com/p/BFAiPhsJ6Ne/?taken-by=sammycski
I grew up in skateboarding and I think the first 'freeskiing' I ever saw was a free Salomon Adrenaline Hunters DVD. You had a pretty awesome part but that must have been at least 10 years ago now. How long have you been pro and what keeps the stoke alive?
I've been a pro for 12 years. I feel blessed everyday to be able to pursue a life on my own terms. Skiing can represent different things to me. Ultimately skiing gives me this feeling of freedom. Skiing has always been a solid focus for me. I'm really grateful to have something that I can focus on, it has kept me out of trouble although definitely got me into trouble too. But it's always been there. I try and stay true to it so I can keep enjoying it. I stay motivated by others around me and other artists pursuing their passions and pushing themselves both in and outside of the sport.
https://www.newschoolers.com/videos/watch/828588/Sammy-Carlson-Retrospect---Episode-1
The first instalment of Retrospect
Was On Top Of The Hood your first foray into the production side of things? What inspired you to get involved with production?
I actually made "Can't Stop" prior to that, with my good friend Dominique, the owner of his own production company based in Europe. We were eating lunch one day and he asked me if I'd like to make a movie with him. I said yes, and we planned it all out right there at lunch, on a napkin.
On Top Of The Hood, was for the heart and soul of the sport. I put it out for free because I wanted to give back to the sport that had given me so much at the time. I made it for my fans and tried to represent my home MTN, Mt Hood. I got support from my sponsors and rallied a solid crew of buddies and we did work. We filmed and edited the whole thing in less than 4 months!
https://www.instagram.com/p/BCGEBKZp6FC/?taken-by=sammycski
Was the success of that project the motivation to make The Sammy C Project? What else made the new movie happen?
I guess ultimately. But The Sammy C Project stemmed from all my experiences on skis. And I had been working with Todd Jones at TGR for numerous years leading up to the project. Every year we became closer, we would always chat about different ideas, until finally the time came and we decided to go all in.
I have to give a lot of credit to Todd Jones for always having my back and really pushing to make sure the project got off the ground and helped see it through. He put a lot of trust into me and I was proud to have such a strong and talented production company like TGR producing the film. TGR was a big part of my transition out of the contest scene. Once I started rolling with the cowboys, the sport felt fresh again.
I put more time into that project than anything prior. We aimed to make something special and inspiring for skiers of all ages but particularly the youth! Lots of tricks but in the mountains rather a terrain park. Support the movement! Go check it out!
https://www.instagram.com/p/BDEU618p6Is/?taken-by=sammycski
What's happened with APO and how did Armada come about?
I left APO for a few different reasons. At the time I was quiet about it for legal reasons, AKA I didn't want to get sued. Simplified, I was starting to work on the 2nd year of the SC Project and I decided to stop working with APO skis, they weren't meeting my expectations. Suddenly, I had no ski sponsor. I called Armada and we started talking. I finished the movie on their skis with no deal. And at the time I wasn't certain if I would find a new ski partnership with the industry suffering.
My thinking was that I've put way to much into the sport to put things on hold now. So I skied Armada skis because it was the brand I believed best represented skiing the way I see it, and hoped for the best. Sometimes, that's all you can do, keep a positive outlook. What was almost a nightmare turned out to be a blessing. Now I'm working with and riding Armada skis, a brand I strongly believe in and I am proud to represent.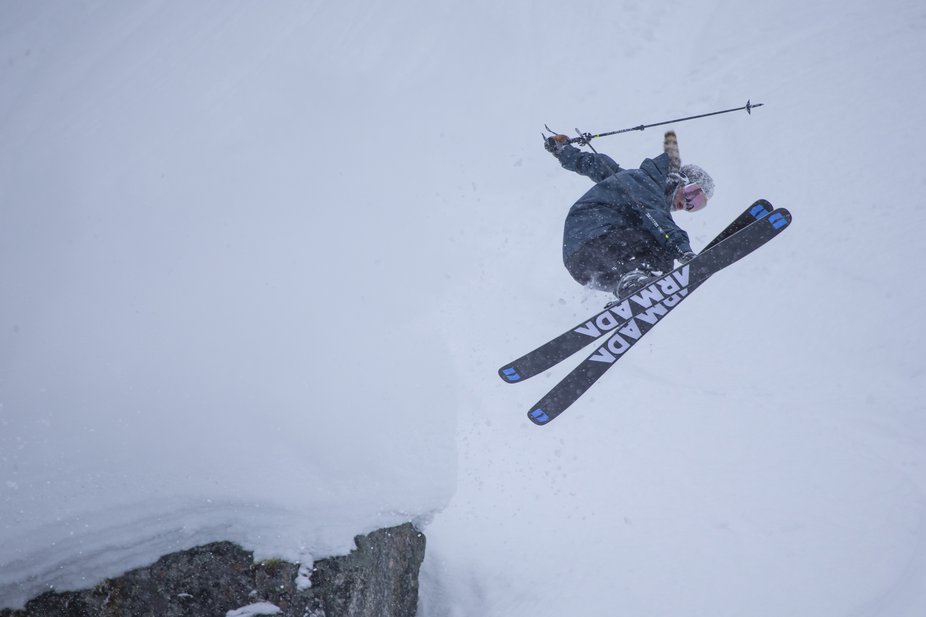 What's next for Sammy C?
This past season was one I'll never forget, so much pow it seemed like it never let up! After successfully finishing the [Sammy C] project I just went out and skied. I didn't put pressure on myself to film another part. My goal was to ski as much as I could but just have fun and not worry about filming too much. I was in Revelstoke for most the season and skied with some good friends.
I got a new tech setup for touring which really allowed me to take my riding to a new level by being able to access crazier terrain via touring. The Marker Kingpin binding gave me the confidence I needed to ride down the way I wanted, whereas before I always felt heavy and weighted down by touring bindings. That's what I want to do, just keep getting further into the mountains and surround myself with people that inspire and motivate me to keep pushing myself. However, I did capture a lot of those days on film with a good friend and will be dropping a short film titled "Won't Stop" a sequel to "Can't stop" inspired by a fallen soldier, CR Johnson! Keep an eye out for that dropping late Summer/ early Fall.
I'm looking forward to the summer vibes, lots of surfing and just trying to live a healthy lifestyle surrounded by good people!