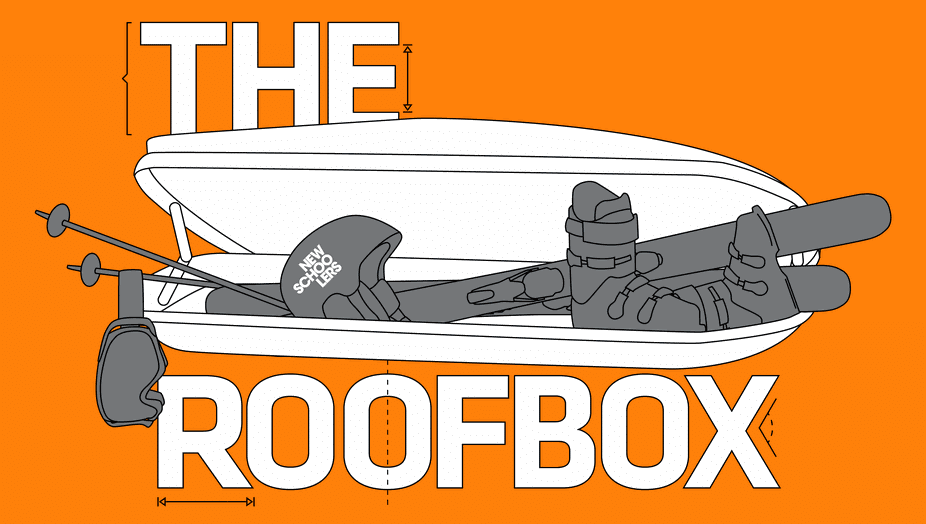 The Roofbox is back for 2016-17, with one aim: No bullshit, in-depth ski reviews, by ski bums for ski bums. No sponsored athletes, no 'we took 3 runs at a ski test'. Brands send us the sticks and we spend a solid chunk of our own seasons shredding them. Then when, and only when, we've spent enough time on a ski to judge it fully, we tell you what we honestly think about the pros and cons of a ski and who we think it will work for. It's a matter of pride for us that 'NS Tested 'means something and that we advise you as best as possible what you should be slinging in your roofbox.
Ski: Revision Talisman
Length skied: 176cm
Tip-Tail Length (Straight Tape): 174.2cm
Shape: 132-96-122
Measured weight (each ski): 1921/1945g
Mount: True Centre
Binding: Tyrolia Attack 13
Days skied: 7
Reviewer height/weight: 5'9, 145lbs
Review Location(s): The Snow Centre (+ a few Zermatt laps on a borrowed pair)
Conditions skied: Indoor, park, groomers
It's safe to say Revision have made waves in the ski industry in the few years since they joined it. They've had incredibly low priced pre-sales, giving skiers a chance to get their hands on brand new pow skis for less than the cost of the cheapest park sticks. They've introduced a market leading rail damage warranty. And of course, they've been the subject of their fair share of forum discourse.
I'm based in Europe and so despite knowing from work that Revision have been selling well, I'd only ever seen one pair of Revisions in real life. So when my test pair arrived I was intrigued to nerd out on something I hadn't seen before, and the skis underwent a pretty serious examination. My pair of Talismans are samples of this coming seasons skis. I believe the difference from production to my skis is an 8mm lift in tip height on the production model. They also have last season's limited Bunch graphic and they look great. The simple graphic is perfect for the target audience and the same is true of this coming season's models.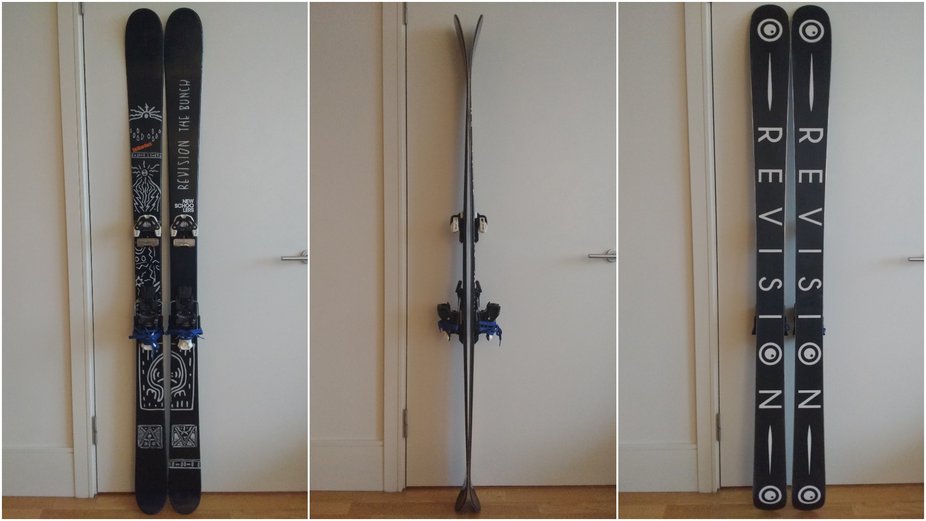 What initially impressed me most after hearing some of the forum gossip, was the quality of the finish on the ski. I was expecting terrible build quality and looking out for things to fault, but the notches for the early end edges were cut well enough, with small amount of filler in there, and I couldn't find any big edge gaps around the rest of the ski. There was some slight unevenness in the cap finish, and the base texture was pretty non-existent but all in all I would say the skis seem to be of comparable build to most mass produced capped park skis I've seen (based on a Revision sample set of 1 obviously). I've had no durability issues to note in the 7 days I've used them either. Seven days is obviously not long enough to fully test a ski's durability but any glaring factory issues would usually become apparent in that time.
Semi-cap construction has become almost an industry standard on this type of skis and the Talisman is no exception. The sidewall is actually pretty substantial and extends further up the ski than say, the Armada take on the tech. The footprint and rocker profile of the skis pretty closely matches the Armada E-Dollo/Al Dente, they are couple of mm narrower, with a smaller tail and slightly more camber but noticeably similar shaped skis. Surprisingly, given I was expecting a noodle, they actually hand flex pretty stiff and fairly consistent throughout the length.
On Snow
So how do they ski? Well for the right skier they're a very attractive offering. The flex, which feels stiff to hand flex is actually very snappy. They are pretty easy to initially flex, especially in the tail for a cambered ski but they are very poppy, they want to snap back into shape instantly. The cambered tail accentuates this but even the rockered nose is a snappy offering. I actually tend to prefer a damp ski, so this took some serious getting used to for me, but by the end of my week with them, I actually had a lot of fun messing around in the park on them.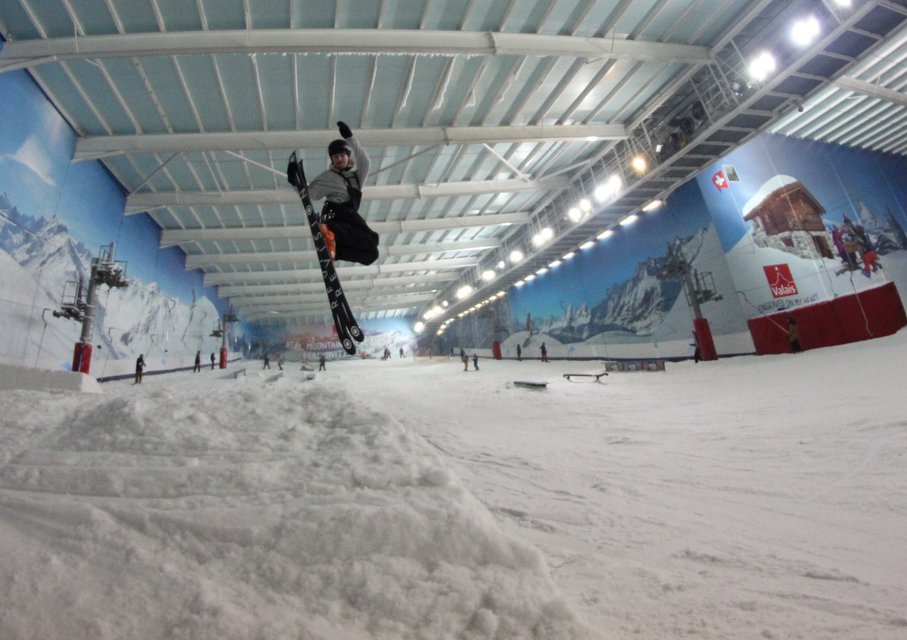 The Talismans feel pretty light, despite not being particularly so, because the cap construction and 'early edge end' mean there is less weight right up in the tips/tails where you actually notice it. Accordingly, they are pretty easy to spin for the width, they certainly feel lighter than the K2 Poachers and even the Arv96s with the spin tip. This combined with the snappy flex, means I'd describe them as a quick-footed skier's ski: great for fast poppy butters, spinning fast on/off small features, swerving quick turns, popping ollies over stuff etc.
But the flipside is they are less conducive to stalling out butters/presses and make surfy style skiing less comfortable because when flexed, the skis always want to pop you right back out again. The wide nose does however provide a nice stable platform for nosebutters. Don't get me wrong, you can stall out tricks, you can use them for skiing in this manner, it just isn't as comfortable as on say a K2 Shreditor 102.
You would think a 96mm, poppy, full sidecut and cambered tail ski would be a pretty great all mountain option, but I found the Talismans were best suited to park. The nose rocker and width makes them pretty decent in choppy snow and the bases seem fast enough but for me they have a few shortfalls. The main issue is with the flex.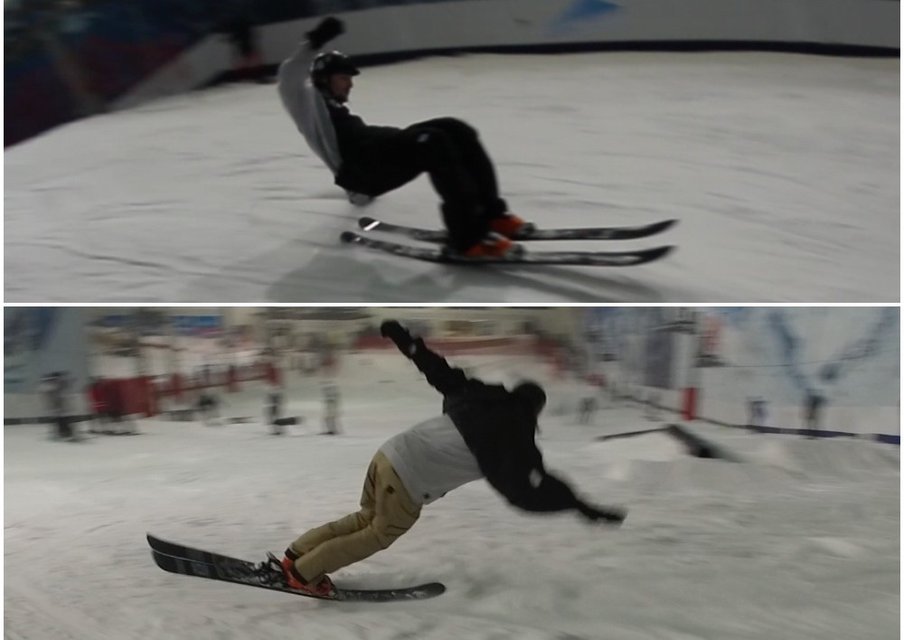 While they have a generally solid linear flex, the Talismans are fairly torsionally soft. Nothing like the Honey Badgers I had that issue with in a prior review, and the width helps claw back some stability but they still couldn't be described as a stable platform. Furthermore, while the nose/tail flexes feel quite solid, the ski's flex point is right in front of/behind the binding. Great for flexing the ski when playing around but not so great for holding an edge, they aren't a great ski for actually going out and skiing on. They feel comfortable in whippy slash style turns and while playing around but unpredictable when banking turns hard and skiing traditionally.
The rockered nose and full cambered (or less rockered) tail is increasingly popular on park skis. I can see why brands choose it because it gives a degree of stability on landings even on a soft ski. But because of where the flexpoint is on the Talisman you lose the stability benefit a bit. Furthermore, by having a cambered tail, you lose a degree of surfiness and having so much more contact length behind than in front of the boot makes the ski feel a bit unbalanced.
What you do get however, is plenty of popping power out of the tail, which works great in the park. So there are definite benefits, but for my style of skiing it just doesn't quite work. That said, if I were shopping for a Revision ski, I would pick the Blink, not the Talisman because they are the ski they made for my style of skier. For what they are primarily designed for, jibbing in and around the park, I found the Talisman a lot of fun.
http://www.newschoolers.com/videos/watch/844838/Revision-Talisman-Review-Clip
The 'on paper' competition for the Talisman is the other 96-100mm waist park/all mountain skis like Arv96, the Poacher, and the Al Dente. But those all feel a bit more traditional. The Al Dente, which they closely resemble, is a much more solid underfoot and then softer at the extremes of the ski. The shape also feels better perfected. The Poacher is more of a solid all-mountain ski you can also ski park on. The Arv96 sits somewhere in between the two aforementioned ski but is a far more capable charger than the Revision. The Talisman then, is pretty unique. I can't think of anything quite like it but the snappiness of the Line Honey Badger makes them probably the closest ski I've tried, albeit in a more traditional park ski shape.
These skis basically exist for one purpose: Fun. In that, they sort of reminded me of a skateboard; short, poppy and playful but arguably not all that practical. They will work perfectly for certain skiers, especially when you combine the characteristics of the ski with that rail warranty. For me that would be skiers on smaller hills, those riding indoors or playful skiers anywhere with very park heavy ski days and a preference for a wider ski. Definitely look in to these if you think you fit that description. They might not be what I would typically have thought of as 'my kind of ski' but I ended up having fun skiing them.
Skied the Revision Talisman? Let us know what you think and add your review in our review section:
http://www.newschoolers.com/reviews/4551/Talisman
Follow my insta to check out what I'm reviewing in real time: @twig_spens
Next up: Armada ARV 96