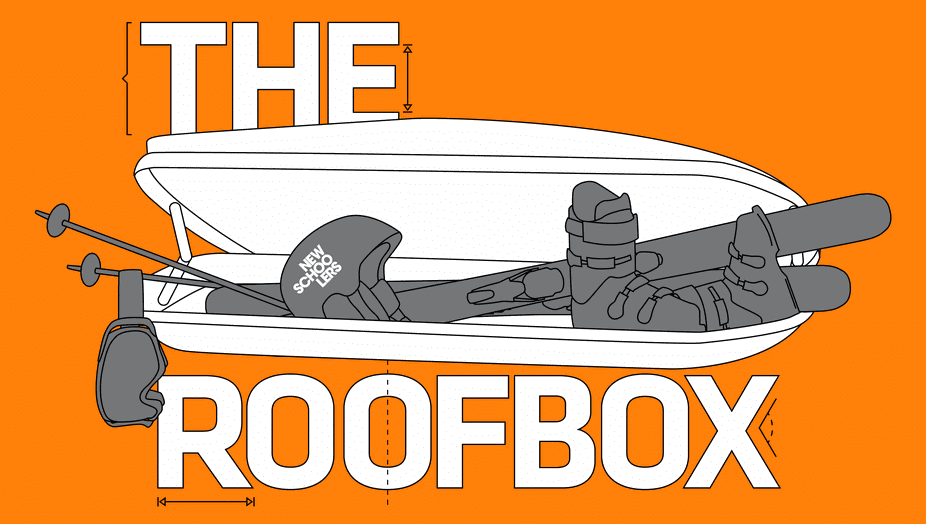 [Editor's Note: Our review was conducted on the 16/17 Armada Al Dente, which is unchanged for 2017-18, except for the graphics].
The Roofbox is back for 2016-17, with one aim: No bullshit, in-depth ski reviews, by ski bums for ski bums. No sponsored athletes, no 'we took 3 runs at a ski test'. Brands send us the sticks and we spend a solid chunk of our own seasons shredding them. Then when, and only when, we've spent enough time on a ski to judge it fully, we tell you what we honestly think about the pros and cons of a ski and who we think it will work for. It's a matter of pride for us that 'NS Tested' means something and that we advise you as best as possible what you should be slinging in your roofbox.
Ski: Armada Al Dente Zero
Length skied: 178cm
Tip-Tail Length (Straight Tape): 178.6cm
Shape: 133-98-123
Measured weight (each ski): 1874g / 1855g
Mount: -1cm
Binding: Tyrolia Attack 13
Days skied: 20+
Reviewer height/weight: 5'9, 145lbs
Review Location(s): Saas Fee, Glacier 3000
Conditions skied: Manmade snow, Winter glacier park, soft snow, pow, street, skatepark
The Al Dente Zero is the middle ski in Armada's in-store only Zero Collection. It's built on the platform of the EDollo (previously known, confusingly, as the Al Dente) and has only undergone very minor changes from the Henrik model of the ski. Since I'd only spent a few runs on previous versions of this platform this was my first real chance to get to grips with the shape which splits opinions right down the middle.
In the few runs I'd had previously, I never really 'got' the EDollo. It felt unbalanced and unwieldy for its size with its more solid, cambered tail and noodley nose. Not enough has changed in the Zero version to change that immediate impression and so the same proved true for my first few days of skiing this Al Dente. But about 5-6 days in it suddenly clicked into place what all the hype is about. Once you get used to it, that difference from tail to nose, that 'weirdness', make these a surprisingly versatile ski.
To be clear, the tail/nose difference is far less extreme than say, the Revision Talisman, which has long nose rocker and a very short, stubby tail. The Al Dente has a similar profile nose, but a much larger tail, it's still 'full camber' but the actual tail itself is huge. In fact on my pair the total tip rise was only around 7cm longer (27.5cm) than the tail rise (20.5). At -3.5 that would put you at the center of the riding surface, and while I've skied them a bit there, I don't find it particularly comfortable for park skiing, so I moved to -1cm and still really liked the way they ski on trails. They actually carve really well for a ski I'd subconsciously written off as a noodle. In fact they are a decently stable ski, more so than the Blends or Shreditor 102s for example and I enjoyed ripping around on them. Even a much stiffer ski with tail rocker, like the Candide 2.0 feels more surfy, while these feel more precise.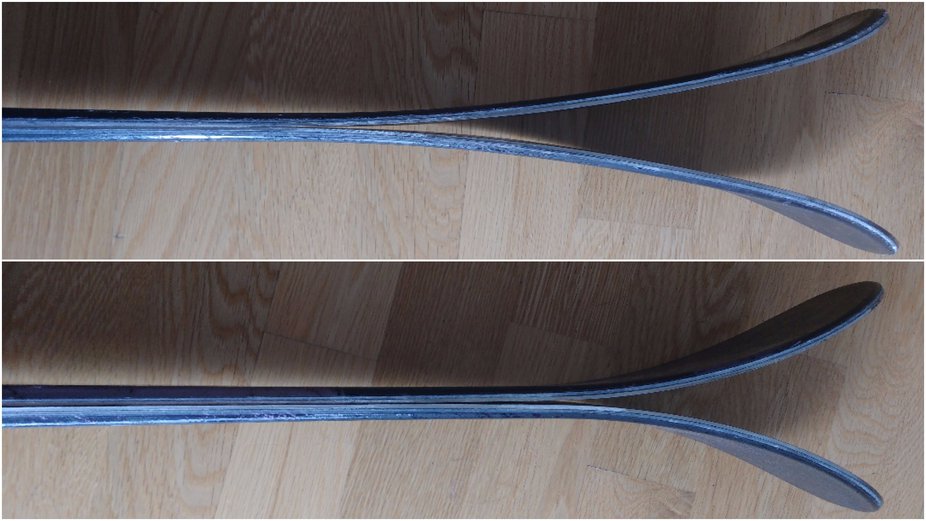 The initial feeling of unbalance came from the fact that the tail, despite Armada stating consistent 5 flex all through the ski on their chart, feels much stiffer than the nose. In fact flex wise, I'd divide the ski into 5 and say it feels more like 2.5/5/6/6/3.5 (nose to tail). That difference took me some getting used to, but after a while it really makes sense. It's far harder to wash out your noses, so landing switch on a soft nose is no issue. But if you land a little bit back on a noodle tail (especially a rockered one) washing out is pretty hard to avoid. The Al Dente shape combats this nicely, giving you a ski that is soft and playful but still decent on jumps/landings.
The flex profile of the Al Dente, especially with the extra carbon in the Zero, feels really good for quick snappy butters. They are super easy to flex but they snap back pretty sharply. However, I did have some issues with stalling out long butters, typically something I'm good at. When doing those prolonged butters, I typically flex the ski closer to the binding and in the case of the Dente it feels like the extremes of the ski are too soft to give me the leverage to do so. This is certainly a very specific detail, but I personally like a more even flex throughout a ski. That added stability in front of and behind the bolts does contribute to a ski stable enough to hit pretty much anything despite being super easy to butter though, you just can't have it all.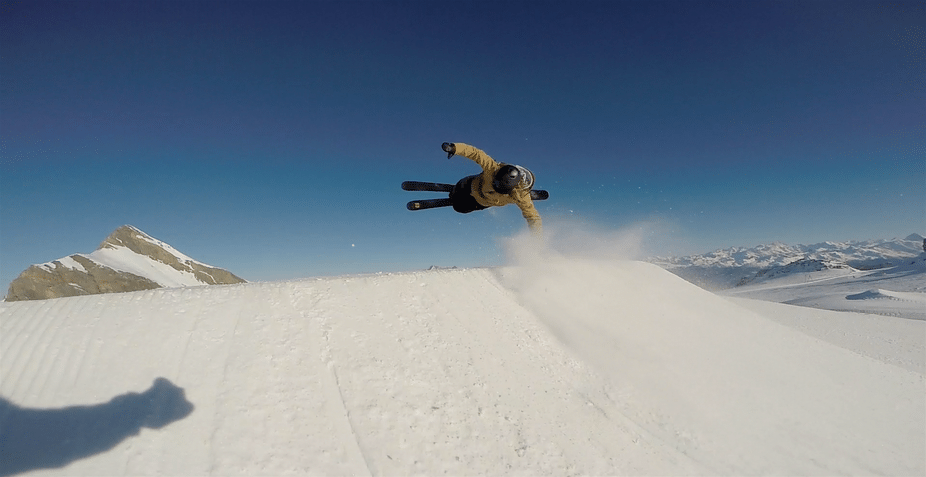 The concern I've always had with the Dollo/Dente is the 2.2mm (listed measure) edges. 2.2mm doesn't sound that narrow, but these look significantly narrower than that on the ski, the height of the edge in particular is notably low (see images below). Back when they came out, I refused to buy them for that reason. But I've had no major issues with my test pair in the 20+ days I've skied them. That's not to say they are as tough as a fatter edge would be, but they also aren't as terrible as I thought they might be back then. The number of people still riding them in places like the Midwest, where it's rail only hot laps all day seems to back that impression up somewhat. If I was shopping for skis, they still wouldn't be my first choice for a rail ski, and I have a similar issue with the Candide 2.0 (they call those edges 1.8mm and they look about the same as the Dente), but I've definitely blown up plenty of skis in the time both of those have lasted me on tests. The build quality of the Al Dente has been great too: minimal top sheet damage, decently fast bases with a good texture finish.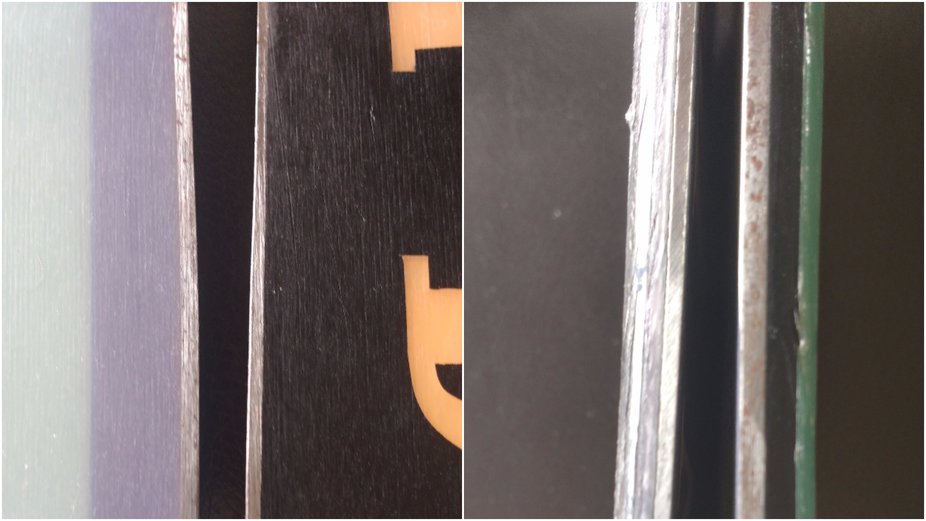 The plus side of the narrower edges is the skis are pretty light for the size and feel super easy to spin in the air. This is accentuated by the soft flexing thinner core profile and make for a 98mm ski that to me, is almost park-ski-like in the air. Compared with much of the similar-width competition it definitely feels lighter. I can see why when Henrik got his first prototype, he told the designers not to change a thing, and they've been unchanged for 5 years now. They fit his weird and amazing brand of skiing including big jumps, buttery stuff and even some backcountry jumps, super well.
And in mentioning backcountry, I really enjoyed the versatility of these. It's a different kind of versatility from the K2 Poacher, which does great as a chargey all mountain ski. These kind of suck in chopped up snow, particularly if it's hard, but they handle some shallow pow really nicely and kill it in slush when the pow melts in the trees and are generally a fun ski all over the mountain. The big tail even lets you land switch in mixed conditions despite 'full camber'. The longer effective edge than tail rockered skis also means they hold marginally better on hard snow than many when detuned, though they are too soft when it gets really solid.
http://www.newschoolers.com/videos/watch/862613/Al-Dente-Zero-Review-Clips
Some random clips from skiing the Al Dente. Filmed: Patrick Gasser/Laurent DeMartin
I'm actually somewhat surprised to be ending this review like this given my prior-to-test impression of these skis but here is my one-line conclusion: "I really enjoyed skiing the Al Dente Zero". It does the job for a pretty wide range of situations, it's a fun ski to be on and they look good too. They'd be a great choice for someone who is looking for a wider ski, but basically likes the feel of a somewhat traditional park ski, rather than a narrow powder ski like many skis in this bracket. Or someone looking for a soft ski to rip around and try it all.
I think for my fairly unqiue ski taste, the flex profile isn't quite right, but I can see that it is a flex that would work well for most people who would look at these skis. For my way of skiing, I actually prefer the rounder flex of the ARV96 (more on that in another review) but trying to take my own opinions out of the equation I actually think the Al Dente is the better ski. I raved about the K2 Poacher in an earlier review and it's an entirely different ski from these. The reason I bring it up is that was a super positive review, more positive than this. But these are the skis I ended up choosing to ski for the start of this season, and that has to tell you something. There is a reason the Al Dente has survived, unchanged (except for the name), as long as it has in the Armada line.
Shop For Armada Edollo

Merchant

Sale Price

Retail Price
Shop For Armada Edollo

Merchant

Sale Price

Retail Price
Skied the Armada Al Dente Zero? Let us know what you think in the comments.