The Big Horn 96 we skied was a 2018 model, but remains unchanged except for graphics, for 2022.
Ski: Sego Big Horn 96
Length skied: 181cm
Tip-Tail Length (Straight Tape): 179.5cm
Shape: 122-96-118
Measured weight (each ski): 1850/1889g
Mount: -1cm from true centre
Binding: Tyrolia Attack 13 (2018 model)
Days skied: 15
Reviewer height/weight: 5'9, 145lbs
Review Location(s): Saas Fee, Zermatt, Klappen
Conditions skied: Hard groomed, spring slush, spring powder, park
Sego Skis have been around for a few years now, but still seem little-mentioned here on Newschoolers. Other brands have been and gone, signing expensive riders and then disappearing over the same period, but Sego seem to be flying under the radar. Which is a pity, because with their own factory in Victor, Idaho, and skis built from top-notch materials, they are ticking a lot of 'core ski brand' boxes. Their earlier lines had less obviously jib oriented skis, which might be one reason they aren't frequently discussed, but now they offer a true park ski in the HAMM and a fat all-mountain play option in the form of the Tater Tot. The Big Horn 96, which I spent my time on, is actually from their All-Mountain line rather than the the jib family, but nonetheless offers symmetrical rocker, and softer flexing tips and tails, traditional hallmarks of many wider jib skis these days.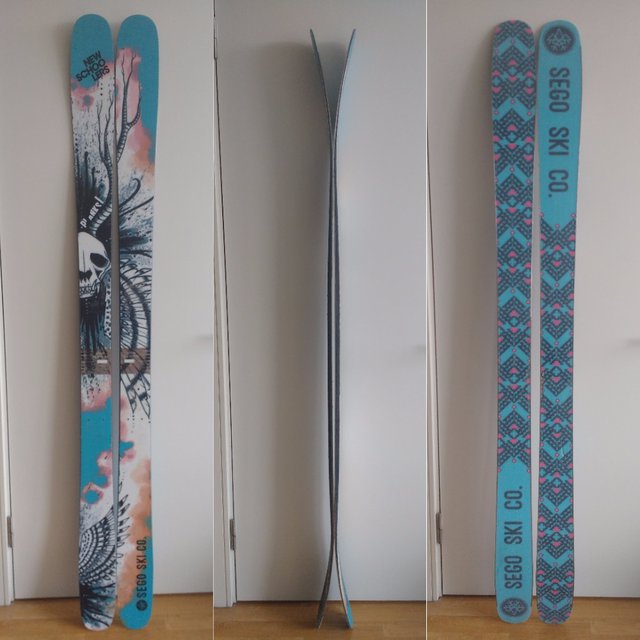 Topsheet, rocker profile and base of the Big Horn 96
I picked the skis up from Sego in January at ISPO Munich, meeting some of the guys behind the brand at their modest booth in the process. I had recently picked up a torn meniscus and had to warn them it might be a while until this review dropped, and so it proved. It wasn't until April I was finally able to click into the skis, for a review process that took me from deep late-season snowfalls in Saas-Fee, to one of the craziest parks of the year at Kimbosessions and finally to Snowpark Zermatt for a lot of jib laps and some more snow. It's lucky that the Sego Big Horn 96 is noteworthy in its versatility.
In the interim, I had plenty of time to stare at the skis and examine their every detail. The finish on the build seemed excellent with no obvious gaps or flaws in construction, good edge/base meet for the ¾ wrap and altogether a seemingly impressive build. The one area of construction that could be seen as a minor weakness is the angle of the sidewall/topsheet join, which is fairly traditional and did result in some of the chipping associated with a sidewall ski. However the hard wearing textured nylon topsheet did mitigate this to a degree.
The Test
Now to the on-snow performance. The Big Horn 96 feels a bit more focused on all-mountain performance, as opposed prioritising jibbing, with a very solid underfoot section. That underfoot stiffness, combined with decent torsional rigidity, means they carve a treat, even when mounted significantly forward of recommended. You could really lean into them, drive the ski and they would hook up and hold a smooth turn. Of the skis I've ridden in this bracket, these are the best on groomers by some margin, outperforming even the solid flexing K2 Poacher. There's definitely some tip chatter when skiing them hard but never to the point where I was worried and they don't have an obvious speed limit. I definitely found myself charging around more aggressively than I normally would. They're easy and comfortable to ski, without sacrificing in the way of high end performance. I put them on and felt near instantly comfortable, which is not often the case.
https://www.instagram.com/p/BT4OVxHBkIe/?taken-by=twig_spens
The rocker profile (see above) and tapered shape means they also perform admirably in deep snow for a 96mm ski. They were the only ski I had in my bag on my end of season travels, which thanks to significant late season snowfall, meant they got used on days when I really would have liked a wider ski, and did a pretty good job. Above all they felt stable in all but the worst of conditions, especially choppy snow, which they knife through surprisingly well despite the fairly softer noses.
And when you take them to the park, they mostly do a good job there too. The aforementioned softer flex in the tip makes them decently buttery in the nose, although they are far from a soft ski overall. The tail is somewhat stiffer than the nose which meant that manuals and tailbutters, while possible, were more work than I'm used to. If I were rating the flex on a 1-10 scale from softest to stiffest (as has become fashionable), I'd say they are a 6.5 in the nose, 8.5 underfoot and 7.5 in the tail. And as a result of being pretty solid flexing, with a snappy Aspen/poplar core, they come with bags and bags of pop and are plenty stable on landings too.
What I haven't mentioned yet is that for the size, the Big Horn 96 is a noticeably lightweight ski. My pair were a 181, and I typically like something more around a 174-5, but in this case, I barely noticed. In the air, the swingweight felt no different than what I'm used to, and to have a ski feel that way, and yet also feel solidly constructed is no mean feat. They certainly have a heavier duty construction than most brands, with a thick core, stiff underfoot, and fairly thick edges and bases, so they should hold up to whatever you throw at them. The edges held up really well to the abuse I put them through, no cracks despite getting lots of rail laps on a daily basis in Zermatt. I did lose a chunk of edge next to the base on one of the skis but that can be attributed to my decision to repeatedly ski a line with a rock tranny landing at Kimbosessions. I might only have ridden these for a couple of weeks but I put them through hell, probably more so than any ski I've skied for reviews thanks to my eagerness to ski everything on my return from injury, no matter how little snow. Yet with a base patch/grind, they'd be pretty much good as new except for a few topsheet chips.
I'm impressed how they held up to hitting a ton of rails in the endlessly fun Snowpark Zermatt
However, while as an all-mountain ski, I'm sold, as a park/jib ski, they do have some shortfalls. The rocker, while significant, is quite flat and has no curve towards the extremes. That meant nollies on anything other than a completely solid surface, were frankly terrifying. You could feel the tip dig into the snow and I got pitched twice before I just stopped doing them. The same issue arises with both the nose and tail landing when in tight transitions. I dug both tails in landing switch in Zermatt's miniramp and learnt that lesson the hard way too. The light swingweight and durability definitely make them a viable park option, but for the most playful end of the wider park ski spectrum, there are simply better options out there including the aforementioned Tater Tot from Sego.
But that isn't really a surprise when you consider that these skis are from their all-mountain lineup. And for ripping around the mountain, popping off features in mixed conditions, with the light swingweight to throw some tricks and the ability to butter, these should definitely be an option considered. Of the 95-100mm skis I've tried recently, they are certainly the most mountain oriented. The Arvs, the Blend and even to a large degree the K2 Poacher, which is the stiffest of the lot, all feel like they are basically wide park skis that you could ski everywhere but their best use is for jibbing. The Big Horn 96 is more of a daily charger for skiing fast and hitting natural features that you can also take into the park and play around on sometimes. For that kind of skier, these are a great option and definitely well worth checking out.
Skied these? Let us know what you think below.
Find out what I'm reviewing in real time: @twig_spens
Next up: ON3P Magnus
Shop For Sego Big Horn 96

Merchant

Sale Price

Retail Price
Shop For Sego Big Horn 96

Merchant

Sale Price

Retail Price