Ski: Twoowt Dyed Sticks
Length skied: 178cm
Actual Length (Tip-tail w/ straight tape): 177.1cm
Measured weight (each ski): 1870g and 1905g
Shape: 134-102-134
Sidecut: 16m
Mount: True center
Binding: Tyrolia Attack2 16
Days skied: 16
Reviewer height/weight: 5'9 (174cm), 135lbs
Review Location(s): Snowpark Zermatt, Snowpark Saas-Fee
Conditions skied: Park, groomers, some heavy summer pow, slush.
_
It has always been a policy for Roofbox Reviews to give new brands a shot, even though we have pretty limited reviewing capacity as a result of wanting to do a proper test on each ski. One brand that grabbed our attention over the past season is Twoowt. As a brand out of Russia, they definitely have a unique background and they have been doing it proper so far with a stylish, creative team of riders and high-quality content. I shared a room with team rider Andrey Anufriev out in Zermatt this summer. The Dyed Sticks are his pro-model and he had a couple of pairs around which gave me the perfect opportunity to jump on the skis and get a review out.
_
Shape/Flex/Construction:
The Dyed Sticks are pretty similar in shape to the original Candide 2.0. At 102mm and nearly flat underfoot with significant rocker at both ends, they are a great shape for playful skiing and they have a tight 16m turn radius to match. The tips and tails themselves have little extra splay beyond the rocker.
The flex is stiff for the entire 'cambered' section of the ski, softening in the rockered section somewhat. It's really only the extremes of the tip and tail where these truly soften off though and overall, I'd describe these as stiff for this kind of ski, roughly comparable to the K2 Poacher but less damp.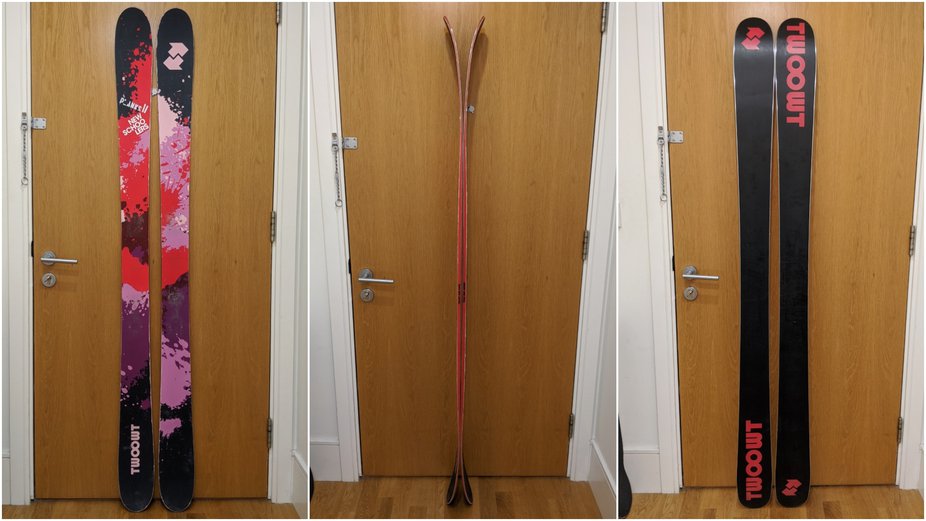 The skis feature a tried and tested full abs sidewall construction and 2.2mm edges, surrounding a full wood core. There isn't much remarkable about that, but the materials feel good quality and the skis held up well, the bases felt fast.
_
On Snow:
As this was a summer test, I didn't get to do a ton of skiing outside of the park. I got a handful of groomer laps and a couple of runs of stodgy summer pow, but I was in the park most of the time. That's really the primary focus of these skis but let's get the other stuff out of the way first. The natural tendency of these skis is to pivot rather than grip. I skied mine detuned which won't have helped, but they really will go sideways with the slightest of twitches, so they aren't a piste charger. With the edges sharp, I'm sure they'd have been a bit happier in longer turns but at their core, they are clearly a ski more at home pivoting and making short turns.
The flex does give these skis decent stability in mixed snow and the rocker floated well in the snow I did get to try them in. It also holds up nicely on flatter landings etc. They aren't an out and out powder ski, but as with the Candide 2.0, they feel like they would hold their own when the snow does come. The tip shape is very smooth so it cuts through a variety of conditions nicely.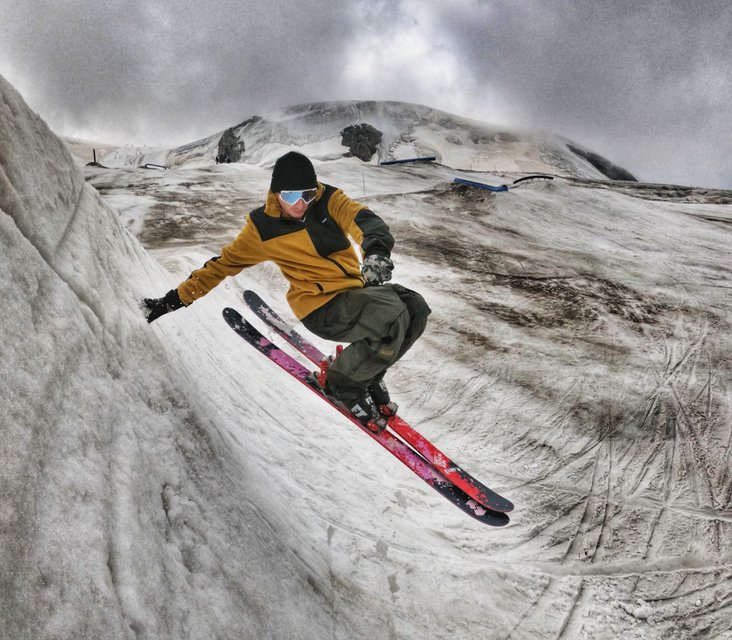 I did think that the Dyed Sticks felt a bit 'planky' and lacking in dampness, which is a fairly normal thing for young ski brands. That meant they got bounced a bit, but because they are stiff it was minimal. I also found it hard to get the most out of the pop as the flex meant that I wasn't bending the ski as much as I can with others. However, the bases felt fast (I'd guess sintered 4001 or better), and the whole ski felt solid so while I wouldn't choose these if all-mountain is your first priority.
_
Park/Playfulness:
In the park is definitely where the Dyed Sticks came into their own. At a true length of 177 and 102 underfoot, they were slightly bigger than I'm normally comfortable on in the park these days but the swingweight (and actual weight) is pretty low. And as already mentioned, they pivot on a dime so they definitely didn't feel slow or sluggish in the park, like bigger/wider skis sometimes do. The Vishnu Wide, for example, was only a few cms longer in total but felt a much bigger ski despite the marginal difference in actual size.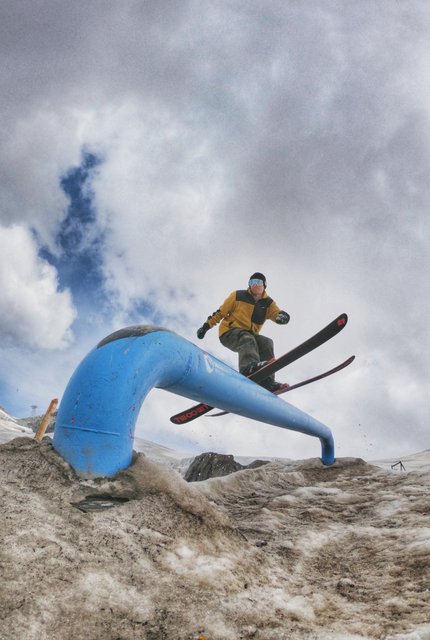 On rails, they had a nice wide platform for stability, and the profile was a dream for surface tricks and shuffles, with virtually no camber, plenty of rocker and a wide base for pivoting. The lack of taper also makes it a great shape for 5050 tricks as you are less likely to knock your skis together.
I had limited time on jumps, but in the air they felt nimble enough too for a ski of this size. The stiff flex and slightly less rockered tail made for a really stable landing platform, but because of how 'pivoty' they are, you do need to land pretty much perfectly rotated or risk scrubbing out. The flipside of this was shuffles and direction changes were a breeze. I was impressed by the fact that these were a stiff enough ski to go big on, but also allowed you to do just about anything when it came to playful skiing. There are easier skis to butter on out there (Vishnu, ON3P, Blends, etc) but none of those are close as good on jumps.
https://www.instagram.com/p/B2erh-uDtWX/
_
Durability:
I got more than two straight weeks of park laps (16 days) of park laps in on the Dyed Sticks and by and large, I was impressed by the durability. The edges held up well despite skiing rails constantly, with just the one crack after 16 days and no further issues. One of the edges was slowly starting to pull away (delam) in one of the tips, but given that happened to me on several skis throughout the season, I believe that to be relatively normal, if non-ideal, given how many butters I do.
The only notable weak point of these skis was the topsheet. It was purely cosmetic but the area where the topsheet meets the sidewall got shredded along the inside edge of both of my skis. No core was exposed, but today lots of brands do have topsheets that hold up better than this.
_
Conclusion:
Overall, while these skis look similar to a Candide 2.0 on paper, I didn't think they skied as well on groomers. I actually found them much closer to a more stable version of the Vishnu Wide, in that they're super impressive in the park and would clearly be great in some pow, but the stuff in between they don't really excel at. If you're looking to support a small brand, these skis are definitely worth looking at though because they provide a huge amount of the fun of the Wide but in a much more stable flex pattern and profile. They also come at a seriously competitive price point for a ski in this category, which is always a plus. For me, they are an 'in-between' ski that sits between an all-out super rockered mid-fat like the Vishnu Wide/On3p Magnus 102 and more traditional park ski. They have the shape of the former type of ski, but the solid flex and comparatively less rocker make them more able on jumps and harder landings. And for now, at least, you can be pretty sure you'll be the only guy in the park with them… but that might not last.