The in-depth review of the new 2021 Faction Prodigy 3.0 can be found here.
_
Ski: Faction Prodigy 3.0
Length skied: 177cm
Actual Length (Tip-tail w/ straight tape): 174.6cm
Measured weight (each ski): 1993g & 1967g
Shape: 128-104-120
Sidecut: ~21m
Mount: -1.5cm from true center
Binding: Tyrolia Attack2 16
Days skied: 13
Reviewer height/weight: 5'9 (174cm), 135lbs
Review Location(s): Snowpark Zermatt
Conditions skied: Park, groomers, some heavy summer pow, slush.
_
Intro:
The Prodigy name has been with Faction since the beginning when it was an all-mountain twin tip. The current Prodigy series is one of two freestyle oriented lines that Faction offers, the other being the Candide series. In general, the Prodigies are more 'new school' shaped (tapered and more rockered) and slightly more directional, with the Candides being a touch more traditional shaped but more symmetrical. There is certainly some overlap and I'll endeavor to clear up any question marks you might have over which of the skis would suit you better, having skied four of the five Candides and all four Prodigies, both in this review and in the comments.
_
Shape/Flex/Construction:
At 104mm the Prodigy 3.0 is a pretty versatile width. The ski has pretty pronounced taper so while it only flares out to 128mm in the tip and a paltry 120 in the tail, the overall ski looks and feels like a fat ski. The specs put it very close to the Candide 2.0 but it's a very different ski as we'll discuss later. The ski shape is pretty freeride oriented with fairly smooth, long rocker lines to match the taper.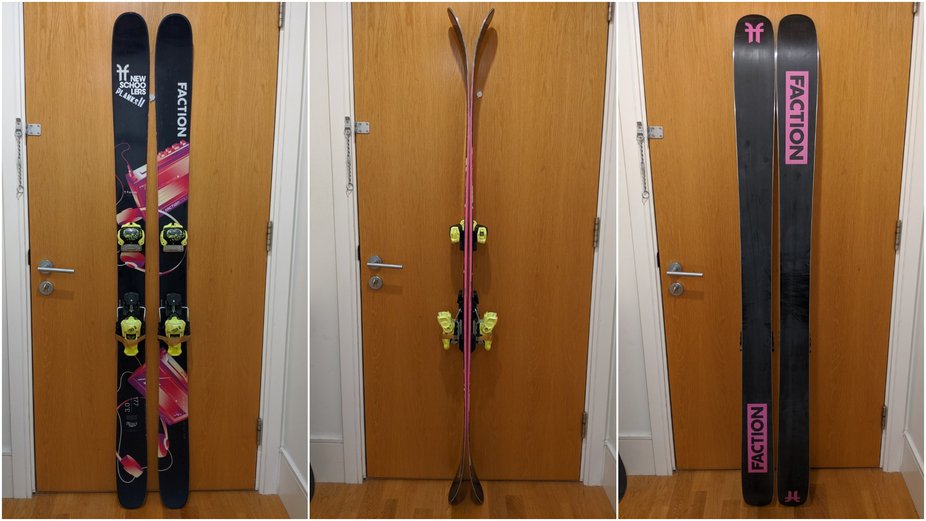 The flex of the ski is pretty stiff throughout. I'd score it about an 8/10 in the shovels, stiffening as you progress towards the center of the ski. By the time you get close to and under the binding, it's a 9.5/10 situation. The tails follow a similar pattern, the flex feels fairly symmetrical.
They have a full wrap edge and a capwall construction that is now the norm among most big brands. They also have a lot of rocker. Not quite as much as an ON3P or Vishnu ski, but more than most in this width range.
_
On-Snow Performance:
I didn't get to ski these skis until the summer, so my testing conditions were perhaps less than ideal. I skied 95% park on these with a few laps here and there to test out the groomer performance and thankfully, for review purposes, a couple of days with some heavy summer pow... with a side-order of water skiing. As far as I could tell from limited chances to test this, the Prodigies float exceptionally well for their diminutive specs. I will probably ride these as my powder ski for plenty of the coming winter, they felt that good when I did get a brief chance to see what they can do in that regard. In that respect, they are much like the Prodigy 4.0, which punches way above its weight in terms of float for its width.
*Update*: I have now skied these for another week on pretty deep days at the beginning of the season and they float just as well as I'd hoped, perhaps even better. Even at 104 underfoot I've had no problems on days with 1.5-2ft of fresh and I've landed switch a handful of times in that kind of depth with minimal issues. They are super fun for butters in pow too. One thing to note is at 177 these are actually on the short side for me as a pow ski. I have had the occasional tip dive but normally I would suggest the 183 for anyone my size and up who isn't all about just playing around but wants to surf more.
Surfy-slash style turns work a treat in both heavy slushy snow and on hardpack thanks to the abundant rocker. And that's the most comfortable way to turn on these, throwing them sideways. But they do actually hold an edge pretty well and track quite nicely through longer turns despite the fairly short running length/effective edge. That's thanks to a slightly longer turn radius and stiff flex. My edges got completely rounded because I skied rails on them almost constantly (and I'm a heavy detuner in the first place) and once that happens, you do have almost no effective edge, and therefore grip, at all. The stiffness and dampness help the skis maintain dignity on hard snow, even when they are rounded, but they are worse than say, an ARV 106 which has far less rocker.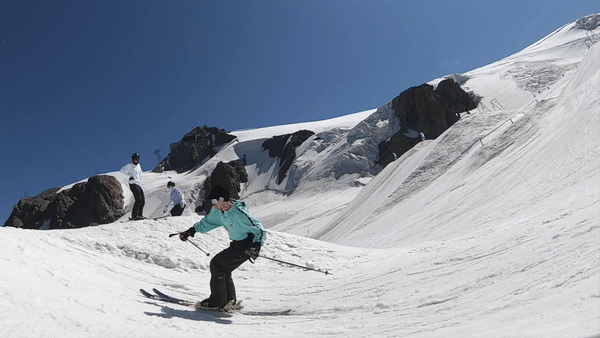 The dampness of the Prodigy 3.0 means they perform pretty well in cruddy/mixed snow. They have the backbone to power through crud more than most jibby skis but the pronounced rocker does deflect as much as it slices making these a bit of a mixed bag. In the category of all-mountain jib skis, these are still one of the better ones in that kind of environment, but something like the 4Frnt Devastator does better. And as a result of how they felt on landings in the park, I'm confident they will be a great ski for hitting bigger drops and such.
A note on mounting:
I skied these mounted 1.5cm back from true center. Recommended is more like -7cm so I was way forward of the mark. That didn't seem to affect the groomer performance too much, and it was way more conducive to park skiing. I spoke to a couple of guys on the team and they tend to mount around that spot, so I rolled with that. I wouldn't go as far back as recommended personally, but if skiing forward to pow is your focus, maybe 3-4 back would be good. Blister has some great info on mounting these, having played with more traditional points a bit more.
_
Park/Playfulness:
The park is where I mostly got to test these, and while they work pretty well, I wouldn't necessarily describe it as their natural environment. They are fairly stiff and damp skis, and they also have a decently long turn radius so they aren't the best ski ever for quick maneuvers or slow speed skiing. And they certainly fit a faster more powerful skier if you're going to jib on them, even in the small size I skied. Dan Hanka was skiing these a ton this summer and killing it, but I found them fairly hard work. Here, the Candide 2.0 is superior in my mind. It's a similar size and has a touch less rocker but the flex is way better suited to park skiing.
That's not to say that these can't be buttered and played around. With a more centered mount, it isn't even that hard thanks to lots of rocker. But is that cheating? Kinda. If you aren't flexing the ski, does it even count? I found they also lack pop on the exit of butters especially. But on the flip side, they were very difficult to overpower, so they were nice and stable when pressed. In all, it's a yes at fast speeds but a no at slower ones for me.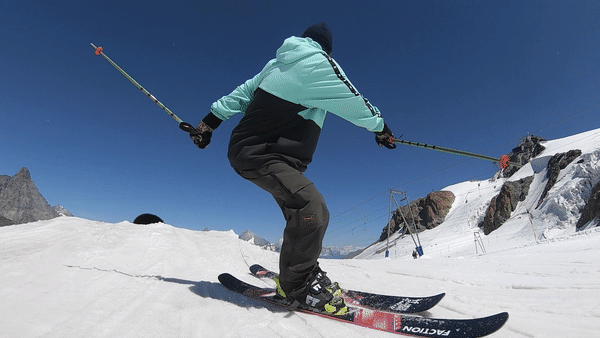 The shape is a nice one for surface swaps, and decent enough for presses, though like with butters, I wasn't really flexing the ski. I'm not convinced on tapered skis for 5050s in general, I find full sidecut skis tends to knock against each other less and so lock better. I still got one of my favorite 5050 shots on these though (see above). Overall, you can ski them in a pretty playful fashion despite the stiff flex. In that regard they are much like ON3Ps, though having a bit less rocker means they are slightly less swervable.
On jumps, they felt stable on landings thanks to the really stiff underfoot section, but you did sometimes wheelie thanks to the rocker if you got back seat. They were definitely better than most 'jib' skis in the category and certainly far better than even more rockered skis like Magnus 102s and Vishnu Wides. In the air, they feel pretty light, thanks to the taper and overall light weight. In all though, these are a ski you could use in the park, but not one I'd pick if it were my first priority. The Armada ARV 106 would be a better pure park option, along with Vishnu Wides, Magnus 102s and Candide 2.0s. However, if you want a solid ski for the mountain that you can take in the park when needs be, these work a treat.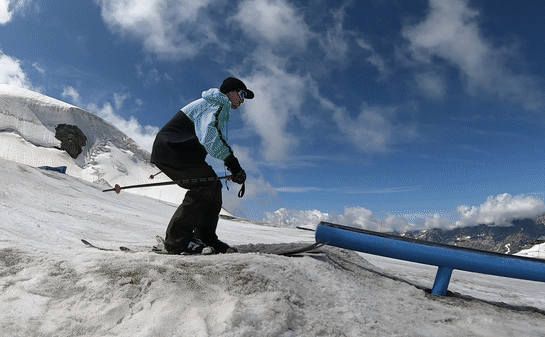 Durability:
So far so good on these for me. I have a couple of knicks in the topsheet, but the heavily detuned edges held up fine. I haven't seen any sign of the delaminations that have plagued Faction in the past, but with the same construction, that might also be luck of the draw. I've seen delams at least starting to happen on four of my skis this year (Line SFB, Lib Tech UFO 95, Vishnu Wide and Twoowt Dyed Sticks) so you have to take the fact that these are doing fine as a positive.
_
Conclusion:
So, who are these ski for? Well, in a sense, almost anyone could get along with the Prodigy 3.0. You could easily ride them for a whole season and never feel particularly limited anywhere. To be frank, I didn't like these skis when I first got on them, I found them too stiff and too damp to be fun. However, as I got used to them and as they broke in a bit, I actually became a big fan. Weirdly, given their shortcomings at low speed, I chose these to these above all my others to ski at the indoor slope this fall, and they are probably the ski from this last year's tests that I will take with me this season to the mountains. They'll be coming as my 'pow ski' because I so rarely need more float than these offer.
As a whole, I do think that despite the relatively narrow width, these are more of an all-mountain/pow ski than anything else. They are fun in the park, but their float is probably their most impressive attribute. If you're my size, I think they'd be more than enough ski to be a pow ski, and you could easily size up to 183 for some extra float. As a pure pow ski, I'd probably choose the Prodigy 4.0 over these, but as a viable pow option that isn't too fat, I'd say these reign supreme above all others I've tried.
_
Quick Comparisons:
- Prodigy 3.0 vs Candide 2.0:
On paper, these skis look very closely matched in terms of specs, but the reality is the CT2.0 is basically a fat park ski, while the Prodigy 3.0 is basically a skinny pow ski. As you'd expect, the 2.0 is the choice I'd make for a daily park/hard snow ski that occasionally sees some soft snow, but I like the Prodigy 3.0 better for soft conditions. The stability of the 3.0 is superior and they float super well. I prefer the surfier shape of the 3.0 generally too, so they'd be my personal choice of the two despite the fact that deep down, I know the Candide is the better park ski.
- Prodigy 3.0 vs ARV 106:
Similarly to the comparison with the Candide 2.0, the Prodigy 3.0 is the superior pow ski and much stiffer for charging. The ARV sits between the two, offering better float and powder skiing than the CT 2.0 but is more comfortable at lower speeds in the park than the Prodigy 3.0. The ARV is still my all-purpose champion, but the Prodigy 3.0 gives it a solid run, and if you have a stronger focus on soft snow, they'd be my choice.
- Prodigy 3.0 vs Prodigy 4.0
This is where it gets a bit tricky because the Prodigy 4.0 isn't so fat you can't use it as an all-mountain ski, and even in the park a bit, but does float better than the 3.0. If the 3.0's best attribute is its float, then surely someone looking for that would be better sizing up to the 4.0? Well, yes actually, in some cases. If you're a bigger guy or skiing a lot of really deep days then the Prodigy 4.0 is probably better. It's even stiffer than the 3.0 though so don't expect an easy ride. I actually prefer the 3.0 in pow because I find it quicker and easier to handle at my size. They are such similar skis that I'd argue they should just make them one ski and have the waist sizes increase through the run (so start at 104mm in the 170cm and grow up to 112mm in the 190+ size). That's how I'd recommend them too, if you're getting a smaller size, get the 3.0, if you're going 183 and above, go for the 4.0 unless you are jumping the whole time.
_
The distribution of this review has been sponsored by Freeze Pro Shop. Shoutout to them for supporting the Roofbox Review program and helping us keep it going. They stock the Prodigy 3.0, so if it sounds like your cup of tea (British shop 'n all),you can find them here. They also offer NS members a solid discount using the code FREESKIFIRST99.
_
If you have any questions about the Faction Prodigy 3.0 or how it compares to other skis, feel free to hit me in the comments and I'll do my best to get back to you.
To see our reviews before anyone else, download the Newschoolers App: iPhone - Android
Find out what I'm reviewing in real-time: @twig_spens