Ski: Faction Prodigy 2.0 (Dragon Collab)
Length skied: 183cm
Shape: 127 / 98 / 119mm
Measured weight (each ski): 1.75 kg / ski
Radius: 20m
Mount: True center
Binding: Look Pivot 18
Days skied: 10
Reviewer height/weight: 5'10, 165 lbs
Review Location(s): Sugarbush Mt. Ellen, Jackson Hole, Mad River Glen
Conditions skied: Hardpack, Powder, Groomed, Granular slush, and Spring Slush
_
The final ski that I got to test from the '19-20 newness was the Faction Prodigy 2.0 x Dragon Collab. This ski was vastly different than the first 2 skis I tested earlier in the season, the Armada BDog Edgeless and BDog. In the past, I've generally preferred to ski very stiff cambered skis. After riding softer, more rockered skis this season, I've changed my mind somewhat So later in the season, in Jackson Hole, I hopped on the Faction Prodigy 2.0 to blast some all-mountain hits and some steeps, alongside with hitting the park here and there for comparison, as well as multiple others this season. The ski is stiff, and mean, meant to charge through it all while also providing a nice wide platform for park skiing. I will say this ski is an absolute beast, just like the top sheet graphics. I tried the Prodigy 2.0 for just about everything, from waist-deep powder in Jackson Hole to thawed out 60-degree park laps at Sugarbush.
This isn't something we like to comment on in the Roofbox too often, but I can honestly say from an aesthetic standpoint this has been my favorite looking ski I've ever ridden. The Faction x Dragon Collab graphic stems from a collaboration with artist PJ de Villiers, for custom artwork on the topsheet. Now, let's take a more in-depth look at this stylish beast.
_
Shape/Flex/Construction
The Faction Prodigy 2.0 is a hybrid, asymmetrical ski with rocker-camber-rocker construction. In other words, it's ski has a wider nose than tail, with rocker tip and tail and a good amount of camber underfoot. The Faction Prodigy 2.0 runs in the middle of the pack in terms of an all-mountain/freestyle ski, with a solid 98mm underfoot that widens out to 127mm in the tip. Faction rated their flex as roughly 6/10, which I would say is pretty inaccurate. I would say the hand flex of the ski is about a 9 and the on-snow flex is about an 8. Luckily, I love a good stiff ski because this thing is way stiffer than average.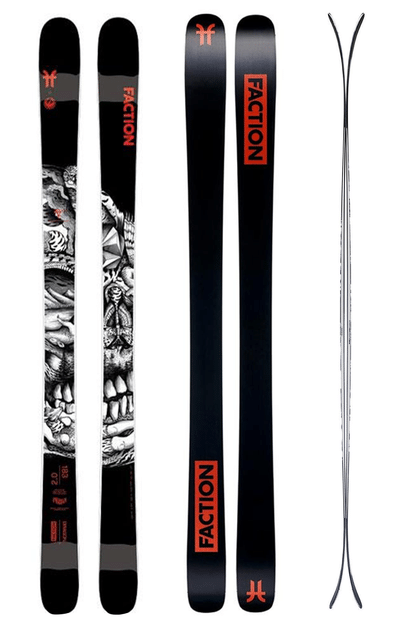 The Prodigy 2.0 features a poplar wood core and a cap/sidewall hybrid construction. Weirdly given it's wider dimensions, it has less rocker than the Prodigy 1.0 but still has a pretty generous amount of rise. It also features fat edges and a thicker base.
_
On Snow:
There's a lot to talk about when it comes to on-snow performance. This ski is meant to be the all-mountain shred tool, so let's start with the all-mountain downhill performance. The ski provides a super stable feel when cruising all-mountain terrain. When laying the ski on edge, it responds quickly, and allows easy wide, cruising turns while bombing steeps at high speeds. The radius of the ski is 20m which sits nicely in the middle of the range, allowing a bit of everything. To my surprise when opening this ski up on a super steep and wide open marked trail in Jackson Hole going ~60-65 mph, I did get a good amount of chatter underfoot. My surprise comes from the fact that the ski is on the stiffer side and at 183 cm was pretty long for me. But I believe because of the pure poplar core, the ski lacks dampness which would help reduce that. The flex and sidecut didn't help in tight spaces either. I had issues in the woods of the east coast, and feel like these skis wouldn't be easy to ski for intermediate all-mountain riders.
However, I found that when charging wide-open steep powder fields on the West Coast, the ski can open up and really charge. In areas such as Jackson Hole where you have unlimited terrain and few obstacles, this ski can ride waist-deep snow well for a ski that is 'only' 98 underfoot. The rocker profile, like the wider Prodigies, floats smoothly. This ski is also awesome for hitting all-mountain booters and cliff drops. I had no trouble riding out deep pow hits with the length of the ski and abundant rocker in the tip. Even on days where the snow was harder, these were super fun to blast around through crud with the stiff wider platform (for a park/all-mountain ski). This is an ideal ski for east coast resort conditions of hard pack and ice and you could go shorter to make them easier in the trees. When the conditions are changing throughout the day rapidly from fresh to ice to slush this ski can power through it all, something I really admired as I skied both park and all-mountain throughout the day.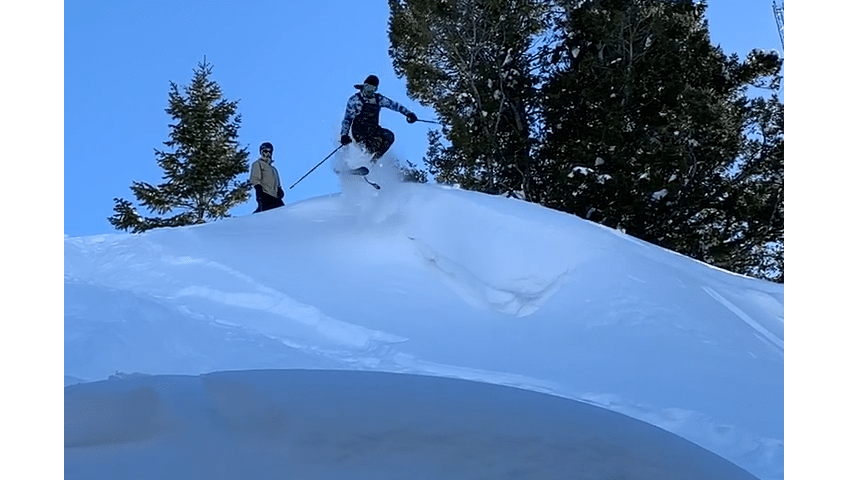 The stiffness is what separates this ski from many other park skis in the mid-fat and rockered range because the vast majority are pretty soft (BDOg, Edollo, Blend, Soul Rider, etc). That means you get real all-mountain stability, which those skis don't offer. Overall, I primarily rode the Faction in the park but for everyday East Coast conditions on the mountain, it was great. On days where the slush froze over and becomes crud, this ski can power through it. I would recommend this as a pretty ideal ski to take out on days where the snow isn't the best because you still have maximum control on edge and in the park, even when take-offs of jumps or rails are a sheet of ice.
_
Park:
Alright, enough about the mountain let's dive into the park performance of this Prodigy 2.0. I wouldn't necessarily say that the Faction Prodigy 2.0 was created purely for the park, but it performs damn well. The ski does have a softer, more flexible aspect right out in the tip and tail, but stiffness overall gives you tons of pop underfoot. I want to start with the skis' ability to hit rails. I mostly rode the Prodigy 2.0 in Sugarbush Parks, which is more of a skate style park loaded with features all over the hill. A lot of the time you have shed speed in between features, and these skis prefer to go fast. You also have to think twice about hopping onto rails lazily because if you don't put some effort in, these are hard to flex. The swing weight and weight of the ski made it more difficult to spin onto rails for sure and required more work than most skis, but these were also on the long side for me. On features, the ski is super stable, with that 98mm underfoot platform providing a nice base for switch-ups and such. I wouldn't say this is the most ideal ski for nose presses or blunts and certainly is hard to do nollies onto rails due to the flex. The power of the speed allowed me to gain a lot of speed over a short distance, so if you want that unexpected disaster on a down flat down during a run, this ski can provide the juice.
Where I think this ski excelled in the park was on jumps. The Prodigy 2.0 is a go big or go home type of jump ski, and has the muscle to keep you up no matter how big you go. The first day I took these out to hit jumps it was a fairly hardpack fast day in Snow King, WY for a slopestyle event. The jumps were very poorly built and flat which meant you needed to compensate with pop and these skis went to the moon. Same goes for Sugarbush even with properly built jumps it was hard to gauge speed on these skis because they're so fast and explosive off the lip. I definitely took a few corks to the bottom of the landing until I figured out you don't need the speed you would think. This is both good and bad. Great in a situation where jump lines are close together, or you if you land deep on a jump and need to sit tuck t to get enough speed... you don't have to with these. Potentially bad in the sense where if you don't cut enough speed you'll go huge. Thankfully the skis hold up super well on high impact landings with the stable base underfoot. You can land pretty deep switch and the ski will help you muscle that landing out, versus the BDog where I would flex the noses out massively on big switch landings. Even if you don't stomp bolts, this ski has a super-secure and stable feeling to it and when do you hit the sweet spot it felt so good.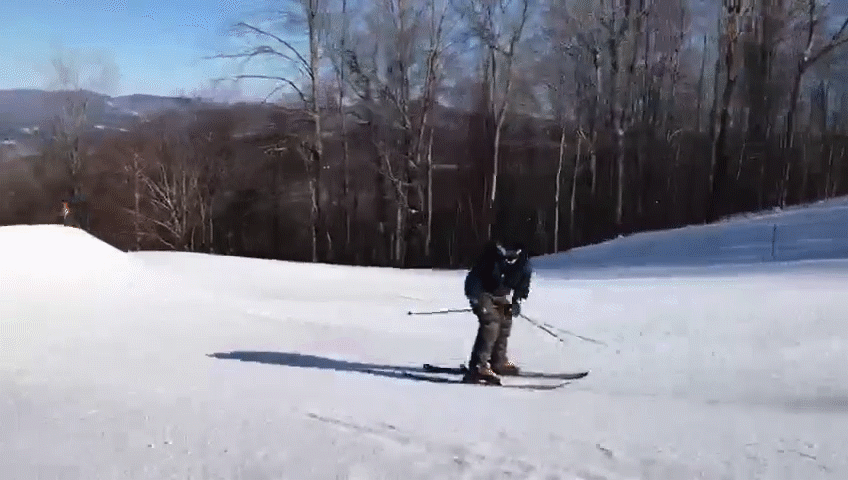 I found this ski performed its best when hitting large size jumps. I will say one thing, the Prodigy 2.0 had a pretty heavy swing weight. They took some time to get used to in the air but the momentum in spins kind of helped when your whipping around the last 180 of a jump hit. With the 183cm it allows for easy grabs and tweaks. One of the key highlights with this ski is the edge hold while taking off lips. You can make arcing carves off of jumps because of the nice edge hold. I wouldn't recommend the Prodigy 2.0 to someone who is learning new jump tricks, the ski isn't very forgiving so if you were to land a spin a little 90 then they don't forgive and you might explode. After 5 or 6 days on hill breaking the ski in, they softened up slightly underfoot, but still maintained good pop and quick response throughout the test.
_
Durability:
In the past Faction hasn't always had the best reputation for durability, and unfortunately, I didn't have good luck with these. I was bummed that within the 7-8 day range I had already split the edge away from the sidewall of the ski pretty significantly. This doesn't affect how they ski much, and you could simply repair the edge with filler or epoxy. But at the same time, a ski this caliber shouldn't be breaking that fast.
The topsheet of the skis held up well, and there was no delamination in either tips or tails so at the end of the day, it's not the most durable ski but I've definitely had worse. The skis were skiable at the end of the test, which mine aren't always [Editor's Note: The ski killer strikes again - Twig]. The bases were durable even after dinging them off of a few rocks in the woods. Depending on if you are choosing to ride the Prodigy 2.0 as more of an all-mountain ski or park ski, this will affect how the durability holds up. If you're someone who likes to crush slopes then occasionally lap the park they should be great. If you are someone who skis the park all day or wants to hit street features, your durability chances are lower.
_
Conclusion:
Overall, I would like to say that I was pretty stoked by on snow performance of the Faction Prodigy 2.0 in terms of all-mountain riding. This is everything I like in a ski for somewhere like Jackson Hole or A-Basin. The wider 98 underfoot base is great for various all-mountain conditions, everything from ice and slush to powder. If you're a medium-sized guy like me they'll take you for a ride if you don't stay on them, but they rip as a tradeoff. The taper and rocker in the tips and tails allows for a nice floaty feeling but also having a solid ski, you can lay trenches on steeps. This is something I would use for my daily driver, despite the durability issue in the ski. This ski can do it all, rip turns all-mountain, crush pow, and boost in the park all in the same day. Where the ski excels is on bigger, faster features. Big rails, big jumps, big side hits. It has the stability to go Mach-10 into any feature and to take landings to the flat. The core gives you tons of energy on takeoffs on these features as well.
The only downside of this ski was the durability but as stated above it depends on what you will be using this ski for. Overall, I think this ski is great and if the durability was a bit better than I experienced, this would rank amongst some of the top skis in this category like Liberty Helix 98 for me. All and all this ski was great fun to ride, I'm looking forward to trying more from Faction in the future.
_
To see our reviews before anyone else, download the Newschoolers App: iPhone - Android
Find out what I'm reviewing in real-time: @qwuise