Ski: Armada BDog
Length skied: 180cm
Measured Length (Tip-tail w/ straight tape): 178.0cm
Shape: 121-94-116.5mm
Measured weight (each ski): 1992 /1972g
Radius: 15,0m
Mount: True centre
Binding: Tyrolia Attack 18
Days skied: 18 [Twig: 7]
Reviewer height/weight: 5'10, 165 lbs
Review Location(s): Sugarbush Mt. Ellen, Jackson Hole, Mad River Glen
Conditions skied: Hardpack, Powder, Groomed, Granular slush,and Rain
_
afit Radical 12 FT
Days skied: 10+
Reviewer height/weight: 5'5, 140lbs
Review Location(s): Jackson Hole Wyoming
Conditions skied: Touring, pow, groomers, corn, slush.
_
[Editor's note: Our review was conducted on the 2020 BDog, which is unchanged for 2021, 2022 & 2023 except for graphics]
[Mark]: The second ski I had the chance to test last winter was the Armada BDog, Phil's new pro model. Aesthetically speaking the BDog is so on point, with awesome graphics by the legendary Tim Jacobus (who drew the cover art for more than 100 books in the Goosebumps series). And although this ski is similar in some ways to the Edgeless version (Review Here), the regular ski performs differently in most aspects. One of my first park skis was the Armada Alpha 1's, which later evolved into an early version of the BDog. This new shape feels like the ultimate evolution of that ski. I got to test these in the park, in the streets, and all-mountain at a resort where you'd not expect to see too many BDogs: Jackson Hole. I tested them on everything from the perfect rails at Sugarbush to powder lines at Jackson, and they really impressed me.
[Twig:] Not much to add from me here except that I spend around a week on these skis myself for a second look at what is probably the most significant new park ski of the season. Mark spent more on these so the bulk of the review comes from him, but I will chip in my own comments wherever I have something to add.
_
Shape/Flex/Construction
[Mark:] The Armada BDog is an asymmetrical twin with a rocker-camber-rocker profile. In plain English, it has a wider nose than tail with rockered tips and tails and some camber underfoot. The Armada BDog runs in the middle of the pack widthwise for an all-mountain/freestyle ski, with a solid 94mm underfoot that widens out to 121mm in the tip.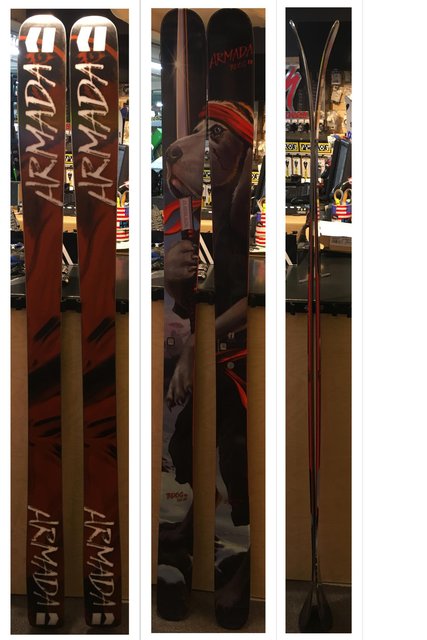 The BDog is significantly less soft than its sister ski the BDog Edgeless though it is still decently soft in the tip and tail. In my opinion, I would say its a 4.5 flex rating out of 10 (1 being the softest & 10 being the stiffest) in the tips/tails but has a decently solid platform underfoot, maybe a 6.5/10. The skis hand flex slightly stiffer than they ski.
The BDog features Armadas AR Freestyle Rocker with rocker similar to that of the EDollo's nose in both the tip and tail. It also has signature straight sections with no sidecut in both the tip and tail taper, providing a wider platform where the pressing happens. That gives you maximum surface area for stable buttering and minimal hang-ups. The ski is designed to have a symmetrical feel although it is asymmetrical and the recommended mount point is true center.
The Circle Flex hits the nail on the head allowing the ski to flex easily but only when you really put some muscle into it on the tips or tails. Although the flex pattern is nominally symmetrical, I would say that the ski is a little stiffer in the tails than the tips. To compare it to another ski flex wise, I would say it feels similar to the Faction Candide 2.0 or Magnus 102.
[Twig]: I would have pinned these as softer than both the skis Mark mentions, I'd say they are very similar in flex to the EDollo, but the tail feels softer thanks to more rocker/less cambered length.
_
On Snow: All-mountain conditions
[Mark]: For me, the BDog provides a stable yet playful feel when cruising all-mountain terrain. When laying the ski on edge, it responds very quickly, thanks to the short turn radius allowing quick maneuvering and speed checks. I found that ski also has the ability to open up and make wider arcing turns with a more playful feel. On days where there is a fresh coat of powder on the hill, it is super to blast around with the heavily rockered, widened tip and tail floating on top of the snow. The rocker in both the tip and tail gives the ski a nice lively, floaty feeling when initiating turns or checking speed. These could definitely work as an all-mountain ski in east coast conditions, with plenty of hardpack and ice but the odd days of fresh. When the conditions were changing throughout the day as they do out east these felt comfortable for anything, something I really admired as I generally ski both park and all-mountain throughout the day.
In comparison to the Armada BDog Edgeless, the BDog skied much stiffer in both the tip/tail and underfoot and, obviously, it has edges so it's much more versatile. What I really liked about these skis was the 'dual personality', you can be ripping groomers at high speeds with little to no chatter, or you can be skiing slower pressing and buttering with ease. The Edgeless, and to be fair, many other soft park skis, only offer the latter. Even while skiing open, steep trails at Jackson Hole, these surprised me. They held up well at speed for a jibby ski, maintaining a very controlled feel, where normally in a ski you would start to get a lot of chatter.
One other thing I really like about the BDog is the lack of having to worry about catching an edge, having more confidence skiing switch on slushy days and in mixed snow thanks to the rocker. I would recommend this as a pretty ideal ski to take out on days where the snow isn't the best because you still have good control both on edge and in the park, even when take-offs of jumps or rails are a sheet of ice.
[Twig]: I'd say I found these skis less impressive all-mountain than Mark as a whole. However, I too was impressed by the combination of 'butterability' and stability. Normally these are a complete tradeoff but I found the B-Dogs did do surprisingly well at speed. And of course, they were very easy to play around on even in mixed snow on all-mountain type features. However, I found the turn radius uncomfortably short and felt the skis didn't really like longer faster turns, feeling a little skittish. Compared to skis in the same bracket like the Vishnu Wets, Magnus 90s, Blends, etc, I'd say these do a good job all-mountain. For me, they are probably the best of the mostly jib oriented skis (depending on if you include the EDollos in that bracket) but they don't really compare to skis like the ARV 96 and Poacher.
_
Park:
Alright, now let's get down to business here because Armada BDog was created for the park and the streets. I want to start off by emphasizing the skis' ability to do nose and tail butters. As we all know, Phil is one of the best butter skiers in the game, and Armada designed this ski for him to take things to the next level. Normally I'm not one to do butters unless it's on jumps or knuckles but the BDog allows you to try them anywhere with little to no risk. The 'Circle flex' and softness in the tips and tails means that these are a great ski for learning butters with no risk of catching an edge, while still remaining stable. Especially after coming off the BDog Edgeless, this ski felt significantly more stable and stiffer which suits my ski style a lot more.
If you're a big jumper like myself and feel like this ski wouldn't be stiff enough to take to some bigger jumps, say in a slope course, I would definitely think twice about that. These did take some getting used to, and the first few runs of hitting the jump line on these, I was landing pretty nose heavy on Switch 7s and washing out a lot. By the same token, if you land super tail heavy you're going to wheelie out. I found the tail to be less of an issue than the nose thanks to it feeling slightly stiffer. But after lapping jumps some more, to my surprise, this grew to be one of my favorite jump skis I've been on in a while. The underfoot is pretty stable for landings on biggers jumps as long as you land decently thanks to the wider platform and when you hit the sweet spot it feels so good. While I was competing in a slopestyle event in Wyoming, with poorly built flat jumps and landings, this felt perfect, providing me with a lot of pop on takeoffs for going big, and helping absorb some of the shock on landing.
Thanks to the generous early taper, the wide point of the ski is pretty close to the binding, which brings the swingweight down, despite these not being a particularly light ski. I also enjoyed the ability to make arcing carves off of jumps because of the tight radius and edge hold of the BDog. A plus with this ski for someone who is learning new jump tricks, the ski is decently forgiving so if you were to land a spin a little 90 then you would have the ability to shuffle out of it and not completely explode.
The BDog is also really ideal ski for someone who likes to ski rails. With disasters, they felt solid on landings and takeoffs but weren't so stiff that you got bucked if you didn't land perfectly. In general, I found these skis would absorb the impact super well. The ski is relatively heavy so spinning on and off rails take a second to get used to because they feel heavier on the feet than some. But the swing weight is pretty low, so once you get the feel of extra weight on your feet, it's smooth sailing. The rocker in the tip was super nice when you were rolling into rails slower in the middle of a line. The early rise in the tip was great for lifting your toes to do 270s on, giving that little extra leeway to clear the fair.
And just like the BDog Edgeless, these were one of the better skis I've ever ridden for surface swaps. If you're skiing a park such as Carinthia or Mammoth with large tubes, this ski kills it with the ability to do quick surface swaps and with 0 fear of ever catching an edge in the process. They are also great for tail pressing or blunt sliding rails. You can really lean back and flex on a rail for those stylish tricks. You also get a ton of pop when nollieing off rails. I would normally add 1 or 2 negative attributes about this ski in the park, to balance this out but I'll be completely honest, I didn't have any with this ski.
[Twig]: And again it seems like it's up to me to bring some negatives here, though I basically thought these were one of the better park skis I've tried. I'm a bit shorter and about 20lbs lighter than Mark so I did find these a touch on the heavy side in a 180cm length. And where Mark loved the tight turn radius for carving off jumps, I found it too grabby. I prefer a lazy long carve on takeoffs and these wanted to turn too fast for me to enjoy it. However, I totally agree that they were impressively stable on jumps (close to the EDollo which has a wider platform and a fully cambered tail), and very fun on rails. They are also probably the best park ski to butter on I've tried. They work at low speed, they hold up at high speed, very impressive.
_
Durability:
[Mark:] Armada has generally got a good reputation for durable skis and the BDog was impressive, even by their standards. I tend to destroy skis within the 10-15 day range, generally starting with small edge cracks, then de-lams, and then fully breaking them. And I definitely put this BDog through the wringer, riding it the longest out of all the skis the year. This ski is near bulletproof. I skied it super hard in the park and not a single edge crack or split in the sidewall. Normally if you catch a tip getting onto a rail or while spinning onto a rail you run the risk of de-laming it at the nose. But I had none of this whatsoever with the BDog.
I was blown away that I didn't even get any real topsheet damage. The hybrid cap sidewall stands up way better than a full sidewall ski. The bases look good, even after dinging them off of a few rocks in the woods. Other than one ding that required a little P-Tex job these look great. They definitely can handle riding down stairs and concrete ledges in the streets as well. I see no sign of this ski breaking or cracking anytime soon. I could see that if you were flexing them out in unbearable amounts all the time how they could delam more than the Edgeless version, but I ski pretty hard most days and the ski held up nicely. And to my surprise, even after many days on hill breaking the ski in, ski hard on it, they maintained the same stiffness underfoot, slightly softened up in the tips and tails, while still maintaining great pop and quick response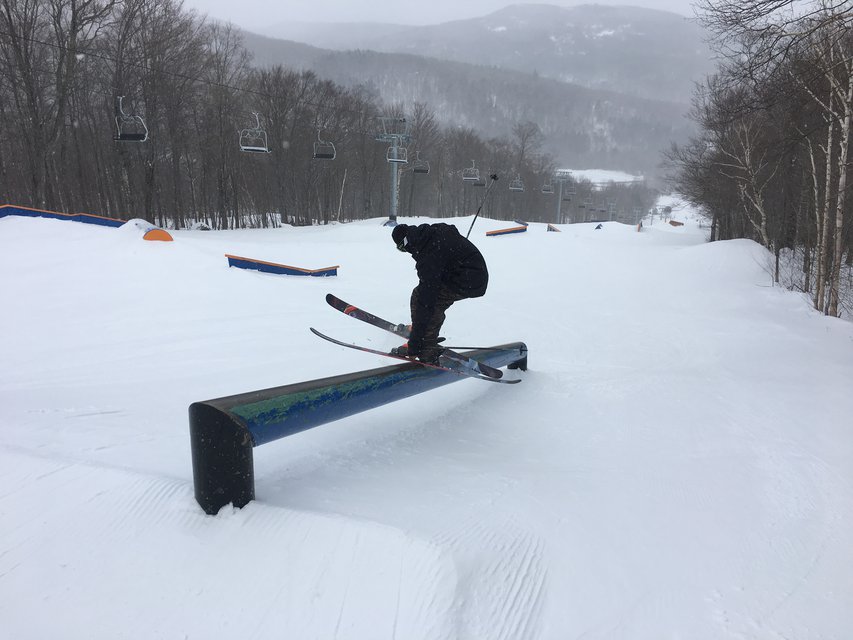 In short, I was very impressed by the durability of the skis and I give the BDog's two thumbs up for that. If you're looking for a ski to last the extra miles, this is a great bang for your buck. Based on my experience, for who is an intermediate park skier this ski can last you 2+ seasons easily, skiing 30 - 40 days a year on them.
[Twig]: Mark is the ski killer here. If he couldn't break them, I sure as shit wasn't going to. I had no issues in my week of riding them.
_
Conclusion:
[Twig]: Armada killed it with these. For me, there are always compromises with any ski and while the BDog had some elements I wasn't as big a fan of as Mark, I think they're definitely one of the best park skis out there right now. If you only care about huge jumps, then obviously they aren't for you but for doing everything in the park, with a focus on buttery, playful skiing these are hard to beat.
[Mark]: The BDog is hands down one of the most fun, progressive, and durable skis I have skied over the past 3 seasons. Armada is notorious for pushing the boundaries and here they have created a super fun park/street ski that is built to last, After a few laps hitting jumps and getting the feel of a softish, yet still fairly stable ski, I enjoyed these for just about everything. They were so good for so many aspects of pushing your skiing. If you're an intermediate park skier that wants to try some of those harder tricks in the park then these are perfect. I'd say they also work great for exploring the rest of the mountain too.
I would absolutely use these for my daily driver. And while the ski excels in the park, where you can easily take your butter game to the next level, it does most other things well too. I would say the number one factor for this ski is the durability. If you're looking to buy a ski that will last 1-2 seasons this is the ideal ski for you. They don't really have an upper limit either, they work for anyone, of any level who is getting after it many days of the week, both on the mountain and in the streets. In fact, having a ski that is both durable and also progressive should really appeal most to someone dedicating a lot of time to pushing their skiing from intermediate to that expert level. All in all this ski was amazing and such a fun experience to ride.
_
If you have any questions about the Armada BDog, feel free to hit us in the comments and we'll do our best to get back to you.
To see our reviews before anyone else, download the Newschoolers App.
Find out what I'm reviewing in real-time: @qwuise
Next up from me: Faction Prodigy 2.0
Shop For Armada BDog

Merchant

Sale Price

Retail Price
Shop For Armada BDog

Merchant

Sale Price

Retail Price