Ski: Surface Park Blanks
Length skied: 180cm
Actual Length (Tip-tail w/ straight tape): 177cm
Shape: 128-90-117
Stated weight (both together): 3.63 kg
Radius: 19.1 m
Mount: True centre
Binding: Marker Jester Pro 18 (2015 model)
Days skied: 13
Reviewer height/weight: 5'10, 155lbs
Review Location(s): Whistler Blackcomb (BC), Jay Peak (VT), Orford (QC), Sutton (QC), Saint Sauveur (QC)
Conditions skied: Powder, hard groomed, East Coast ice, spring slush, park
_
Surface, unbeknownst to many, took a pretty big step in a new direction for a while, focusing entirely on selling direct to consumers and only marketing their classic "Blanks" line. They kept this up for 18 months before taking a look back and making a u-turn, jumping back to the foundation of their brand and getting involved with shops again. They're back at it now and released a full line of skis again. I'm looking forward to trying more, but the subject of this review is the Park Blanks. These are not a new ski shape, however. In fact, the Park Blanks shape has been around since 2011, when it was known by its original name, the Double Time. I got these skis in late February 2018 and skied them on weekends until May 13th.
_
Shape, Flex, Construction:
The Park Blanks are one of the few skis to still feature traditional full camber, full sidewall construction which in today's ski industry sets them apart. They also feature a full wood (poplar) core, carbon stringers tip to tail, a binding mat underfoot to reduce chances of pullouts and a directional twin shape.

Somehow, I expected the Park Blanks to be fairly soft. Mostly hearsay and mixed feedback I'd gotten from their skis from back in the day. Hand flexing them however, they were much stiffer than anticipated, especially underfoot. That was a pleasant surprise, being much more of a jumper myself. I like a stiff ski for a solid pop. There's no early rise, no rocker, a fairly standard tip/tail profile and generous amounts of camber for a park ski. The edges are 2mm width and height which is fairly small.
On another note, I was super down for the aesthetics. Simple, clean design, and that Newschoolers sticker just fits perfectly.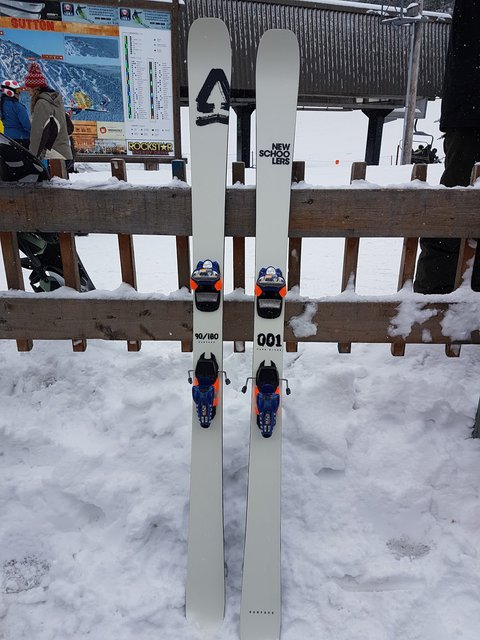 _
On Snow:
I started with cruising the groomers and getting a feel for the skis. I used to race so I get a good kick out of a fresh set of sharp edges. Despite the center mount, it was super fun going for powerful carves and feeling that stiff camber crush it at high speeds, even hold its own on ice. I experienced just a little hooking at the tails. 19.1m is a fairly middle of the road radius and really, as long as you're not mathematically crushing gates these will do what you ask them to. They react well to short turns but adapt to longer carves. In comparison, my previous park skis were K2 Shreditor 92s and Line Anthems and I hadn't felt that same responsiveness. I'm also currently testing the J Skis Vacation which is a much softer ski with less parabolic shape and the Surface Park Blank feels much better for showing off some short turns. One issue I'd say is my center mounting which lead them to be a little shaky when charging a steep pitch.
I got a couple sweet East Coast pow days this year, and here's the conclusion. Because they're nice and light, and fairly wide in the shovel, they're very maneuverable and great for ripping through tight trees. They have a great all-mountain feel. I have a pair of Moments as pow skis (Deathwish 112). In comparison, the Moments are obviously better in really deep snow and in spacious situations where you can make large turns and so will most fatter all-mountain skis in principle, but I'll take the Surface Blanks over them almost any day for East Coast trees and quick feet in tight spots.
_
Park/Playfulness:
I skied parks at Whistler Blackcomb, Orford and St-Sauveur. Like I mentioned earlier, this is a stiff ski which isn't typically the best for butters and ground tricks. Though it takes a bigger pop and heavier pressing to swing one around than on a straight up soft ski, it does soften up closer to the tips and makes for a kind of butter zone. Real talk though, if you're super into swerving, shuffling, pressing, etc., there are clearly better, softer options. The Vacation (J Skis), like many others, is way better for that type of skiing. That has not been my jam so far though and taking the Blanks out through the park was super fun. Their rigidity gave me confidence in charging on jumps. You can also feel them be super responsive while jibbing, which is where the poppy carbon stringers really come into play. These skis are also lighter than I was used to and that gave me extra comfort in swapping and spinning out of features. Really, I liked my Shreditors until I tried Blanks in the park.
https://www.newschoolers.com/videos/watch/918841/Surface-Skis-cut-mov
Spring laps at St-Sauveur, QC
Their directional shape is great for nice controlled switch carving as well. Tails are narrower than the noses and leave you more play space. The Anthems on the other hand are 100% symmetric which I didn't find ideal. You just don't turn the same way when skiing switch. They feel great and just make sense when you're in the zone and focused, though keep in mind they won't be super forgiving. Full camber skis will always require more precision on takeoffs, landings or in bumpier conditions.
_
Durability:
Cards on the table, I didn't go for any crazy urban skiing or sizable rail gaps. Got into a few disasters, swaps on mellow kinks, but no giant metal on metal impact. Result, they still look great. The edges are only 2mm not the 2.5mm an increasing number of brands are offering. There are definitely plenty of skis out there with fatter edges but these held solid for me. They definitely dulled after my 13 days of testing so carving is getting less fun (I'm also not planning on tuning them to keep them park-safe), but no sign of cracking whatsoever.
When I got them mounted, homie Paul at the Austrian Ski Shop recommended to file down the edges of my top sheets in order to minimize chipping. Doesn't have much to do with the review, just a tip because it's my first time trying that and there was a noticeable difference. Of course, you just can't fully avoid chipping skis if you ride park but for reference, my Shreditors and these Blanks had a similar shaped top sheet angle. I didn't file those down and they ended up chipping like crazy in no time.
_
Conclusion:
These are awesome park skis for my type of riding - jumps, rails, but not so much for buttering or surfing around. They've actually evolved to being my primary all-mountain ski for the East Coast on any day under 10cm of fresh. They for sure aren't a West Coast pow or, even all mountain ski but they are fun for 90% of East Coast days. I really enjoyed skiing them and I'd definitely recommend them to park skiers who:
- Don't consider themselves swervers. These are too stiff to spend much of your day buttering.
- Also want something responsive they can take all around the mountain where powder is a much enjoyed scarce luxury
- Those who appreciate having quick feet both in the park and in the trees.
As such, I'm stoked with these because they fit my style perfectly. They fit in the same bracket as skis like the Atomic Punx, Salomon NFX etc but from a small brand.
_
To see our reviews before anyone else, download the Newschoolers App: iPhone - Android
Find out what I'm reviewing in real time: @zclipdave
Next up from me: J Skis Vacation