[Editor's note: Our review was conducted on the 2019 ARV 96, which is unchanged for 2020 except for graphics]
Welcome back to Roofbox Reviews for 2019: Our no bullshit, in-depth ski reviews, by ski bums for ski bums. No sponsored athletes, no 'we took 3 runs at a ski test'. Brands send us the sticks and we spend a solid chunk of our own seasons shredding them. Then when, we feel we've spent enough time on a ski to judge it fully, we tell you what we honestly think about the pros and cons of the ski and who we think it will work for. It's a matter of pride for us that 'NS Tested' means something, that these reviews can't be bought and that we advise you as best as possible what you should be slinging in your roofbox.
_
Ski: Armada ARV 96
Length skied: 177cm
Actual length (Tip-tail w/ straight tape): 174.6cm
Shape: 125-96-117mm
Measured weight (each ski): 1926/1932g
Mount: True center
Binding: Tyrolia Attack 16
Days skied: 12
Reviewer height/weight: 5'9, 145lbs
Review location(s): Saas-Fee
Conditions skied: Park, freshly groomed, chopped up pow, around 1ft fresh, mellow tree skiing
_
It's been just two years since Armada revamped their jib lineup with the introduction of a whole ARV series ranging from 86 to 116mm. Armada call them "the funnest family in skiing" and this year all four skis have been tweaked, in what Armada describe as a "complete redesign". The ARV 96 hasn't actually changed hugely. It's, as far as I can tell, the exact shape as the ski from the last two years, same sidecut, same profile, just some tweaks to the construction. The previous model was a great, versatile park ski, and we made it an Editors' Pick for park last year. This year the whole ARV line has been tweaked more towards all-mountain performance. Read on to see how the changes have affected the ski we previously rated as Armada's best park ski offering.
Shoutout to Puzzle Media for helping me get some great photos for this review!
_
Shape/flex/construction
There isn't much revolutionary about the new Armada ARV 96 in terms of shape, it's the same as it has been for the last two years. It has a 96mm waist, fairly average for a wider park/all-mountain ski these days, a medium sidecut (19m at 177) and mellow tip/tail rocker. It also has a relatively 'standard' moderate amount of camber underfoot.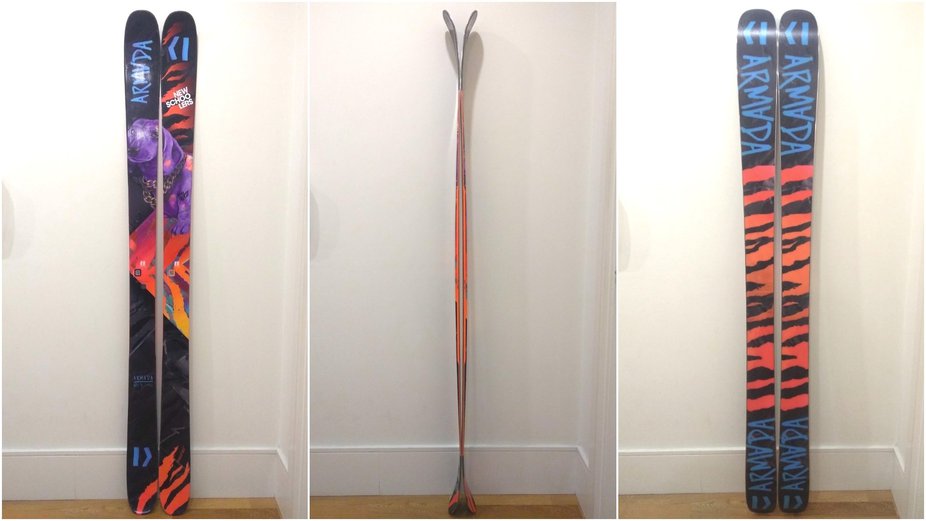 The construction of the 96 has been altered from the prior two years though, with new full length Ash stringers in the core. It also features the new ARV 75 sidewall which is a near full sidewall underfoot with a stepped down sidewall extending to the rocker contact point at both ends of the ski. The edges, however, have been slimmed down from Armada's 2.5mm impact edge to the 2.2mm edge which now features on all ARV models. This may be an upgrade for the 106 but it's actually a thinner edge than the previous iteration of the 96.
As a result of the changes, the new ARV 96 comes out feeling a little stiffer than the previous models, and is now on the solid end of medium flexing. Armada describe the flex profile (out of 10) as 6- 7- 6.5 from nose to tail. I don't like the 3 part breakdown, because for most skis you have the rockered sections, and the sections fore and aft of the binding as well as the underfoot area. I'd say the 96 is more like a 6 - 7.5 - 8 - 7.5 - 6.5. So the ski does soften off as you move towards the tip/tail a bit, but the middle two thirds of the ski are fairly solid. It's a smooth feeling flex curve - which I like - but I found them to be significantly stiffer than the ARV 106 particularly in the nose, despite Armada listing the 106 as the stiffer ski. They aren't quite as stiff as the ON3P Kartels or the K2 Poacher but all in all the ARV 96 is now a pretty solid ski.
_
On snow
The older, softer model was fun, but perhaps let down a touch by its high-speed performance. Whereas, I found the new ARV 96 a solid on both groomers and landings, even at high speeds. I loved ripping around the mountain on these, the new core definitely seems to have made them more stable and energetic on groomed snow. Before, they felt like a slightly widened park ski, but now they feel more like a true park/all-mountain crossbreed, like the Poacher – but with more energy/pop. They are certainly less quick and poppy than the new Chronic (full review coming soon) but they are a lot of fun nonetheless.
With the added beefiness in construction, they also handle mixed snow better than the old ARV 96, and are probably close to on a par with the stiffer Poacher. The rocker profile is less smooth with a slightly more defined tip/tail than the Poacher and new Chronic, so they don't slice as well through crud and there's a bit more deflection. But despite the tips and tails also being lighter/softer than those other skis,they still do a decent job. The flipside of that coin is that they are less likely to catch up in tight transitions both around the mountain and in the park. They don't have much early taper either, and the new, extended sidewall seems to have made them torsionally stiffer, so for a rockered ski, they still do a decent job on icy days, which was another former weakness.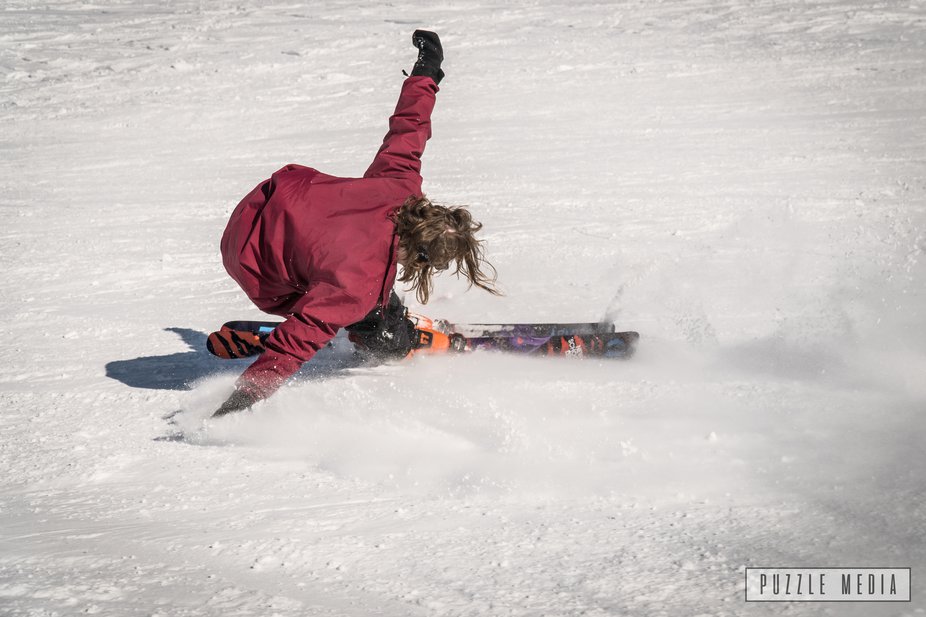 Switch carving was a treat on these
The main weakness of the new model, thanks to a 96mm waist, stiff flex, fairly mellow rocker/taper and a more pronounced tip splay is soft snow. And pow is even more of an issue when center mounting. In this respect, the hugely rockered Kartel 98s (now 96) and soft skis like the Blend and EDollo, do comfortably outperform the ARV 96. But then none of those skis does the other stuff as well for me, especially in harder conditions, so that's your tradeoff.
I actually think these are one of, if not the best all-terrain jib options out there right now, in a circa 96mm width. Their all-mountain performance is now definitely comparable to the Poacher, with slightly different strengths and weaknesses. That simply wasn't the case with the older ski, and now, if you want an even chargier all-mountain ski, there's the new ARV 96ti in the Zero collection as well.
_
Park/jibbing
Not only is the ARV 96 an improved all-mountain ski compared to the older model, it's also a much more energetic and stompy ski in the park now. They have more energy on takeoffs than before and feel more stable on landings, even on big features thanks to being a touch stiffer. They definitely feel better landing than anything in the jibby mid-90s category I've tried, except maybe the Poacher (though a touch more camber on the 96 may still put them ahead). There's also a nice low swingweight thanks to the spin-tip and thinner edges placing less weight at the extremes of the ski. The 96s also have plenty of pop, certainly more than most of today's noodles (though less than the new Chronic, which is pretty crazy in that regard thanks to the abundant camber).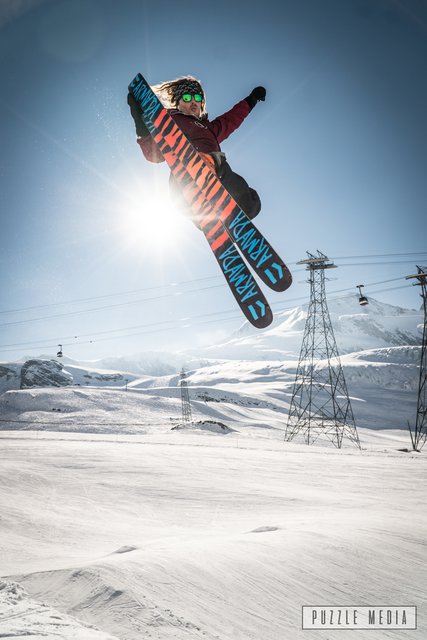 Blue steel
Despite being great on big features they are also fairly fun to ski playfully, but it takes some definite force compared to noodles like the Blend/EDollo (or heavily rockered skis like the Magnus/Kartels). Over the twelve days, they softened a little in the tip from nosebutters but the rest of the ski didn't change massively. They do provide good stability buttering at higher speeds, much like the Faction Prodigy 1.0, Poacher and ON3Ps, but are perhaps a touch easier to ski at lower speeds than any of those.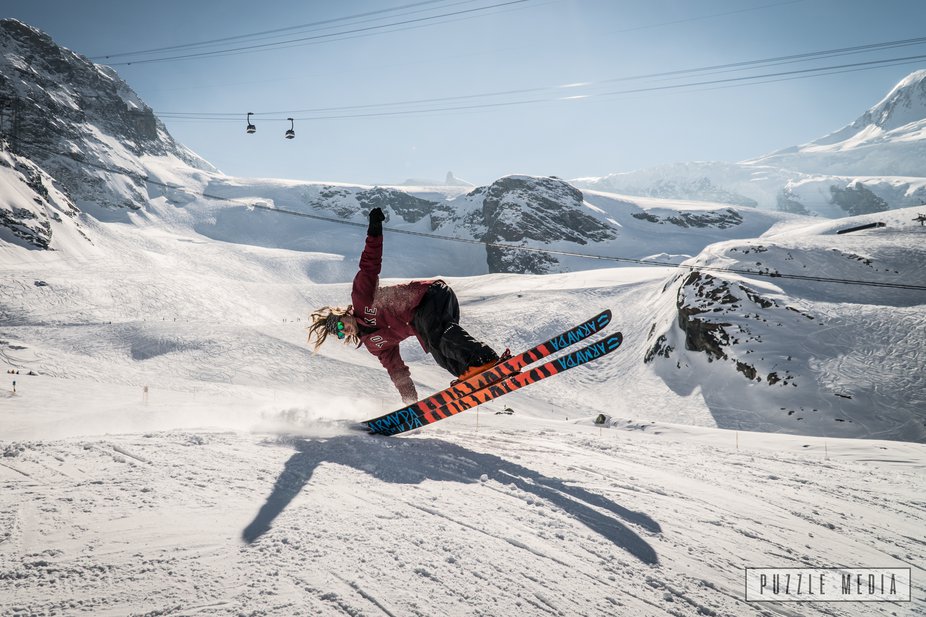 They butter no problem, it just helps to have a bit of speed.
At 96mm they are narrow enough to do quick tricks on rails while also being wide enough to be decently stable. I think anywhere between 95 and 100 is pretty much the magic number for most park skiers these days. These do have just enough camber/taper/stiffness to make 5050 tricks and presses a bit more fiddly on narrow rails than say… the Blend or the EDollo (or even the ARV 106) but they make up for that by being far superior on big jumps etc.
One good thing about the changes to the ARV line as a whole is there is much more differentiation between the EDollo and the ARV 96. Previously it could be hard to choose between the two older models but now, it shouldn't be hard at all. If you have an interest in doing anything except for jibbing, flexing and pressing all the time then for 95% of people the ARV is a better performing ski (unless you have a particular issue with tapered skis or only ski park and soft snow). The Dollo is a real specialist jib tool whereas the new ARV is versatility personified… or ski-ified or whatever.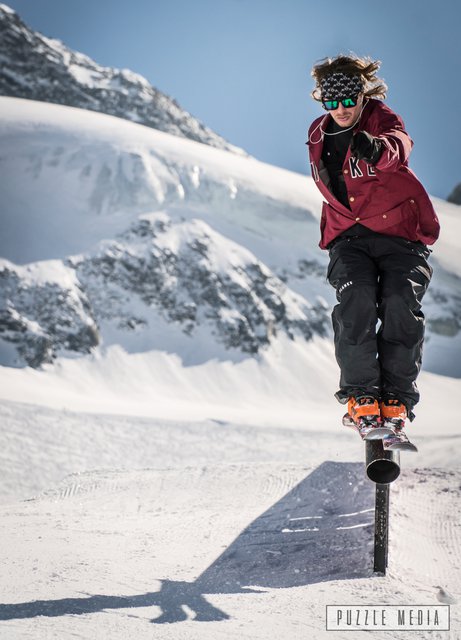 Likewise, 5050s will go, but there are easier skis for them.
_
Durability
The one curveball Armada have thrown with the new ARV 96 is the edges. Truth be told, this probably makes no difference to most ski buyers, but to the NS audience they can be a dealbreaker. I detuned my edges pretty hard and they didn't crack in the twelve days of testing (I usually only start to see edge cracks around day fifteen though). However, after ten days or so, one edge was already pretty much completely rounded off. I don't switch skis from foot to foot when I only have a short review window, because it gives a better indicator of durability not to, but these were more worn than most other park skis I've tried of late, I think that's thanks to them having a fairly thin edge.
Like I've said in other reviews, despite skiing a lot of rails, I'm fairly smooth and don't land particularly heavily on rails, but looking at the skis I would have expected edge cracks already given how worn my scissoring edge is. That said, there is so little edge left that they must be imminent. I have about six cracks on the EDollos which I tested for more like twenty-five to thirty days and which have the exact same edges (for the sake of comparing durability). If I were buying skis, the narrow edges would make me steer clear of these as a pure rail ski, they do seem to hold up well enough if hitting rails isn't a first priority though.
The other potential durability issue comes in the form of Armadas new four piece edge wrap. I discussed this in my ARV 106 review too and the same rings true here. The edge is separated into four pieces: one wrapped solely around the tip, one around the tail, and then two edges running each side of the ski. This construction is designed to allow the ski to flex more naturally, like a three quarter wrap, and as such, increase durability. However, it does also introduce more 'gaps' that need to be filled between the pieces of edge. After twelve days, the filler in five of the eight gaps has come loose on the 96, leaving gaps in the construction. I haven't seen any delam as a result on any of the three Armada skis I tried (and this happened to a degree on all three) so perhaps it's entirely insignificant, but again it felt important to note.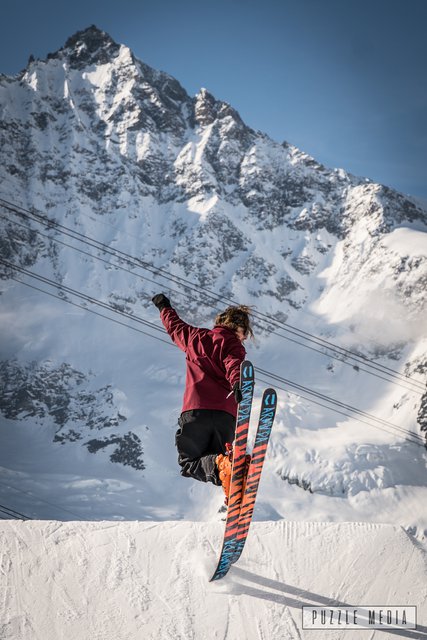 I just liked this photo
_
Mounting
Most of the Armada team mount center so that's where I went too. I mostly ski rails anyway so that was an easy choice. These still do most things great there and I'd not consider moving back for my own skiing. However, there is no getting around the fact that the ARV 96 doesn't float great at center, so if you deal with a lot of soft snow and don't hit rails, I'd move back to -2cm. They also ski more effectively all-mountain at that point if you ski with less of a centered stance than me.
_
Conclusion:
My tl:dr conclusion is that the ARV 96 is a great ski. If you've read this far you'll see a 95% positive review. I know Armada have made these a better ski for most people who will buy them compared to the previous model. They are far better all-mountain, much more fun to ski on in most situations, and they are even better for most park skiers except for the pure jibbers. Unfortunately, I'm basically quite a soft-ski, rail focused guy so, especially now that they've differentiated them a bit more, I prefer the Dollo for my own skiing, despite the fact that I know the 96s are better for almost everything. There were countless days when I was riding the Dollo and encountered unexpected conditions when I wished I had these on my feet instead. I know these are a better ski than the EDollo for the vast majority of skiers, but for whatever reason, I didn't ever fall in love with them. They didn't click with my own skiing and that's why I ended up switching back to the Dollo to finish off my season once I'd got enough material for this review.
However, there isn't really a style of skiing that would be a BAD idea to have the 96 for. I could still do whatever I wanted, it's just my favorite playful tricks took more work. You can play, you can go big, you can ski fast comfortably etc. They certainly aren't the ideal deep snow candidate but they do ok. Not much really lets them down except perhaps a certain 'je ne sais quoi'. The Blends/EDollos etc are far more buttery, the Kartels are better in pow and burlier, the Chronic is more fun on groomers and more energetic. But if I had to have one ski to do it all somewhere it doesn't snow a ton, riding anything from 35 to 90% park, this is what I'd pick. (Though, the K2 Poacher is a still very close second and is a touch chargier if that matters to you). These skis are a jack of all trades, and even a master of some. I might not actually have loved them for my own skiing, but I liked them, and I enjoyed the versatility they offered. I think the ARV 96 is the perfect choice for a versatile park ski and could even be a good option for a fun all-mountain ski for those who don't even venture into the park.
_
If you have any questions about the ARV 96, feel free to hit me in the comments and I'll do my best.
To see our reviews before anyone else, download the Newschoolers App: iPhone - Android
Find out what I'm reviewing in real time: @twig_spens
Next up from me: The new Line Chronic
Shop For Armada ARV 96

Merchant

Sale Price

Retail Price
Shop For Armada ARV 96

Merchant

Sale Price

Retail Price