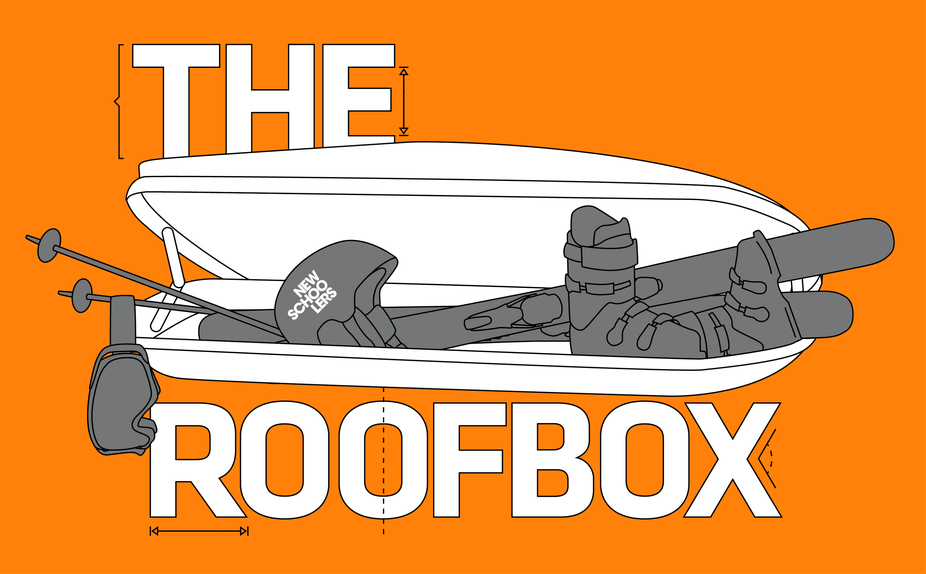 [Editor's Note: Our review was conducted on the 15/16 Line Sir Francis Bacon, which is largely the same for 2017-18, but a now features slightly heavier duty core. For me, the Bacon is one of the most fun skis on the market and the new shape has been vastly improved as a result of abandoning the Balsa/Flax core in favour of a more traditional Partly Cloudy (Paulowina) core. The ski now feels smoother and more predictable while retaining a playful feel.].
Ski: Line Sir Francis Bacon 2016
Length skied: 184
Actual length tip/tail: 182.8cm
Shape: 136-104-132 (17.4m (average) radius)
Measured weight: 1643/1648 per ski.
Tip-Tail Length (Straight Tape): 182.5cm
Mount: True Centre
Days skied: 10
Reviewer height/weight: 5'9, 140lbs
Conditions skied: Slush, Crud, Powder 2ft+, Backcountry Jumps/Jibbing, Park
The Line Sir Francis Bacon is one of the legendary skis of our generation. 2015-16 will be the 10th anniversary of the original model and over those 10 years it's grown in to one of Line's biggest selling skis. Despite evolving the ski multiple times over that period, Line have stuck to a similar formula, a relatively soft, playful and durable all mountain/powder ski. I've always been a big fan, in fact I've owned 4 pairs over the years and the outgoing model (108mm underfoot) was probably my favourite of the lot, I rode it for 2 seasons as my daily park/all mountain ski. So when I heard the newest Bacon was due to arrive on my doorstep earlier this winter, you can forgive me for having been a little excited. But it had a lot to live up to to match my expectations given my love of the previous model.
The SFB has undergone significant changes for 2015-16. It's been on a diet again, dropping from 108mm to 104mm underfoot. The core has been changed to Line's balsa and flax 'Cloud Core' and the fatty base/edge are gone, replaced with thinner, lighter alternatives. The result is a drop in weight of around 500g per ski, big news if you're touring/bootpacking but if you're used to riding the Bacon in the park like me, the thinner edges and bases are not something you're likely to enjoy hearing about.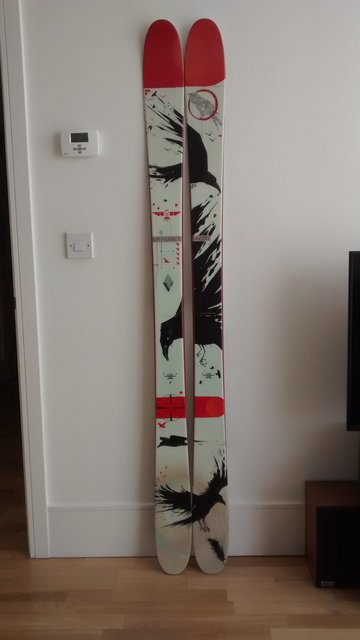 Topsheet looks rad... OG Chronic influences for sure
So how do they ski? All past editions of the Bacon have had a similar 'feel', does the new model retain that? The answer is sort of. The major similarity is the shortish, eliptical/5-point sidecut, on edge on (soft) hardpack the ski retains that playful feel. They carve relatively well for rockered jib ski over 100mm (as long as the snow is soft), and are very comfortable skiing switch, all things you expect from a Line SFB.
But these are a stiffer ski than any previous Bacon model. Where they were buttery, they are now poppy. That's not to say they don't butter happily, but it's a very different feeling. Where before you could lean in to the butter and the ski would sit in that flexed position as long as you held it, the new model pops you right back out again. They have more energy all over the place, poppy off lips, more bounce from turn to turn. Whether that's an improvement is down to personal preference, 2 years ago I wouldn't have enjoyed these nearly as much as the old version, but now I'm not so sure. I certainly think a majority of skiers would view this as an improvement.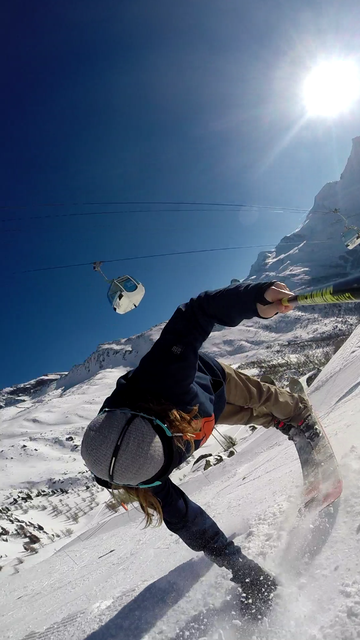 Nosebutter selfie, not a bad view either!
The new pointed nose/tail shape makes them ridiculously good in powder for the specs. I skied some epic days in Saas-Fee on these, so good in fact that I didn't mess about getting the camera out, but we're talking 60cm (2ft)+ of fresh and the skis handled it great. I didn't particularly enjoy the old SFB as a deep snow ski, but these are tons of fun. The tail sinks more happily than the older version resulting in more comfortable riding and that tip/tail profile means they will slarve much more happily with no hooking. Definitely a much more surfy feel in deep stuff than the older model.
I've always ridden the Bacon as a park/all-mountain ski but I didn't get to spend a ton of time in the park on these, largely because when I was testing them, the all mountain conditions were so good. I skied a bunch of backcountry jibs/jumps though and can confirm that the light weight does translate to a super low swingweight. They feel 5-10 cm shorter than they actually are in the air due to lighter weight and the tip shape reducing drag. These 184s were easier to throw around than my old 178s. But I would worry about the durability of the lightweight construction, particularly the narrower edges, in the park.
SFB Rocker Profile
There are other downsides to the light weight too. While they carve well enough on groomed snow when it's soft, when the snow gets hard/icy, they struggle for edge hold. It feels like there isn't enough weight/power/torsional stiffness and the skis simply wash out rather than gripping. I usually ride my skis heavily detuned and despite leaving the edges intact on these, they didn't feel a whole lot easier to control on ice than what I normally ride. And when it comes to cruddy, heavy snow there just isn't enough weight/torsional stiffness to crush it. Whereas the Batalla All MTN Twins I rode for my last review would smash through just about any condition, when the going got tough, these skis did not get going. The old Bacons were fairly awful in those kind of conditions too but they were a lot softer/more playful as a tradeoff.
In every ski there are inherent compromises, and that is perhaps more apparent here in the new Sir Francis Bacon than most. Weight loss has been made a priority and that has, for my personal set of uses, reduced the versatility of the ski. Whereas with prior models, I'd happily chuck just my Bacons in a bag and go on a trip, confident that I could ski hit urban, ski park, cruise groomers, and ride some pow, that simply isn't the case with the new iteration. They are without a doubt, better in deep snow, much more useable for touring, lighter in the air off jumps, quicker edge to edge and more precise feeling on all round. But they aren't as buttery/playful and I wouldn't take them in the park regularly. I certainly wouldn't take them to the streets. I know that's not what these skis were designed for, and the changes do improve the SFB for the vast majority, who will only use them in the multitude of conditions where they outshine the older version. But for me personally, on a day with nothing special going on, they slightly lack that fun factor that has always made the Bacon one of the most enjoyable skis around.
http://www.newschoolers.com/watch/771289.0/Clip-for-Line-SFB-Review
A few POV clips from my time with the SFB
My opinion, is however certainly not the be all and end all, both Mr.Bishop and tomPietrowski have greatly different reviews of the new SFB in the review section. Have you skied them? Then make sure you add your review to the mix!
http://www.newschoolers.com/reviews/3948/rbPgus54Ec3xM9yr.97
To find out about upcoming reviews, follow my insta @ https://instagram.com/twig_spens/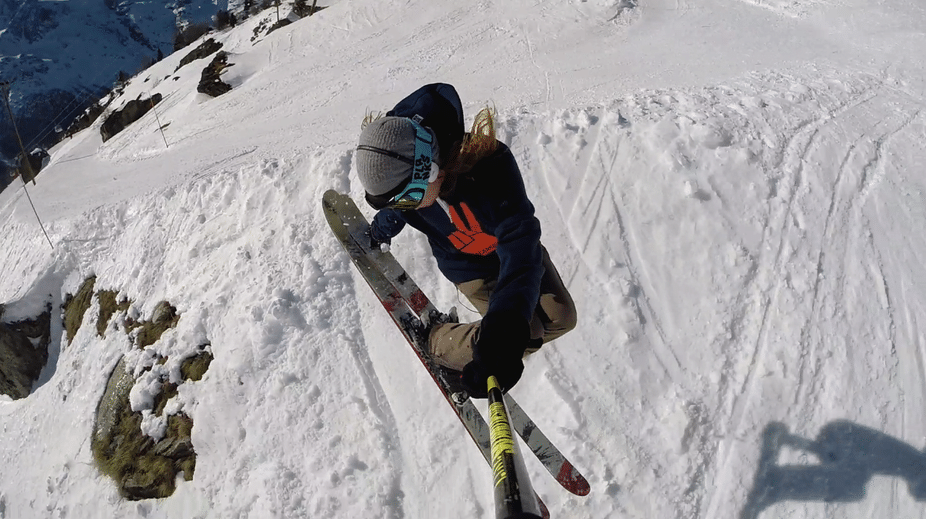 Here's a stalefish while cruising around to finish things off, just because they are so much fun...
Shop For Line Sir Francis Bacon

Merchant

Sale Price

Retail Price