Whistler Blackcomb is now open for the 2012-2013 winter season and we are excited to announce the 3rd episode of The Wonder Reels video series! This video was shot during Whistler Mountainís early opening on Saturday, November 17th.
Produced by Switchback Entertainment, The Wonder Reels Episode 3: The Stoke captures the anticipation of opening day at Whistler Blackcomb. From the kids who camp out in the lift line the night before, to the excitement when the gate finally opens and the first skiers and riders upload the gondola to make their first turns in over six months.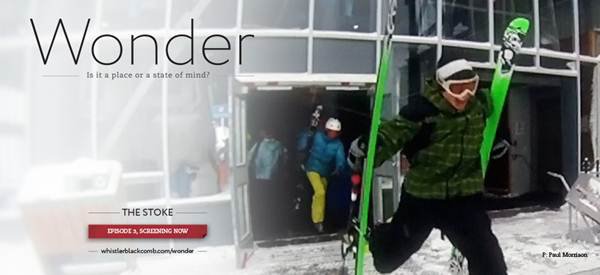 Whistler Blackcomb's Opening Day tradition is a kind of candy festival - the soft grey light of morning is skittled-through with bright new gear and buzzing skiers and riders, amped by the prospect of making that first turn in six months. Some are Opening Day regulars, some are cutting school, some are here for their first time. But when the gate drops, and the gondola starts to load, they are all riding the same wave of STOKE, right to the top.
https://www.youtube.com/watch?v=1ADug9AXqtg&feature=plcp
For more information about The Wonder Reels and the Wonderstruck Contest and Map Your Wonders, please visit www.whistlerblackcomb.com/wonder.