Here is another update from Faction rider Drew Petersen, and what he has been up to into Summit County:
The past week or two has been great here in Summit County. On Sunday, January 9th I skied with the Team Summit Big Mountain Team. At this time there was little new snow to be had. However, we were still able to find some old powder to have fun skiing in the Lightening Trees area of Zuma Bowl. Thanks to Jason Anthony for the shot.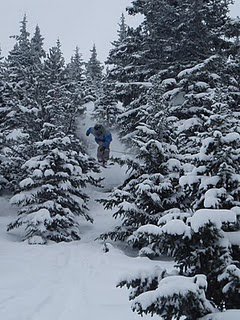 The following week was made up of unexciting hardpack skiing, but it was still fun. However, last weekend was great. On Saturday, January 15th I had one of my best inbounds days of skiing so far this year. I was skiing with the Team Summit Big Mountain Team. I did not get any cool skiing pictures from that day, but I did get one scenery picture while looking West back towards Silverthorne. This view from the top of Pali is my favorite view in the whole world.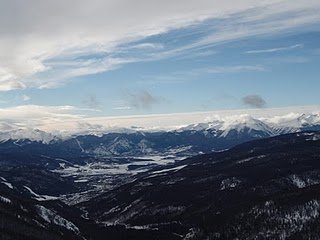 On Sunday, January 16th I skied some backcountry with friends. We went up for dawn patrol on the Professor. Due to unstable snow, we did not ski the Professor face. Instead we followed the lookers' left side ridge into the gladed area known as Widowmaker Trees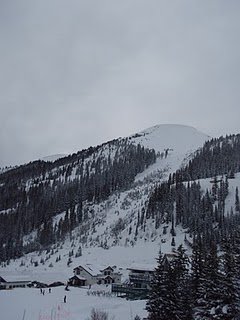 The snow was crusty because it is south facing, but it is always good to get out early in the morning. Here is the view from the top of the Professor looking to the Southwest.
As you can see, there are some storm clouds that came in on Sunday. Monday was a nice, mellow powder day. However, Tuesday was the big winner. A-Basin reported 12 inches and nearby Breckenridge reported 26 inches in 24 hours. After going to school for the morning I was able to get out for some fun skiing at Arapahoe Basin. This most recent storm has dumped feet of snow in Summit County. So far, this has been a memorable snow year and I hope that Mother Nature keeps the snow coming.
Today, January 20th was a fantastic day. I was training with the Team Summit Big Mountain Team once again. We skied some good leftover snow at A-Basin. The snow was great and a lot of the lines at the Basin have filled back in. Today we did some backflips off of a small cliff in the Our Chute section at A-Basin. It was a lot of fun to do some backflips off of a natural feature. Thanks to Max Kaupas for the shot.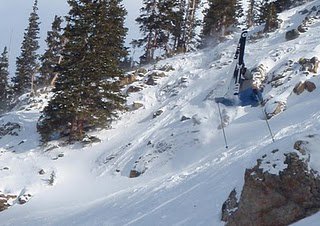 I hope that the snow has found its way to your home mountain, wherever that may be. Next week, I will be skiing almost every day. I will also be going down to SIA in Denver to look at next year's product. I will continue updating the blog, so look out for new happenings soon.