Ed.'s Note – Associate Editor, and lifelong Giants fan, Mike Rogge bet Editor Derek Taylor, who's rooted for the Patriots since Steve Grogan was getting sacked, on this weekend's game between the New York Giants and New England Patriots. It goes without saying, Rogge has the G-Men and Taylor has the Pats. The terms dictate the loser must get a perm for Powder Week in Jackson Hole.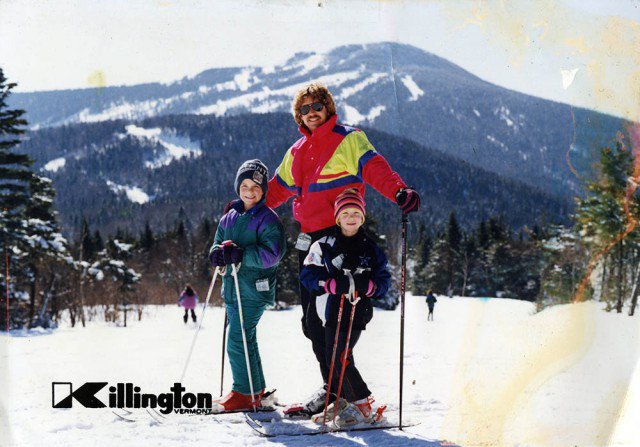 L-R Mike Rogge, David Rogge, Andrew Lemery
Lookin' Good by Mike Rogge
The memory of my father's perm lives in a photo on my desk. In the photo, taken in 1994, my father sports a neon-pink jacket with purple and yellow accents and aviator sunglasses. He stands on his skis, behind my cousin and me, during our annual ski trip to Killington, Vermont. His golden locks are artificially waved and slightly curled. His grin is one of pure joy. He is either in on the irony or, like Powder's Jaded Local, has a P.h.D in Good Times. I call him for a definitive answer. Turns out, it was neither.
"I didn't want to look my brother," Dad says of the perm from his office in Upstate New York. "My brother has straight hair like I do. We both had green pick up trucks. We both had St Bernards in the back." I explain the terms of the bet I've made with my boss on the Giants-Patriots game. I have the Giants. Derek has the Pats. The loser gets a perm for Powder Week, the magazine's annual party-pretending-to-be-a-ski-test in Jackson Hole. He pauses. "Perms are easy. You get in the shower, wash it, pick it and you're done," he says. "It's like that the rest of the day. No maintenance and awesome." I'm surprised. He speaks of the style like an old pair of parabolic skis. Maybe I would look good with a perm too? Do I even want to win this bet? Dad continues. "I had a perm for five or six years. The reason I stopped was because I told your mom I was going to get another perm and she asked me to let my hair grow out." So he didn't stop getting a perm by choice. I'm intrigued. "Your mom said she was tired of sleeping with Bozo." I cut him off. "Let's get back to the bet. Who's going to win this weekend, Dad?" I ask. He laughs. "I think it'd be pretty cool if you had a perm," he says. I'm getting nervous. Why does he keep referencing me getting a perm? Is he saying our beloved G-Men are doomed? Are curls and a wave in my future? I don't see it.
The Giants have fight this year. The team is playing well and, despite injuries, are on the top of the NFC East. "I haven't been following much football but I know it's going to be a close game," he says. Exactly. I knew he had my back. The team's back. Eli Manning's back. A close game, perhaps, but I have little doubt the New York Football Giants are going to win, just like they did in Super Bowl XLII. I can see my boss' girlfriend sighing and shaking her head as he walks into the demo tent rocking a Beyonce-styled perm held only by a headband. This is going to be good. So effing good and funny.
We say our goodbyes and he wishes me luck. I glance at the picture on the desk and laugh. The Giants are winning this weekend. They just have to. My hair depends on it. Before he hangs up the phone, Dad adds, "Hey, just so you know, I just have a gut feeling that the Patriots are going to win. I'll be watching the game." Dammit. Go Giants!
?????????????????????
Loyalty By Derek Taylor
There are a lot of things I admire my Dad for. He works his ass off. He put up with bullshit from my brother and I all throughout our high school and college careers. He always put his family first. But there is one thing I can't respect: my dad is a Jets fan.
Yep, I said it. It wasn't easy. My blue-blooded Eastern New England father roots for the Jets. Now, he has his reasons, most of them a lot more logical than why I root for the Patriots. After all, he was living in New York during Joe Nammath's reign. He also watched with disgust as Robert Kraft toyed with the heart strings of our home city of Hartford while we were still stinging from losing the Whalers. As some background, Kraft promised to move the Patriots to a new stadium in Hartford, but pulled out once he got the deal he wanted from Massachusetts. It was kind of like the homecoming queen asking you to prom after you've been dumped by your long-time girlfriend, then standing you up. And since that day, my dad has never been able to root for the Pats.
"Robert Kraft is a dishonest, lying sack of sh*t," he tells me. "I always rooted for the Patriots. I loved them when Gino Cappalletti was there. So yeah, I would consider myself a Jets fan more than a Pats fan now. But if Robert Kraft stole the Jets, I'd root for the Patriots again." Something my old-timer, farmer neighbor told me when I was a kid: You don't piss off a Connecticut Yankee. And it seems that's just what Kraft has done.
The other thing you need to know about my dad: For about two years in the 70s he rocked a perm. "It was a kind of in back then," he says. "It looked good, kind of like the Brady Bunch guy. It was a cool, new way to wear your hair." So how does he feel about the potential of me following in his curly haired fashion-forward foot steps, courtesy of that other New York football team? "I was cool back then," he says. "It's not cool now."
I'll admit, I never really thought of Mike Brady as being cool. Tom Brady, on the other hand, bleeds ice water. Even my dad would agree with on that. So, like me, he's probably not too worried about me having to carry a pick around during Powder Week. Right Dad? "I've got a sick, sneaky feeling that you're going to be sporting an afro," he says. Thanks for the confidence, Pops. Go Pats!