Words by Jeff Schmuck
Photos by Ilanna Barkusky/MSI
Day two of the second stop of The North Face Park and Pipe Open Series went down in beautiful Whistler, BC yesterday with Men's and Women's Slopestyle Finals, and what a show it was.
Much like the previous day's qualifiers, the weather couldn't have been any better, with an epic inversion and cold (but not too cold) temperatures, which helped set the stage for a mind-blowing and dramatic event, particularly since it was the last chance opportunity for one man and one woman to score themselves spots in X Games slopestyle.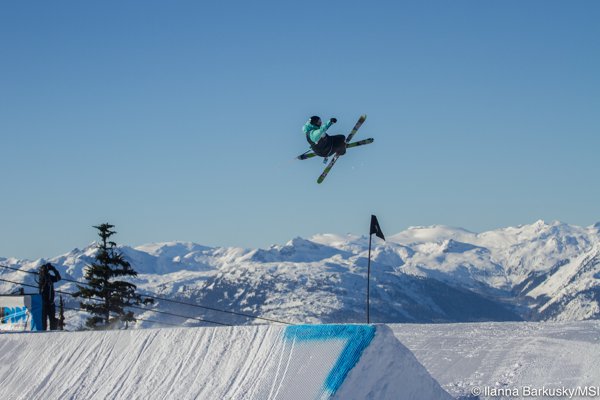 Alexi Micinski
The ladies were up first, and after a hard fought battle, Alexi Micinski scored third with a run that consisted of a right 3 and left 5 on the jumps, while Jamie Crane-Mauzy nabbed second (and a spot in X Games slopestyle since today's winner is already invited) with a balls to the wall run that included a back flip off the cannon rail, to cork 3 to a perfectly executed and large and in charge flatspin 3.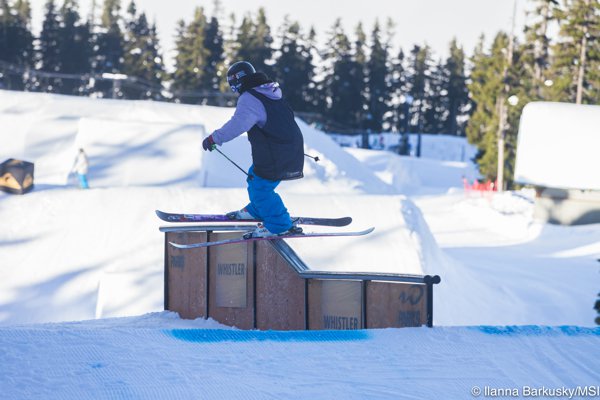 Jamie Crane-Mauzy
But in the end, the day belonged to Whistler's very own Yuki Tsubota, who after taking second place at last month's Dew Tour walked away with her first win of the season thanks to a run that included a huge left cork 7 mute, right cork 3 and left side 9 on the jumps.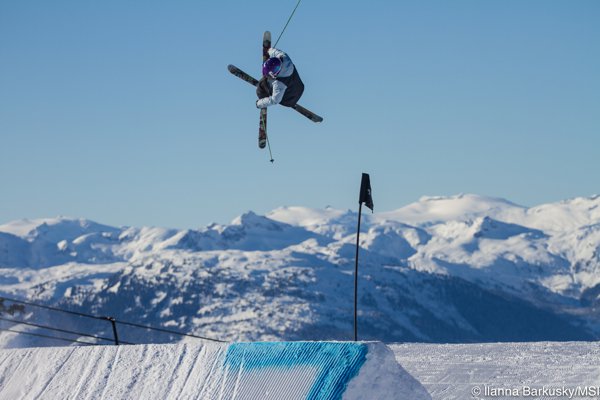 Yuki Tsubota
On the men's side of things, to say the field was stacked would be an understatement, as the top 12 qualifiers put on one hell of a show, much to the delight of the substantial crowd that gathered to take in the proceedings.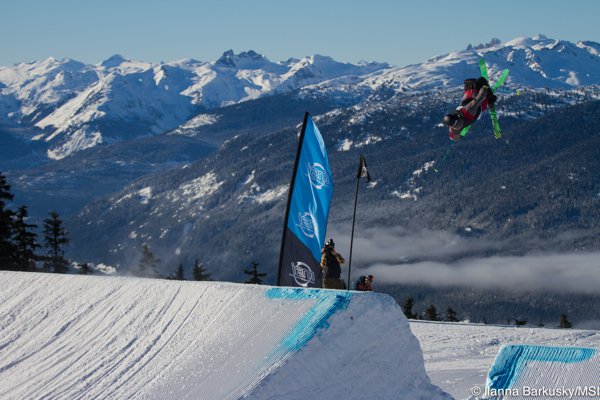 LJ Strenio
One of the biggest highlights of the day was without question the return of LJ Strenio and TJ Schiller, who after battling back from horrific knee injuries (LJ broke his knee cap this time last year and TJ tore his ACL two years in a row) returned to competition in fine form, as LJ unleashed a misty 4 off the cannon rail to a switch right cork 10 to switch left double cork 9 japan, while TJ laid down a massive double cork 12 and a very TJ-esque switch 10 mute, which was good enough to score them sixth and fifth place respectively.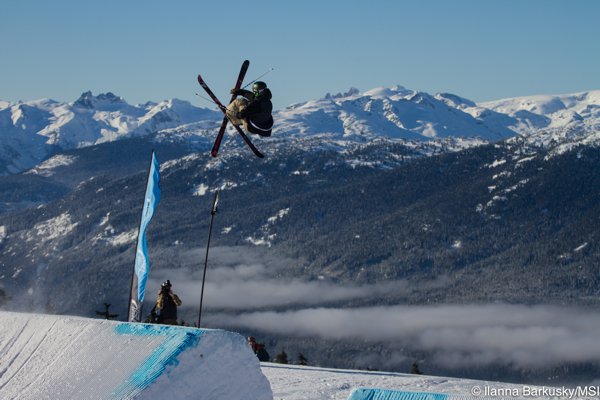 TJ Schiller
In fourth was Aaron Blunck, who complemented his recent success in halfpipe (be sure to be on the look out for him next week during X Games) by showing that he can tear apart a slopestyle course just as easily, courtesy of his squeaky clean double cork 12 to switch double cork 10 combo.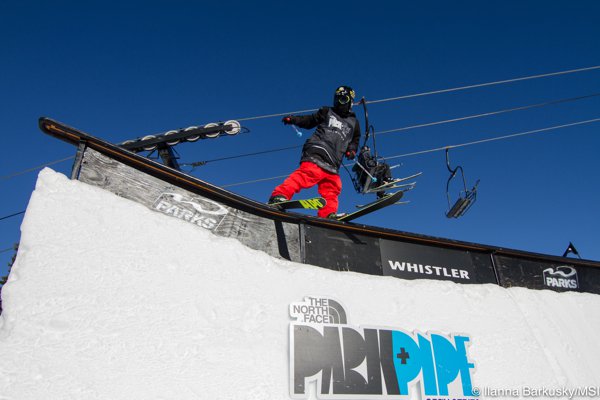 Willie Borm
The third step of the podium went to Willie Borm, who after crashing on his first run busted out a stellar right cork 9 and switch double 10 on the last two jumps on his second and final kick at the can, thus continuing to prove that he's a force to be reckoned with each and every time he steps into his skis.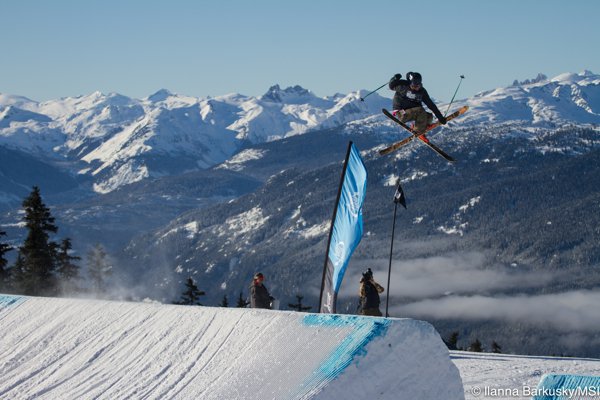 James Campbell
Second place went to James Campbell (thanks to one of the biggest and cleanest switch double cork 10's of the day, amongst other trickery), who is no stranger to the podium at The North Face Park and Pipe Open after winning last year's stop at Northstar-at-Tahoe.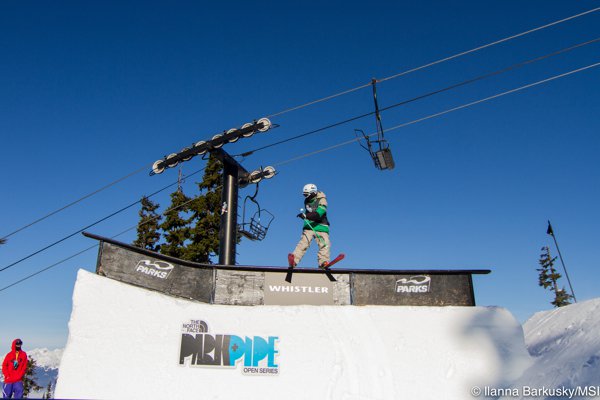 Noah Morrison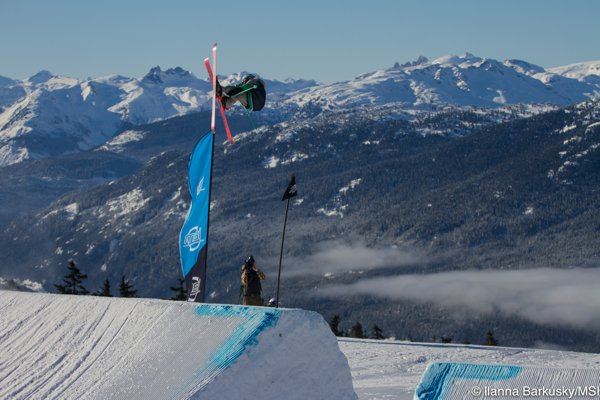 And last but certainly not least, authoritatively and deservingly claiming victory and the final spot in next week's X Games slopestyle was Noah Morrison, who after qualifying first overall blew the rest of the field away with his eye-popping run, which began with a left double cork 10, to misty 4 off the cannon rail, to switch right double cork 9, to a stratospheric left double cork 12 blunt.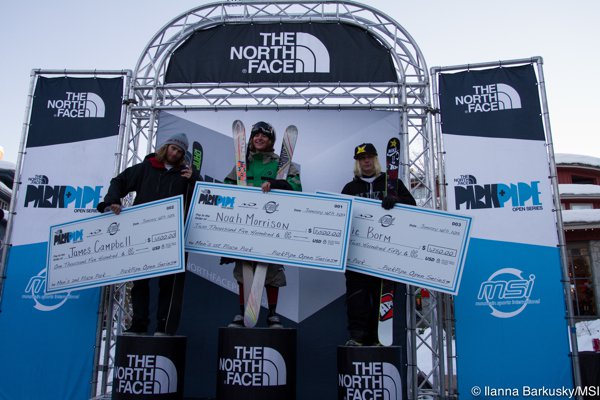 James Campbell (2nd), Noah Morrison (1st), Willie Borm (3rd)
Results
Men
1) Noah Morrison - 91.4
2) James Campbell - 89.6
3) Willie Borm - 87.0
4) Aaron Blunck - 84.2
5) TJ Schiller - 80.6
6) LJ Strenio - 79.6
7) Jaeden Schneider-Clark - 76.6
8) Keaton Carlson - 74.4
9) Brenden Reid - 72.8
10) Walter Wood - 71.8
11) Max Morello - 65.8
12) Kolby Ward - 29.6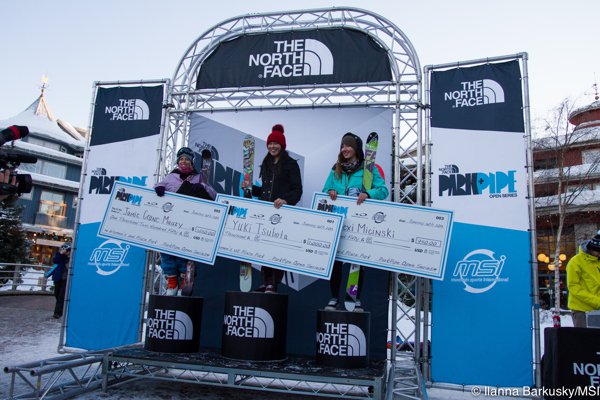 Jamie Crane-Mauzy (2nd), Yuki Tsubota (1st), Alexi Micinski (3rd)
Women
1) Yuki Tsubota - 90.4
2) Jamie Crane-Mauzy - 81.0
3) Alexi Micinski - 79.2
4) Emma Whitman - 73.6
5) Maude Raymond - 70.2
6) Olivia Lane - 56.4
7) Catherine Warchal - 40.4
8) Nikki Blackall - 39.4
http://www.youtube.com/watch?v=dMhE5s9RHvU
Congratulations to Noah and Yuki, and stay tuned to www.thenorthfaceppos.com for info on when today's event will be broadcast on CBS Sports. The second stop of The North Face Park and Pipe Open Series in Whistler, BC continues and concludes today with Men's and Women's Halfpipe Qualifiers and Finals, so be sure to check out the live webcast of it right here on Newschoolers beginning at 12:30pm PST by clicking here.