Words & photos by Rocky Maloney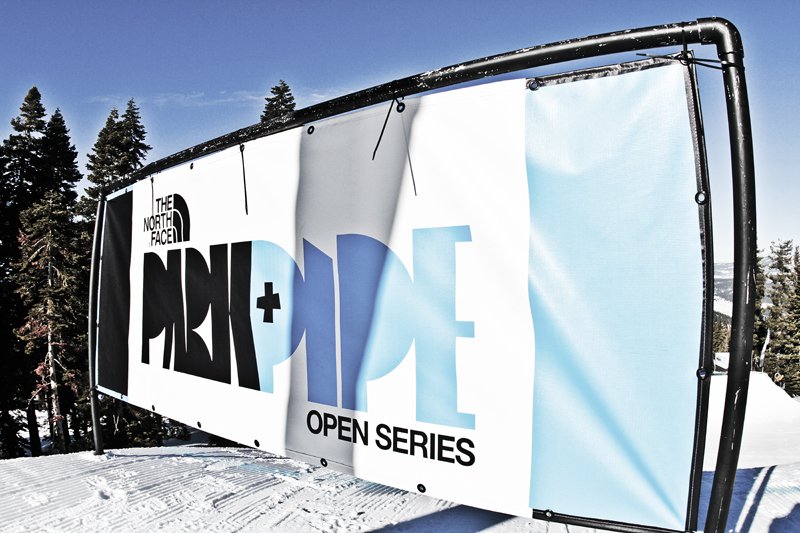 There was nothing but bluebird skies today to kick off the first stop of two on the North Face Park & Pipe Open, where host mountain Northstar-at-Tahoe has constructed a pristine and short and sweet course set up to cater to the athletes, consisting of only four features. Two rail options at the top, a down-flat-down rail or a flat-down box, which leads into an elevated flat rail on one side or an up box on the other. After the rail set up there are two beautifully crafted jumps, followed by a quarterpipe at the bottom, all set amidst a beautiful backdrop looking out into the Tahoe Valley.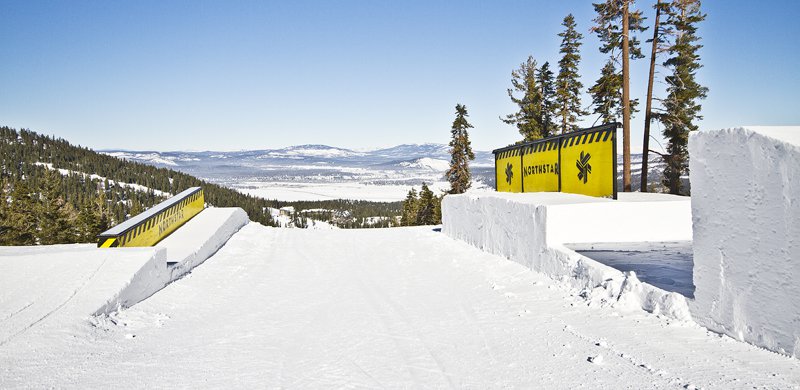 Approximately 70 competitors showed up to hit the slopestyle course for their shot at a portion of the $40,000 cash purse, along with the coveted final spot in X Games Slopestyle. Today's qualifiers (followed by semi-finals and finals tomorrow) were split into three heats, with an average of 23 competitors. It was judged on a best of two run format, taking the top eight from each heat, along with two last chance qualifiers.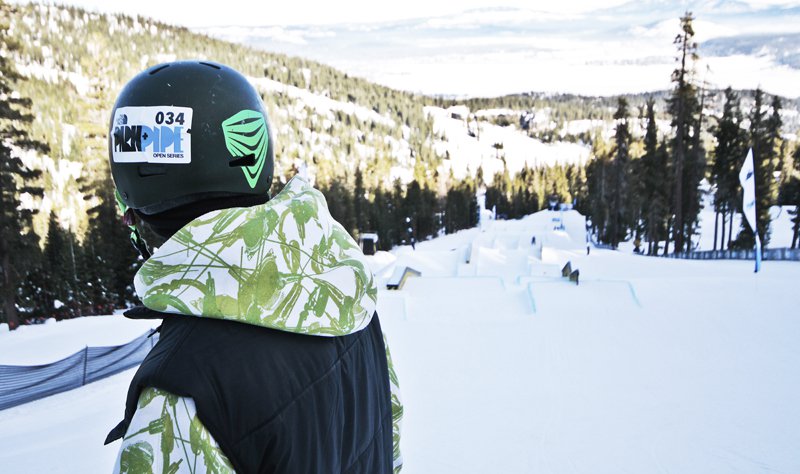 Rob Walter getting ready to drop into his practice run.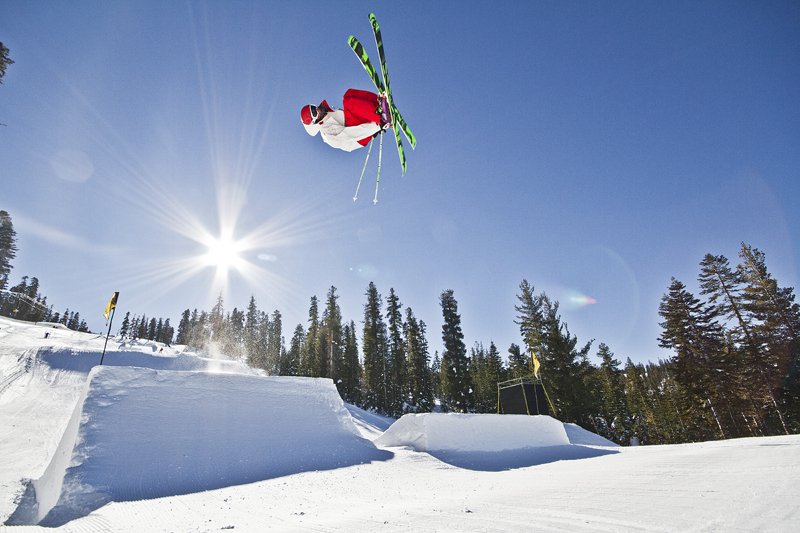 Kyle Smaine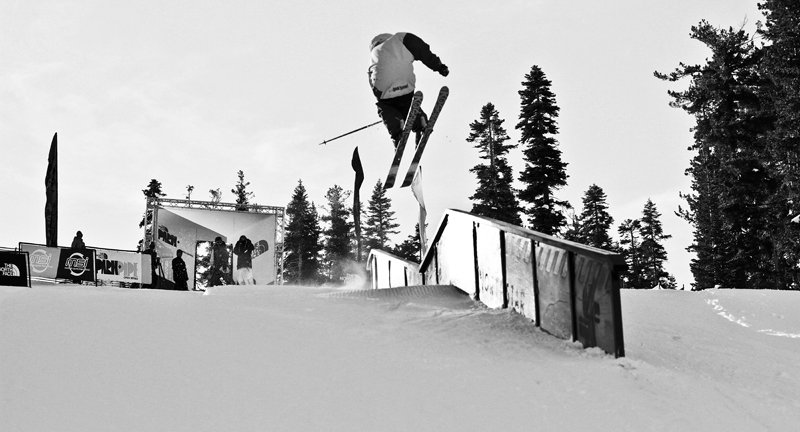 Tim McChesney
After an hour and a half of practice Heat 1 competitors took to the course at about 10:30am. The first heat of the day had 25 competitors, which was the most out of the three. Paul Bergergon took the top spot in the first group, with a run that included a front 450 off the elevated flat rail into a cork 9 on the first jump and a switch 1080 on the last.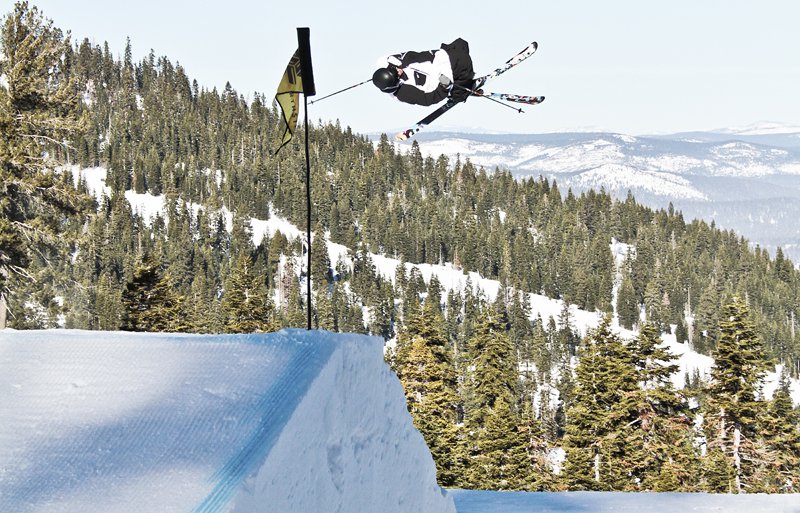 B-Paul keeping it stylish.
Ben Moxham claimed the 2nd place spot, doing what he does best on the jumps with a switch left 1080 to switch right 1080, while Joss Christensen earned himself a spot in the semis by landing a solid run that consisted of a lip 270 onto the down-flat-down rail into a 630 off the elevated flat rail. Joss is also well known for his stylish airs, and made the judges aware of this fact with a right cork 900 into a switch left 900.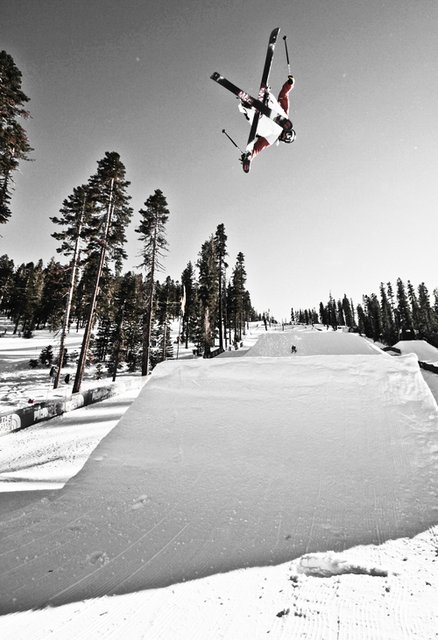 Ben Moxham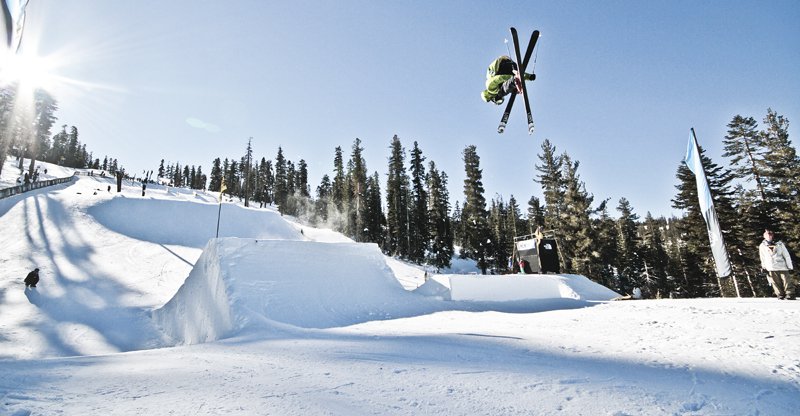 Joss Christensen
Heat 2 competitors were given a little more time to train in between heats as the park crew groomed the lips. After a brief time out last winter, North Face team rider Nick Martini proved he's back in full force by being only one of two competitors to do a rodeo 450 out of the flat rail, and capped off his run with a switch 720 into a switch 1080, scoring him 2nd place in Heat 2 with an 86.40.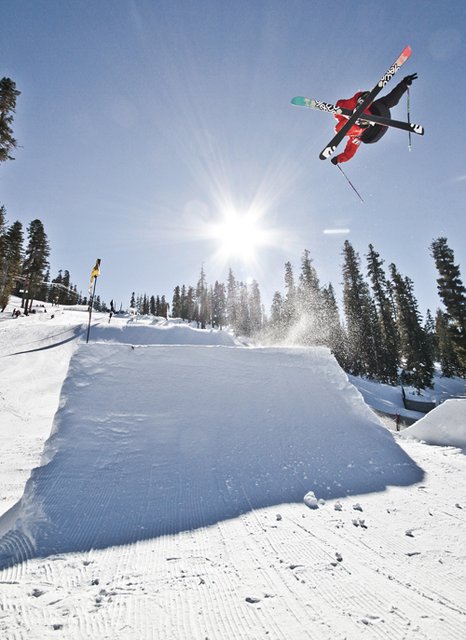 Nick Martini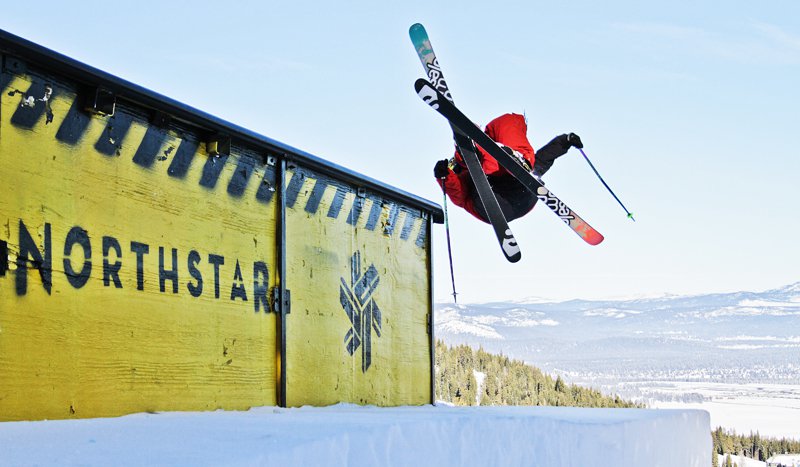 Taking third was Aspen Local Charlie Lasser, who displayed his skills to pay the bills on the course with a switch tails over onto the flat-down-flat to switch out, into the elevated rail switch on to 270 out, into a switch left 720 and a switch left 900.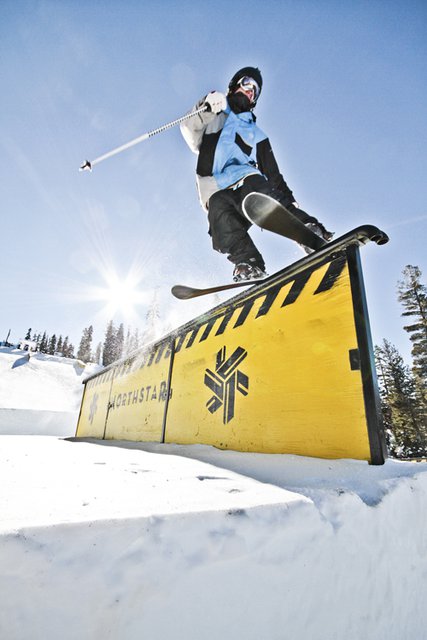 Charlie Lasser
And taking the top spot in Heat 2 was Chris Logan, who came out for one reason and one reason only today…to destroy this Northstar course. Taking the overall top qualifying spot with one of the most technical runs of the day, it's safe to say that Logan continues to be one to watch. With a switch-up on the down-flat-down, to 450 on 450 off the flat rail, to switch right 1080, to switch left 1260, Chris earned a 93.40 and the commanding lead going into tomorrow's semi-finals.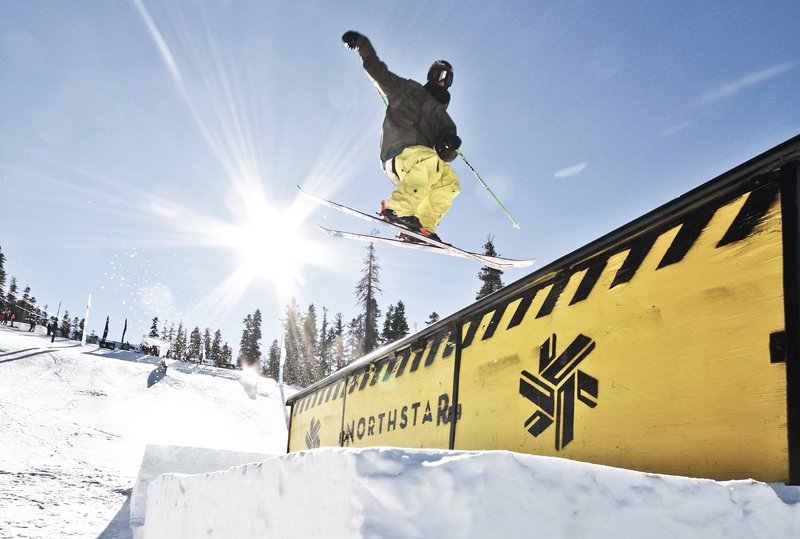 Chris Logan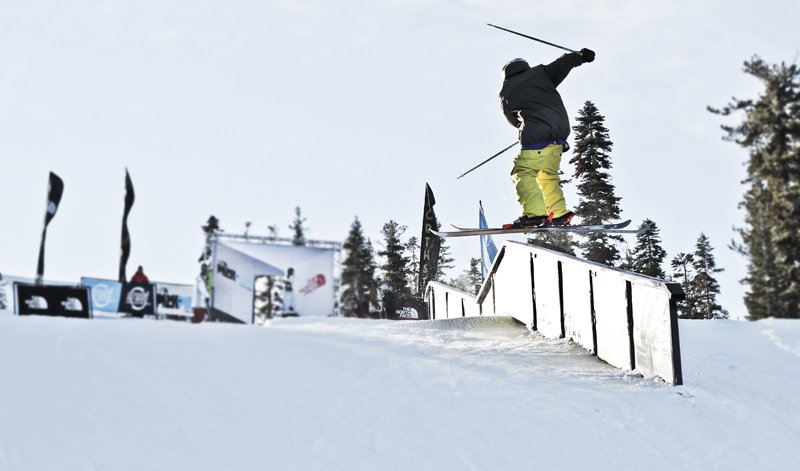 In Heat 3 Joe Schuster claimed the 2nd place spot with a big switch 1080 over the first jump into a switch 900, and was one of the only competitors to take advantage of the extra points on the quarterpipe with a big cork 900 that boosted his score to a 91.80. However no one in the third and final heat could over take 20-year-old McRae Williams from Park City, Utah. McRae took the 2nd highest qualifying spot overall just behind Chris Logan with a 92.20, with a run that began with a 450 disaster to switch out on the down-flat-down rail, followed by a rodeo 450 off the elevated rail. On his second run he decided to change things up with a switch on 450 out into a right rodeo 900 double japan, and a switch double cork 1080 mute on the last jump, which he then capped off with a cork 540 on the quarterpipe for good measure.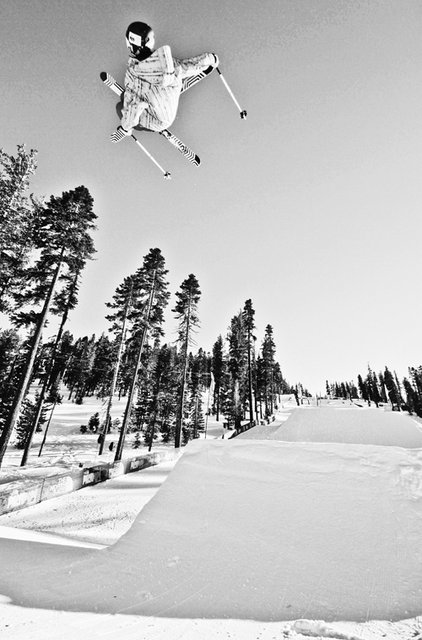 McRae Williams
A little further down the list, snagging the 5th place spot was Karl Fostvedt, who stomped a super stylish right double underflip 900, which gave him an 83.00 and a spot in semis, along with many others listed below.
Karl Fostvedt
Tomorrow is the semi-finals, which welcomes the pre-qualified athletes plus the 26 that qualified today, along with the ladies' portion of the competition, who will have their chance to strut their stuff on the Northstar course. Stay tuned to Newschoolers for more coverage on the first stop of The North Face Park & Pipe Open.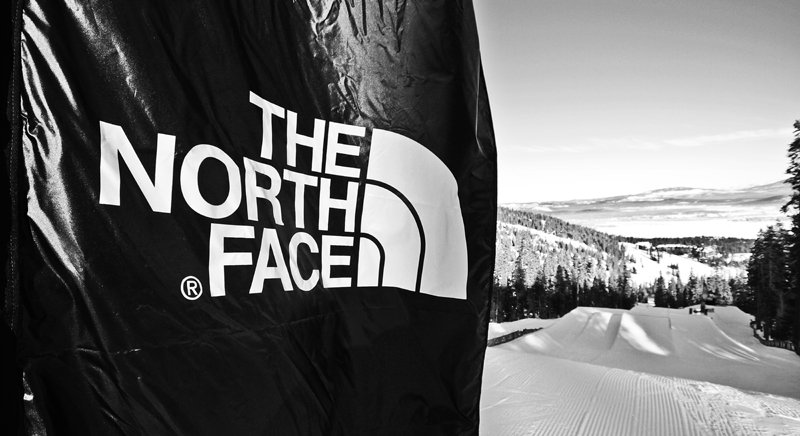 Results
Heat 1
1. Paul Bergeron - 91.80
2. Ben Moxham - 89.80
3. Joss, Christensen - 88.40
4. Aidan Sheahan - 88.00
5. Kyle Smaine - 82.80
6. John Leonard - 79.80
7. Lyman Currier - 76.20
8. Charlie Ingalls - 73.20
cut-off
9. Jedidiah Kravitz - 72.20
10. Davis Souza - 70.40
11. Connor Nelson - 68.00
12. Justin Anderson - 67.60
13. Colby Stevensen - 67.20
14. Raleigh White - 64.40
15. Max Szekely - 60.20
16. Barrett Cincotta - 58.20
17. Tim Sargent - 56.60
18. Sean Collin - 56.40
19. Neal Cadra - 53.40
20. Zan Zirbel - 52.00
21. James Johnson - 47.60
22. Logan Vadasz - 43.80
23. Austin Torvinen - 33.00
24. Bryson Olson - 31.80
25. Cesar Rodriguez - 28.20
Heat 2
1. Chris Logan - 93.40
2. Nick Martini - 86.40
3. Charlie Lasser - 82.80
4. Cody Ling - 81.20
5. John Strenio - 80.20
6. Mike Mertion - 79.20
7. Maks Gorham - 78.80
8. Tim McChesney - 78.00
9 Kolby Ward - 75.80
10 Jason Arens - 75.00
cut-off
11. Leo Zoberski - 73.20
12. Erik Hughes - 72.80
13. Tosh Peters - 71.40
14. Jamie Melton - 70.00
15. Will Burks - 51.00
16. Adrian Pougisles - 50.80
17. Justin Hale - 48.40
18 Robby Franco - 44.00
19 Antonie Choquette - 35.00
20 Jared Dalen - 35.00
21. Jeb Carty - 19.40
Heat 3
1. McRae Williams - 92.20
2. Joe Schuster - 91.80
3. Matt Nelson - 87.00
4. Clayton Vila - 83.40
5. Karl Fostvedt - 83.00
6. David Wise - 82.00
7. Rob Walter - 76.20
8. Max Peters - 73.40
cut-off
9. John Kutcher - 72.60
10. Lucas Evans - 70.80
11. Alex Gorham - 67.40
12. B Devine - 65.80
13. Shain Stafford - 61.60
14. Scott Nikkel - 60.60
15. Tim Gage - 59.00
16. Ian Krommenhoek - 53.40
17. Billy Mann - 51.00
18. Jack Miller - 49.80
19. Colin Shane - 48.60
20. Brian Kish - 41.00
21. Jordan Sphor - 33.00