The first stop of the 2013 The North Face Park and Pipe Open Series (PPOS) concluded today in chilly temperatures with variable light conditions at Copper Mountain, Colorado. Over $10,000 in prize money and swag was awarded to the top finishers including The North Face athletes Mike Riddle of Whistler, BC and Maddie Bowman of South Lake Tahoe, CA who both took first place.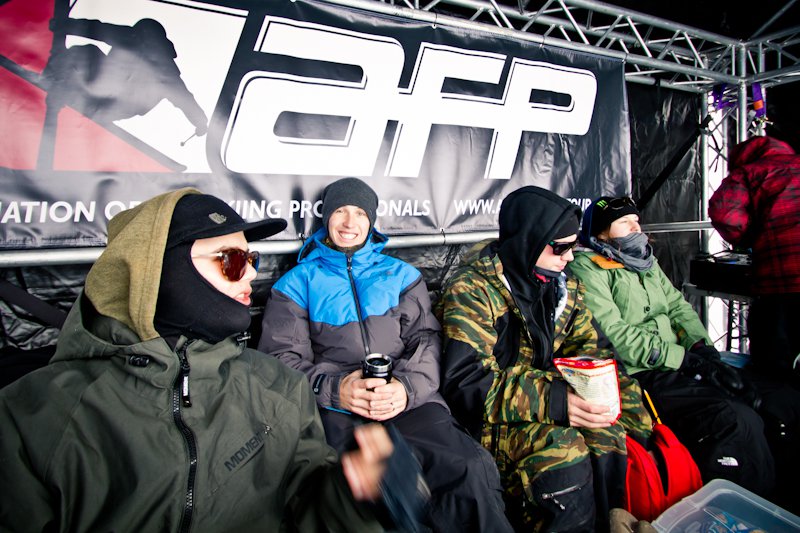 On Saturday, an international field of 62 male and 23 female athletes from countries including the United States, New Zealand, Japan, Canada, Russia and more skied in a highly competitive qualifier day. The men were divided into three heats with the top four scores in each heat moving on to the finals as well as the next top four male scores. A total of 16 men advanced to Sunday's final round. Twelve women also progressed to the finals, vying to win the first Association of Freeskiing Professionals (AFP) U.S. event of the season.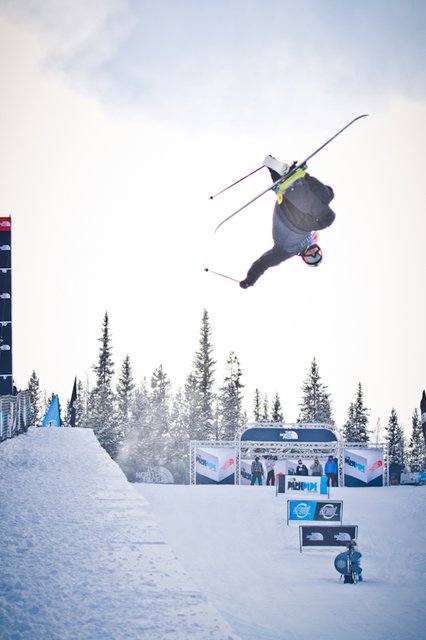 Matt Margetts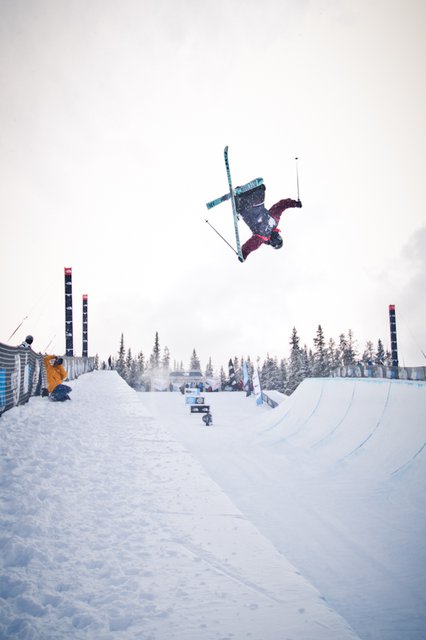 Byron Wells
Men's champion Mike Riddle started off his winning run with a left-side double cork 1260 mute grab. He then executed a clean right-side 900 tail grab moving into a left-side 900 opposite Japan grab. An alley-oop flat spin 360 bow-and-arrow-grab led to his final trick, a switch left-side 900 mute grab. The run earned Riddle a high score of 90.

"The PPOS Finals at Copper Mountain went down amazingly well with athletes competing at a top level for any standard," said PPOS Head Judge Steele Spence with AFP. "This open series format is so important for up-and-coming freeskiers to have the opportunity to compete alongside the pros. In addition, athletes at Copper were able to earn both FIS and AFP points."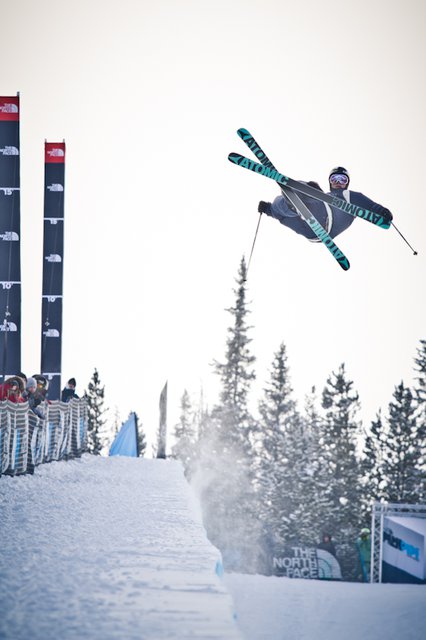 Mike Riddle
Rounding out the men's podium in second place was Peter Crook of the British Virgin Islands scoring an 86.4. Finally, U.S. Freeskiing Rookie Team athlete Aaron Blunck out of Crested Butte, Colorado took the third place spot with a score of 84.6.
Peter Crook
U.S Freeskiing team member Maddie Bowman placed herself on top of the women's podium with a run consisting of a straight-air tail grab, a left-side 900, a right-side 540, a left-side 540 mute grab, a right-side 720 and capped off her first place run with a smooth switch left-side 540 scoring a 85.8.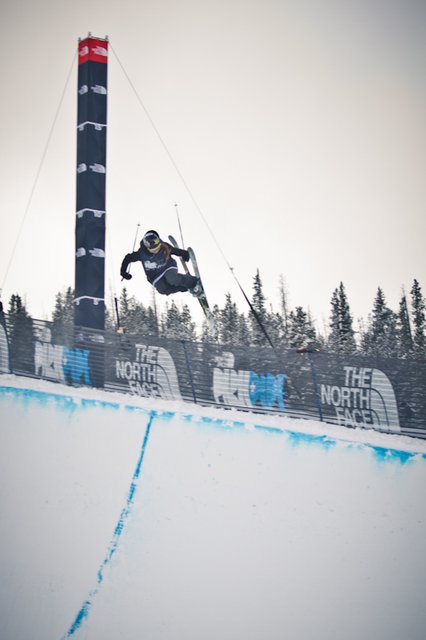 Maddie Bowman
Anais Caradeaux of France took second place with an 81.4 followed by Angeli VanLaanen, former World Cup Superpipe Champion out of Salt Lake City, UT, who scored an 80.8.

A one-hour broadcast of The North Face Park and Pipe Open Series event at Copper Mountain will air on the CBS Sports Network Dec. 23, 2012 at 1pm EST and again on Dec. 25 (time TBD).
Peter Crook (2nd), Mike Riddle (1st), Aaron Blunck (3rd)
Results
Men
1) Mike Riddle - 90.0
2) Peter Crook - 86.4
3) Aaron Blunck - 84.6
4) Matt Margetts - 84.0
5) Byron Wells - 83.6
6) Tanner Hall - 82.6
7) Gus Kenworthy - 81.6
8) Christian Allen - 80.6
9) Kyle Smaine - 79.6
10) Walter Wood - 78.0
11) Alex Ferreira - 76.4
12) Beau-James Wells - 73.6
13) Frederick Iliano - 68.2
14) Nils Lauper - 62.4
15) Brian Kish - 44.8
16) Joffrey Pollet-Villard - 39.4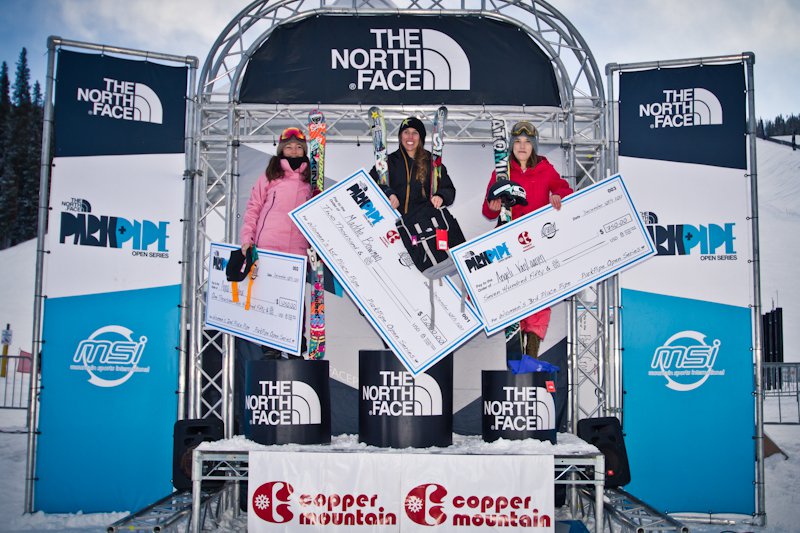 Anais Caradeux (2nd), Maddie Bowman (1st), Angeli VanLaanen (3rd)
Women
1) Maddie Bowman - 85.8
2) Anais Caradeux - 81.4
3) Angeli VanLaanen - 80.8
4) Saori Suzuki - 80.4
5) Keltie Hansen - 79.4
6) Katrien Aerts - 78.6
7) Jamie Crane-Mauzy - 77.2
8) Kimmy Sharp - 74.6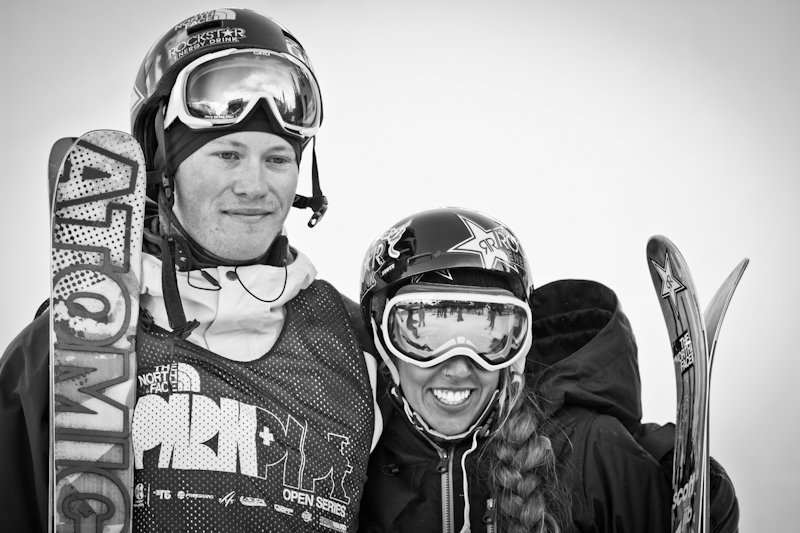 Mike Riddle & Maddie Bowman
The North Face Park and Pipe Open Series continues throughout the 2013 season with stops at Whistler Blackcomb, British Columbia, Canada (Jan. 14-17), Waterville Valley, New Hampshire (Feb. 23) and Northstar California Resort (March 8-10).http://www.TheNorthFacePPOS.com. For more information on The North Face Park and Pipe Open Series, visit www.TheNorthFacePPOS.com, and be sure to follow PPOS on Facebook at www.Facebook.com/TheNorthFacePPOS and on Twitter at Twitter.com/TNFParkandPipe.
http://www.newschoolers.com/watch/590063.0/The-North-Face-Park-and-Pipe-Open-Highlights
The North Face Park and Pipe Open Highlights