O'Neill, the original surf, snow and youth lifestyle brand for over 60 years, will head back to Aspen, Colorado for X Games Aspen 2013 with snow stars Sebastian Toutant ("Seb Toots"), David Wise, Maxence Parrot, Celia Miller, Aspen Spora and other team riders. In addition to taking part in all the competition and activities associated with the Games, the team will be shooting the popular "O'Neill Experience" online and social media campaign. Located at www.oneillexperience.com, this third installment of the O'Neill Experience will offer additional behind-the-scenes video and photo content from on and off the slopes.
Gold medal favorites Seb Toots and David Wise will kick off the campaign, chronicling their journeys from home and time spent with family and friends while in Aspen. The O'Neill cameras will also follow Seb and David to competitions, practice, media appearances, nightly industry parties and downtime with other athletes on and around Buttermilk Mountain, home of X Games Aspen action. Seb will be competing in SlopeStyle and Big Air, while David is aiming to repeat his gold medal in Ski SuperPipe.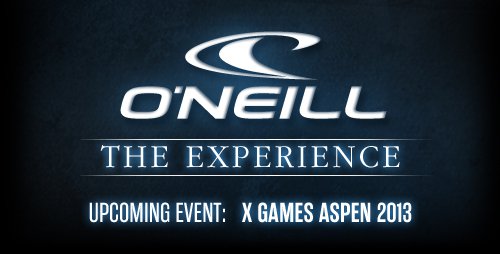 All content will be updated live via www.oneillexperience.com, along with O'Neill Snow's Facebook, Twitter, Instagram, and other partnering blog sites. In addition, the exclusive content at www.oneillexperience.com will include up-and-coming star snowboarder, Quebec's Maxence Parrot, and Lake Tahoe resident, Aspen Spora, who competed in the ski Superpipe as an 11 year old last year, with a highlight video receiving more than 135,000 YouTube views to date. Other O'Neill athletes appearing in Aspen include snowboard favorite Celia Miller from Breckenridge, CO and members of the O'Neill United program, flow team riders who have received increased exposure this season thanks to O'Neill social media support.
"Last year's O'Neill Experience at X Games was such a success with Seb, we decided to expand the behind-the-scenes access with our athlete team and offer more for fans in 2013," said O'Neill Snow's Juliet Korver. "We'll have daily athlete interaction through social media, special videos, interviews and point-of-view footage from the mountain that you can't see anywhere else."
During the O'Neill Experience, fans will be given the chance to win exclusive O'Neill gear, including hats, tees and even athlete signature outerwear, which will be hidden in an undisclosed location within Aspen, with clues offered on O'Neill social media platforms daily through X Games Aspen week. Winning fans will receive personal congratulatory messages from O'Neill athletes during the daily O'Neill Experience videos.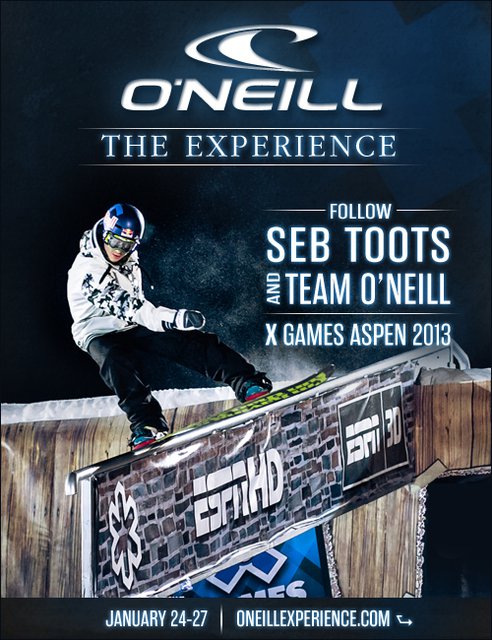 "I had a blast at last year's X Games and can't wait to share the experience with other O'Neill riders," said Toutant, who will be wearing his signature O'Neill apparel during the campaign. "My fans, family and friends really enjoyed seeing how I balanced my time between having fun and focusing on the competition. We have lots of cool activities planned for this year and the cameras will be rolling, so the O'Neill Experience will be even bigger this time around."
Highlights from the O'Neill Experience at X Games Aspen 2012 included Seb prepping for competition in the athlete lounge, dog sledding with family on a day off, David Wise celebrating his surprise gold medal and Aspen Spora enjoying the X Games experience for the first time. A second version of the O'Neill Experience took place last summer in Whistler, BC, where the entire O'Neill athlete team came together for a week of boarding, skiing, paintball, cookouts and outdoor bonding with Camp of Champions attendees.
For more information about The O'Neill Experience, team riders, events and apparel, visit the O'Neill Facebook page, O'Neill Twitter page and www.oneilleshop.ca.