Words & photos: Julie Weinberger
There is really nothing like this time of year for me. Since moving to Jackson, Wyoming from Boulder, Colorado in August 2008, I've kind of been on a different schedule than many of my shred and industry friends, seeing each other rarely. Luckily, early fall means ski movie time, and what better way is there to reunite with everyone than to watch the year's new crop of flicks and party in Aspen?
The sixth annual installment of The Meeting kicked off this past Thursday with the NEPSA awards (Aspen spelled backwards for those not in the know), giving amateur filmmakers a chance to show off their stuff. Chris Davenport and Travis Maclean played host, acting as characters from "The Hangover." This was rather fitting knowing the kind of debauchery that would take place later on.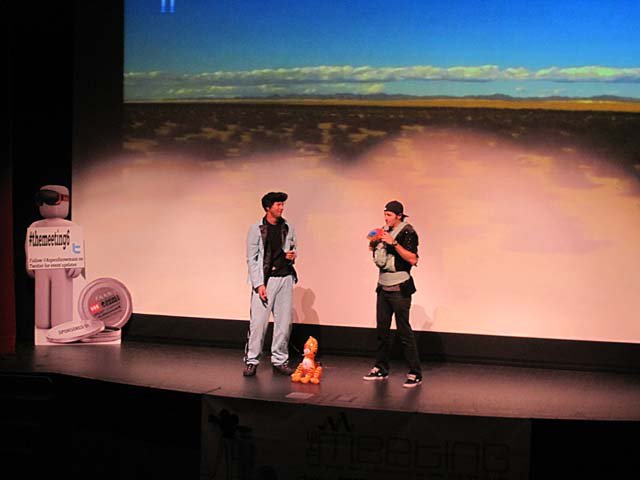 Hey look! It's Stu and Alan from "The Hangover."
From parodies to serious documentaries, the clips were a great way to usher in the weekend. Local snowboarder Doran Laybourn took the win and $2,000 for his film "Good to Go," which documented his recovery process after getting hit by a snowmobile. My personal favorite was Pat Sewell's video, "What Would McConkey Do?" showing off his and his friends' impressive Saucer Boy impersonations.
From the NEPSA's, we took the gondola to the top of Aspen Mountain to watch TGR's "Light the Wick" at 11,000 feet. Let's just say beverages might as well be 2-for-1 at that altitude.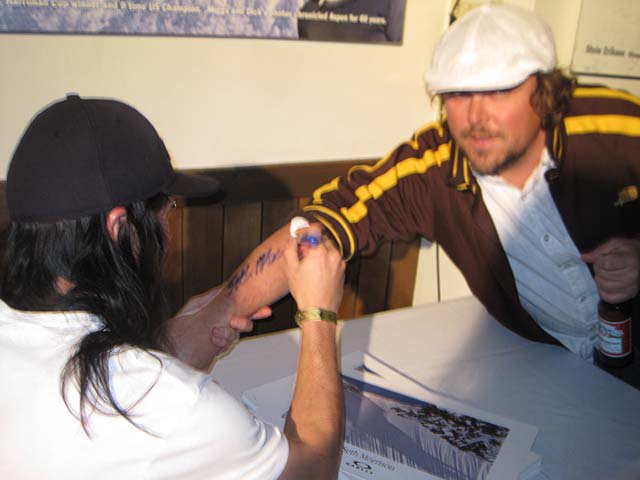 The hero inks the hero maker: Seth Morrison and Todd Jones.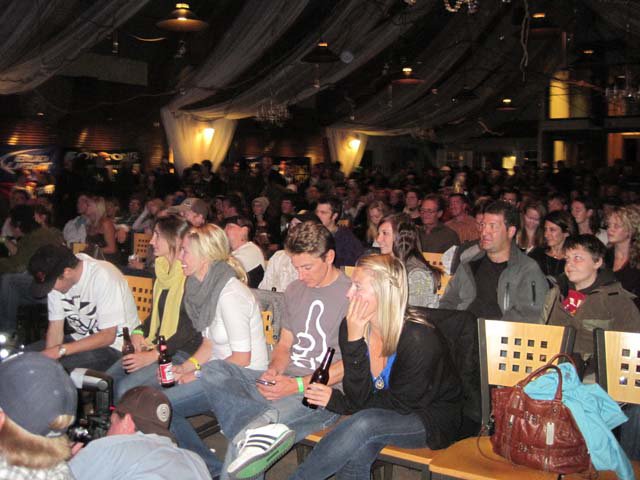 Sold out crowd for "Light the Wick."
Day 2 began with a forum on social marketing. With the web leading the charge, having a discussion with the who's who of the ski industry on what works and what does not from an advertising standpoint was really something special. One big topic was when is the right time to release footage. For example, we all saw Sammy Carlson's triple cork before PBP's "Revolver" came out, whereas we did not see Bobby Brown's until viewing "The Way I See It." Is there a right time? Did seeing Sammy's before make it any less special in the movie? Did MSP lose out by not releasing Bobby's earlier? Let's keep the forum going and get your thoughts below.
A little happy hour session followed before it was time for some more flicks at the Wheeler Opera House. Chris Davenport's "Australis" hit the screen first followed by PBP's "Revolver." It's sweet to watch two vastly different, yet equally awe-inspiring films back-to-back.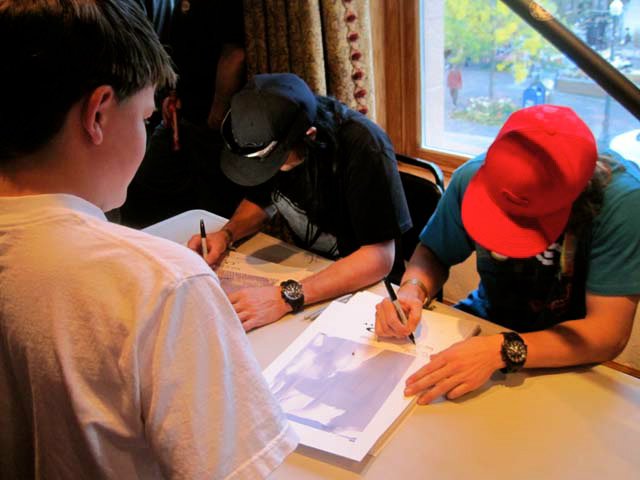 Seth and Pep hard at work.
Once we had our fill of sushi and Sake, we hurried to Belly Up for Level 1's "Eye Trip" and Stan Evans Photography's "Say My Name." The boys from Level 1 and Grete Eliassen were on hand to get everyone hollering before their respective films aired.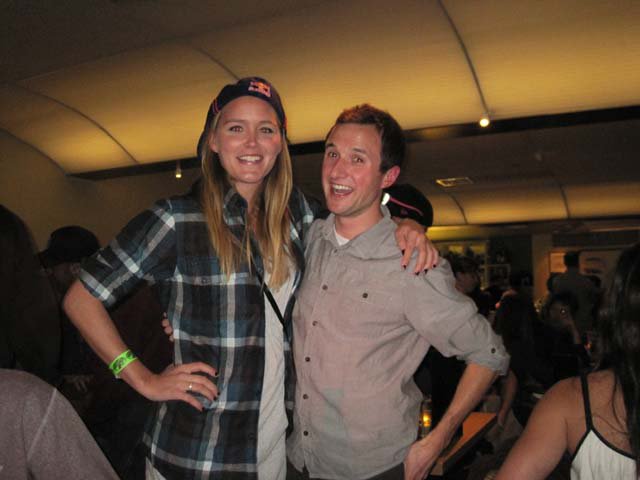 Grete Elliasen and Dave Amirault rejoice at Takah Sushi before heading to Belly Up to see "Say My Name."
Sitting through four movies in one day is a lot no matter how entertaining they are. Thankfully, DJ Muggs hit the tables as soon as "Say My Name" ended, letting us work out excess energy on the dance floor until the wee hours, putting a stamp of success on the second day of the meeting.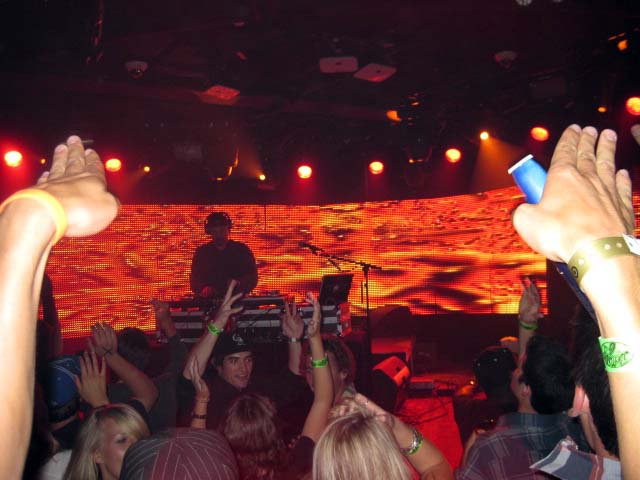 DJ Muggs of Cypress Hill
Evening three kicked off with TGR's "Deeper." Unfortunately, this was the only snowboard flick I made it to. Fortunately, it was flippin' sick. Jeremy Jones and Xavier de le Rue are animals. Go see it. It's nothing like any other shred film in terms of the kinds of lines these guys are getting after and what they are going through to get to them.
Following "Deeper," we had a little time to go for round two at Takah Sushi before heading back to Wheeler for two more flicks. The first was "The Fall Line," chronicling and an injured veteran's battle from losing both legs in Iraq to making it all the way to the Paralympics.
Then it was time for the highly anticipated new Matchstick movie, "The Way I See It." When MSP's Frankie Alisuag and Henrik Windstedt were on stage introducing film and tossing out swag, Frankie got Iced by none other than Seth Morrison. Since he wouldn't get down on one knee and chug, Steve Winter came out from behind the scenes to help him out, informing us beforehand that McConkey's mother used to tell him not to drink on stage in front of the kiddies. But, when you get Iced, you get Iced.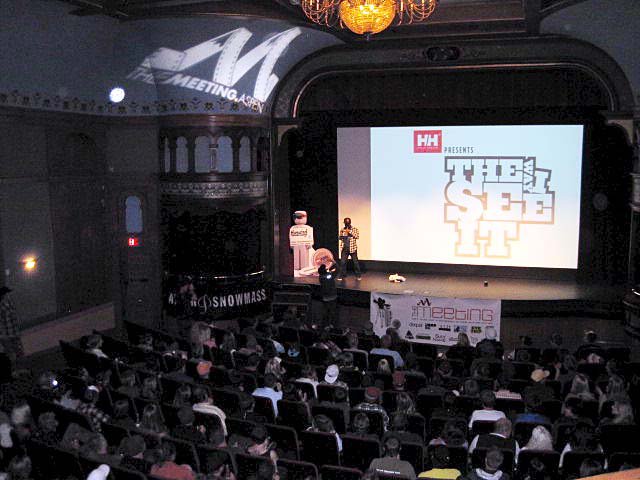 Once again, the Opera House emptied out into Belly Up for hip-hop legends Bone Thugs-N-Harmony. They put on a great show, playing all sorts of classics like "Thuggish Ruggish Bone" as a good time was had by all. The show marked the end of The Meeting, and the end of one of my favorite events of the year. It was wonderful to reconnect with so many, and I am already looking forward to next year.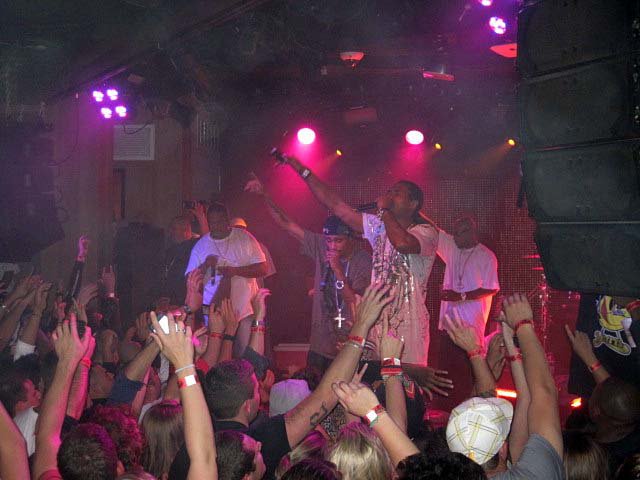 Hip-hop legends Bone Thugs-N-Harmony close out The Meeting.
Thanks to Aspen/Snowmass, all the filmmakers, athletes, media and other industry types who make this and all other such events possible.
The Meeting-2010 from AspenSnowmass on Vimeo.