Hello everyone, my name is JA Maheu and I will be your NS correspondant for the month of August, live from Las Lenas Argentina.
After a great winter in Whistler and a wonderful summer at High North ski camp on Blackcomb Glacier, I just wanted to ski more and wrap up my video segment for next year's movie from Mystic Land productions. And I did not want to go ski park again, cause i could be disappointed with the unbelievable terrain park that Mr. Bishop had created this summer. I wanted POW!!! So i hooked up with good friends Sheldon Steckmen and Evan Wilcox to go hit BC jumps, cliffs and lines in the Southern Hemisphere. After a little search, we were told to hit Las Lenas cause it had some of the best terrain down in South America. So we've made it. And this is how we got here.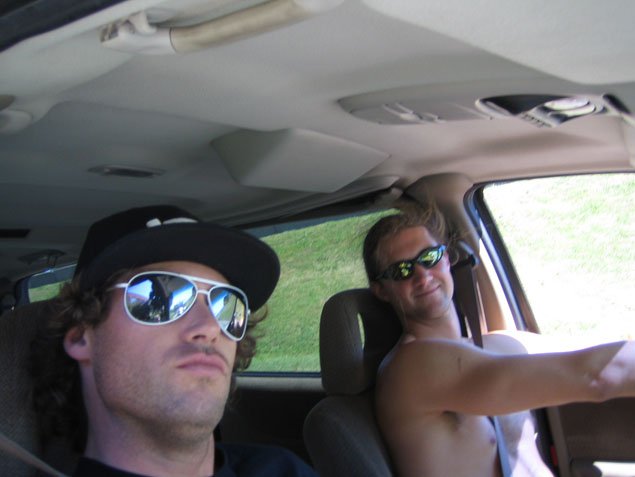 JA driving to Mtl airport with Ben from Mstic Land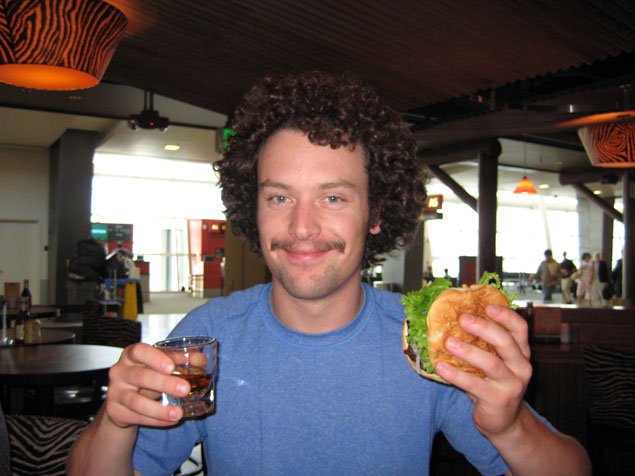 Sheldon in Seattle getting ready for his flight with his personnal classic: the hamburger with JD
We flew out last Monday, Sheldon from Seattle and myself from Montreal and we met at Buenos Aires Intl airport. After a 3 hour delay, thanks to bad weather in NY I got there worried that Sheldon would have been waiting for a long long time... but thanks to a broken wing on Sheldon's airplane, the wait was not too bad. After 13 hours of airport madness we met. Everything was great except that we did not have a place to stay... Luckily Sheldon met a girl, Katatrina from Germany who spoke really good Spanish. So she booked our room for 4 nights in San Telmo, the historical part of Buenos Aires, only 10-15 minutes walk to downtown.
Finally we're there. Enjoying a litre of cerveza for 1$ US in San Telmo at our pimp hostel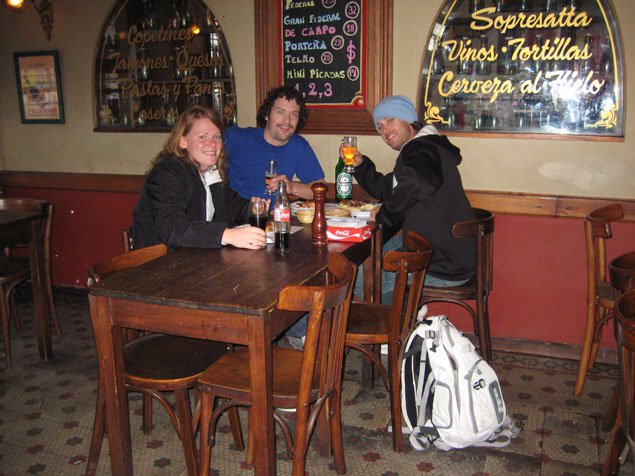 Our first meal with our translater Katrina at El General cafe and bar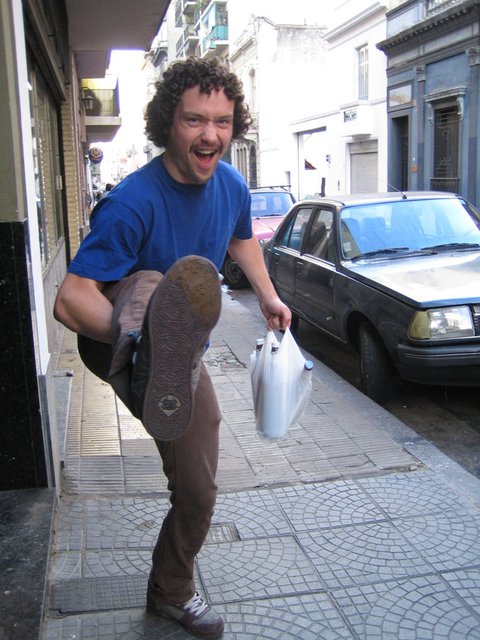 Always watch the sidewalk when you're walking... Sheldon stepping into some dodg's shit
1st day was great. We went for a walk, had a bunch of beers with our new friend and had amazing food. If you ever go to Argentina, you have try the carne asado. They are fans of beef and they grill every part of the cow. The asado is a type of barbecue, and if you like meat... man it's good! After our dinner we went to a local pub in San Telmo where there was a live band called Gaston Pose. We had a lot beers, 3$ US a litre in the bar!!!, and went home for a revitalizing sleep.
2nd day was way more relaxed. We pretty much slept all day. Took it really easy and went tovisit the old streets and tons of antique stores of San Telmo where the Brits fought the Spaniards. Shopped a bit and that was a wrap.
3rd day was amazing, too bad the weather did not cooperate. We hit the downtown strips for some shopping, where i finally found my beloved Diego Maradona jersey, who is part human part god in this country. We visited pretty much the whole downtown and went for a great dinner in the fancy neighborhood where everybody was wearing suits and ties. The server even asked us to take our hats off and was showing us the bill everytime we ordered something... probably thought we were some punks until he told us his brother was living in Boulder CO where i have two cousins teaching economics and commerce at university of CO, then he had a bit more respect. We took a cab and went back to our neighborhood pub from the first night. People have told me to be careful with the cab drivers not to get screwed, but just try to speak spanish and talk to them about soccer or Tango and they'll love you. We even had a cab driver who refused our tip cause he liked us.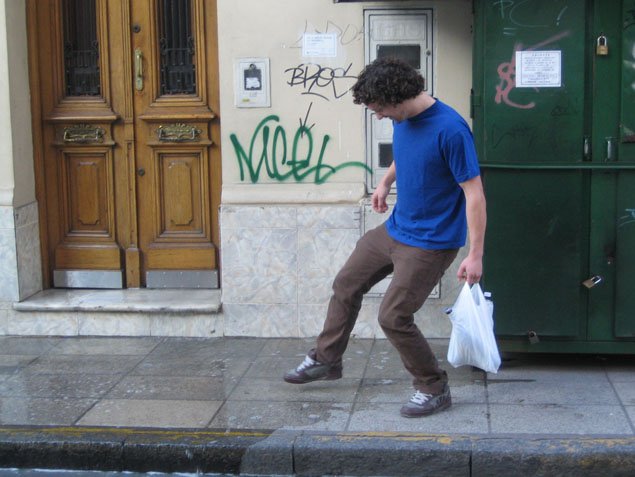 Luckily Sheldon foung a building that was flooding to wash his new shoes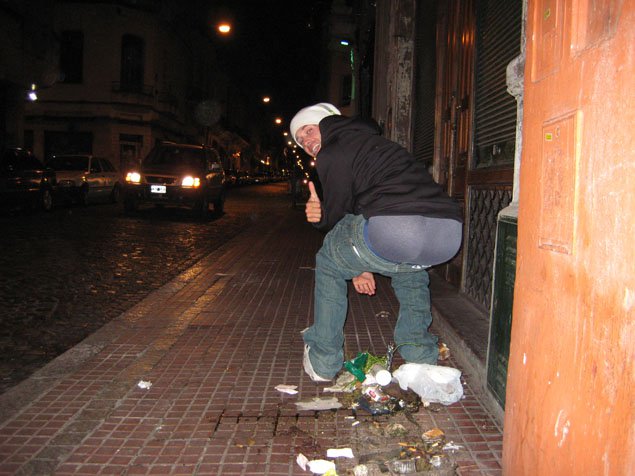 Yes it can be dirty, JA shitting some garbage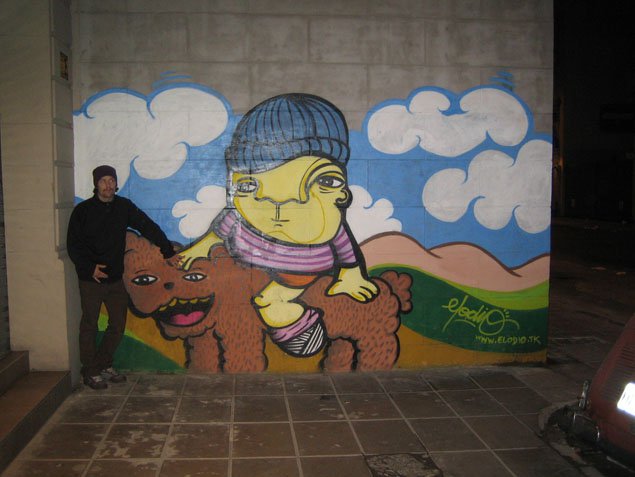 Sheldon's new friend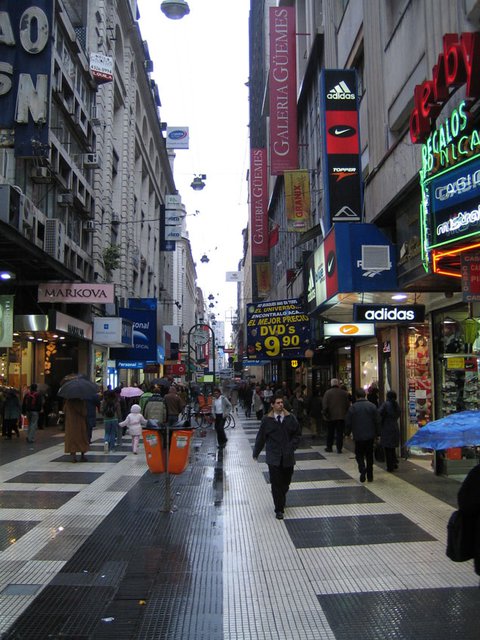 This is the main strip for shopping downtown Buenos Aires, Florida street. Watch out for pick pockets!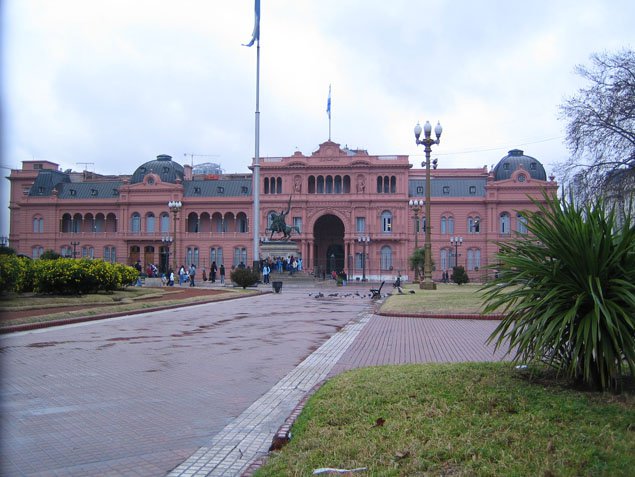 The pink building, as they call it, which is the parlament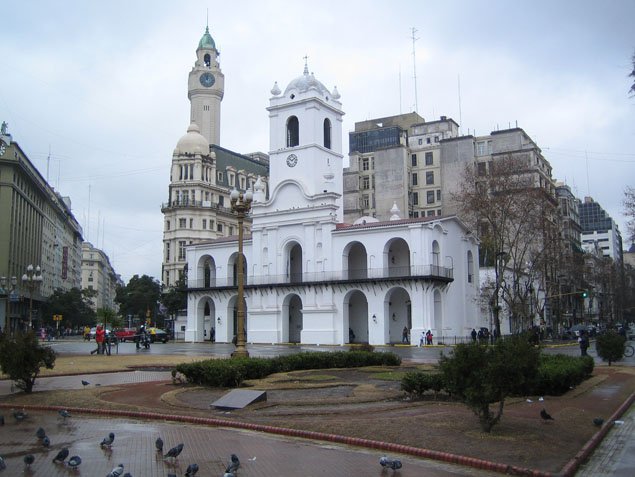 BA's got very nice architecture, antother part of downtown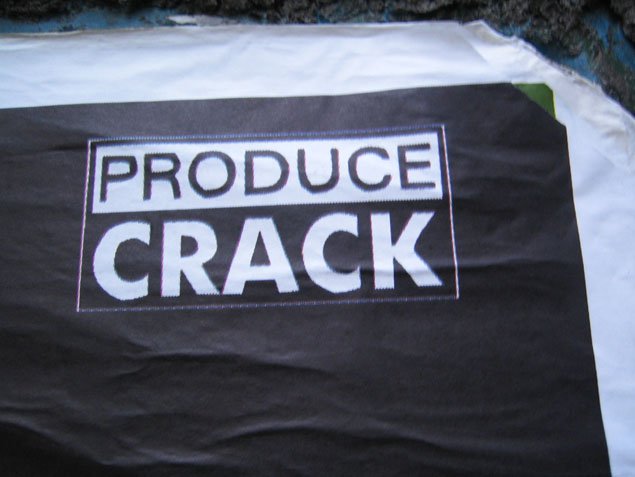 Oh yeah, there is stuff for everyone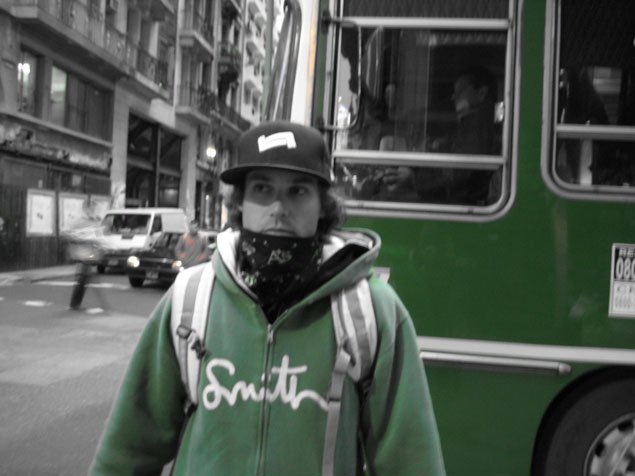 JA- Always keep your bandana with you, there is so many buses downtown and cars are all running on diesel, fumes are intoxicating.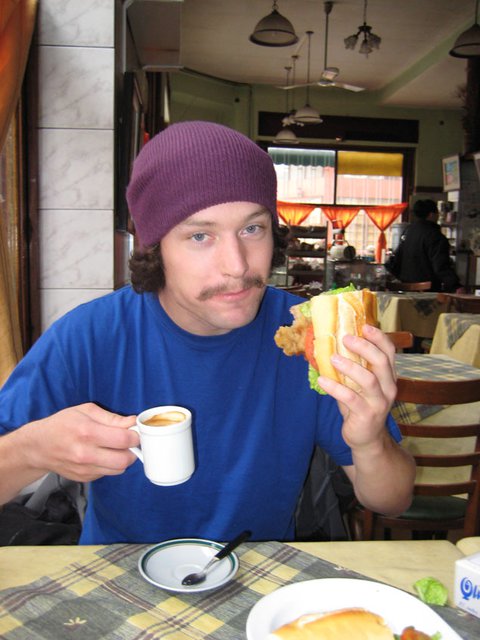 I recommand you to always wake up with an amazing breakfast. Their expressos are great so are their milanesa sandwiches. Sheldon showing how its done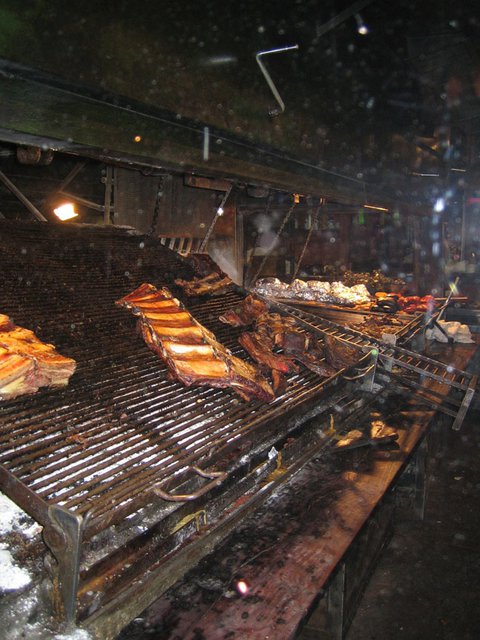 If you like meat, you have to go for carne asado. Its typical argentinian BBQ and the meat is fantastic!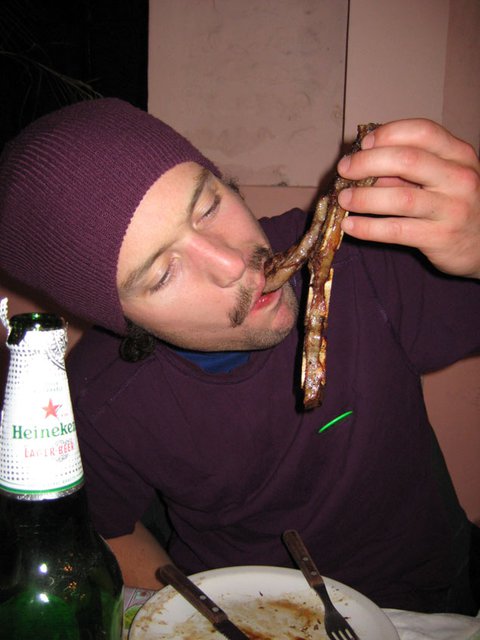 Sheldon showing those ribs off the asado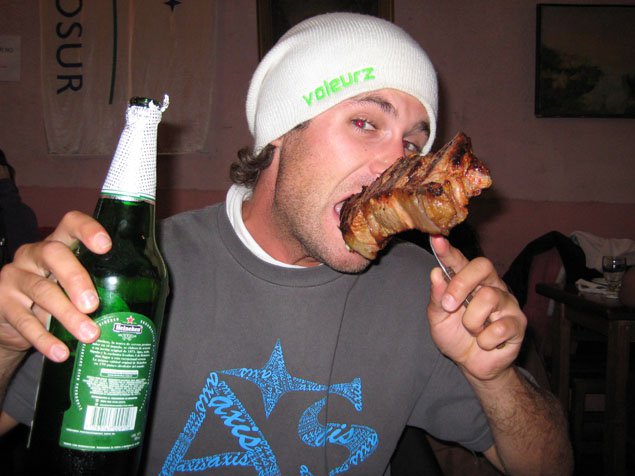 JA, getting it on with the T-Bone asado. Miam miam
4th day was travel day to Las Lenas at night and we saw our 1st pick-pocket in action... bastard! Sheldon and I went for one last meal that could have cost us one week in Las Lenas. We got stuck in rush hour forever in the a cab, got to the bus station and the bus had left!!! Some guy told us to run down stairs take a right and something else... oh my god!!! I was freaking out!!! Thanks to some gentleman who helped carry my bags running on the streets with me, we caught up with the bus. The bus stopped for us!!! Holy shit... only one bus a week from Buenos Aires to Las Lenas. After almost puking my lungs, we celebrated with a lot of cervesaz, we even played bingo on the bus for a bottle of wine. 16 hours later we got to Las Lenas. Oh, i got to tell you, that was kind of pathetic, we watched 3 Will Smith movies on the bus, I guess someone really liked him!
5th day was 'wasting time' day. We showed up at 11am and had to wait til 4pm for our check in. What do you think we did... yes you are right! We checked out the scenery and got to bed early to go ski the next day.
6th day was fun. We rolled around the whole mountain and checked out where we could build jumps, drop cliffs and ski lines. It looks really good. The season just started so we're waiting for a bit more snow. Its OK, its supposed to snow in 2 days. Good timing for Evan who should arrive in 2 days from Santiago. Until then, if its not winter in your part of the world, well, follow our adventures and get stoked for the upcomming season.
Peace!
JA Maheu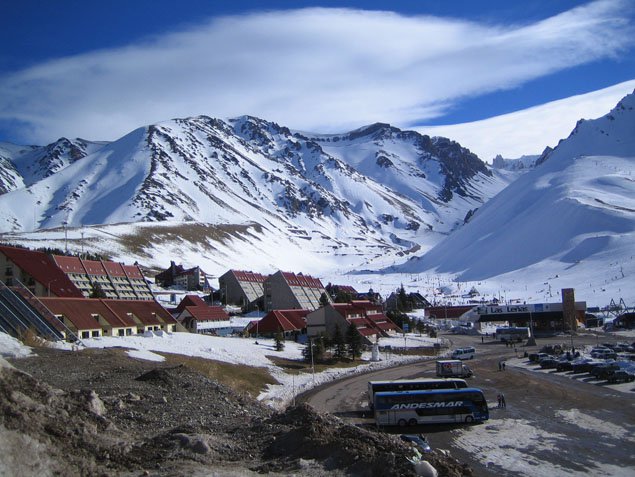 After 16 hours of double stager luxury buses, 5 litres of beer, we're finally in Las Lenas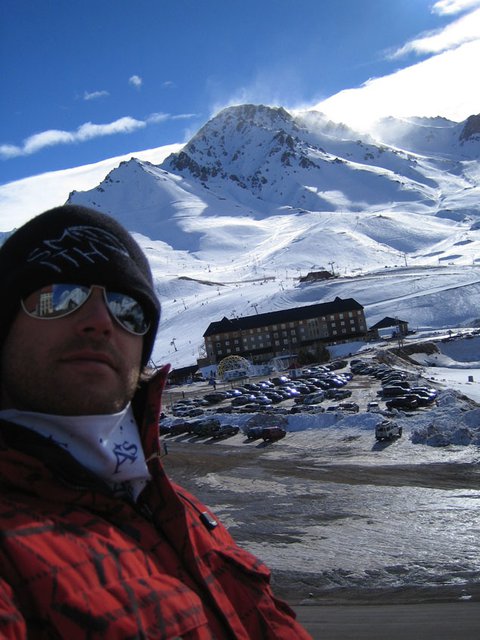 JA, Las Lenas resort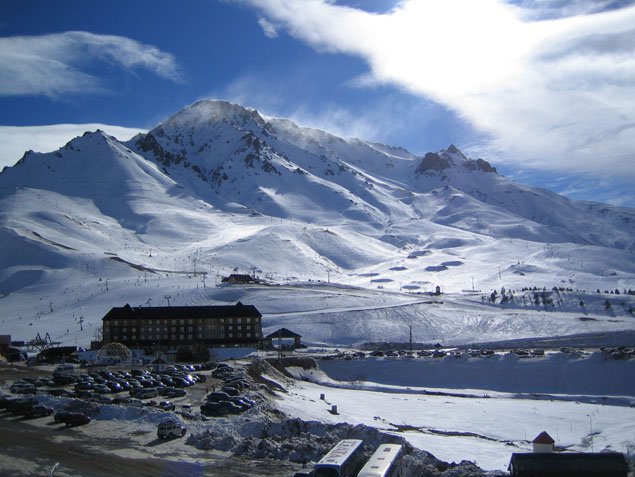 Ze resort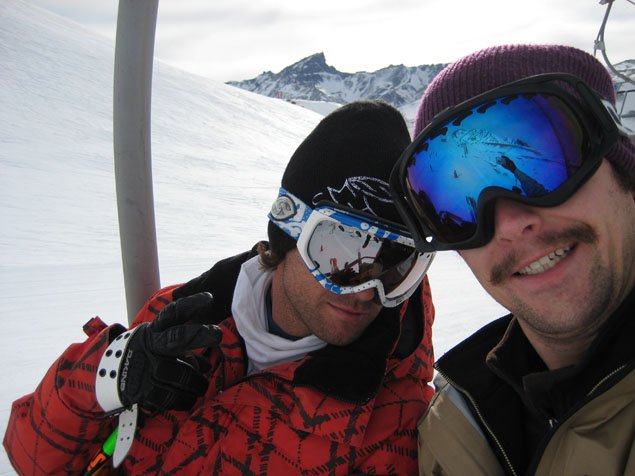 1st day of skiing, Sheldon and JA on La Marte (peak chair). Day of recon for jumps, natural hits, cliffs, couloirs and the whole shbang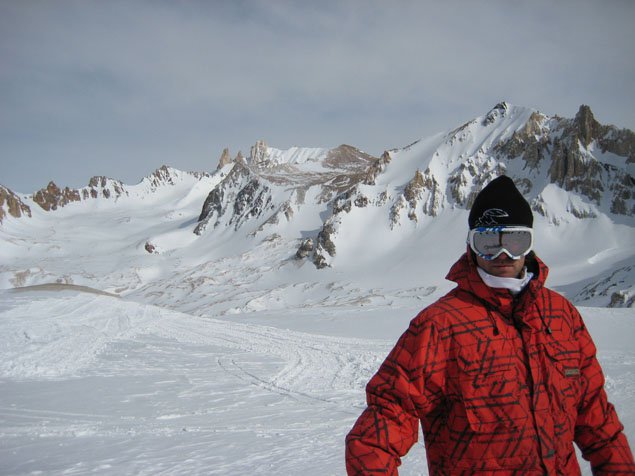 JA, top of Las Lenas. Djeah!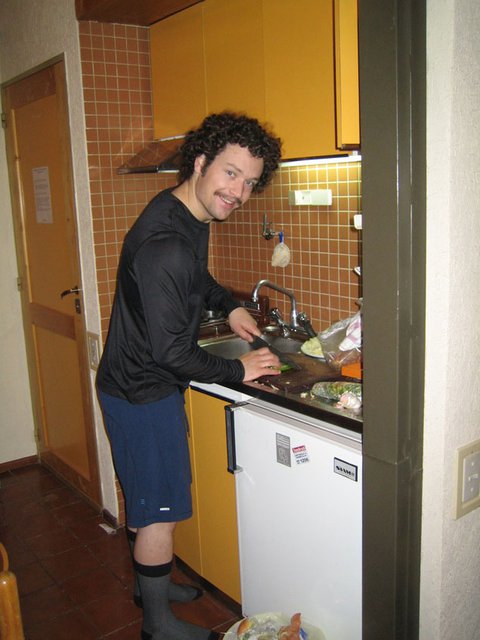 After a day of skiing, what better than homestyle food. Thanks Sheldon