The to Do List is a number of things I believe every skier should at least try to do, relative to a certain aspect of skiing. The second installment of which being: what to do in the offseason. Each year the snow falls, it seems to melt before your eyes and the season is over yet again in a flash. With summer quickly approaching, here is a list of things that every skier can do to pass the time until next winter.
1. Build a summer setup. This is definitely number one on my list. Especially if you have some sort of little hill in your backyard, this is so easy to make happen. You can get turf, wood, and PVC for well under $100 at your local Home Depot, Lowes, etc. This will be enough to keep you entertained for at least a few days of the never ending offseason, not to mention you can reuse the rails when the snow falls. (I used a bench coming down the side of a picnic table as my drop-in, both were bought at a yard sale, sketch is the name of the game here.)
2. Go to a local gymnastics or trampoline place. You're probably going to get sick of only being able to hit rails, naturally having the itch to get in the air. There are plenty of places that offer an open gym where you can have a lot of fun messing around on their tramps, foam pit, etc.
3. Don't be a complete bum. Contrary to popular belief, skiing actually does require one to be in somewhat good shape. Whether its playing a sport in the fall or spring for school, or simply running from time to time, your legs will thank you time early season comes around.
4. Cliff/bridge jumping. Whether it's the 15-foot mellow drop or the 60-foot nut smacker, don't worry, sending that misty is just like you're on skis. Right?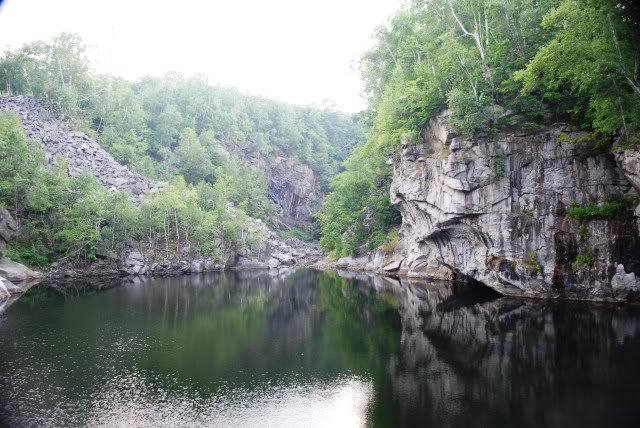 5. Get a truckload of snow from a local ice skating rink. This one I've never done and I'm bummed about that. Most ice skating rinks have a pile of ice shavings laying around somewhere, waiting to be put to use by some poor soul addicted to skiing.
6. Enjoy something non-ski related. Give yourself a break from the absurdity that are NS summer threads and give something else a go. Go skate, pick up an instrument, camp, anything works really.
7. Get a job. Y'all know skiing ain't cheap.
8. Try not to go insane. When you feel that freakout coming, stay calm and remember that you just have to occupy yourself a few more months before it gets cold again.