Words & photos by Rocky Maloney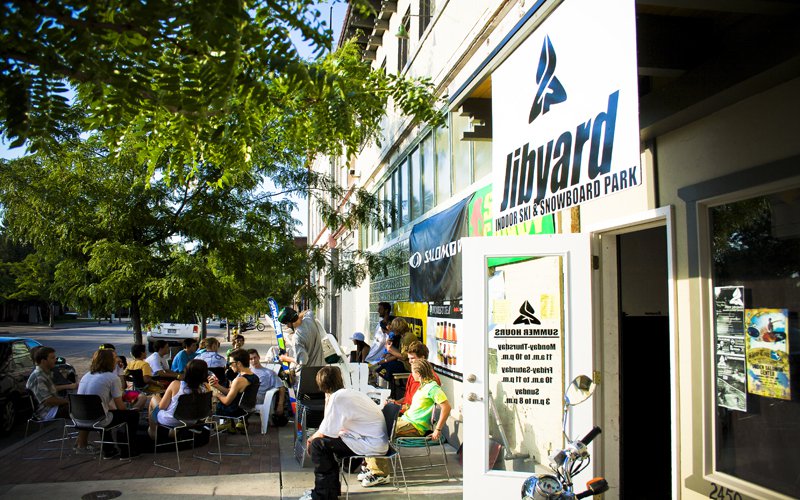 Just beyond the mountains of Ogden canyon, in the heart of the city is a brand new training facility for year round jibbing, called The Jibyard. For those of you who don't know much about the Jibyard let me tell you about the tour that the man behind it all, Brad Geiger, gave me. The Jibyard is located in Ogden, Utah (at the base of the epic ski resort Powder Mountain) in middle of the city. I walked into this place knowing only that it was an inside rail garden, but quickly discovered it was much more than that. Everything in the building has been strategically thought out, from the park setup and the urban setup, to the soon to be installed 10 or more rails that will be hanging from the roof so they can be interchanged simply with a pulley system by...you. You can choose your rail or box of your choice. He showed me his rail garden, which consisted of pretty much anything you could dream to session (which are all built by Brad himself). There is a jump in the process of being built which you can hit into a foam pit, or pull a retractable landing down so you can stomp indoors. Also when it gets too hot to session there is going to be a room "cold enough to see you breath," Brad says, which will be fully equipped with a original Nintendo for some gaming while cooling off. Under this wonder world were the offices; which would hardly be consider an office, due to the lack of a stiff corporate feel to it. More of an imagination incubator or a place I would like to chill and listen to the jibbers at work above. There was a plethora of old cars and motorhomes that have been stripped out and made into the offices for the managers, accountants and interns.
Giving me the extended tour he brought me outside to let me know a little more about what his plans are. Next door is a vacant warehouse where he has hopes to break down the barrier between and extend the factory. He has so many plans once all that happens that you're going to have to go and check it all out for yourself. As far as I could tell, this place is Brad's imagination in a tangible form. To see everything come together, and hearing people describing the yard as addictive, amazing and sick basically means the world to him. He is dedicated to making this a place for skiers to come and train. "One of the best jibbers I have had here started skiing rails two months ago, and after training at the Jibyard this kid can throw any trick" said Brad. It's not only for beginners, as he was telling me that some of the 4bi9 guys were super amped after finishing a session because they had learn a couple new tricks to add to their books.
Thanks to Brad and his team, you are able to train year-round in a ski and snowboard facility that will give the the opportunity to learn new tricks and become a better jibber, and chill in a skier developed environment...year-round. The hospitality from the staff and everyone else there is amazing! Big ups Brad and the Crew at The Jibyard! Visit the website (http://www.thejibyard.com) to check out more about this awesome place and then drive, fly, bike or even ride the UTA rails double decker train to get there, because the satisfaction you will get from this place will be more than worth it.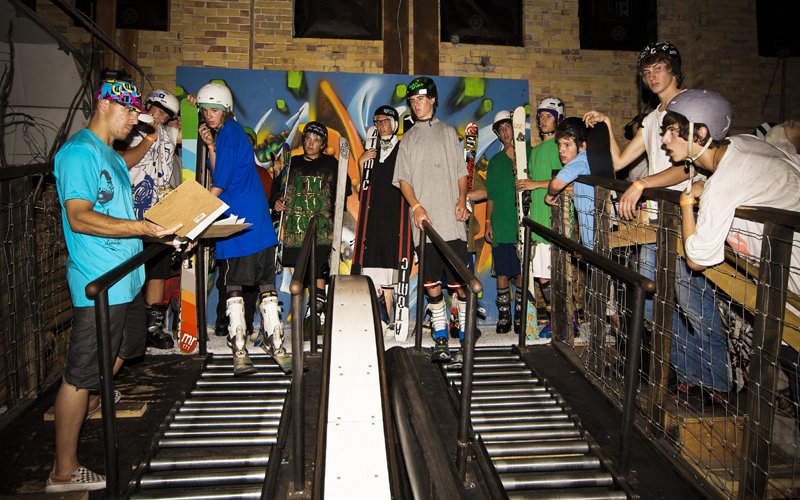 Brad giving the crew instructions...
Contest Time
There was a large group of skiers and snowboards that showed up to come jam and have fun. The was also a very large crowed of people who showed up just to watch. The vibe of everything was great from the fresh music to the large crowd. The only thing I could say that was missing was the cold...instead it was intense heat. Over 100 degrees in Ogden, this place heats up a bit, but that didn't stop any of these kids from throwing down.
This is the first of four competitions throughout the summer time. Each competitor will receive points and at the end of the summer whoever has the most points from all four competitions will win a ski pass to Powder Mountain. The competitions will be held once a month until the winter comes. (July, August, September and October)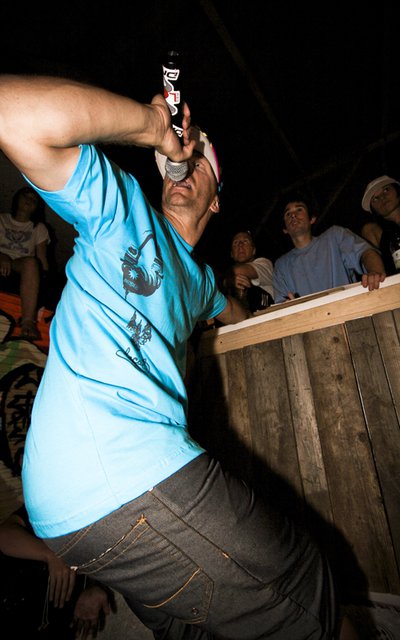 MC: Brad Geiger
MC for the night was none other than Brad Geiger himself, and as far as judges went 4bi9 took care of that...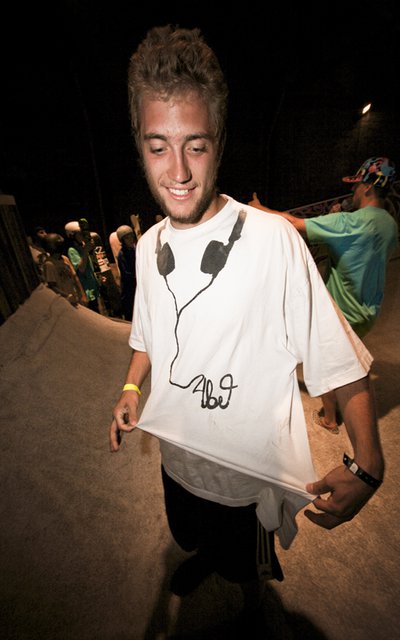 Ryan Wyble reppin...reserve your copy of "So Far So Hood" now!
4bi9 getting down on the judging (Ryan Wyble, Rich Fahey, Chris Vogt)
The setup was a jam format between skiers and snowboards. There was a couple rounds through-out the night which kept everyone going. Here are a bunch of photos from the night: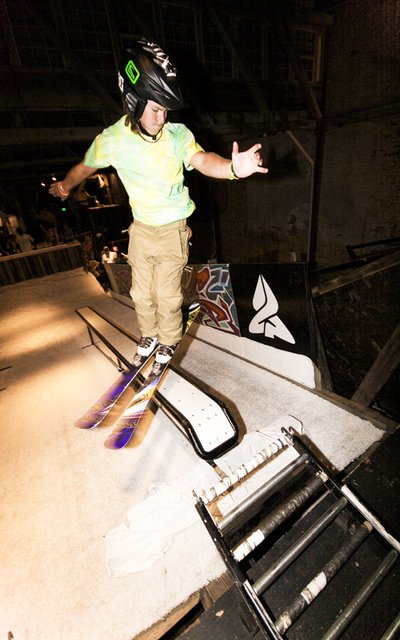 The only girl skier I saw there throwing down a 270 onto the down-box.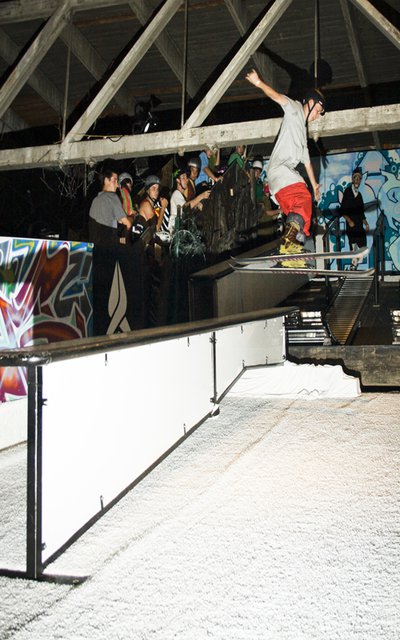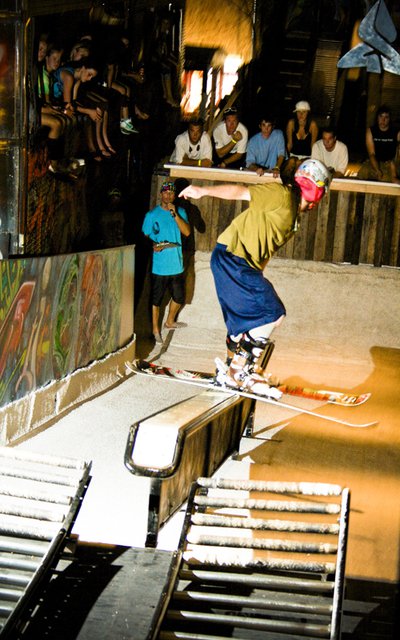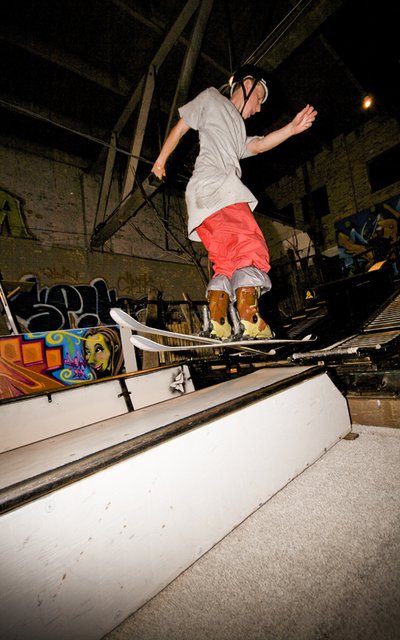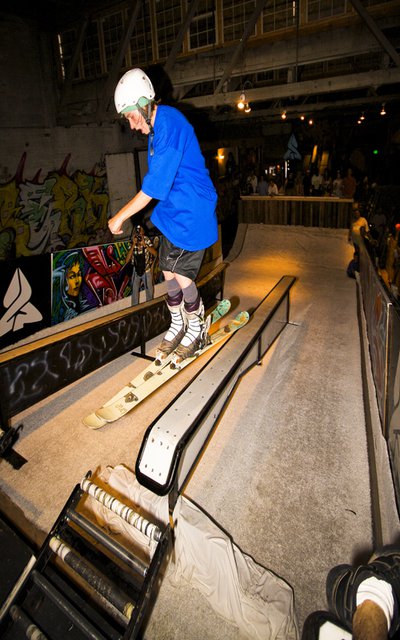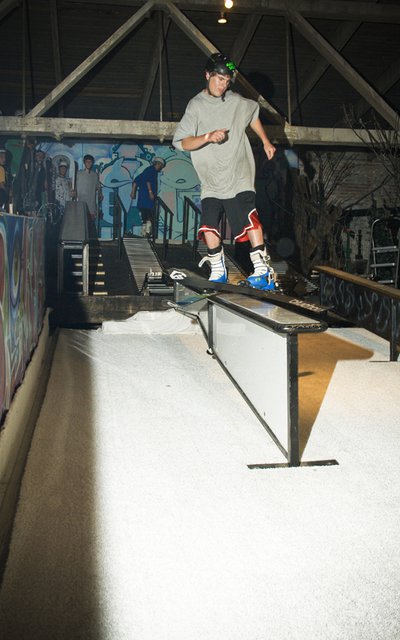 Trevor Jackson pre switch-up... get your thumb better buddy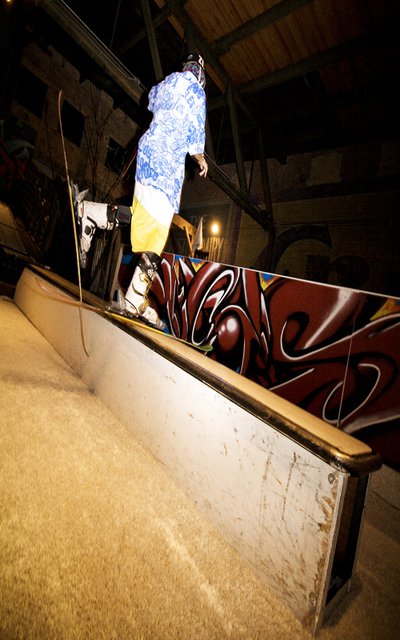 hippy killin...
The rail jam finished up about Midnight. And here are the results from the first of four competitions:
1) Conner Larson
2) Cameron Mikesell
3) Justin Washam
*Thomas Hues took the top spot for the snowboarders.
One of the competitors, Trevor Jackson, went down during one of the jams and busted his thumb. He is getting surgery on it in the next couple days, so he will be all good for the next competition at the Jibyard. Heal quickly Trevor!
Big ups to everyone who competed or just came out to watch. It was a blast all night long at the Jibyard, and it never seemed to end asthe session kept going on past two in the morning. Be sure to make your way up to the Jibyard in Ogden. The address is 2450 Grant Ave. and it's super easy to find! Also be sure to attned next month's competition if you're in the area, or check out NS for updates.
On a side note, I have been a fan of Newschoolers.com since a was a little kid. To be able to write articles and share photos with you all is wonderful! I hope you enjoyed my first article and photos. Hopefully there will be more to come!