If you are reading this post, I assume that you are interested in
freestyle sports, freeski, snowboard, freestyle culture, and maybe you
live in a country full of mountains, snow, snowparks, snow pistes? LUCKY YOU! Appreciate what you have!
If you are not from such a country and you came up here, you are probably from Denmark, and you understand our "pain".
We all can see great ski/snowboard/freestyle riders and crews (we
could count for ages…); constantly popping out news and great extreme
movies from our neighbors, Norway, Sweden and the Alps and of course the
BIG U S A and Canada.
What about us, what about Denmark? Even though the highest mountain Møllehøj (ok, mountain – is a little bit aggressive word
) is at 170 meters (561ft) over the sea level, we do not have ski
pistes, ski resorts, and snow is really random here, but it does not
mean that we cannot continue our passions to freestyle winter sports!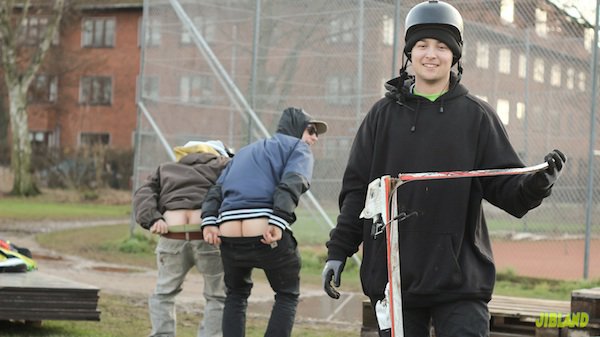 So here we Come again! In the form of reportage, photo-journals,
edits, documentaries, Danish Jibland Crew – we will bring you closer
possibilities, our creative times, journeys and how do we cope with such
issue: OF NOT HAVING mountains and snow in DENMARK!
We just want to share with our joy of JIBBING, while jealously looking at all these sick riders from abroad… hehe.
PART1// COPENHAGEN // Underground Jib Arena
We are so glad and excited that in late 2010 Copenhagen (Underground.dk)
invested in a wooden, sloping platform, from which you can get some
speed and end up in front of one of 3 boxes (at the moment) to perform
your sick tricks. It is totally a FREE place, open for anyone, with even
installed lights on the top of the platform, so you can shred until
late night!
Curious what do we mean by that, check out our video:
We hope that just little snow will visit our country, so we could be
more creative and make new Video Blogs, from this flat-LAND!
PS: Many thanks to all wonderful people & sponsors who organized, created and contributed to
Underground Jib Arena in Copenhagen.
Thanks to DOWNDAYS.EU, Københavns SKIKLUB,  Skiers.dk and all inspirational people around us!
Share the video with the world, let us tell our story, and enjoy where you live!
Greetings from Copenhagen,
any questions write to us,
info(at)jibland.com
Jibland Riders at Jib arena// Emil Bentsen, Claus Berg, Simon Hemmingsen, and friends, Jonas, Brian, Jonathan…
Film by// maggie olkuska
FOLLOW US ON FACEBOOK: http://www.facebook.com/Jibland
SEE YOU SOON IN DA URBAN SPOTS!
Jibland Crew