words and photos by Jeff SchmuckAfter the smoke had settled and the dust had cleared in Montreal, each and every soul who attended and managed to survive the excitement and hangover of the IF3 was ready for the snow to fly. Saturday was the second and final day of the wildest ski film festival to ever get down and dirty, and what a day it was.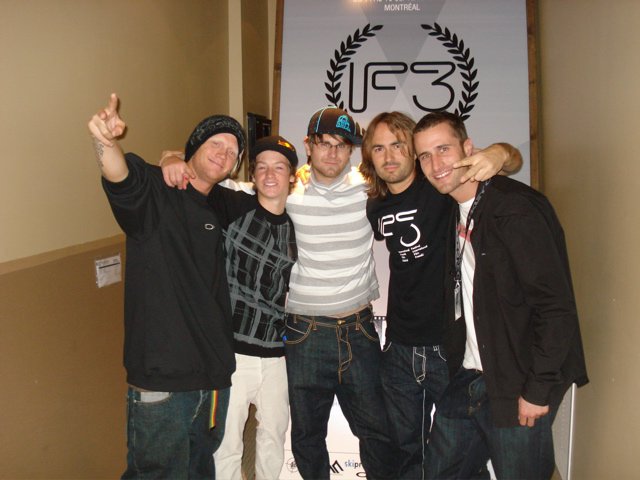 Tanner Hall and Sean Pettit with Felix Rioux, JF Durocher and Phillipe BenjaminThe action began again at the beautiful Imperial Theatre where a plethora of amateur films were screened throughout the afternoon to start the festivities and complete the amateur film competition. Strong offerings from Look It Up by 4bi9, On Air by Tuckered Out Films, Imhotape by Ski Vision and Stop Go Stop from European outerwear giant Peak Performance got things going, but it was crowd favorites Wanderland from the Metahead crew and a bit of local flavor from Mystic Lands Production's Beaver Tale that got the audience pumped up for the films to come.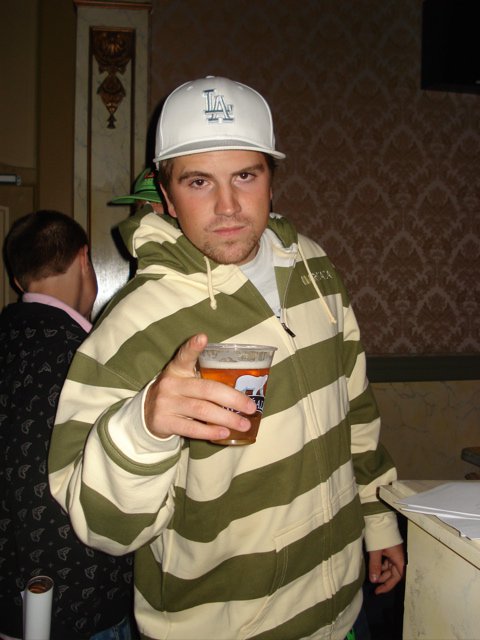 Quebec Armada rep Phil Warren, killing it. Poor Big Phil's muscles are huge that he cant fit into any of his clothing samples, so all you kids should hit him up for them. Judges Anthony Boronowski, Mike Berard of SBC Skier and Charles Boileau formerly of Plehouse fame hand their hands full deciding which of the am films was number one, and life didn't get any easier for them when the time came for them to digest offerings from Rage, Poorboyz, TGR and Tanner Hall in order to determine who was most worthy at the coveted NS Awards later that night.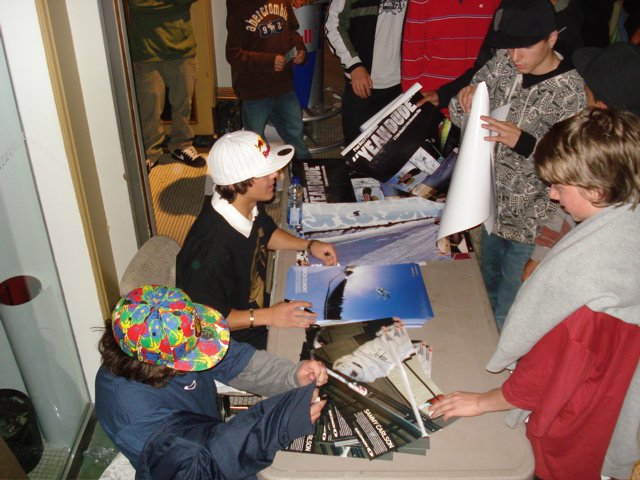 Simon Carlson, wait, I mean Sammy Dumont, sign autographs for fansThe big guns loaded up, aimed and prepared to fire and first to empty its clip was Rage Films' with Enjoy. A massive step-up from their previous efforts with a well-rounded soundtrack and even more well-rounded skiing initiated quiet nods of approval from those with no alcohol in them and fired up the cheering section from those who did. Rage, much like their neighbor in the north Theory-3, showed why the Pacific Northwest was the place to be last winter and it paid off for them later on in the evening.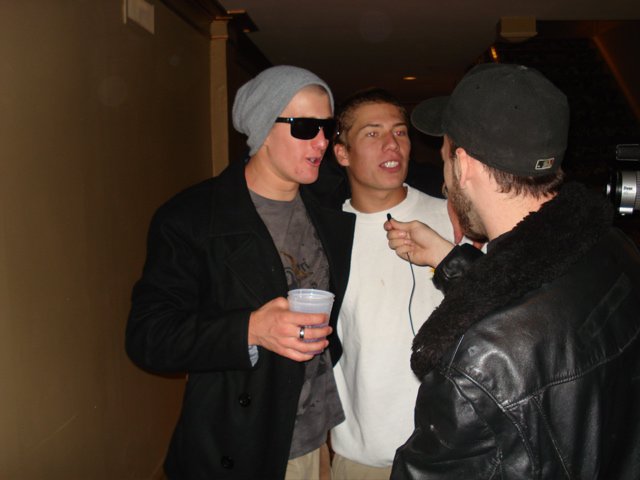 skiing's Tom Cruise, Chris Bentchetler, and IF3's 'that guy' Joe SchusterFollowing Enjoy was Poorboyz' new offering Yeah Dude. Tyler Hamlet had a tough mountain to climb after Johnny Decesare handed him the keys to the Poorboyz castle, and he took the ball and ran with it in his first film. His refreshing offering to the ski world was a welcomed change from the Poorboyz standard but lovable ski porn format, as he mixed things up with an hour-long film that showcased location and competition segments and true lifestyle pieces throughout that showed the humorous side of making a ski movie. That, and JP Auclair showed everyone that he's still the boss.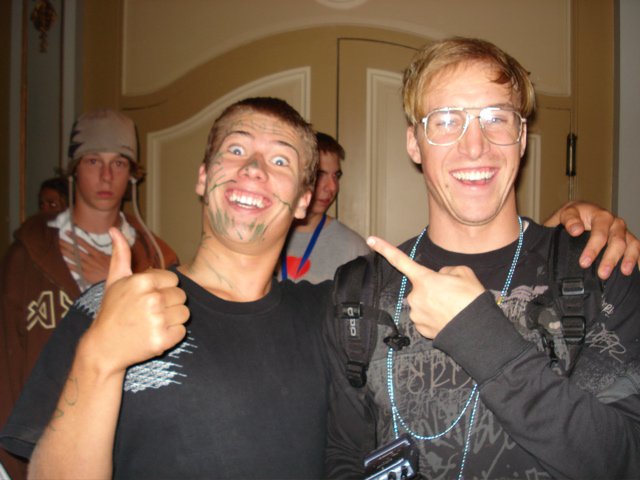 Joe showing off one of the many reasons he became 'that guy,' with Anthony BoronowskiThe highlight of all of the films for myself and anyone else who is close with him and sat at his bedside after his accident was Marc-Andre Belliveau's sit-ski segment in TGR's Lost and Found. Marc is one of the most amazing and inspirational human beings one can ever hope to meet in life, and seeing him shred pillows, lines and deep powder while his XXL grin could actually been seen through the faceshots brought tears to many people's eyes. Complementing his triumphant and emotional return to skiing were Sage Cattabriga-Alosa continuing to take the sport in the right direction, Ian 'Sockeye' MacIntosh showing people why his balls are bigger than the church bells in Vatican City, and Kye Petersen becoming the shredder that many always knew he would become as he proceeded to take his big mountain riding to another level.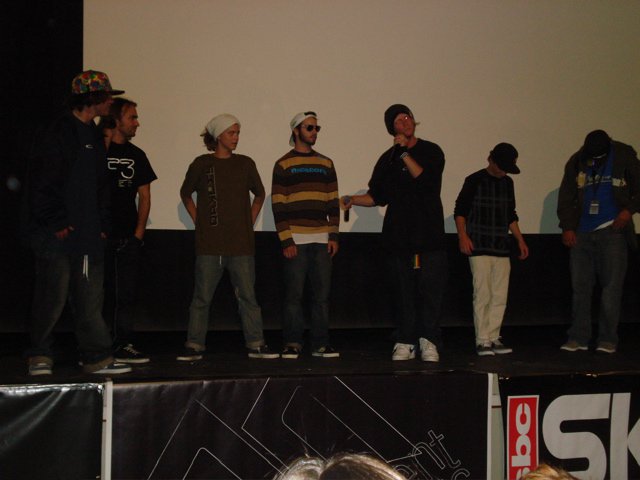 Sammy Carlson, Felix Rioux, Kye Petersen, the Pettit brothers and Newschoolers correspondant Mike Rogge look on as Tanner Hall introduces his new film, BelieveLast but not least, Tanner Hall presented his new film Believe. If there's one thing you can count on at any premiere Tanner is in attendance at, it's that him and his unchallenged passion for skiing will lead the cheering squad, and he continued that streak for the better part of the day to get the crowd hyped up for his new masterpiece. At thirty minutes, it was the shortest film from any of the major companies and thus it packed the most punch. On top of the film being completely backcountry-oriented with no park in sight, notable moments included CR Johnson's incredibly heartfelt and personal speech near the beginning of the film where he discusses the challenges he's facing as he returns to skiing, the Pettit brothers showing their ability to ski everything from urban to booters to big mountain, and Seth's double front-flip off a cliff that is at least 100 feet tall (no exaggeration necessary, and you have to see it to believe it). But the star of the show was the man himself, Tanner Hall, who continued to prove that he may very well be the most talented skier of all time.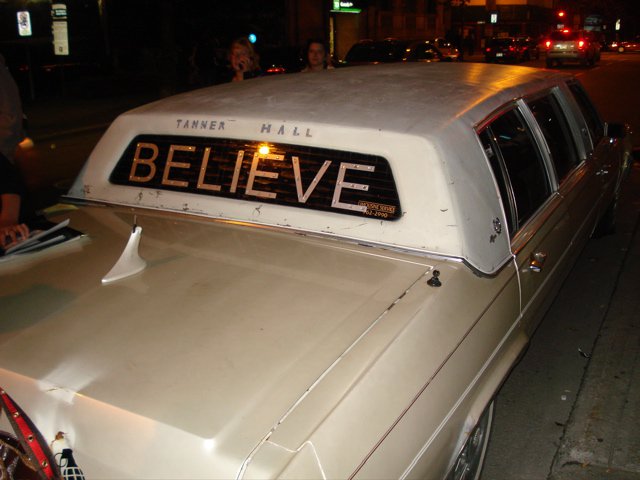 Tanner & Co's pimped-out slickmobile from the old schoolThe crowd then poured out of the theatre and violently and loudly stumbled towards the official IF3 afterparty for the first-ever NS Awards. It was obvious to any unfortunate and innocent bystanders (especially the hookers) on the way that the electric Montreal nightlife scene was about to be lit ablaze by the ski industry in a big, bad way, but no one was prepared for how much ridiculous fun was had at Club Soda.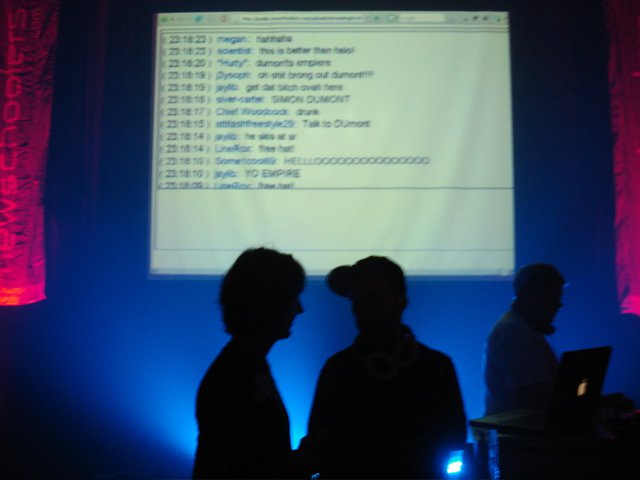 CKO...taking care of businessWalking into the venue, a blind man could have seen that the NS Awards were going to be a way bigger success than anyone could have envisioned. Technical mastermind Chris O'Connell had the live feed running smooth as Chinese silk while the original switch backflip king Philou Poirier was on the mic charming the piss out of anyone watching with his smooth and sultry French-Canadian ways. On stage, looming over the crowd like an evangelist gone mad, sporting a full-white suit and neon green hightops, was the host for the evening Doug Bishop, who with translation assistance from Philou presented the awards. Behind the both of them was a massive screen displaying an NS chat where members chimed in on their thoughts on the show as it happened, and free booze was flowing from the bars like a Hawaiian wave crashes on the beach. It was a spectacle.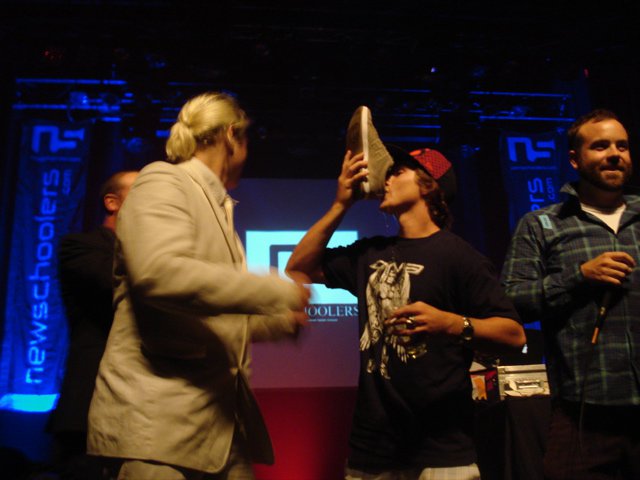 Scott Hibbert...taking care of businessAs sure as the Miami Dolphins will never win the Superbowl, absolute mayhem ensued as the awards were divvied out. Highlights proving that fact included Tanner Hall jumping from the second floor balcony onto the dance floor after winning the first award of the night, Sammy Carlson heckling Philou by throwing ice and other random objects at him in a way that would have had the Yankees wanting to sign him, Ahmet Dadali break dancing on stage at every opportunity, Scott Hibbert taking care of business like no one else can and 'shoe' chants being hurled at every winner from hundreds in the crowd. Basically, the whole thing made Kayne West's party at the MTV video awards look like a funeral. But somehow, someway, Doug and Philou managed to hold it together through all the chaos, and since the whole thing is slated to be put online in the next few days, we'll skip the speech recaps and go ahead and tell you who was nominated, and who won what…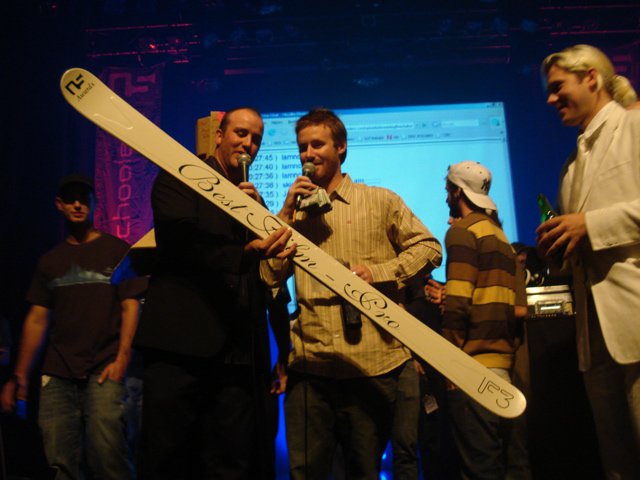 A shocked and honored Skye Pinnick of Rage Films accepts the award for Best Film, along with $2000 cash money, which he took straight to the bar to honor the 10% ruleBest FilmEnjoy – WinnerBelieve – Runner-upIdeaRealtime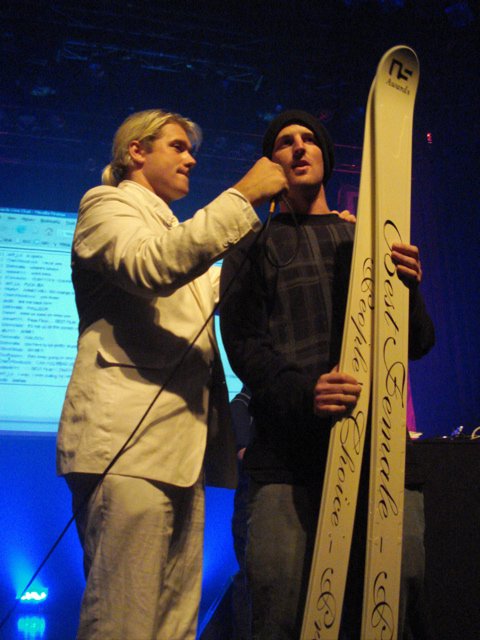 Poorboyz' Tyler Hamlet accepts the People's Choice Award along with Best Female on behalf of Grete EliassenPeople's ChoiceYeah Dude – WinnerBest MaleWiley Miller – WinnerPep Fujas – Runner-upKye Peterson – honorable mentionTanner HallMark Andre BelliveauBest FemaleGrete Eliassen – WinnerLindsey Dyer – Runner-upMichelle ParkerAshley BattersbyBest TrickPep Fujas – Underflip – WinnerTanner Hall – Runner-upSeth MorrisonCharles GangierBest CinematographyReal Time – WinnerBelieve – Runner-upStop Go StopSaveBest SoundtrackStop Go Stop – WinnerMagic Moves – Runner-upIdeaBelieveBest EditingBelieve – WinnerRealtime – Runner-upEnjoyIdea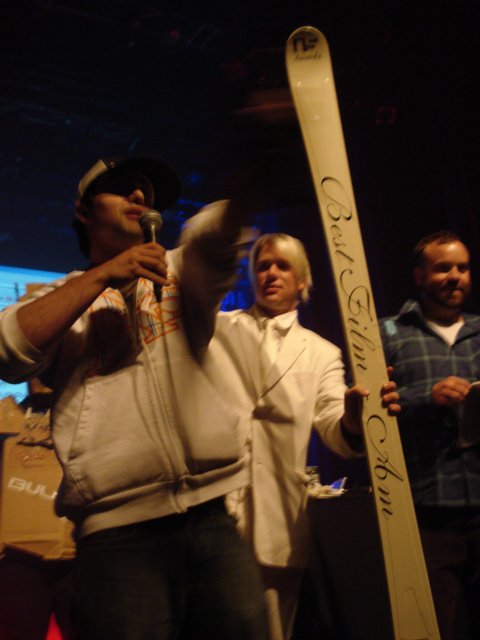 The Mystic Lands Productions boys go buck wild after winning Best Am FilmBest AM FilmBeaver Tale – Mystic Lands ProductionBest Trick AMErik van Ingen – Tuckered Out Films – WinnerJohn Strenio – Stept Productions – Runner-up Most Professional AMStept Productions – ChronillogicalBeaver Tale – Mystic Lands Productions – Runner-up Best Male AMTom Wallisch – 4bi9 – WinnerNick Martini – Stept – Runner-upBest Hand Job (aka followcam)Field Productions – Magic MovesAdded awards by judgesRookie of the year – Dylan Natale Jibber of the year – Ahmet DadaliBest Personality – Radio Ron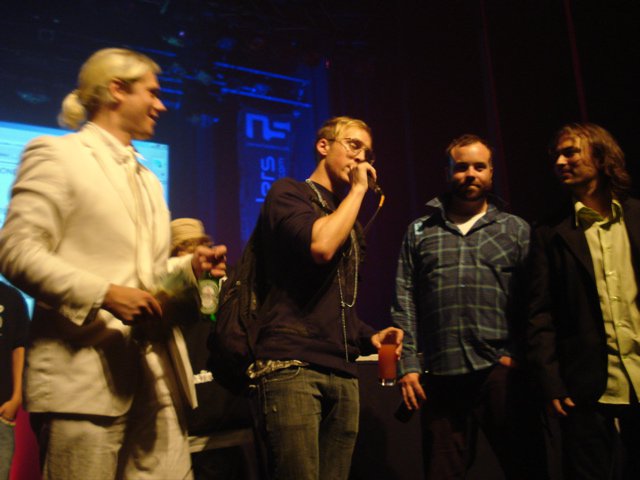 Anthony Boronowski explaining his judging decisions that some considered controversialOnce the awards were in the bag, Kid Koala took to the stage and Skye and Dumont took to the bar, and the party to kick off the 08/09 ski season ensued in a way that would have made a hair metal band proud. Everyone drank too much, danced too scandalously, broke too many bottles, got kicked out, snuck back in, and had way too much fun. And if you weren't there, you better be next year. After the bar shut its doors, the party then moved to the millions of strips clubs in town and eventually back to the Montreal Hilton where the incredibly patient and understanding security guards earned their pay stubs.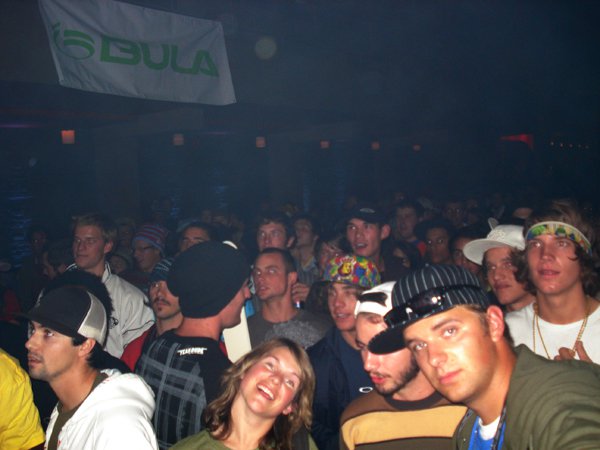 I spy with my little eye a smiling Michelle Parker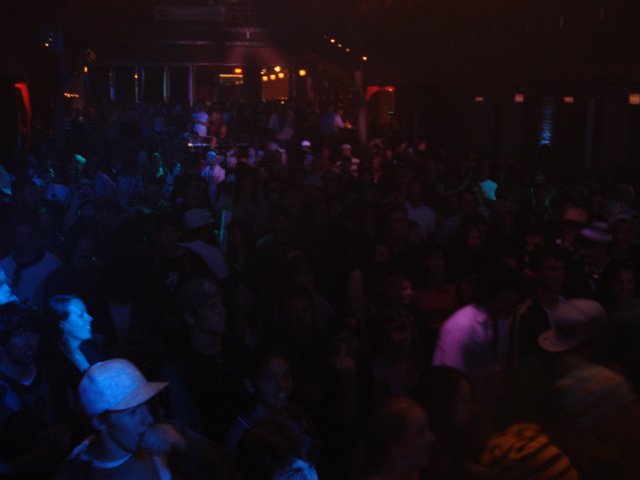 I spy with my little eye Sean Pettit's middle fingerIt's worth noting that lot of planning, running around and stress goes into putting on events like this, and at times they don't go off like they should, or even go off at all. This was not the case at the IF3, and although there are many to thank for making that a reality, four names tower above the rest. Felix Rioux, JF Durocher, Phillipe Benjamin and Doug Bishop have succeeded in putting together something truly special that wont be soon forgotten, and will now always be anticipated. Thank-you guys, now let's bring on that snow.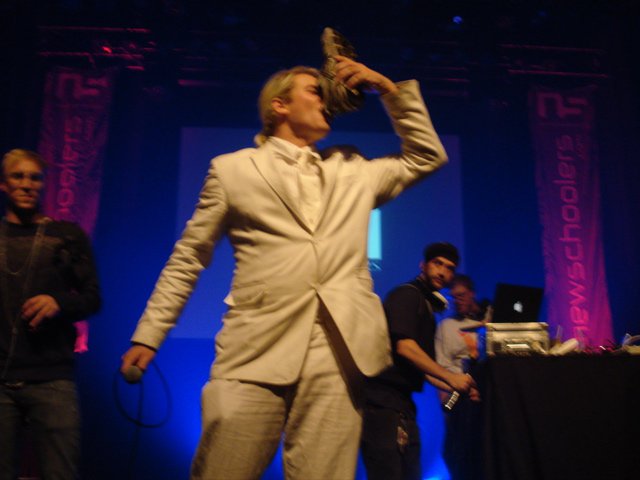 The Bishop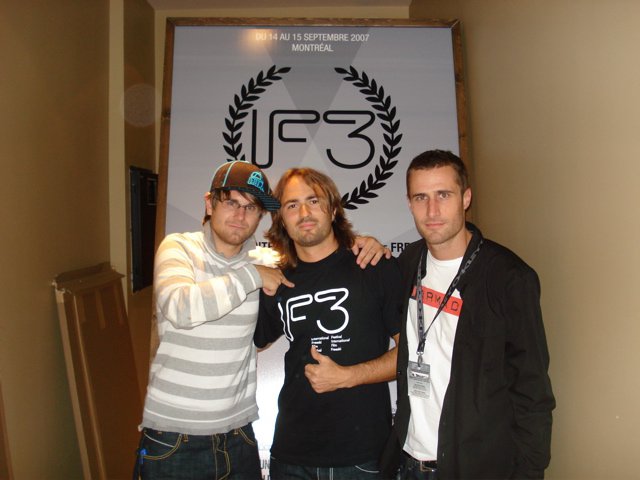 The men that made it happen. Thanks gentlemen!