The Vanguard designers thought of everything when they designed the Heralder Series. My first impression, when I took mine out of the box, was that it was probably the most padded bag I had ever used. Even the anti-slip shoulder strap is so padded and comfortable, you could almost use it as a head rest!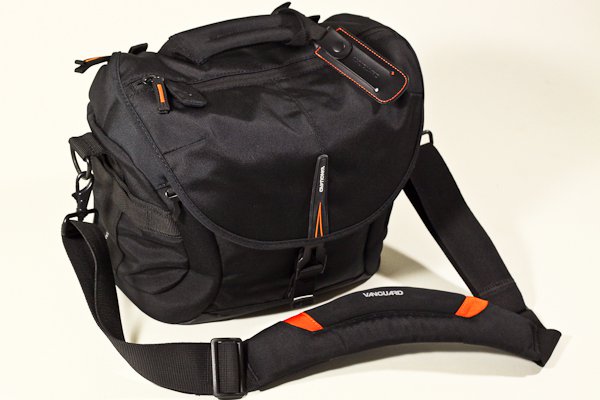 But that?s not all! The Heralder 28 (the smallest in the series) comes with a built-in tripod sling on the front and a rain cover that zips in its own back pocket when not in use. I don?t know about you, but I think those are two really useful features, especially the rain cover. My tripod is heavy duty and, although it technically fits on the Heralder 28 sling system, I would not attach it to such a small bag. I can see it fitting on the larger models if you are strong enough to carry that much weight. That said, I would definitely strap a travel tripod or even my Gorillapod to the Heralder 28.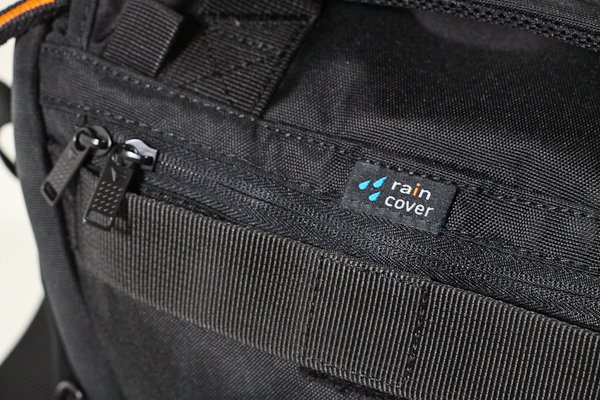 A full rain cover is readily available from a special pouch behind the bag. Also, the large strap on the back allows for easy attachment to any rolling bag handle.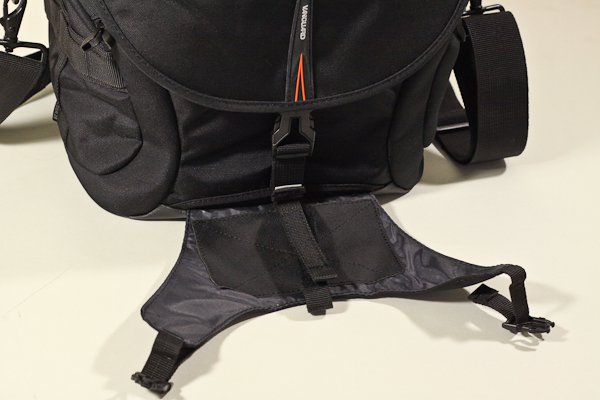 The tripod sling on the front of the bag is concealed when not in use.
This bag also has a removable padded pouch for your iPad (other any other tablet or small laptop up to 10 inches). The compartments can be adjusted or removed to fit your needs depending on the gear you want to put in the bag on any given day. The entire compartment also comes out in case you want to use your bag for other things. The Heralder also features a zippered quick top access so that you can grab your camera without opening the flap.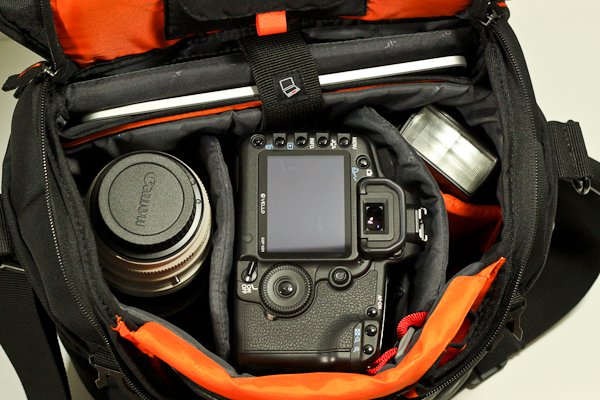 My Heralder 28 showed here with the 5dMarkII with 24-70mm attached, 70-200mm extra lens, a flash and an iPad. The camera can be positioned differently depending on the configuration you choose for the removable pads.
The Heralder 28 messenger bag also comes with a lot of useful pockets for personal items as well as mini compartments for memory cards. If you?re like me, when you carry heavy gear for long hours, nothing compares to the comfort of a backpack. Well, good news: This one can be converted into one with the optional ICS harness (sold separately). Please note that I haven?t used this harness because I also own a very comfortable camera backpack for long outings with heavy gear. That said, if I wanted the flexibility of a messenger bag with the comfort of a backpack all in one, I would definitely consider checking the harness option.
Some of you may say: ?But it?s black and it looks like a camera bag!? True, it does. It would not be my first choice for a street photo walk if I don't want anyone to know I have expensive equipment in my bag, but we don?t always need to hide the fact that we carry camera gear, do we? I?ve used it when out in adverse weather (because of its rain protection) and in addition to my rolling bag on commercial shoots (it features a system to attach it to the handle of my rolling bag). Basically, if you want a sturdy bag with lots of features and lots of padding to protect your precious gear, you may want to give this one some serious consideration.
Specifications for the Heralder 28: Inside Dimensions LxWxH: 25 x 16 x 20 cm (9 7/8″ x 6 1/4″ x 7 7/8″) Outside Dimensions: 34 x 26.5 x 27 cm (13 3/8″ x 10 3/8″ x 10 5/8″) Weight: 1,250 g (2.76 lbs)
Its list price is US $169 but it is currently 30% off on Amazon. Please note that the Heralder 28 by Vanguard is the smallest bag in the series. The same bag comes in two larger sizes: the Heralder 33 and Heralder 38.
Post originally from: Digital Photography Tips.
Check out our more Photography Tips at Photography Tips for Beginners, Portrait Photography Tips and Wedding Photography Tips.
The Heralder 28 messenger bag by Vanguard – Review