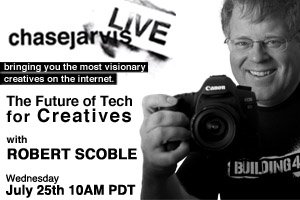 I know we got a ton going on in the #cjLIVE world this weekend. But don't get distracted, cause we've caught another big kahuna. My guest on Wednesday of next week is the web's most influential gear + tech geek–bar none. It's Robert Scoble. He's a gadget lover, an technology savant, a Silicon Valley insider, and–in his spare time–he's a photographer too. Many of the most powerful people in technology share their secrets and consult with Robert to know what's next in the world of gear, tech, apps, and more. And we photographers, creatives, really want to know this stuff – it's in our DNA.
Well, prepare to see behind the curtain Wednesday July 25th as I host Robert on this Future of Technology for Creatives episode of chasejarvis LIVE — you will be first to hear about the trends in gadgets and technology tools that he believes will shape the next decade and beyond. More than just cool cameras, we'll discuss wearable image sensors, realtime creative collaboration, mindblowing cloud solutions and other stuff that makes my brain hurt. Understanding how to harness these tools for your own creative purposes will be worth 90 minutes.
Who: You, Me, Robert Scoble and a worldwide gathering of creative people
What: Interview and a worldwide Q & A
When: Next Wednesday, July 25th, 10:00am Seattle time (1pm NYC time or 18:00 London)
Where: tune in to http://www.chasejarvis.com/live. It?s free ? anyone can watch and we?ll be taking YOUR questions via Twitter.
CONTESTS
***And last but not least – 2 things very important:
1. Score a special… In order to pimp this show I'm giving away a signed open-edition 11×14 print of my work. At charity auctions, these go for about $5000. To enter for a chance to win, send out any creative tweet that contains the URL (or short url) to THIS post + @hpprint + #cjLIVE starting NOW and ending at the beginning of the show on Wednesday. Enter as many times (tweets) as you want ? tweet and retweet ? we?ll be watching out for the most creative shoutouts.
2. EVEN MORE SPECIAL. This is HUGE. If you want a chance to SCORE a Broncolor Senso Lighting Kit…the REAL DEAL…a Senso A2 1200ws Pack with 1 Litos heads, Carrying Case, Softbox, Ring, and Sync Cable — valued at $3500.00, then you'll tune in to the show. We'll make it easy to win this thing. Gotta tune in LIVE to win. See you there.
________________________
Special thanks to our cjLIVE show sponsors: HP, Broncolor, B&H. We genuinely love what they do, make, and sell.
Please follow them on twitter at: @hpprint, @bronimaging, @bhphoto