Newschoolers will have full-length coverage of Freestyle.ch coming your
way next week. We have a 90 minute broadcast complete with our own
unique voice-over commentary, which is sure to entertain. Stay tuned!words by Daniel BaurThree days of freeskiing, snowboarding, skateboarding, FMX and partying!Zurich, Switzerland � What is Switzerland known for? Chocolate, watches, bankers, neutrality and cows. Now Switzerland has a new attraction. One of the biggest freestyle-parties in Europe, packed with a crowd of over 20,000 screaming and cheering fans. A 28-meter (84 feet) high ramp with over 200 tones of artificial snow in the middle of the city in summertime. The biggest skateboarding half-pipe in Europe and a FMX-jump right next to the skiing ramp. In addition to all the freestyle-action, the visitors had the pleasure of three bands, playing hip-hop and rock. Headliner was Millencolin, who really made you feel as if you were inside Tony Hawk�s pro skater.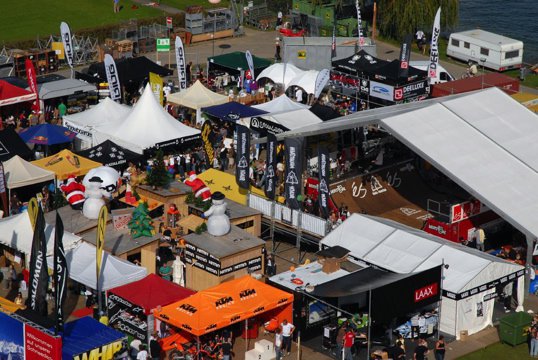 the scene below. photo: Ruedi FluckThe Freestyle.ch stretched over three days, starting with the freeski pre-qualifications. Four riders had the chance to advance in order to battle against the big guys. The starting field held 14 competitors including up-and-comers such as JF Houle, Henrik Harlaut and Phil Casabon. The cool thing about the qualification was it was held at night. Even cooler was that the drinking age in Switzerland is sixteen. So you�ve got a hyped up and drunk crowd going crazy. So now we know the ingredients for an awesome party. Take a drunken crowd, throw a nighttime ski competition under bright lights, and add some pro skiers and you�ll get a crazy party! All the insanity really pushed the riders too, so we pretty much got all the tricks a skier�s heart could wish for, going from switch 1080 mutes to switch 9 nose grabs.
Nicolas Vuignier, toes almost on the nose. photo: Ruedi FluckUnfortunately, only four riders could advance to the Saturday afternoon qualifications. Philip Casabon (CAN), Henrik Harlaut (SWE), Oscar Scherlin (SWE) and Patrick Hollaus (AUT) killed it the most, and therefore made it to the finals.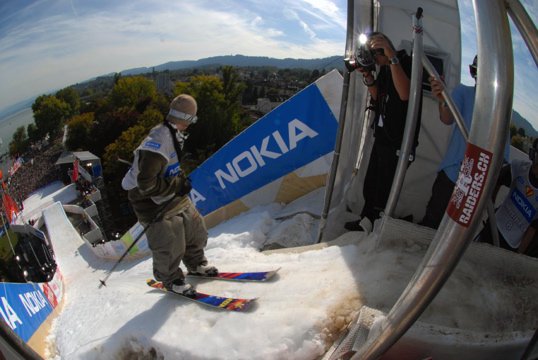 Phil Casabon drops in. photo: Ruedi FluckThe next day, the qualifications for Sunday�s finals where held. The weather, being really warm and making the snow very slushy, made it hard to land properly. The guys were throwing down their best moves. 1080s, 9�s and 16-old Henrick Harlaut even landed a switch 12, which really made the crowd go wild, even thought it was only three in the afternoon and no one was drunk yet. Having all the worlds pros gathered in one place, throwing down on ridiculously cool jumps made it a pleasure to watch.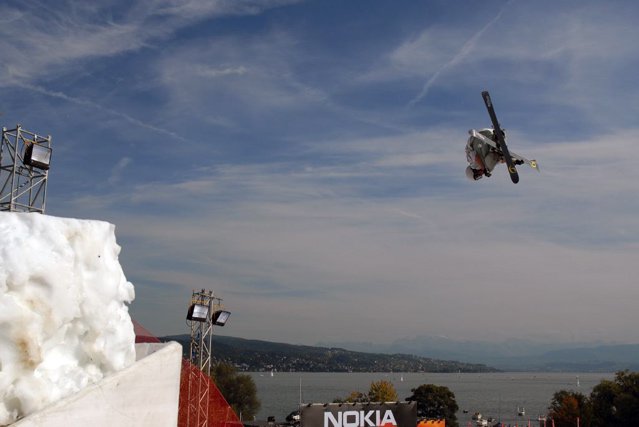 Henrick Harlaut takes in the beautiful lakeside view. photo: Ruedi FluckSix spots for the finals on Sunday were open. Every rider had three runs. As a fresh change from most of the competitions now-a-days, the riders had the option of doing a style jump or a technical one. This format allowed the riders to get good scores with a simple 540. It was a good idea so the crowd didn�t have to see 1080 after 1080 after 1080. Dumont impressed the crowd with some huge 720 truck drivers and TJ really tweaked out his huge 5�s, pulling his ski right to his face. Jon Olsson was throwing down his 10�s with such ease, the announcer thought they where 7�s.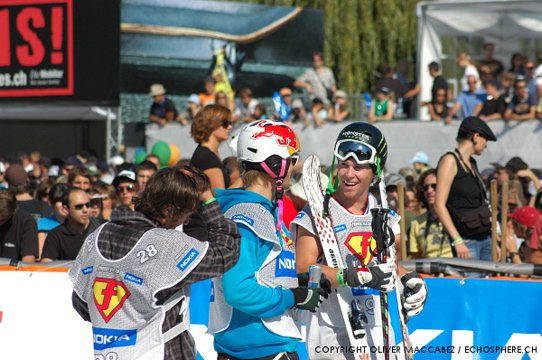 Simon, Jon and TJ. photo: Oliver MaccabezEight skiers made it to the finals: Phil Casabon, Henrik Harlaut, Simon Dumont, Charles Gagnier, Jon Olsson, Richard Permin, TJ Schiller and Jossi Wells.The rest of the day was spent pretty much chilling, or for those who didn�t make it to the finals, drinking. Sammy Carlson took advantage of the Swiss drinking age and the free beer he got in the VIP-lounge. He had so much fun he even made an interview with Fabio Studer that you can see at http://www.raiders.ch. We camped out in front of the VIP-Lounge to gather some interviews with the guys and educate them in Swiss history. Amazingly, skiers have a damn good knowledge of Switzerland and Europe. TJ Schiller was able to name pretty much every country on our map of Europe. You ever hear of William Tell? He�s our national hero. Long story short: with a crossbow he shot an apple off his son�s head and became a legend. We tried out some crossbow-action with the pros finding out that PK Hunder must have some William Tell genes in his blood, getting the apple on TJ and Fabio�s heads, both with his very first shot. (See the whole crossbow-shooting-interviews with TJ Schiller, Fabio Studer, Sammy Carlson, Andreas Hatveit, Patrick Hollaus and Glen Plake at http://www.raiders.ch)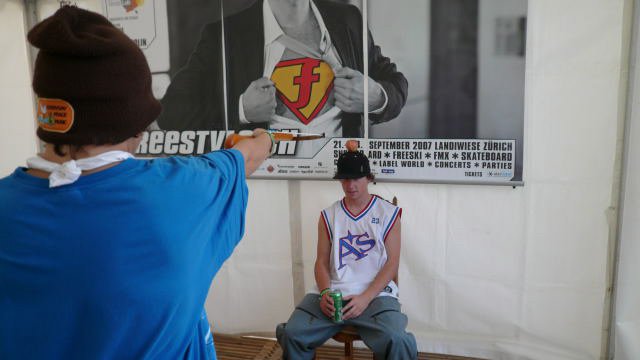 PK shows off his William Tell genes. photo: Ruedi FluckThen came the night. And when I say the night I mean THE NIGHT. It was the night where the crossover champ was elected. So why do I use the word elected and what�s a crossover champ? Well the crossover champ is one of the coolest competition formats you could think of. You already know that there are four different disciplines: freeski, snowboard, skateboard and FMX. So now you take the best six riders of every discipline and let them compete against each other and additionally let all the disciplines compete against each other. So at the end you get one crossover champ being a rider of one of the four disciplines. So why elected? Since Switzerland is one of the most democratic countries worldwide, the riders don�t win by judging but are chosen by the crowd. So in the end, it comes up to who is the best showman. Since the beginning of the crossover champ format, skiing is the only discipline that has never won the title. All other sports got it at least once. So it all began with every athlete throwing down one jump. Then a rapid-fire session. The skiers already proved their showmanship, jumping in groups of two and making the same jump exactly next to each other.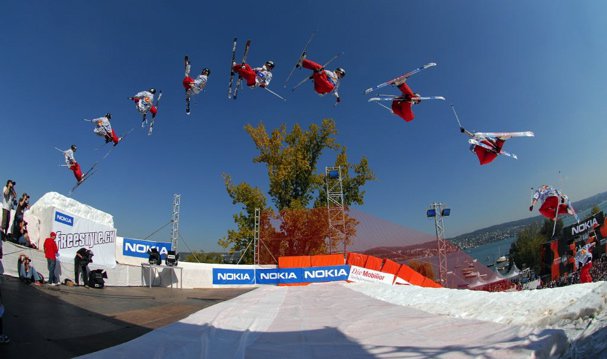 Jossi Wells. photo: Ruedi FluckAfter the rapid-fire session the best three athletes of every discipline could proceed to the pre-final. The riders could choose for themselves who would then battle against the other disciplines. It was Jossi Wells, Simon Dumont and TJ Schiller that went further to defend the skiers� honor. In the �pre-finals� the riders competed against the other disciplines. So that�s one skier against one snowboarder against one skateboarder against one FMX-rider. TJ threw down a sick switch 10, crossing his skies exactly in a 90-degree angle, making it look like some sort of helicopter. Sadly he lost against a snowboarder. Jossi Wells won his competition with a laid-out back flip. Not the hardest trick but definitely a crowd-pleaser. And then came Simon. Now imagine a crowd of 22,000 people, ten o�clock at night, drunk, and Simon throwing down a double front flip. Man the crowd went wild. It was like a Super Bowl touchdown. So Simon went to the finals. Now there were two skiers and one snowboarder in the ultimate-final. Remember the skiers have never won the crossover champ and now there where two skiers in the super-duper-ultimate-everyone-against-everyone-final. First up was the snowboarder. He crashed. Then Jossi. Another crash. So it was all up to Simon and he didn�t let the crowd down. Front flip to superman front flip. I still can�t hear anything and I had earplugs.After that, the party went on in the Kanzlei. MSP presented its new movie, �Seven Sunny Days�. Sammy was there, TJ was there, along with PK and Kevin Rolland. There were a lot of cute girls, free booze and that�s all I can remember.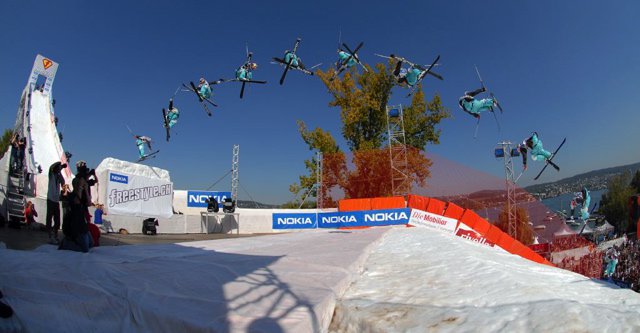 The Dumont. photo: Ruedi FluckEight skiers and a hangover. The final was composed again as a qualification and a final with the top three. Every competitor had three runs and had to show at least one style-jump and one technical-jump. In the end there were three left. The ones that made it thorough all the pre-finals, qualification-finals, qualification-pre-finals and all the other complicated things were Simon Dumont, TJ Schiller and Jon Olsson. They all had to do one technical and one style-jump. At this level of skiing no mistakes were allowed. Simon started off with a 1080 mute, came a little too short and landed with his ass barely touching the snow, but costing him the title. Jon went for the same version only switch. Flawless landing. TJ also went for the 10 switching his grab. First tail then mute. Then came the style jumps. Dumont with his 7 truck driver. Perfect. Jon with a smooth flat spin also changing the grab. Stylish. TJ with his flat five grabbing both skis and pulling one of them �I-could-take-a-bite-out-of-my-ski�-style towards his face, which probably was the winning grab. Jon came in, as usual, second.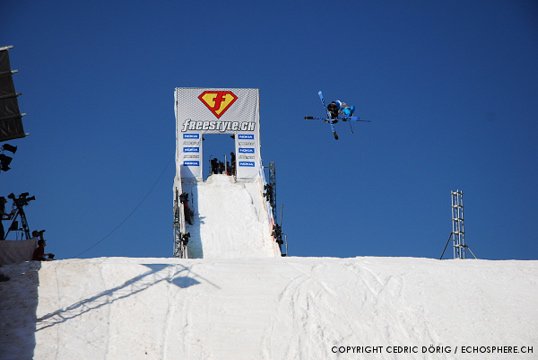 Jon Olsson. photo: Cedric Dorig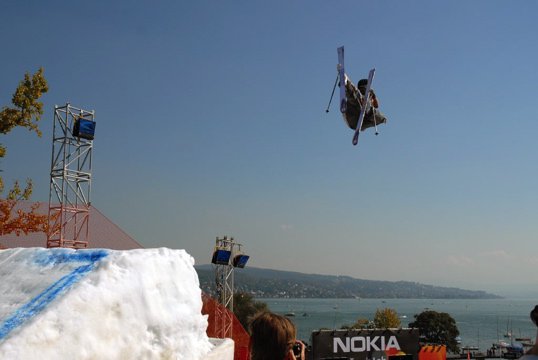 TJ. Double grabbing his way to victory...again. photo: Ruedi FluckThe Freestyle.ch was a damn great party with the best athletes of the freestyle sport, a wowed and stoked Swiss crowd and some of the best action you can get. And finally, finally the skiers won the crossover champ title. About time! For more pictures, info and videos check out http://www.raiders.ch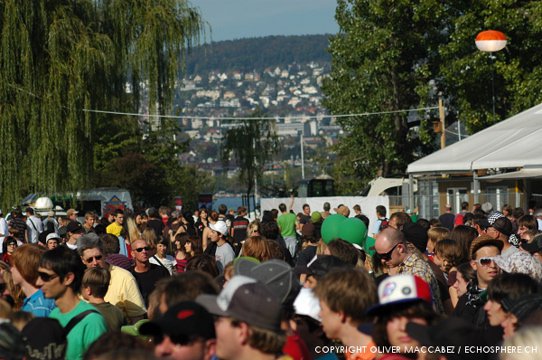 forget Where's Waldo...Where's Plake? photo: Oilver Maccabez