We work with a lot of exceptional women, both as athletes or photographers.  I thought it would be good to get a better understanding of skiing from their point of view.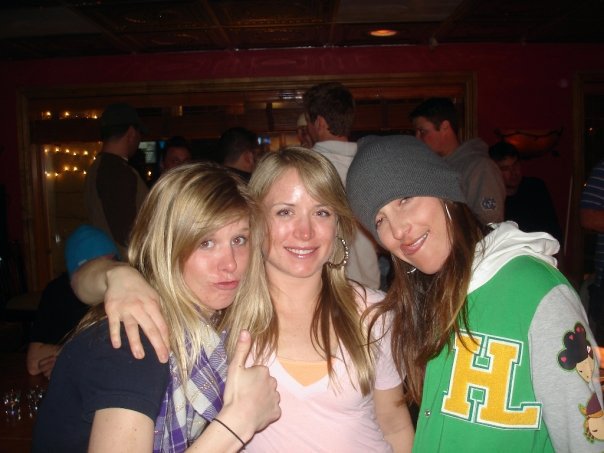 How
did the past season go for you?
Steph:
Pretty great!  I was living in
Breckenridge and gained a ton of experience in competitions.  It ended early when I sprained my MCL at the
Big Bear Open in March.  I had a ton of
fun and started riding with some Breck girls who kill it!  It's fun to ride around the mountain with a
crew of badass chicks.  I also met some
awesome people at competitions.
Kenzie:
Really well with an exception to a
broken back, blown knee, and full time school schedule. It was a fun time
and a progressive season.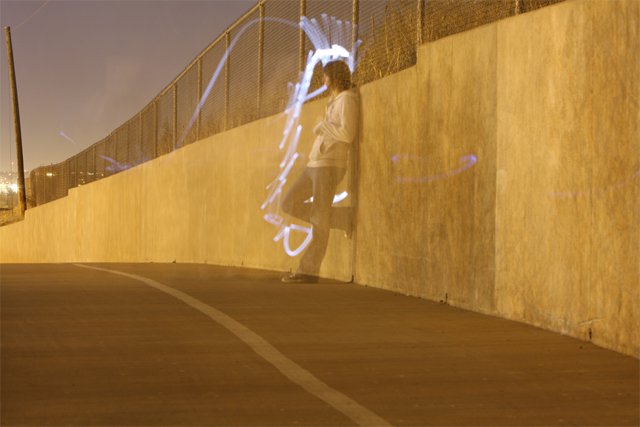 Jen A: Delightful, I enjoyed it.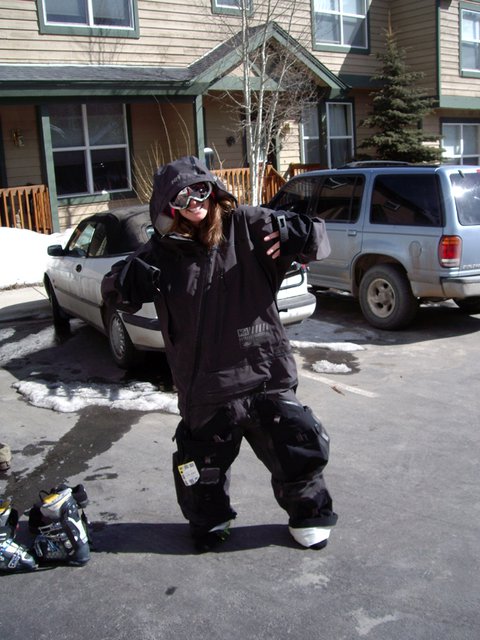 LJ: It was great-some knee difficulties kept
me from competing as much as I normally would, but every season is always a
little better than the last.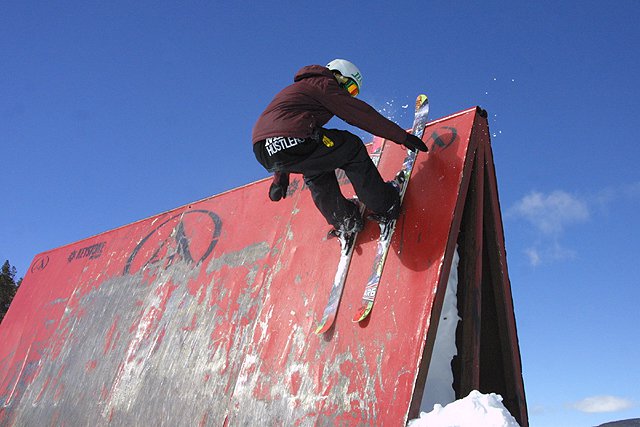 Jenn H: Well for starters I guess you can call
any injury free season a successful one.  Beyond that I can honestly say
that it was a blast!  I learned a lot, and not just as far as tricks
go.  Met a lot of new great people who have ended up being amazing
friends.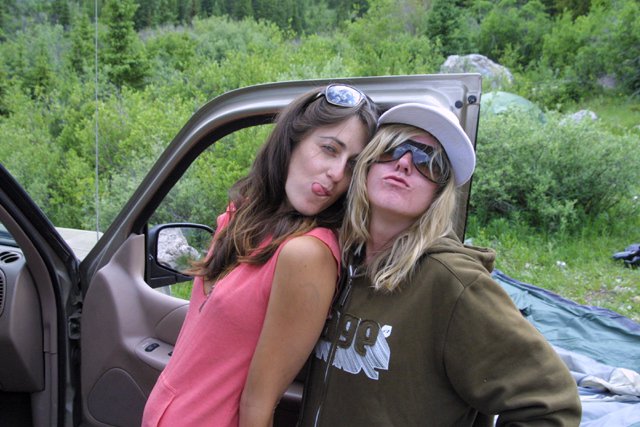 Carrie: This past season was incredible!
Being my first real season in freeskiing I took every opportunity to get more
comfortable on my skis. I did a lot of rail jams which gave me great experience
and some cash in the pocket. Spending time in hood and able to ski Windells was
probably the highlight of my season. Overall I feel extremely blessed that I
was able to ski every day and have great people in my life to open up new doors
for me!! Thanks Jibij, Helly Hansen, Scott goggles, Windells, and my family!
Julie: This winter
went really well for me both from the skiing and photography perspectives. I
got to shoot more big mountain than I have in the past which was great. I love
shooting park, but sometimes it gets too repetitive. And, the season is still
going for me as I've been in Hood since late May shooting up at Windells. On
the ski side of things, the season started off incredibly with an amazing trip
to Silverton around December 10. They had gotten 100 inches in two days, so we
figured why not check that out. I got a few other big mountain trips in later
in December and in January as well to Alta, Jackson and Taos. With shooting
park events, however, the hard skiing for me quieted down after that. I also
wound up coaching the University of Colorado Freestyle Ski Team which was super
fun.
How
do you feel about the current state of skiing, specifically womens skiing?  Are you happy with where it is?  Where
do you see it going? 
Steph:
The state of skiing is amazing, it's grown so much since I started riding park
in 2002.  More and more girls are
progressing and pushing the sport in a positive direction.  The ladies are also very motivating and
supportive of each other.  Sara Burke
winning the ESPY in 2007 and throwing down a 1260 in 2008 blew my mind!  The future of skiing may be bleak, in my
opinion.  The ski industry will be
significantly affected by global climate change.  I don't think people realize that there might not be snow in
Colorado in 30-50 years!  I want to
still be skiing a lot when I'm old.  Our
children's generation may not have the great snow we've experienced.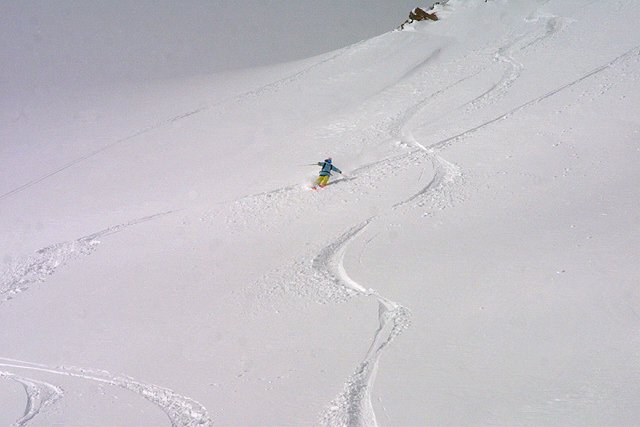 Kenzie:
I would like to see more women than just
the popular 10 names, there are lots of girls out there that kill it and are
unknown. I think there is still a lot work needed for womens skiing
to get to a more competitive level but it is slowly getting there.
Jen A: I feel that women are not progressing as quickly as men are in difficulty of tricks and terrain.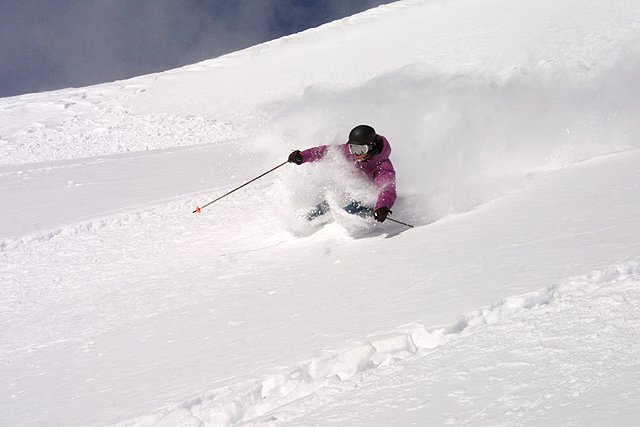 LJ: We have a long way to go. So no, I'm not
truly content with it as it is - in the future I see the technicality gap
closing considerably - every year new ground is taken. I see womens freeskiing
becoming much more equal whether it be skill level or prize money or
recognition. We have some work to do though and we are rising to the challenge.
Jenn H: The progression of the sport right
now is insane!  Watch any video even three years old and it blows your
mind how far its come sooo quickly!  I don't know if I'm happy so to
speak, but I'm definitely more than impressed and proud to be a part of it. A
far as us girls go I think we are killin it!  It's so sick everyone who is
out there pushing it and progressing girls skiing more and more.  I think
that it is showing the whole snowsports industry that not only can we keep up
but that we can set new standards.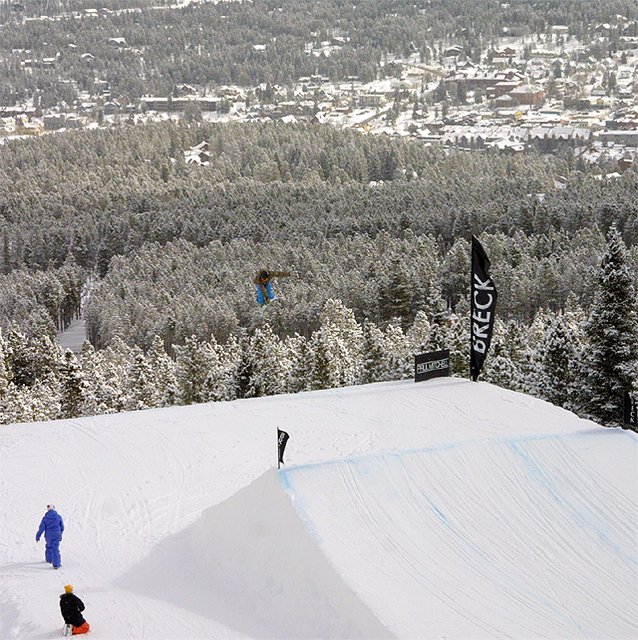 Carrie: Womens skiing is incredible but
still has major room to grow. It's awesome to see girls like Keri Herman,
Angeli Vanlaanen, Kim Lamarre, and Ashley Battersby pushing womens skiing to
all new levels. I'd like to see girls start to get more technical on
rails, and get more experience in the backcountry. With freeskiing getting
more and more involved with backcountry jumps and drops it would be dope to see
girlys getting more involved with all the oppurtunities mother nature has to
give. I'm stoked to see where womens skiing is at and love watching more and
more chicks get involved. I see womens skiing starting to dip into areas not
too many chicks have gone before and begin to have more of an influence on the
ski industry and media.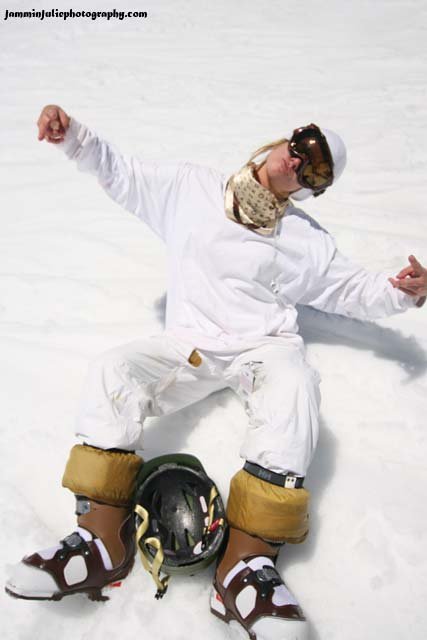 Julie: Skiing is
finally moving in the correct direction. We are starting to see more styles
instead of everyone looking the same. The women are starting to step up as
well. Whereas we used to see a handful of sponsored women who could really make
money in skiing, we are seeing more and more sponsored females who really
deserve to be sponsored. That said, the women still need to step it up more.
Too many people in the industry are still saying things like "She is good for a
girl". We need to get to the point where it is just "She is good"
regardless of sex. I know the women skiers are pushing themselves and each
other to get better and better. I think the guys need to help push more with
out being abrasive. And, to all the women reading this, stop worrying if
someone is going to laugh at you if you fall!
Did/do your parents question your choice to pursue skiing?
Steph:
Of course!  They used be more skeptical,
thinking I was going to spend my 20s as a ski bum, but when I won the Vermont
Open in 2007, that all ended.  They have
been really proud and supportive! 
Initially they were concerned with me finishing college, and then being
able to support myself with a normal job. 
Now that I've done that; gotten my life together, they are very
supportive.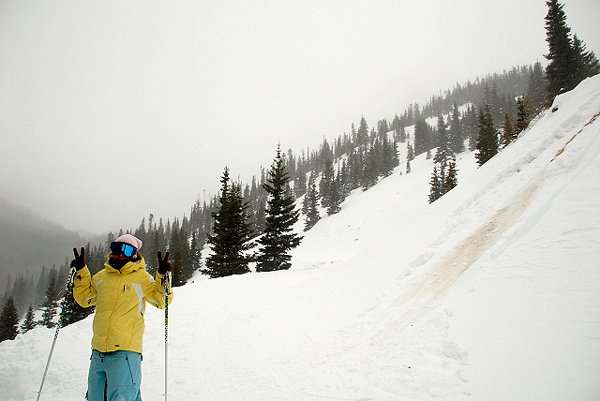 Kenzie:
My parents support me, but
they definitely question the fact that I ski,
and especially in the park because of the risks involved.
Jen A: Never, they fully support any direction that I choose to take my skiing. They are a little nervous about the backcountry, but they trust my judgment.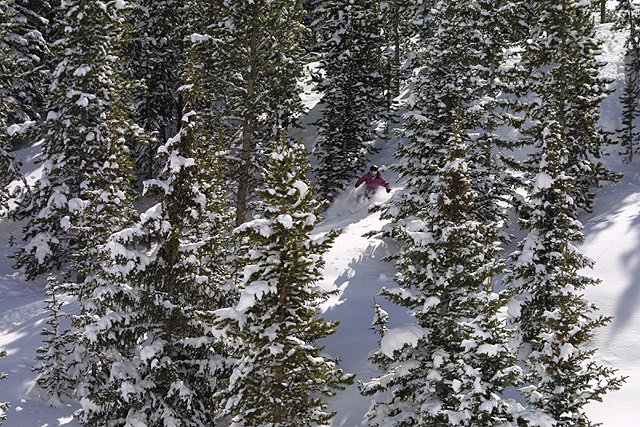 LJ: Yes. My mom was rising quickly through
the ranks of alpine racing when she suffered a debilitating injury during
competition - she never got fully back in the game - which was her dream. 
So naturally she's afraid of the same thing happening to me - and granted I
have had a lot of injuries over the years in this sport - but to me it's all
part of the game - if you're going to push yourself and try new things every
day and progress - you're going to deal with those consequences sometimes.
My ma is great though - still an amazing skier and she even comes to some of my
comps when she can. Haha. She questions it but still tries to support me as
well as she can.
Jenn H: I think that my dad is jealous of me
to be honest... ha ha but every now and then they hint at me that maybe it's
time to get a real job!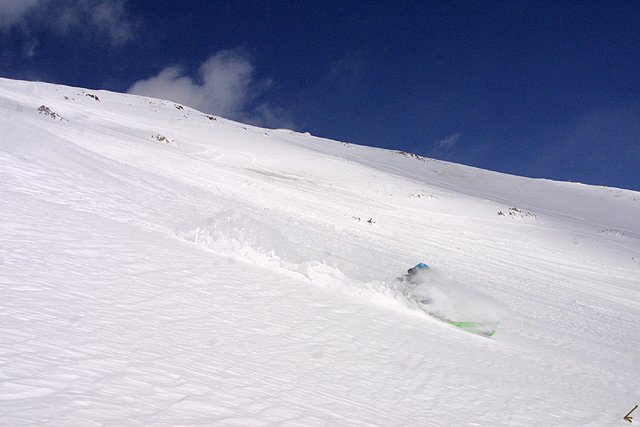 Carrie: Haha nah because she knows I
wouldn't be who I am today without skiing.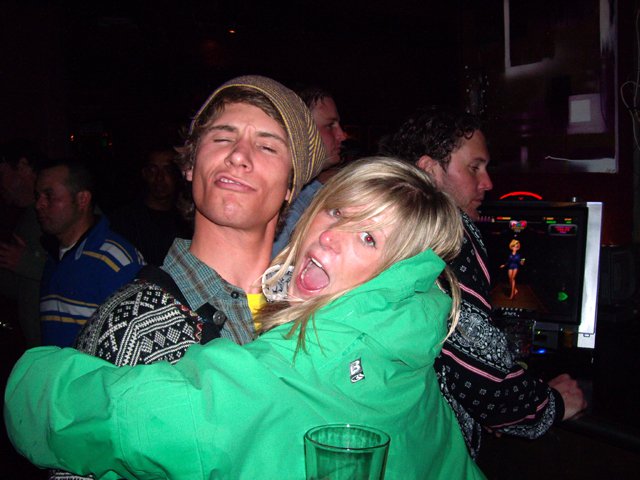 Carrie and her brother.
Julie: Absolutely.
And, they still don't get it. I had them watch Steep, hoping they would
understand passion for sport, particularly my passion for continuing to ski
backcountry after losing friends year after year. My dad simply thinks I have a
death wish. Unless parents have the same love of a sport that you have for a
sport, they are never going to fully understand how you can devote your life to
it regardless of how dangerous it is or how little money you are making.
What was your first set up? 
Steph:
Some really crappy skis I got on E-Bay for $100.
Kenzie: My first pair of skis were these
plastic rossignols with plastic feet straps for small snow boots. I took them
down the gravel driveway next to my house all summer long and slid around on
the carpet in my house till I was about 4. 
Jen A: Kneissel, 85cm.
LJ: My first pair of skis ever were Tecnu
Pro SC Juniors - they were royal blue with hot orange letters - I thought they
were rad. My first pair of twin-tips were Dynastar Concepts - the ones with the
jungle print - that'll bring you back, huh.
Jenn H: my first twins were the OG BC
scratches.  Orange and black naked ladies baby!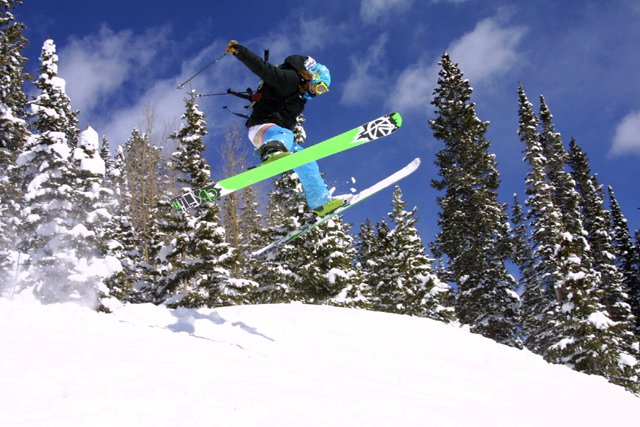 Julie: My first
camera was an all manual black and white film camera that I got for school when
I was 13. I was taking a photography class to fulfill an art requirement my
high school had. As for skis, I have no idea. I do know they were bump skis,
though! My first twins were the original 1080.
What is your current set up? 
Steph:
Major Upgrade!!  The 2008-2009 women's
LINE skis.  The Celebrity, Shadow, and
the Pandora.  I am stoked to ride the
Pandora!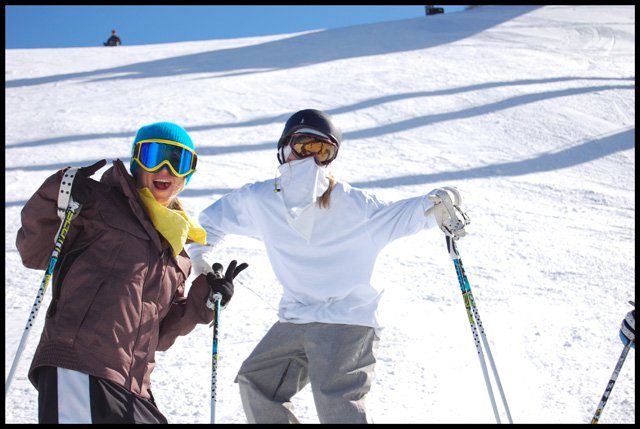 Jen A: Seth Vicious 169 with some sweet dangerous old school bindings!
Jenn H: rockin the diabello boots right now
and am about to get on a pair of shiny new k2s :)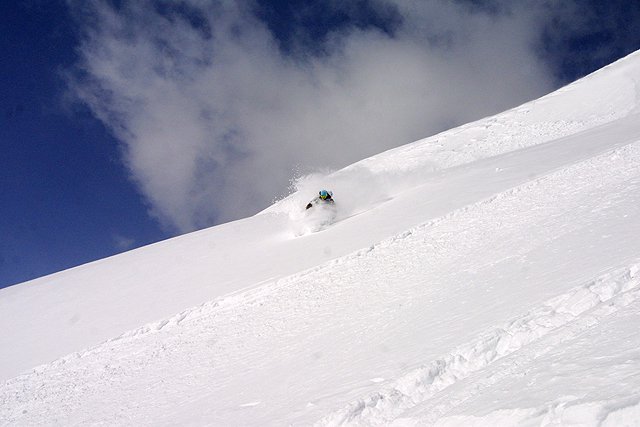 Julie: I take pictures
with a Canon EOS 1D Mark IIN camera, a couple of flashes and four different
lenses. I make turns with a variety of K2s.
What's a great day of skiing to you? 
Steph:
Most days are really great, but I'm just hooked on skiing.  It's about having fun and being with
friends.  All my ski days have been
great since I started rolling with such a fine crew of people.  If you see me on the mountain, I usually
have a huge smile plastered to my face. 
Some of the best riding that I've done lately has been in the
backcountry on the snowmobile, with my brother, Jon, and other Jibij guys. 
Kenzie:
Blue Bird Powder Day....
Jen A: WAIST DEEP POW ON THE STEEPS WITH CLIFFS AND IN THE TREES!LJ: Every day! Sometimes I like to ride alone and really focus in on what I want to do that day - other times it's great to be riding with a crew cause we all push each other.
Jenn H: Anyday skiing:) haha but really
if you need something more specific a day out with my best friends, preferable
one where I get something new - like finally land a new trick or hit something
I've never thought I could before.  Oh and powder, any and every powder
turn.  Props to the fat ski innovators!
Carrie: Being on my skis with the homies.
Julie: My ideal
day of skiing is neck deep powder at Alta, Jackson or Silverton under bluebird
skies with temps in the 20s. Since I can't always be in heaven, I always have a
great day when I'm out there with my friends (shout out to TPT).
Who
are your influences?
Steph:
My parents, my brother, and my friends. 
I am influenced by anyone who is doing amazing and original things, and
there are a lot of people like that in the skiing world.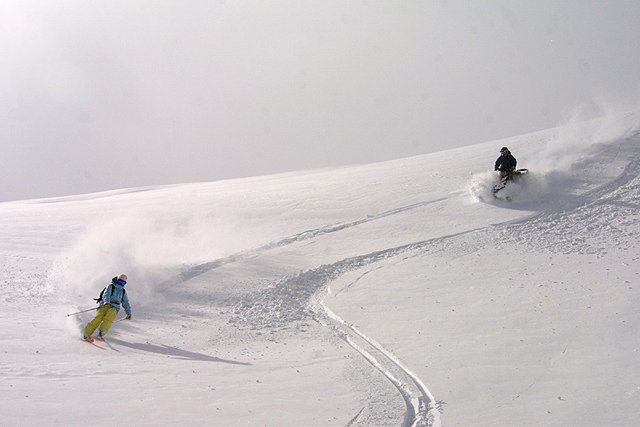 Steph and Chris ripping the BC.
Kenzie:
Seth Morrison, Simon Dumont,
Brandon Becker, Charlie Lyons.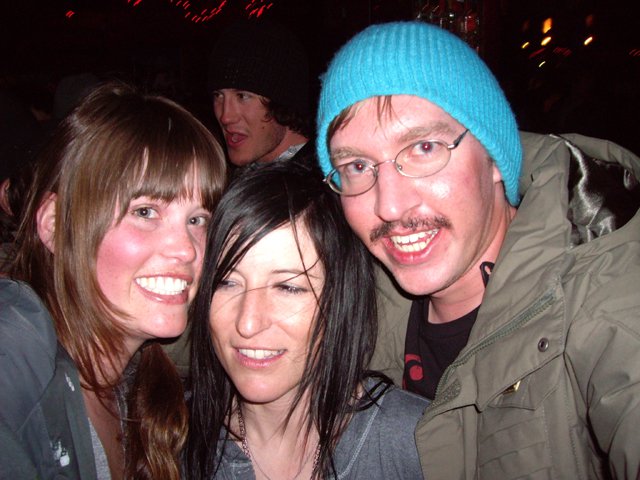 Kenzie didn't list it, but she's influenced by my mustache as well.
Jen A: Initially my brother as a young teenager, but once I moved to Colorado my influences became the guys that I would ride with and the new coaches I acquired.
 LJ:
Definitely some of the guys I grew up riding with back on the East Coast -
Tyler Conway and Nick Lyons especially - we made a little team - NBN crew and
traveled and competed together early on - they definitely pushed me and are
still really good friends. Some of my favorite skiers are Mickael D, Ashley
Battersby, Pollard, Pep, Mahre...definitely style riders and unique.
Jenn H: I'm inspired most by the people who
I ski with...
Carrie: Ange because she shows girls to work
hard, Alex Martini cause he kills it all without a jacket, Jenn
Hirsh who I couldn't live without and my mom cause she teaches me to
balance my life out.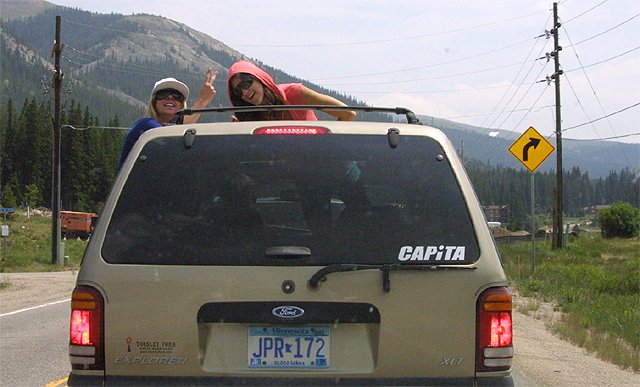 Julie: On the
photography side, I've been looking at a lot of skateboard magazines lately.
Since they don't always the beautiful backdrops we have in skiing to work with,
they tend to come up with unique angles to shoot things that would ordinarily
be dull. Chris O'Connell is currently my favorite ski photographer because of
the diversity in his shots. On the ski side, Seth Morrison is my favorite
skier. It's amazing how we can watch the evolution of his skiing in pictures
and on film as he went from simply trying backflips to stomping rodeos in the
BC.
How
long have you been skiing?
Steph:
Since I was 3 years old—I got started at the legendary Snow Trails ski hill in
Ohio!
Kenzie:
My dad would carry me around in his
backpack when I was 1 and I started as soon as I could walk. 
Jen A: 20 years
LJ: Since I was 6.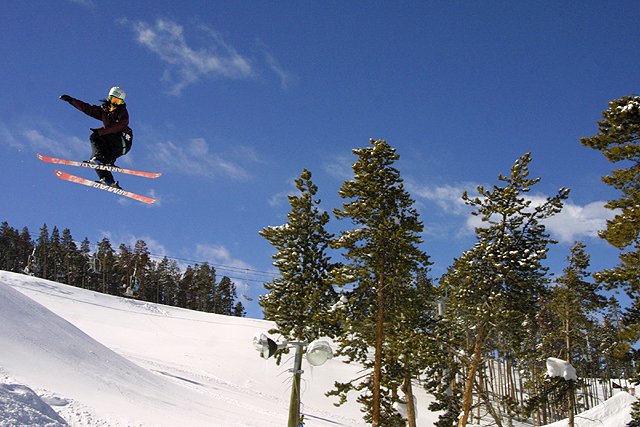 Jenn H: Since I was 3
Carrie: Well I had never
slid a rail or hit jumps until this last year but was put on skis when I was
like 4.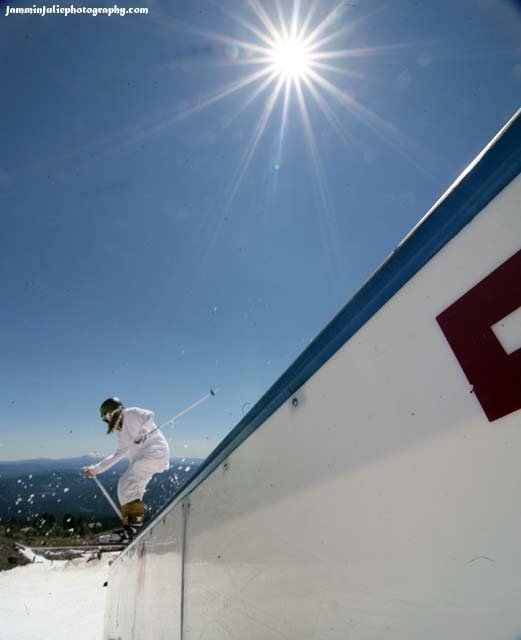 Julie: I've been
skiing since I was three, and taking pictures since I was in my mid-teens.
How
many days do you get to ride per year?
Steph:
About 40-50.
Kenzie:
Last season due to injury I only got
60-70 days in. But normally over 100.
Jen A: Around 70 or more.
LJ: Pretty much every day - which is
awesome.
Jenn H: This season 140/150ish... plus water
ramps, plus NZ in two weeks!  But the real question is: if you ski at
least once every month of the year, does your season every really end??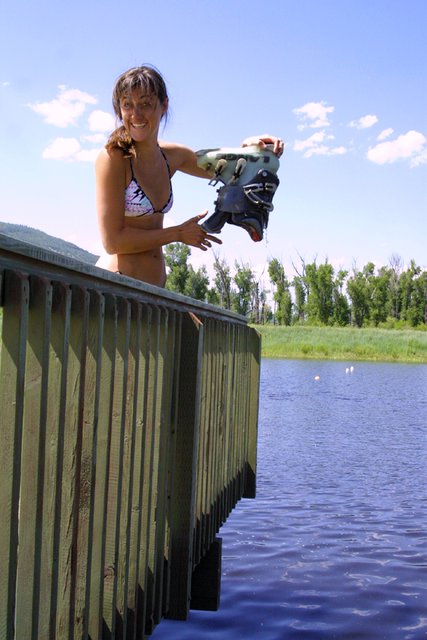 Carrie: Well this year was exceptional....
140 I think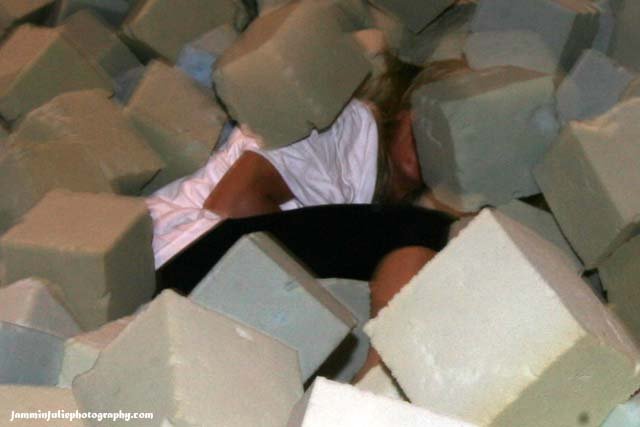 Julie: I ski
around 120 days a season.
What's your average day like on snow?
Steph:
Wake up, cruise to town with Carrie, talk our way into some free parking at the
Gondola, meet up with Jenn, lap Park Lane and Freeway… Ski days are extra fun
when you see people you're friends with in the park… which happens basically
every day!!!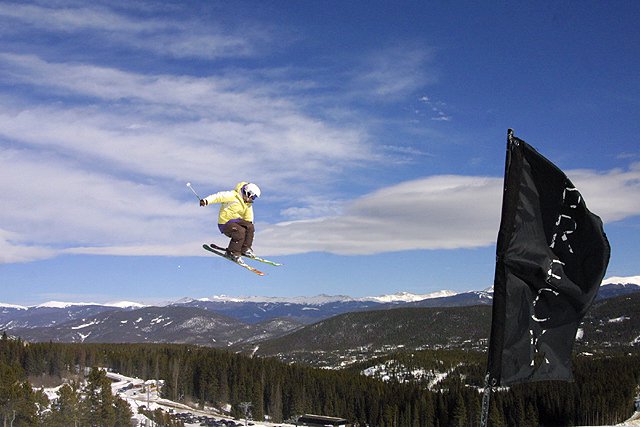 Kenzie:
Ski around the mountain early mornings,
then catch up with friends in 51, park lane, or freeway till I have to go to
work. Or night riding at Keystone if my daytime is busy. 
Jen A: Depends on the snow fall - if there is fresh snow I'm in the trees all day. If it's a blue bird 40 degree day I'm playing in the park.
LJ: It's different every day and I
definitely try to mix it up.
Jenn H: Happy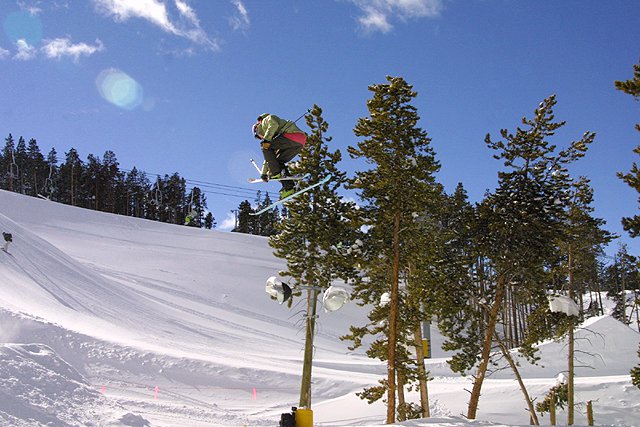 Carrie: Smiling and trying to push myself to
do something I'm scared of.
Julie: If I'm just
skiing, and not taking the camera out, I tend to get to hill early, take a few
warm ups, and then hopefully go shred pow all day. If it's a shooting day, who
knows? I tend to sit around too much waiting for athletes to show up. Hint,
hint: be there when you say you'll be there!
Anything coming out for women's products that you are looking forward to? 
Steph:
The Pandora!!! OMG can't wait to take those out on the snowmobile!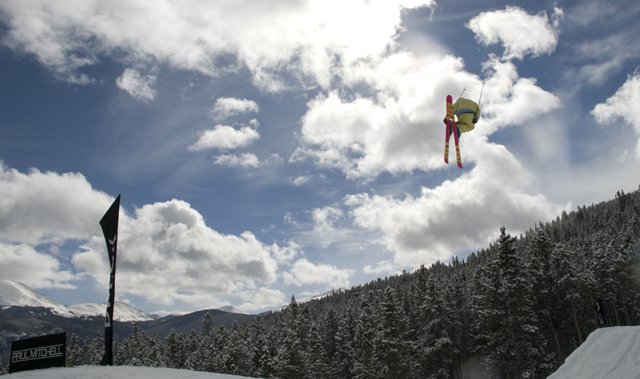 Jen A: New colors/patterns for jackets and pants.
Jenn H: Unfortunately I missed SIA this
year, thanks to some amazing event planning on some brilliant persons part, so
as a result I haven't had much of a preview of what's to come yet, but I'm sure
there is going to be some pretty wicked shit!
Julie: I just got
to ski the K2 Missbehaved, and they rock. I'm just excited that companies are
finally making skis for women who rip, and not just women who want to look like
they rip.
What's your favorite product at Jibij? 
Steph:
Scott Goggles, and the crazy Jibij shirts.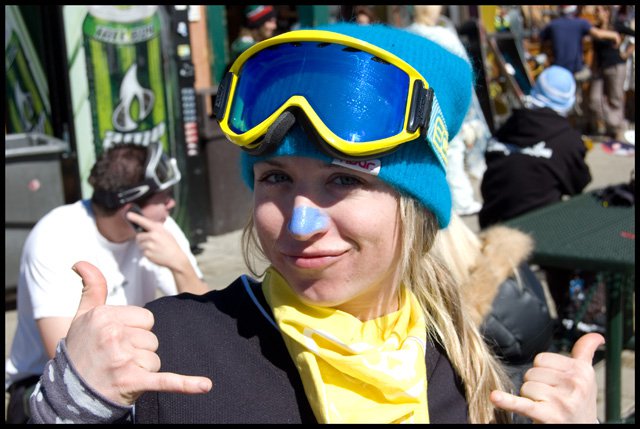 Kenzie:
The JIBIJ is JAWSOME t-shirt! Just cause
its sweet.
Jen A: Moment Donner Party.
LJ: Hmmm - all of them? Haha.
Jenn H: Pretty stoked on my new Jawsome
shirt :)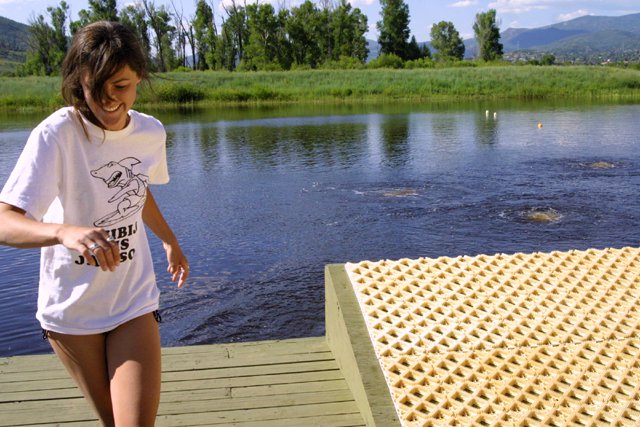 Carrie: I love my Helly
Hansen suit! Its super lightweight, warm, and not to mention I feel like a babe
in it.
Julie: Everything
is cool. Jibij does not carry anything that is not worth having.
Do
you feel there is anything lacking in products for women?
Steph:
Hmmm…Skiing sports bras…?
Kenzie: Designs and patterns, everything
for women is plain colored and girly. It would be sweet to see some allover
print jackets or pants. 
Jen A: Better sports bras.
LJ: I have never ridden womens specific gear
on principle: If it's necessary to have lighter, softer skis to do the same
things guys are doing I feel it's cheating almost. Also the majority of womens
skis are too soft for a truly aggressive female skier - there are some that are
improving but have a ways to go.
Jenn H: maybe longer coats? For those of us
tall girls that is...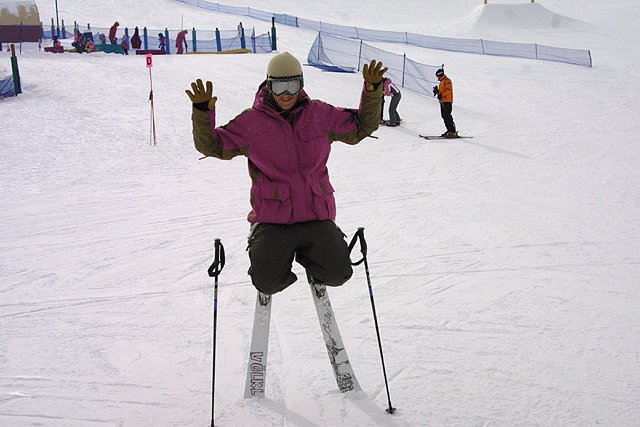 Julie: Now that
skis have finally come around for women, boots need to do some catch-up. Unless
you want a race boot (ugh), you can't find a stiff enough women's boot for big
mountain. And, I have super small feet, so I can't even buy a dude's boot.
Jon  Hartman: Sports Bras!
What are some memorable experiences from riding with the jibij team?
Steph:
I will never forget going to South Korea with the Jibij crew…hands down, the
best trip of my life!
Kenzie:
Loving the Gaper Day... that was pretty
sweet.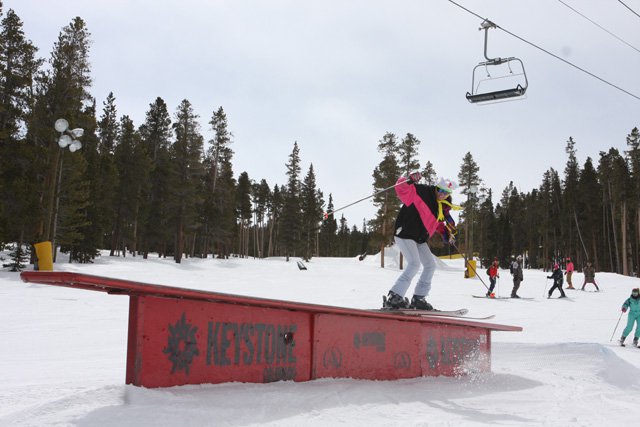 Jen A: Gaper Day '08. Good times.
LJ: Powderhorn last February - going
exploring and taking some time to rip some snowy trees - it was nice to get out
of the park and just ride simply for the fun of it.
Jenn H: Powderhorn was really cool, kinda
the first time for us with the team. Oh yeah, and what I can remember from the
opening this past weekend!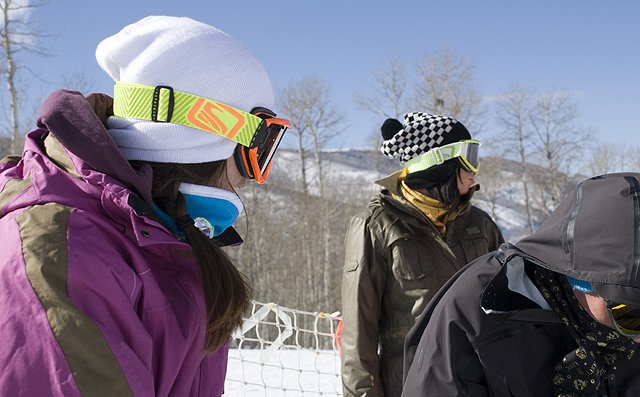 Carrie: Watching Patt do switch double backs
was insane on closing day!
Julie: Shooting
with Jibij is always a good laugh for me because someone always does something
really dumb. In all seriousness, though, it makes my job easy since they're all
solid skiers who want to be out there doing what they're doing. I did
thoroughly enjoy our excursion to Casa Bonita and watching LJ throw his food on
the ceiling.
What experience or accomplishments did you have before getting sponsored?
Steph:
I'm not sure what triggers sponsorships, I am going to say exposure and
competition results.  But, I didn't do
anything that great before I got on the Jibij team, back in 2003.  But I guess Josh saw some potential in
me….thanks Josh.
Jen A: 2nd Place Finish at the Aspen Snowmass Extremes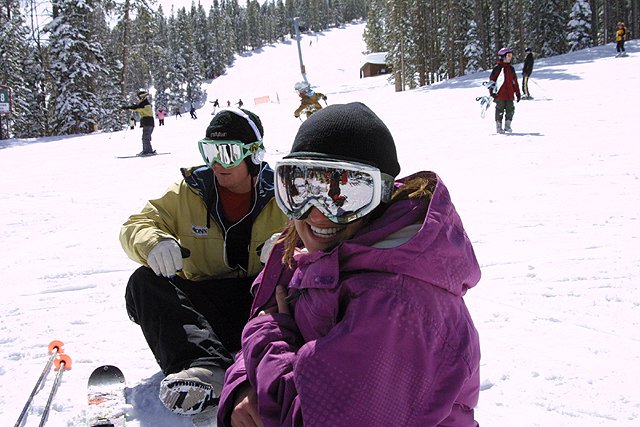 LJ: I've been competing for a few years
now...probably my biggest accomplishments are winning the Mega MotherHucker big
air at MS and getting over some hesitance to be comfortable with that setting.
Getting second in the VTO slopestyle. I broke my wrist two days before and had
a cast and no poles - first time competing without those and I guess it stuck
cause I love riding with no poles now. But it was awesome - I really was able
to put it out of my mind and charge regardless. By the way Steph got first and
she was straight killin' it!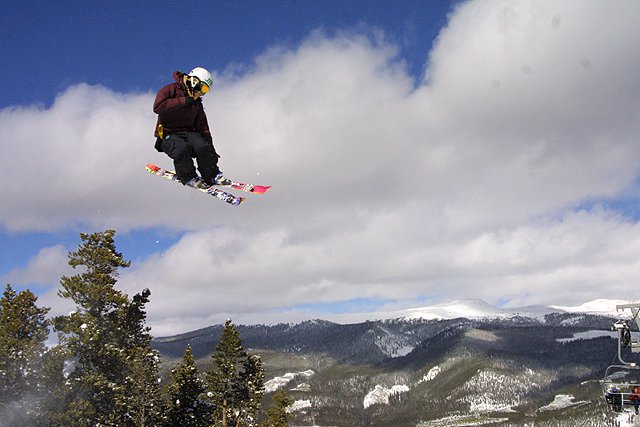 Jenn H: I got third in the Big Bear open and
5th in the NZ open.  Skied around the world... 
Julie: I had made
a little name for myself with my photography and kind of just kept on talking
to different people and got my name out there. If you are friendly and do good
work, good things happen.
What's the best perk you've gotten from being sponsored?
Steph:
Besides the free stuff…the opportunity to meet cool people.  I went to a Bula photo shoot at Winter Park
last year and met JF Cusson, Frank Raymond, and Lindsay Dyer…I was a little
star-struck. 
Jen A: Josh's help!
LJ: Probably more people to ride with -
having people to go to comps with. Getting some recognition photo wise on NS
and stuff.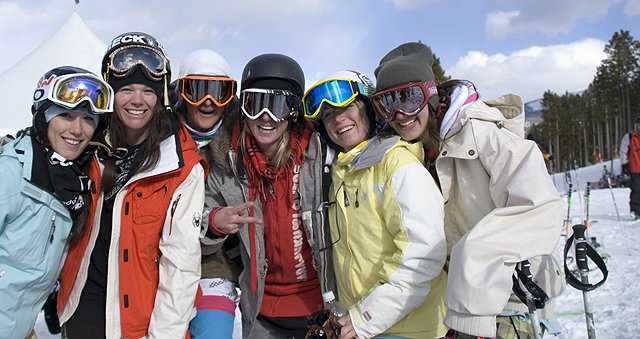 Jenn H: Sweet new friends...connections
Julie: Free stuff!
Any disadvantages of being sponsored?
Steph:
The pressure I put on myself to perform, it doesn't help to be stressed before
a competition.
Jen A: I'm not sure what I'm expected of at all times!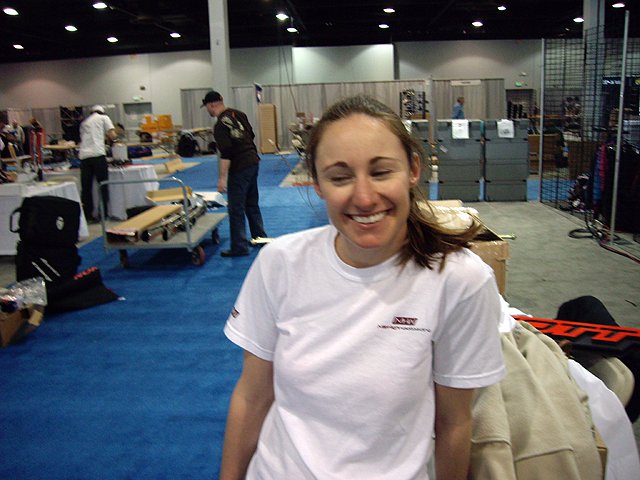 Jen learning how to take down a tradeshow booth.
LJ: Not really except sometimes you have to
wear really girly parkas even if you don't want to!! Haha jus kiddin' Josh.
Jenn H: Not really, unless you make it your
priority... industry politics isn't nearly as fun as skiing is.
What's the busiest time of year for you? 
Steph:
December and January is spent trying to hang with friends and family for the
Holidays, as well as train for competitions…I'm lucky my parents like to spend
Christmas in Breckenridge.
Kenzie:
Probably Christmas time, between work,
gapers/tourists, family visits, and skiing, and I have to pick out a bunch of
Christmas presents and I always forget things so I am running around all the
time. 
Jen A: October through March. Mixture of skiing, working, and schoolwork.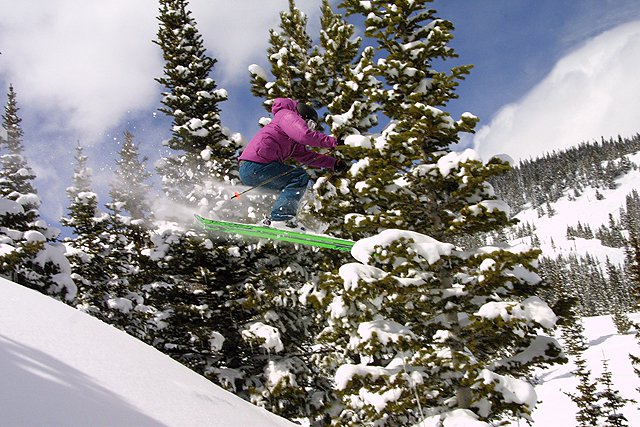 LJ: Winter-competition season.
Jenn H: Always and never...I'm a slacker so
always should be doing something and never quite am.
Julie: It used to
be winter because I was in school and skiing, both full time. Now that I have
graduated, I don't know what will happen.
All of you girls have a college degree, or are working towards one. Education
vs. Experience…which do you think is more important?
Steph:
I don't think one is more important than the other, but chronologically,
education comes before experience.  I
think a good education can allow you to make your experiences more
meaningful.  After you've got them both,
it's all about who you know.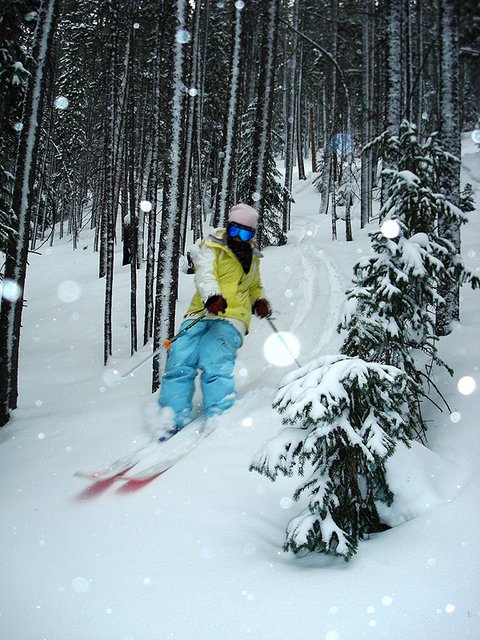 Kenzie:
I feel that it is really important to
balance both. I wish that I could ski everyday and not have to worry about
school but I know how important it is. There are only a handful of
people who can make skiing a career and there are tons of people who wish that
they could. I think that education is the best thing to fall back onto. I have
never wanted to limit myself and with a college degree it lets me do the things
I want to do. 
Jen A: Education is important, but you can't get anywhere in life without experience.  Experience has much more weight in order to succeed in life.
LJ: I actually don't - I took a year off
between high school and college to pursue skiing full time - it's turned into a
couple more years and I have absolutely no regrets - I have my whole life to
pursue further education and only a limited time frame when I'm able body -
wise to be in this kind of sport - so I am definitely going to college in
the future but for now I will continue to pursue skiing to the fullest.  I think being wise and taking in all that
you can from life as it comes to you is the most important.
Jenn H: Experience.
Carrie: I think both are
important...experience is education but there are some things that can only be
taught in a classroom.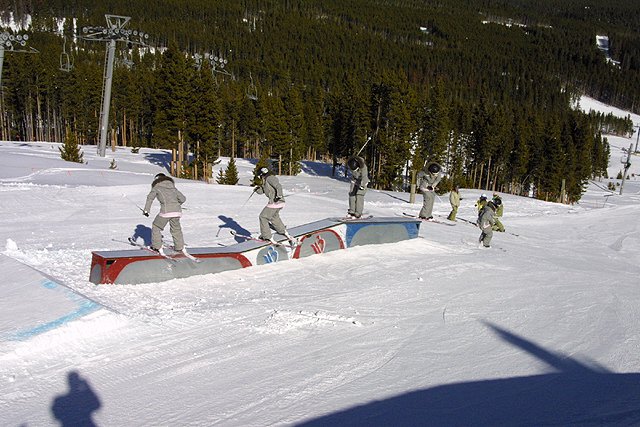 Julie: Well, that
is a good question. As of right now, I do not see how my college degree is
going to do anything for me, and so far it has not done much to help me. My
experience and getting myself out there has helped me get where I am with my
photography and journalism. At some point, I assume will want to make some real
money and get out of the ski industry. When that happens, I am sure I will be
happy I have a college degree.
Since you became involved in the ski industry, what's been the biggest
surprise?
Steph:
I was surprised that some guys are negative and discouraging toward girl
athletes. I always thought they would be stoked that there are girls into the
same stuff they are.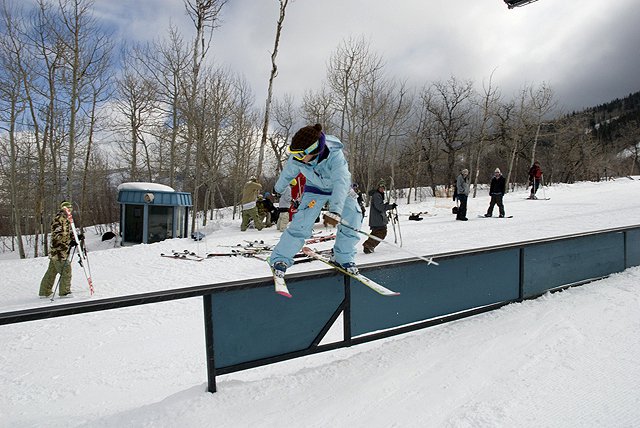 Kenzie:
How small of a community it actually is.
Everyone is basically connected to everyone else in some way, and it is because
we all have the common love for the snow and skiing. Each person in the
industry works hard because of that commonality and it is neat to see that it
has enabled others to make a living doing what we all love to do. 
Jen A: The amount of people I have met and seen over and over again throughout the winter.
LJ: How attainable it is when you work your
hardest - getting closer to where I should be every year.
Jenn H: I like skiing a lot more than I like
the skiing industry.
Carrie: How involved everyone is with
competition skiing. It kind of bums me out sometimes.
Julie: I did not
expect the industry to be so secretive. I knew that you get places in the
industry by knowing the right people, but I didn't realize how huge a roll that
played.
What advice would you give to people wanting to be a part of the ski industry?
Steph:
Practice during the season and train in the off-season.
Kenzie: The industry is all about
connections. The best way is to put your self out there and meet as many people
as possible.
Jen A: You better enjoy talking, drinking, and skiing with very little sleep! Also, remember not to take life too seriously in this industry. LJ: Work hard... and have fun with it!
Jenn H: Be persistent.... not sure I'm the
best person to offer advice.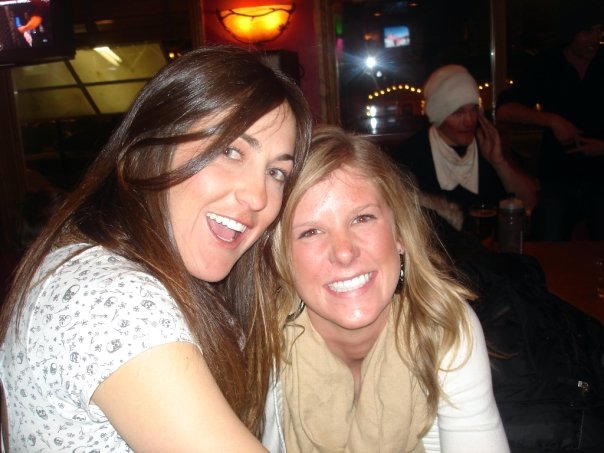 Carrie: Stay positive and work hard even if
you don't see results right away... someone will notice you!
Julie: I've been
meeting a lot of kids who think working in the industry is glamorous. It might
be if you are on the board of a big company, but it's not for the rest of us.
So, find a different industry if you want to make money, and only stay in
skiing if you are truly in love with it. And, to you photographers, don't give
your work away for free!
Final thoughts?
Steph: Whatever level of skiing you do, pro or recreational, make sure you're
having fun!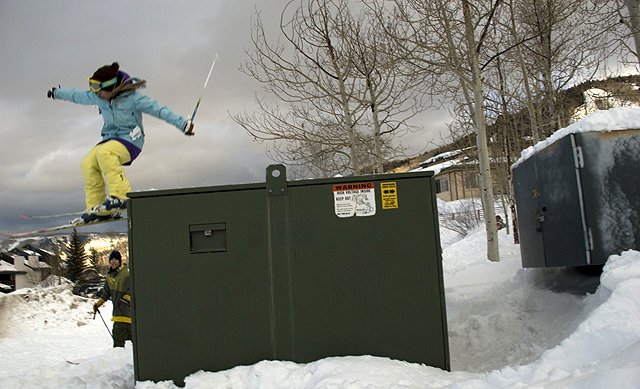 Kenzie:
Well I just want to say that Jibij is
sweet and I love all the people on it. I have fun skiing with you when I can,
and there will be good times ahead. 
Can't wait for the snow :)
Jen A: If you have the passion for skiing, continue to enjoy the sport. As soon as the fun stops, it's imperative to take a break and remind yourself what is important to you about the sport of skiing.LJ: I love skiing. Peace, Love, and lotsa snow to all.
Jenn H: Goodnight!
Julie:
Jibij is a great store owned by someone who genuinely loves skiing. So, go buy
stuff.