Interview by Dylan Anderson
Explain the origin of Hood Crew.
Mt. Hood, OR. It all started with the OG Solution Crew with like Griffin Cummings, Josh Frasier, Josh Larkin, Tommy E, Pastey 'n EP. Might've missed a few names from the first generation, but some of these guys first brought no poles into the industry like at the first year of Superpark. Then came a younger, hungry crew out of Portland 'n Hood River. That really took off with kids like Scott 'n Garrett Rowley, J. Ware, J. Naito, E. Preston, B. Spere, Mychal and just mad bredrens being mad stoked on skiing. Hood Crew has always been about bringing fresh style and personality into freeskiing. Gotta keep the sport fun and lively. Skiing is a party!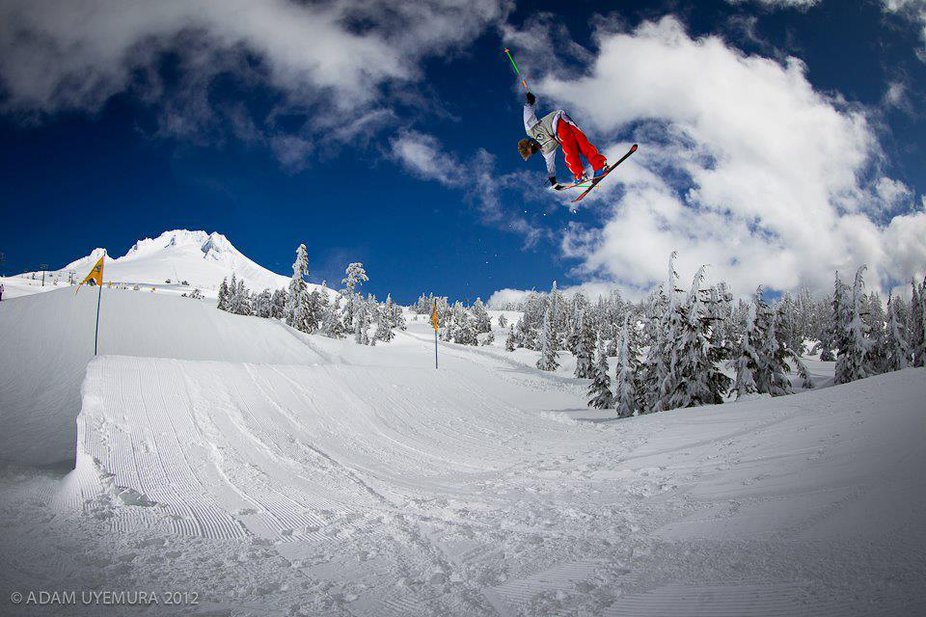 Photo by Adam Uyemura
Who you jammin' to nowadays?
Speakers 'n headphones usually bump Pete Rock, Digable Planets, Black Moon, Lord Finesse, InI, Tribe, Mobb, of course R.I.P Guru 'n Big L, Eric B. & Rakim, EPMD, Slick Rick, some Killa Cam and everything Hip-Hop. If you's tryna get turnt up on some loud that has been polluting the streets, it's gotta be Chip Tha Rip, Jeezy, Gotti, Clyde Carson, Messy Marv, Free Boosie, some BSM, Future, 40 Cal., Meek, occasionally 2 Chainz aka Tity Boi and the very rare Cashin' Out by Cash Out (laughs) (Yes, some of it's terrible). If you're tryin' to hear something fresh, here's a link to my brother A3L's new single: "The Sound"
https://www.newschoolers.com/videos/watch/788444/A3L----THE-SOUND--------2012
Best meal before a day of skiing?
Shout out to Daylight Donuts in Breck. They make stellar food.
Where does "Scrappy Joe" come from?
(laughs) Long story short, my brother A3 and I were cypherin' in his whip and he had an idea for an MC name for me. It was "Scrappy Joe Montana", fixed it up a lil' bit now I'm ballin' outta proportions as Scrappy Joe Young.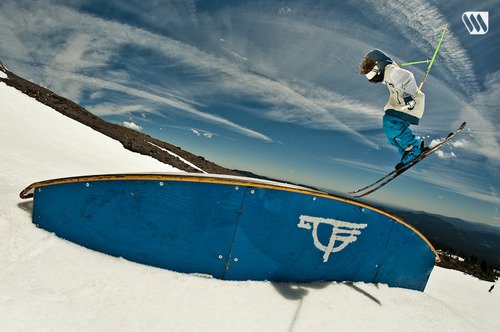 Photo by Trevor Woods
You recently got picked up by ON3P. How was that?
The best. Hands down, most durable ski in the industry. ON3P's new slogan should be "we make lavishly fly whips" or something. Best part is they're outta my home town: Portland, Oregan. Helped out finishing off ski's through September and October, got a chance to learn the mechanics of making a ski. Shit's not easy folks and they do it extremely well. So much care, love and precision has to go into hand making a ski. Just wait until this new team ski comes out, everybody's about to be taken to church. All I can say is it's too turnt up. (laughs)
Photo by ON3P Skis
Funniest Hood Crew related story?
The summer of '11 as a whole aka 2hawtfosummacamp. 7 people living in a 2 bedroom trap, waking up at the crack of dawn for work and having Garrett, Jeffe, Able cleaning the roof still swell as can be in their swim shorts. Danny aka Freed broke two cameras, got his dish washing tickets plugged by poaching windells, blacked out twice on the 4th of July – the first being a concussion from mobbing first run holding a cam, C-Bo watched the whole thing go down. Homie (Danny aka Freed) overshot a jump deep into the flats, Freed continued hauling ass into a roller before the rails, flew over the roller, took out a snowboarder and laid on the ground blacked out for 20 min. since no one cared to help this random reckless fool (Freed). Meeks peed on Lauren Thizzle's Dro Pro after smashing it on a tree. Hopkins disappeared for a few weeks. A4 flipped and left abruptly in August when his skis got jacked for the second time. Every couple of days something more ridiculous would go down outdoing the week before.
How the hell did you manage to get into High Cascade?
Work da system. We'd always post up after lifts close and hide out in the rocks. If you poach during the day, they'll try and chop your domes off with their snowboards. We pulled it off a couple times clean the summer of '11, but only went through once this past year. It's best not to piss off Timberline and the camps that pay for lanes when people's jobs are on the line. Eventually High Cascade will change their camp logo to our fresco new sticker$.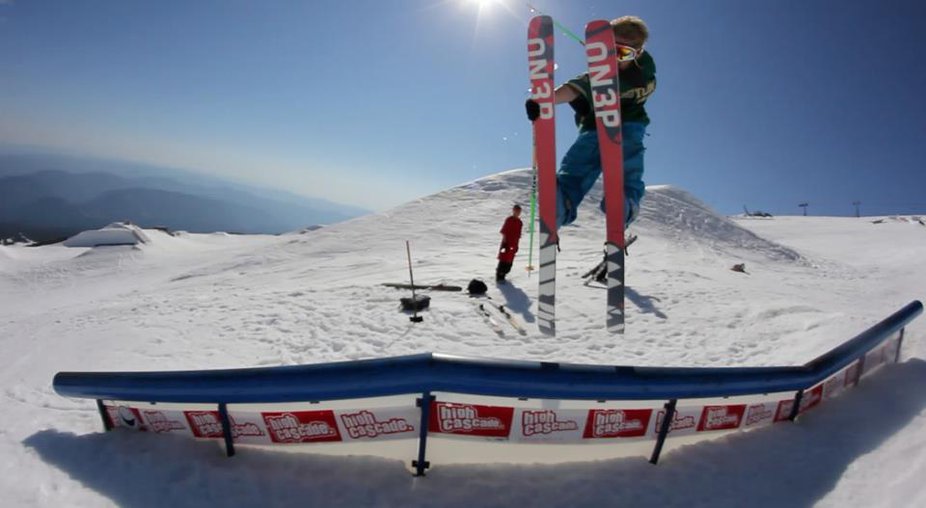 Photo by Hood Crew
Is trappin' dead?
Trappin' aint dead, Trappin' was never dead and trappin' will never die.
HOOD CREW TO THE WORLD.
My Pre-season edit from CO so far:
http://www.newschoolers.com/watch/589507.0/Joey-Vandermeer-Colorado-Preseason?c=11&o=10&t=2