Words & photos by Patrick Monteith
Have you ever dreamed of getting up for work in the morning, and instead of putting on your clothes, you put on your ski gear? I assume most skiers would agree that if they could ride every day, and get paid for it, it would be more than a dream come true. Unfortunately most people think that this dream is only lived by dirt poor ski bums and rock star pro athletes, but I'm here to tell you that this is simply, not true.
My name is Patrick Monteith and I've been dreaming of a life of minimal work and maximum skiing for quite some time now. Pretty unrealistic dream hey? I thought so too, so I began dreaming of a career where skiing was incorporated as much as possible so I'd actually enjoy going to work. Well, my dream ended up in Nelson B.C., attending college in a program designed for anyone who wants to make a career out of shredding. I'm currently in my second year of a two-year program focused on the ski industry and have had more fun, skied more powder, and connected with more industry people than I could have imagined in nine short months. My far out ideas have become realities with some help from the people I've met and the crazy activities I've been a part of in school.
Nestled deep in the heart of the Kootenay Mountains of Interior B.C., Selkirk College has been existing with the Ski Resort Operations and Management program for over 30 years. SROAM is a two-year diploma program that focuses on all aspects of the ski industry from Heli Operations to Slope Grooming to Events Hosting and everything in between. It is taught by previous Resort and Area Managers with years of industry experience at resorts across the country.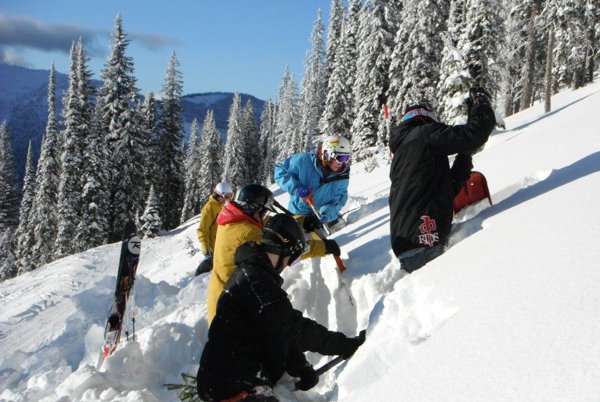 Practicing pit digging and reading snowpacks.
The aim of the program is to get students involved in the industry and fast track them to careers in whichever area's they choose to specialize. With past grads currently managing ski hills, such as Steve Paccagnan, who is President and CEO of Kicking Horse Mountain Resort, and Phil Pinford, who is part owner and operations manager of Retallack Lodge, the course shows a proven advantage in an industry where you will find SROAM grads at almost every resort.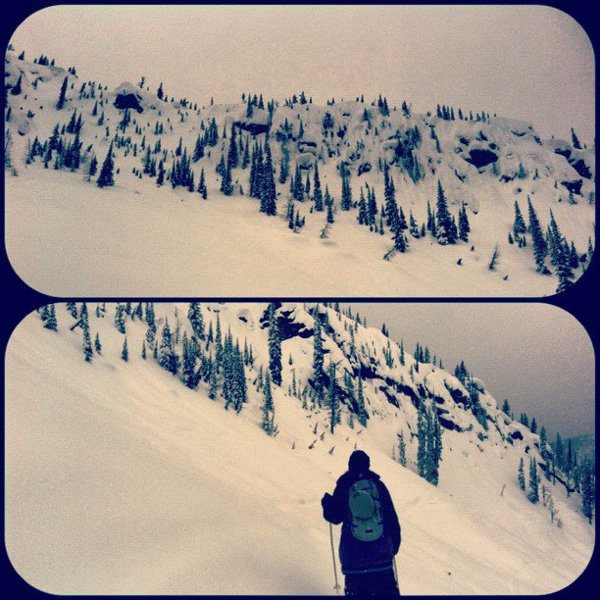 The legendary Trash Chutes at Whitewater, BC.
When you're not learning in the classroom, you're learning how to avoid choking on the country's best powder at Whitewater Resort, a convenient 20 minute drive from the town of Nelson. Pillow lines, steep glades, open bowls, narrow chutes, cliff bands, short lines and waist deep are some of the things you should expect to experience on your average day at Whitewater. And oh yeah, did I mention that class trips take you to countless of the best BC and Alberta resorts? Several trips make sure you get a good taste for what Western Canadian skiing is all about, as well as what the local towns have to offer for nightlife.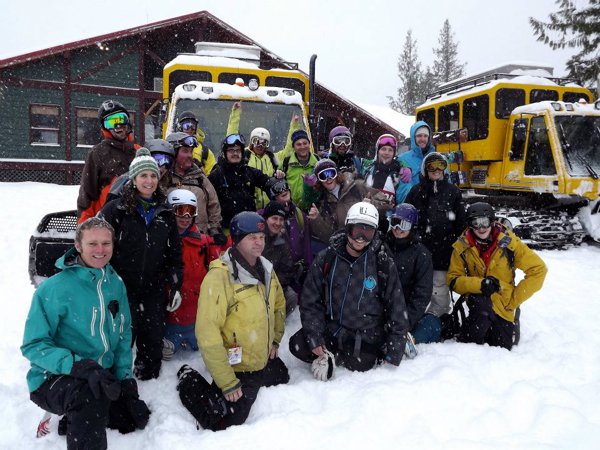 Field trip to Selkirk Wilderness Cat Skiing in Meadow Creek, BC.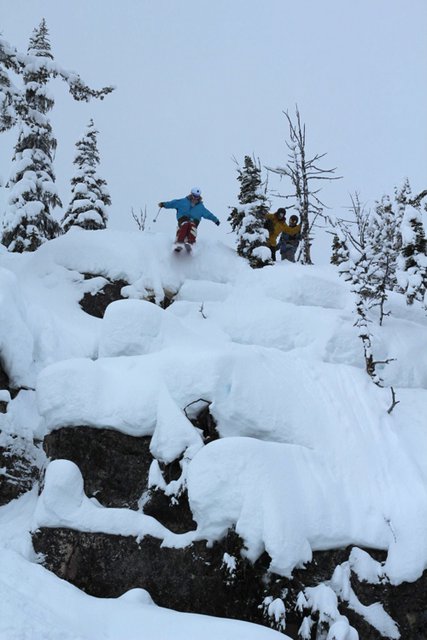 Field trip to Kicking Horse Resort in Golden, BC.
The town of Nelson is a truly unique place to live and attend school as well. It is a small town of about 10,000 of the happiest and most active people you will ever meet. Getting the most out of life is definitely the attitude here with the community being very involved with every outdoor activity imaginable such as mountain biking, fishing, hiking, frolfing, skateboarding, ski touring and drum circling. When the sun goes down the interesting mix of people that make up Nelson don't sit at home, they go to one of the many fine bars such as Spirit, which brings world class music to a small town with big names such as Raekwon, Nero, Zeds Dead, Ghostface Killah, Subvert and KRS One all passing through in the past year, ensuring you can always expect good music and good vibes to be travelling through Nelson.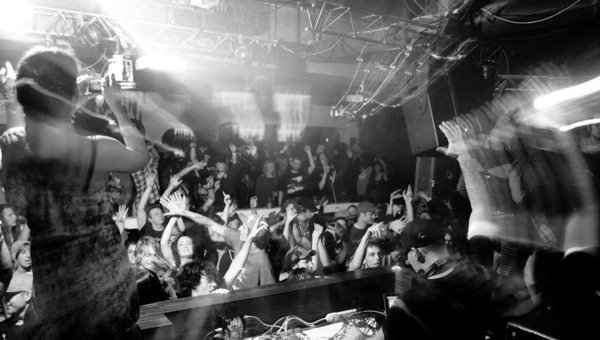 Subvert laying it down at Spirit Bar in Nelson, BC.
The entire experience that you get from the SROAM program is completely unique to one you'd find at your typical college. Adventures and opportunities combined with unique people who share a unique passion to create an academic experience so epic, that it promises you will never regret your decision to attend, 'college'. 
More information regarding the program and classes is available at http://selkirk.ca/programs/ht/ski, or feel free to message my username (bigwhite.steeze) here on Newschoolers with any questions you may have!