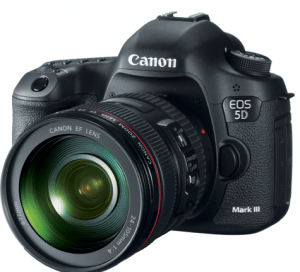 Hey there photo nerds. We're all in this together and today Canon just added more fuel to the HdDSLR fire – the much-anticipated Canon 5D MK III is here. They made some interesting choices on pixel count, recording modes, etc. So let's review the skinny of it all.
Here?s some highlighted specs:
_22.3MP Full-Frame CMOS Sensor
_3.2″ Clear View High Resolution LCD
_DIGIC 5+ Image Processor
_61-Point High Density AF
_Full HD 1080/30p and 720/60p Formats
_Built-In HDR and Multiple Exposure Modes
_Extended ISO Range (50-102400)
_Up to 6.0 FPS Continuous Still Mode Shooting
_Dual CF and SD Memory Card Slots
_Magnesium-Alloy Construction
The curve balls for the people I'm talking to? The no 1080 at 60p. Please note I HAVE NOT touched one of these cameras – unlike Nikon, Canon doesn't trust me with a 10-foot pole and I get no advance copies of these cameras.
The look? She's small and sleek. Click thru a range of images of the camera via the above tabs.
Now, not unlike what I've done with the recent launch of the Nikon D800 and Nikon D4…rather than me spouting off about having played with the system or telling you what your feelings about this system should be, I?m turning the tables back to you. What?s your take? Love, hate, indifferent? Insights? I know that Canon folks, including, ahem, Chuck Westfall read this blog, so your comments on this post – glowing or otherwise – might help inform Canon and the rest of the camera manufacturers about what your thinking…
Link to all the Canon 5D MK III details and/or purchase here via B&H.