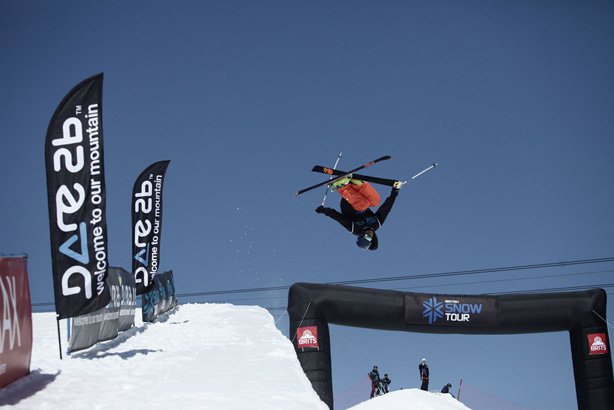 The BRITS Snow & Music Festival has wrapped up its eighth year of world-class riding, pumping parties and some adventurous après sessions in the freestyle mecca of Laax, Switzerland. In true BRITS style, festival-goers and competitors were treated to relentless sunshine, (plus a bonus powder day at the beginning of the week) for the four days of British Championship events in Snowboard & Freeski Slopestyle, Halfpipe, Cross and Big Air.
Despite missing a few key players due to injury, the standard of riding continued to showcase the depth of British talent, with a special mention going out to the outstanding level of riding from the youth categories.
In true BRITS spirit, freeski newcomers and unknowns Lucas Hogland and Chloe Hardy exploded on to the scene to take medals in the Protest Freeski Slopestyle Championships, with Lucas going on to podium for the second time in the British Freeski Big Air, whilst Pamela Thorburn put pedal to the metal in the Trespass Skiercross Championships to take home gold. James Machon successfully defended his British crown and took home gold in the Dare 2b Halfpipe Championships for the fourth consecutive year. Once again the youth categories continued to show how fast UK riding is progressing with 15 year-old Tyler Jay Harding riding solidly throughout the competition and 14 year-old Michael Rowlands placing fourth overall in the men's Slopestyle.
Buy Snowboard Gear From Mpora Gear
Related posts:The Brits 2012 The weeklong winter festival is back for its 23rd year,...
Brits 2012: Big Air Finals! In true BRITS style the sun continued to beat down...
The Brits 2012: Halfpipe Champs Laax, Switzerland is the place to be right now as...