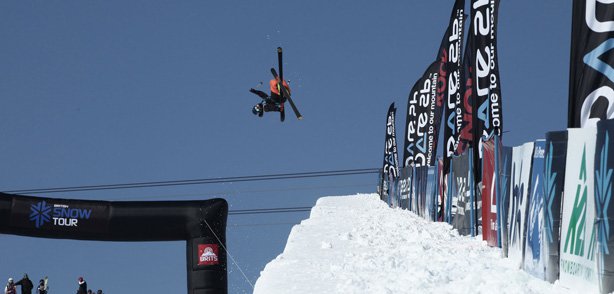 Laax, Switzerland is the place to be right now as The Brits are in full flow. We've just recently had the halfpipe competition and seeing the best of the British talent throw down has been something to behold. So here's the latest news from Laax and you'll get to see highlights from the halfpipe as well!
"A fresh covering of snow, Laax's pristine superpipe and blue bird conditions greeted riders on the first day of competition at the Dare 2b Halfpipe Championships. It was go big or go home for Britain's finest skiers with BRITS regular and Dare 2b rider James Machon taking gold for the guys and BRITS newcomer Janina Kuzma exploding on to the scene to take the top spot for the girls.
The girls were up first and Emma Lonsdale hit the pipe hungry to defend her eight time crown. Unfortunately for Emma she had some serious competition from BRITS newbie Janina Kuzma who impressed with her huge safety grab and 540 to start her winning run. She then threw down grab after grab with an alley oop critical, mute, tail and japan grab finishing with a right side 5. "I'm a Kiwi but I?ve got a British passport as my Dad is from Scotland, I?m competing on the Freeride World Tour ? there was a few days free before Verbier so I thought I'd come and have a go, with the halfpipe being included in the Olympics I thought It would be a perfect warm up for the AFP World Champs," commented Janina. Emma picked up the silver with an array of grabs, a massive alley-oop 3, straight air and 360 to conclude her run. Anna Vincenti took home the bronze with an alley 5, two straight airs and a 360 to end. ?
The men's final was fiercely competitive with James Machon pulling out all the stops to defend his British title. He started with a huge flair tail grab, right side 9 tail grab followed by a left side 9 tail grab. In case there was any doubt he pulled off a stellar second run with a right side 7, switch 7 and huge flair to cement his number one spot. "I'm very happy to win again, Dare 2b have been really helpful and supportive this season and it's good to see them supporting the halfpipe event," said James.
?Peter Speight had shown huge promise in qualification and in his second run he stomped a massive flair with safety grab, a right side 5, a left side 5 and a straight air, saving the big guns for last as he finished with a huge 900 safety grab leading straight into a right 900. Murray Buchan had looked like the one to beat in qualification with MC Christian Stevenson saying ?now that?s how you do a final run!? when he sent it out the pipe stomping a 9 tail grab, right side 7 safety grab, switch 3, right side 5, a colossal 1080 and a switch air to finish.
A special mention goes to former Olympian Snowboard Halfpipe Dan Wakeham who tried his luck in the Master's category on his sixth day ever on skis. Yes – his sixth day ever on skis! The crowd went wild when Dan landed a styled hand plant at the end of the run ? maybe we will see him convert to four edges in future!
British Freeski Halfpipe Championships Results
Men
1st – James Machon
2nd – Peter Speight
3rd – Murray Buchan
Women
1st – Janina Kuzma
2nd – Emma Lonsdale
3rd – Anna Vincenti
More Ski Videos
Related posts:Brits Halfpipe Championship, LAAX 2010 Today saw the opening event of the British Championships, the...
The Brits 2012 The weeklong winter festival is back for its 23rd year,...
BRITS 2011: Protest Freeski Halfpipe Championships 2011 The BRITS kicked off in spectacular style today at The...