When bad things happen back to back … to back … to back … you just gotta keep your head up.

By Ingrid Backstrom originally posted by ESPN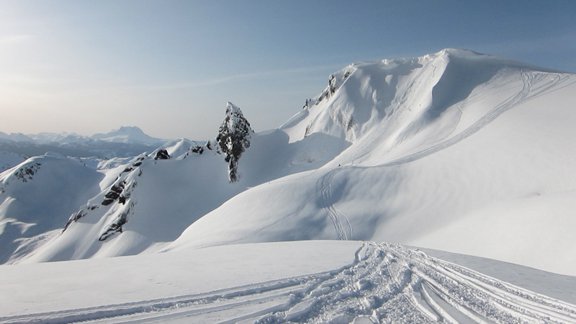 I
So far so good, at least at this point …
On Thursday, I ruined the first pair of skis. My treasured Katanas, favorite pair ever, sheared apart when I strapped them sticking too far out from the sled. The tails caught in the snow when I rode through a steep ditch, ripping the heelpieces right off the skis, breaking the plates in half and leaving the topsheets warped and little fiberglass hairs sticking out every which way. Ouch …
The next day, I scraped up my car — a super shiny Subaru Outback that is probably my other most favorite possession — on a hidden cement block pulling into the Base II lot at Blackcomb. But Kevin the Volkl rep had brought me a new pair of skis, and SnowCovers had mounted them up for me. So as I backed away from the cement to the sound of my passenger side door crunching, I thought: Oh well. I can deal with the car later. I have skis! I'm going skiing!
I made three glorious laps of Spanky's and Teetering with my friend Brian. Feeling good on the new skies, I was getting stoked for the following day of filming. Stuff is just stuff, I reminded myself. At the time, I thought I was just having one of those weeks where somebody is trying to tell you, "Don't get too attached to material possessions." (And, "Watch out for cement blocks, dummy!")
Saturday began in an exhilarating fashion, although any time I am on a snowmobile is exhilarating because I'm usually hanging on for dear life. We were headed up a valley in between Whistler and Squamish to check out some hopefully still-untouched lines. The first part was on cat roads, which I can handle, but then we got into some tricky uphill terrain. I kept getting sucked to one side or the other and not quite making it up, so I'd have to pull a Hail Mary and turn around without getting stuck. Then I'd drive back down like a grandma and execute an embarrassingly wide circle at the bottom before making my second (or third, or fourth) attempt.
Luckily, Scott Gaffney (a fellow sled novice) and I were accompanied by Rory Bushfield and Jeff Patterson, both experts and extremely patient guys. They would ride ahead and scout the route for us. We finally arrived at a beautiful perch overlooking several terrain features and the hazily lit valley all the way back to Whistler and beyond.
I
That can't be good.
Nothing was really jumping out for me to ski, but with a little time and some prompting from Gaffney, it was determined that Rory would shuttle me over to ski a warm-up run through a chute just opposite us. On the way to the line, I wanted to look at an air that we had seen from a far. I thought the landing would be too flat, but when I saw it close up, it looked good to go. So I skied the warm-up chute and Rory easily tandem-ed me back up to the top for the air. After some fiddling around and more inspecting, I was ready to drop.
The snow was a bit wind-hammered on the few turns before the air, so I made a single sliding turn, spotted the take-off and I pointed it. But I got a little bit off-balanced in the air, and I hit harder than I expected. So I started to tomahawk, just like I've done so many times before. Except for this time, it hurt — immediately, and bad. I was pretty sure it was my Achilles, but there was no sense in freaking out; we still had to get out of there. And besides, maybe I had just injured my calf muscle. I hoped for that as Rory skied a few more lines and we started the process of snowmobiling out.
I was making fine progress sitting down and only crying a little, mostly when no one was looking — it hurt! But as long as I didn't have to use the lower half of my right leg, I could still stand up a bit. This method worked just fine until I didn't quite make it up the biggest hill. Rather than plunge off the cornice and back down to the bottom, I parked it and waited for Rory to help get it to the top before climbing back on and starting the sled. I gunned it but it didn't go. I fiddled with the key a bit and revved it again — nothing. I looked over and saw Rory pantomiming to remove the parking break. Duh! What a moron. I switched it off and started after them.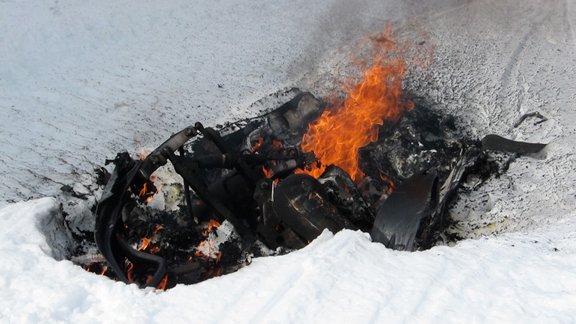 I
Reduced to ash, the whole thing (plus skis and boots).
Half a kilometer later, I noticed some smoke rising from the engine. Steam from melting snow? I wondered for a brief blissful second before I saw the flames. I totally panicked. Screaming, I limped as fast as I could away from the sled in the direction I came from. I got out my radio and alternated screaming into the sky and into the radio and both, in utter hysterics as the snowmobile — which until that moment had not belonged to me –burst into flames. In under a minute, the whole thing was fully engulfed in flames. It was a massive bonfire of metal and plastic & as well as my second pair of Katanas, fanned by the increasing wind.
Scott finally arrived on the other side of the burning machine and instantly got out his camera; Rory got there and rode over to where I was and just started laughing, which got me laughing in between crying fits. We rode over to Scott, who said, "Sorry. And I'm sorry about your second pair of skis." I was like, "Yeah, me too. And I'm sorry about your ski boots," which reminded him that he had left them tied in a bag on the back of my sled. Oops!
We waited for the sled to burn to the ground for a few hours before collecting the pieces and dragging them out behind Bushey's sled ("Sarah just loves it when I bring junk home," he remarked, ever the optimist) at a glacial pace with him insisting that I sit down for comfort. Scott drove behind us and picked up the remnants we dropped all the way to the trailhead.
Total destruction tally in 72 hours: Two pairs skis and bindings, one pair of ski boots, one snowmobile, one passenger side car door, and one Achilles tendon. But the stuff is just stuff, the tendon is healing, and there have been several silver linings out of the whole experience, like spending lots of good time with family and friends while laid up. Learning from Bushfield that in some tough situations, all you can do is just laugh? Priceless.