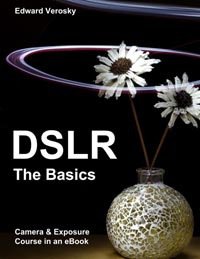 Got a DSLR but not using it to it's potential? DSLR: The Basics is a new eBook Course that could be for you.
Written by Edward Verosky (an author many dPS readers will be familiar with) this eBook was launched in the last few hours at the special introductory price of $9.95 USD.
In this PDF eBook Ed covers the following:
Basic DSLR Camera Features
Understanding Raw vs. JPEG
ISO, Aperture and Shutter Speed
The Fundamentals of Exposure
White Balance
Shooting Modes
Flash Basics
Evaluating & Improving Your Shots
Other eBooks by Ed Verosky – 100% Reliable Flash Photography – Taking Your Portraiture to the Next Level - Taking Your Portraiture to the Next Level II – Budoiur Photography.
Post originally from: Digital Photography Tips.
Check out our more Photography Tips at Photography Tips for Beginners, Portrait Photography Tips and Wedding Photography Tips.
The Basics of DSLRs (a new eBook by Ed Verosky)