決して2 3なし. Another way to say it would be, KUMI YAMA! 
"Why change the ingredients when you've got a tasty recipe?" We are not too sure what the Japanese translation is however, we are certain that the third edition of KUMI YAMA will be held this summer 2010, at 2300m at the 2 ALPES Glacier in France from July 2nd – 4th. 
The creation of KUMI YAMA was inspired by Japan's culture. KUMI YAMA has quickly found its way through the rank of major events of snowboard and ski freestyle scene in France. 
KUMI YAMA is a slopestyle "Kamikaze" contest. Riders compete in teams of 3 and are required to perform choreography as a team. Amateurs are invited to join pro-riders in the main draw through a qualifying contest. The event also includes a Superpipe competition with division for both skiers and snowboarders.
KUMI YAMA invites photographers and graphic designers to pair up to participate in the "photo / graphics" contest. This portion of the event is open to pros and amateurs, everyone will have 2 days of shooting to capture the best moment of the week-end. A jury composed of professionals will select the best images to be exposed during the last day of the event. The prize for the winning team is a pair of plane tickets to Tokyo. 
In Japanese, Kumi Yama means "Gang from the mountains". This summer Japan invites itself to the 2 ALPES for three days and will definitely bring its Nippon atmosphere! This year, Kumi Yama and Da Camp will hold a summer camp that will take place one week before the event and will be mentored by professionals.
Japanese culture involves traditions; this is why the 2 ALPES snowpark will be peppered with atypical modules conceived especially for the event. You won't see typical modules that you've seen elsewhere! After the Torii door and the giant Gong seen in 2009, 2010 will bring its XXL Sumo, a sunrise, a Kanon rail, a butter flag, and many more modules scattered on the slope style set-up. 
The selection of riders will be like an eclectic sushi tray. An international mix of riders from France, Japan, Canada, Spain, Norway, and Switzerland will be battling it out at KUMI YAMA 2010. You need to be there to witness the action!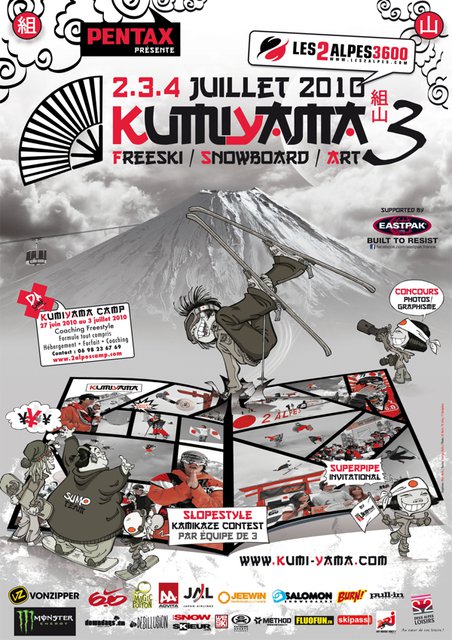 Need more info on KUMI YAMA?
visit: http://www.kumi-yama.com
contact: contact@kumi-yama.com