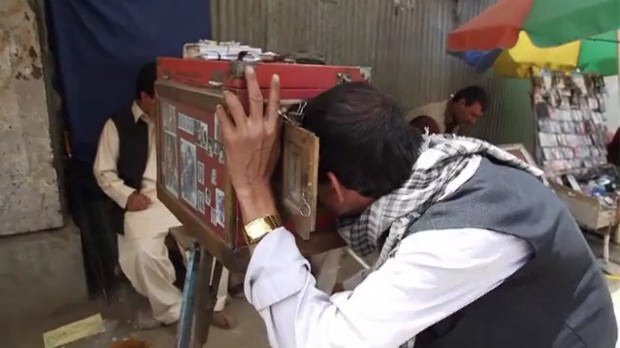 The Afghan box camera, or kamra-e-faoree as it's called in Afghanistan, is a humble creation that has served its purpose well for many years. We say humble because the "camera body" consists of a wooden box, the "focusing apparatus" is a metal shaft attached to a piece of wood, and the "shutter" is controlled by removing and reinserting the "lens cap" manually.
Taking a picture involves a series of complicated steps: from focusing, to acting as a human shutter, to developing and fixing the photo all inside that small wooden box — and that only gets you a negative. To finish the process the photographer has to go through the entire process again, photographing the negative to get a positive. And this is referred to as "Instant" photography… makes you yearn for the simplicity of Polaroid doesn't it?
Here's a video of the process from start to finish:
Sadly, the art of the Afghan box camera is nearing extinction; and before that happens Lukas Birk and Sean Foley, creators of the above video, are trying to document this art form as comprehensively as possible. They are currently about to embark on a second journey to Afghanistan during which they hope to collect even more information for their Afghan Box Camera Project.They've provided a wealth of information and, if you've got some spare time, you can even build you own camera using the instruction manual they've provided.
It might take some time, but think about it, you'd be one of the few people in the world who has one.
Afghan Box Camera Project (via ISO1200 and Make)