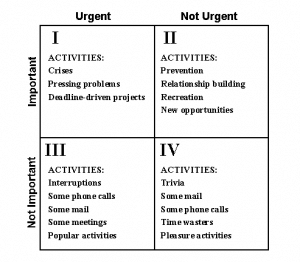 "We shall never cease from striving – and the end of all our striving is to arrive where we began and to know the place for the first time." -TS Eliot
Stephen Covey passed on today at 79.
The following is pulled from his 7 Habits of Highly Effective People. I admit to have gleaned a few important morsels out of this book when a coach made me read it in college. I"m banking you will get something from it to.
Dont forget to "sharpen the saw."
++++++++++
(The first three habits are called "Character ethics." The second three habits are called "Personality ethics")
#1 Be Proactive – Take responsibility for your own life: Have a Personal Vision
-behavior based on value vs feelings based on conditions
-proactive people carry the weather within (no such thing as bad weather) them and make the best of situations. Reactive people go the other way. Rainy day ruins everything.
-dont blame other people and circumstances for your happiness
-you have the power to choose
-your basic nature is to act and not be acted upon
Example: Man's Search For Meaning By Victor Frankel
-how you deal with suffering
-the last ultimate freedom – "They could hurt my body.. but not hurt me"
-Conclusion: You are responsible for your own happiness and fulfilment
#2 Begin with the end in mind: Leadership Habit
-write you value system
-top line – what is it that we're fundamentally about?
-dont tie yourself to history but to potential
#3 First thing first: Management Habit
-manage things but LEAD people. Dont manage people.
-can control of time and events – as seeing how they relate to you mission
-reorganizing your life around your mission and then having the discipline to make it happen
-important vs urgent – must act upon it. Ringing phone.
-QUADRANTS: IMPORTANT (See Diagram Above)
Quadrant 1: urgent + important
Quadrant 2: not urgent + important: exercise, reading, relationships, education, etc
Quadrant 3: urgent + not important
Quadrant 4: not urgent + not important
PERSONALITY HABITS
#4 Think Win-Win
-agree to communicate until "we can find a solution we both feel good about"
-create new options – new alternatives
#5 Seek First to Understand… Then to be Understood
-Example: Try – "let me listen to you first"
-As opposed to the "collective monologue/ dialogue of the deaf"
-first listen – then talk
#6 Creative Synergy
-Creative solutions
-compromise = 1+1 = 1.5
-synergy = 1+1 = 5
-better solutions than alone
-authority vs martyrdom – win-lose or lose-win
-create Win-win OR no deal
-if we cannot get to win win – then lets go for no deal
-approach synergy with an abundance mentality
#7 Self Renewal: Sharpening the Saw
-Review and renew – teach then live
Common sense is NOT common practice
++++++
You can purchase Covey's book here
And watch a great little video about "The Big Rocks" here