Editors' Picks 2017 - Park: Click Here
I recently spent a few days in the mostly sunny and very beautiful resort of Kuhtai, Austria testing a massive selection of next year's gear. With super fast laps and an amazing variety of terrain, from pillow lines and trees to open bowls and snowparks, all wrapped up in a compact package, Kuhtai really is the ideal testing centre. Post test, I wanted to highlight 5 new or modified 2017 skis and ski lines you should be get real hyped about for Winter '16-17.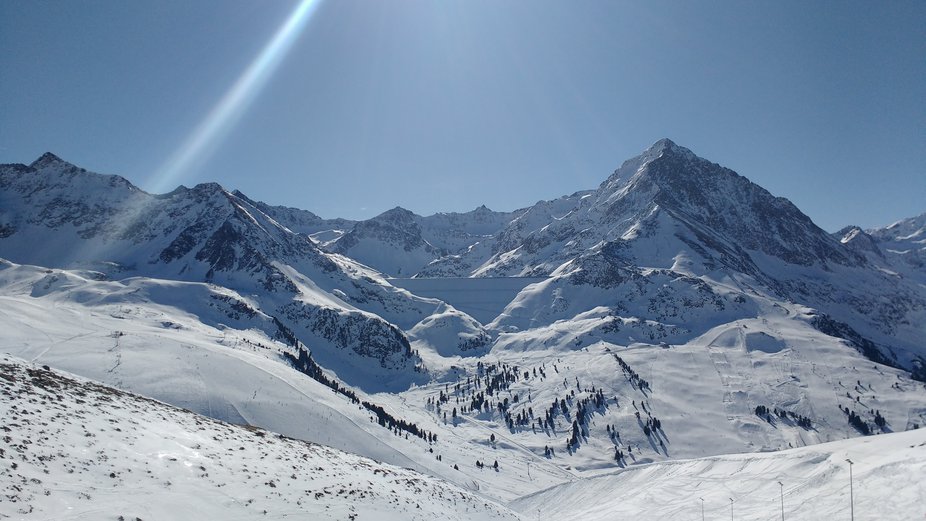 Kuhtai, my stunning testing playground
I'm in the fortunate position of heading up Newschoolers' Gear Program and so am lucky enough to be given a lot of fantastic skis to test. But even so, I was blown away by the breadth of quality in the ski market these days, especially in the playful wider-ski category I most enjoy riding.
Many skis haven't changed for this year, the Atomic Bentchetler is still one of the best skis out there, the flex is loads of fun and the horizontal rockered tip/tail make it even more fun than the old version I last skied. The Movement Fly-Series was another standout, an awesome, stiff-flexed take on the jibby, heavily rockered shape. But after testing skis from Line, K2, Rossi, Atomic, Volkl, Black Crows, Salomon, Movement, Blizzard and more, the following 5 were the standouts for me, ordered from narrowest to widest, and they are all new/improved for the coming season.

1. Line Honey Badger - Read Our Full In-Depth Review: Click Here
Firstly, what an awesome name for a ski. In the past I've tended not to enjoy skiing park skis much but flex matters more to me than width and these have flex in abundance. They aren't the most stable at speed but they are super easy to flex into butters and very poppy on the exit thanks to Line's first bamboo core. Extremely light (around 1500g per ski) and super fun basically sums these up in a nutshell. Line seem to have taken the best bits from other skis in their range past and present, and combined them to make a pricepoint superski. The extruded base is a pity but I think these are going to make a lot of jibby skiers very happy. Tons of fun, if you loved the Anthem...

2. K2 Marksman - Read Our Full In-Depth Review: Click Here
These were the surprise package of the whole test for me. As mentioned, I don't often like park skis, and though with a 95 waist these are creeping into the all mountain category, I almost never like stiff skis either. These are both. In fact on the first chair up with these on my feet, I was vowing to hate them and plotting my the shortest return route to the test centre. But they absolutely rip on groomers, stiffer skis tend to and that's usually where it ends for me. Yet these skis have a great rocker profile/footprint which makes them way more versatile in softer snow, crud and you can even play/butter around on them, albeit with more effort than most skis I ride. When I had free choice of ski to go night shredding on my last day of the test, these are what I picked and I hope I get to spend a lot more time on them over the rest of the winter.

3. Armada ARV 106 - Read Our Full In-Depth Review: Click Here
I don't normally love Armada skis. Even the Al Dente/EDollo, designed to fill the soft ski gap, confused me with its cambered tail when I first skied it and I have yet to revisit it. So there was some trepidation when I put the new ARV series on my feet but damn, have they made big improvements with these. On the 96, the tail rocker and stiffer flex make them predictable and stable, while being more playful than any Armada park ski I've tried bar the Al Dente. And using the fatter Armada edge should mean they last a lot longer than the Henrik skis too. The 106 is the closest thing to the old (108mm) Sir Francis Bacon on the market, by which I mean they are almost the perfect everyday ski for a jibby skier. It's a pity in a sense that these didn't also get the fat edge treatment too because then you could ride them from the park to the pow. Both of the skis carve great, both skis are playful and fun. And both are great 'everyday ski' options. These are some of the best skis Armada have ever made in my opinion.

4. Faction Candide 4.0
Faction have made major changes to the construction and shaping of all their skis this year. The entire ski range has moved factory and the cores (except for the balsa/flax skis) have been changed from aspen/poplar to beech/poplar. For park skiers that means a slightly softer feeling 1.0 and 2.0. The tip/tail profiles of all four Candide skis have been raised and smoothed making for more predictable buttering and easier soft snow landings, the biggest difference being the 2.0 which seems way more versatile now. The 4.0 however, is the highlight of the line. From previously feeling quite long and cumbersome despite the low weight, it now feels playful/surfy and much quicker to turn, while still being pretty much as solid on landings. All this has been achieved by slightly narrowing the waist, adding a degree of taper to the ski and swapping out the long turn radius for a multi-radius. Seriously, get on a pair of these if you can, you'll have a good day.
*Please note the above catalog shot is the new graphic on the old shape, the actual skis are very different.

5. Line Pollard Series - Read Our Full In Depth Magnum Opus Review: Click Here
There have been key updates Pollard series too. The obvious addition is the Pescado, which I sadly didn't get a chance to ski. But the Sir Francis Bacon and Mordecai both switch from the balsa/flax 'cloud core' to a 'partly cloudy core' with Palouwina as the lightweight wood. There is a slight weight gain, but the skis feel so much more predictable and stable at speed as a result. The flex is also improved and they feel more 'Line-y' than last year's models. My favourite ski of the lot though, was the Magnum Opus. It still uses the balsa/flax core and gains bamboo sidewalls this year. It's pretty much the ultimate fun/fat ski. It's reminiscent of the EP Pro, with a quick turn radius and playful profile/flex but so much more versatile due to the low weight and stiffer overall flex that I could happily ski it on any non-park day. Hell, I'd ski them in the park every day if they had a more rail friendly construction. You'd never guess you were skiing a ski 124mm underfoot until you get it in the deep stuff.
_
We'll have in depth reviews of all the featured 2017 skis and many more over the course of the coming months, so stay tuned. Please note, smaller US based brands like ON3P, KF and Revision were not at the test and so for obvious reasons, couldn't be included. In addition, I broke my wrist the day before arrival, so excuse the lack of on-location photos, manual skills were non-existent.