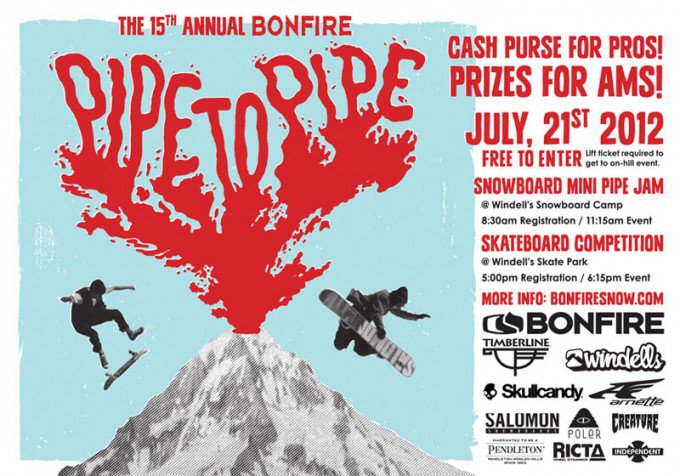 The 15th Annual Bonfire Pipe to Pipe is coming back to Windells, on hill and in the Concrete Jungle. Come check out the best display of competitive snowboarding and skateboarding at Mount Hood! Here's the official word from Bonfire:
SAVE THE DATE: THE 15TH ANNUAL BONFIRE PIPE TO PIPE
Portland, OR (July 2, 2012): Bonfire Snowboarding is pleased to announce that the 15TH Annual Bonfire Pipe to Pipe will be returning to Mt. Hood on July 21st, 2012. Snowboarders and skateboarders will converge onWindell?s on-hill setup and later, concrete skatepark, ripping everything in sight to shreds, for a cash purse and prizes from Bonfire, Salomon Snowboards, Arnette, Skullcandy, Poler, Creature, Ricta, Santa Cruz, and Independent. Special thanks to Windells and Timberline.
The post The 15th Annual Bonfire Pipe to Pipe is coming to Windells appeared first on Windells.