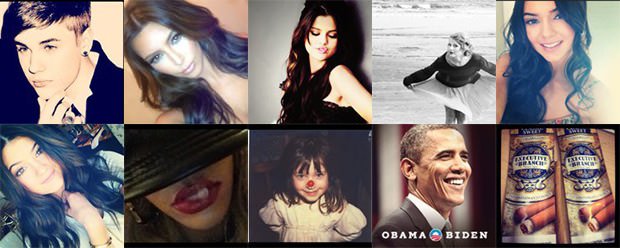 We'll go ahead and start by saying that we're using the term "photographer" lightly; in reality we should probably say "users." But there's a certain irony to calling celebrity Instagramers "photographers" that we quite enjoy. Unlike Flickr where many of the best loved users are well known photogs showcasing their most recent work, Instagram's top users are made up entirely of celebrities.
That, of course, is the beauty of Instagram. Everybody gets to be a photographer in their own right. And so, we give you the top 10 most popular "photographers" on Instagram starting from number 10:
10. Snoop Dogg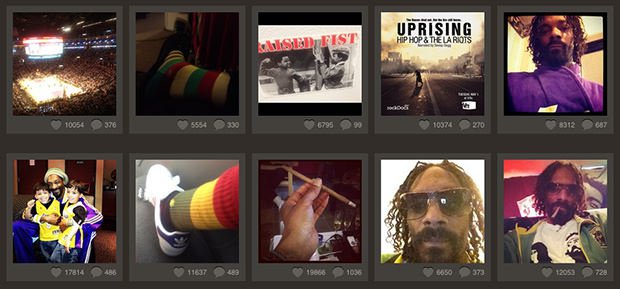 @snoopdogg : 599,506 followers : 319 photos
Weed smoke, money, bling, and live shows make up the majority of Mr. Dogg's photography; of course, if you're looking for a glimpse into the life of an "O.G." he's one of the last ones left.
9. Barack Obama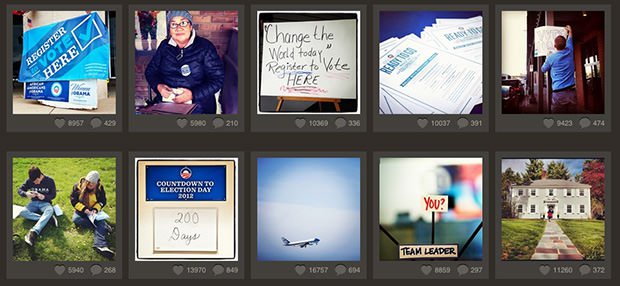 @barackobama : 601,492 followers : 49 photos
The most powerful man in the world's photo stream isn't very long, but what's there consists mostly of snapshots from public showings or private events where The President is meeting his supporters in a more intimate setting. Actually quite inspiring.
8. Zooey Deschanel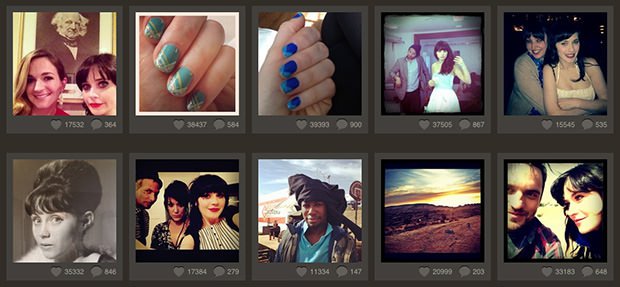 @zooeydeschanel : 618,702 followers : 59 photos
The actress has always been more indie/artsy in nature, which makes her one of the more creative and fun users to follow on Instagram.
7. Rihanna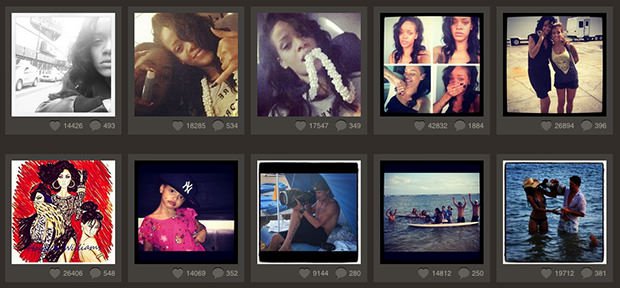 @badgalriri : 774,349 followers : 175 photos
The pop diva is mostly showing off self-portraits and nights out at the club; but if you're one of her fans, that sort of glimpse into her everyday life may be what you're looking for.
6. Kylie Jenner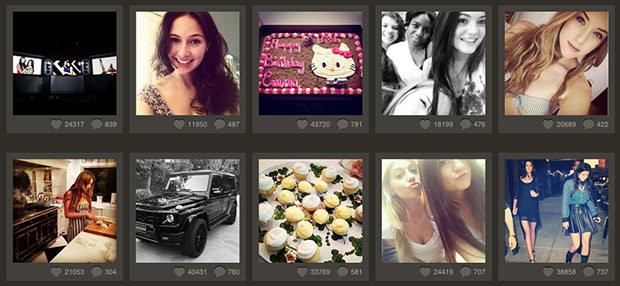 @kylieejennerr : 850,796 followers : 734 photos
The first, but certainly not the last, of the Kardashian-related clan to make the list, Kylie's Instagram photos show off her everyday life. A life apparently full of color, pretty things and (what else?) self-portraits with friends.
5. Kendall Jenner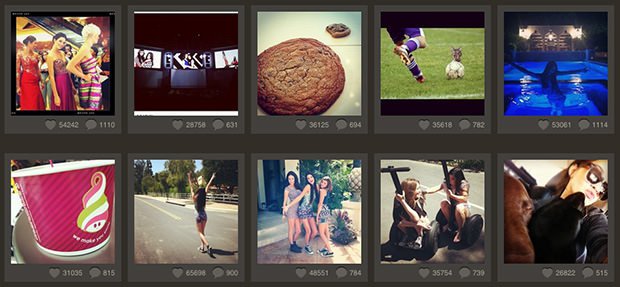 @kendallnjenner : 974,489 followers : 373 photos
Sister to Kylie, Kendall's Instagram stream is made up mostly of food pictures (we like), dog pictures (we also like) and, again, self portraits (we can't get away from).
4. Taylor Swift
@taylorswift : 1,316,658 followers : 78 photos
The musical starlet's photos are necessarily more musical, with the occasional studio shot and even a picture of her holding her two grammys. Because of her constant travels they also have a more international feel to them, and many of her compositions aren't half bad.
3. Selena Gomez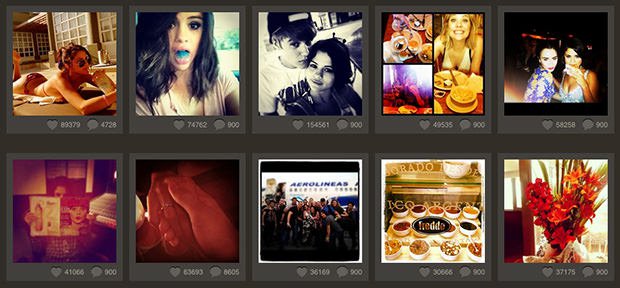 @selenagomez : 1,433,288 followers : 163 photos
Back to self portraits, food shots, and pictures of pretty things. Yet another glimpse into the lives of the rich and famous.
2. Kim Kardashian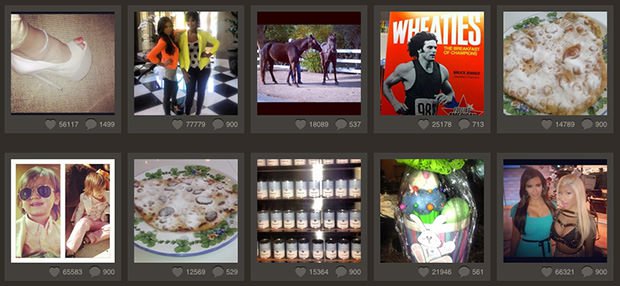 @kimkardashian : 1,475,188 followers : 183 photos
The final Kardashian or Kardashian relative on the list, Kim's photos are almost exclusively self-portraits, pictures with her family, and public events. Expensive shoes also make frequent appearances.
1. Justin Bieber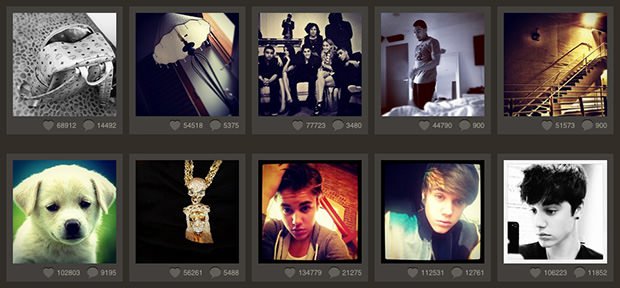 @justinbieber : 1,499,794 followers : 281 photos
Surprisingly, when the Biebs isn't taking pictures of himself, his shots can come out quite artistic. His better compositions consist of sunsets, pictures out of plane windows and candid shots of his younger brother and sister.