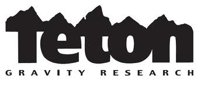 Teton Gravity Research Releasing One For The Road on iTunes October 11
10.03.2011– (Teton Village, Wyo.) - Premier multimedia action sports brand Teton Gravity Research (TGR) announces the release of its new HD ski film, One For The Road, on iTunes Oct. 11, 2011 - complete with extras including six intense and laughable minutes of crashes from the season, and behind the scenes footage which takes a look at the process and tools used to capture the opening scene. Accompanying the launch is a new 60-second trailer, filled with banger action shots, and a segment on NBC's World of Adventure Sports airing October 9, 2011 from 5:00-6:00 pm EST.
Recently honored with the "Best Soundtrack" award at the International Freeski Film Festival (IF3) and the "Best Big Mountain Film" award at IF3 Europe, One For The Road was shot on location with some of the world's most progressive snow sports athletes and documents their lives on the road. One For The Road captures some of the most stunning riding to date with the most cutting edge cameras including Phantom, RED, Canon DSLR and GoPro HD. Watch the athletes rock a record-breaking season in Jackson Hole, discover Iceland's urban side, explore the Balkan wonders of Macedonia and Montenegro, shred deep pillow lines at Baldface Lodge, uncover first descents in Pemberton, BC, and hit full-throttle lines in perfect conditions in Juneau, AK.
To purchase on iTunes ($12.99 for HD or $9.99 for standard def), please visit http://www.tetongravity.com/itunes-oftr. One For The Road is also available on DVD for $24.95 and two-disc Blu-ray/DVD combo for $29.95 on a pre-order basis through TGR's online store.
TGR will be giving away two free iTunes downloads per day for the next five days on facebook.com/tetongravityresearch.
TGR traveled to the far corners of the globe to film One For The Road and footage from TGR's Iceland trip will air on a new episode of NBC's World of Adventure Sports October 9, 2011 from 5:00-6:00 pm EST. Rory Bushfield, Nick Martini, Byron Wells and Andreas Hatveit journeyed to Iceland to explore the remote, northern part of the country where they heli-skied, visited Europe's most powerful waterfall, jumped off a boat into the Arctic Ocean and even hit some urban features in Akureyri. It was the trip of a lifetime, and TGR scored epic, never-before-seen footage of skiers pushing the sport to new heights.
Athletes: Sage Cattabriga-Alosa, Ian McIntosh, Todd Ligare, Griffin Post, Chris Benchetler, Dylan Hood, Dash Longe, Daron Rahlves, Sven Kuenle, Erik Roner, Nick Martini, Dana Flahr, Rory Bushfield, Callum Pettit, Rachael Burks, Shroder Baker, Byron Wells, Andreas Hatveit, Tom Wallisch, Mike Riddle, Grete Eliassen, Josh Dirksen
Locations: Iceland; Macedonia; Montenegro; Pemberton, BC; Baldface Lodge, BC; Jackson Hole, WY; Juneau, AK; France; Utah; Squaw Valley, CA
About Teton Gravity Research
One of the fastest growing brands in the action sports industry, TGR has produced 28 award-winning feature-length films, numerous television series for Showtime, NBC, Fox Sports, and Fuel TV, and is known for its cutting edge media and lifestyle clothing line. TGR is a proud member of 1% For The Planet and strongly believes in protecting the environment in which the team works and plays. For more information on TGR visit tetongravity.com, one of the leading online destinations and communities in the action sports industry.